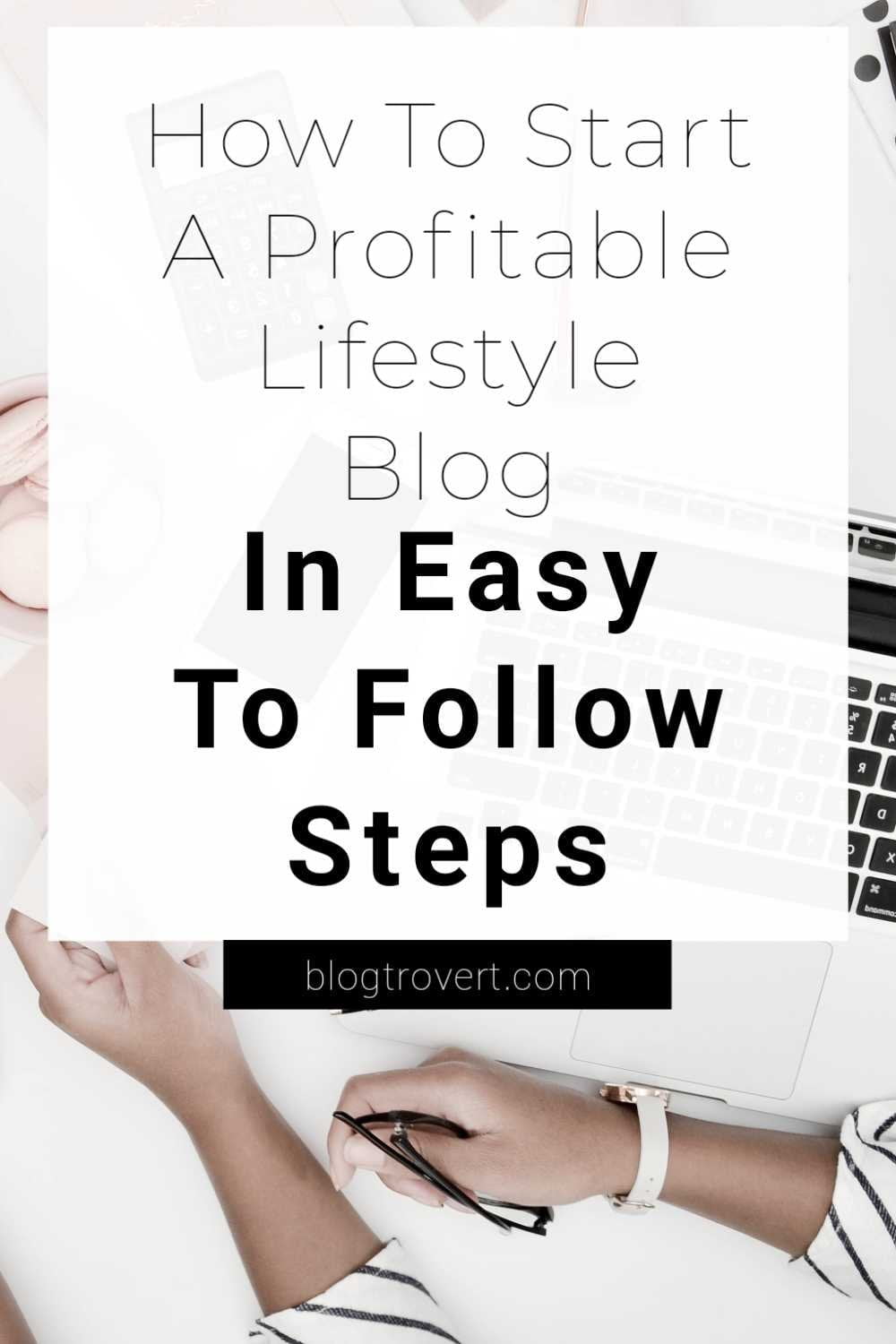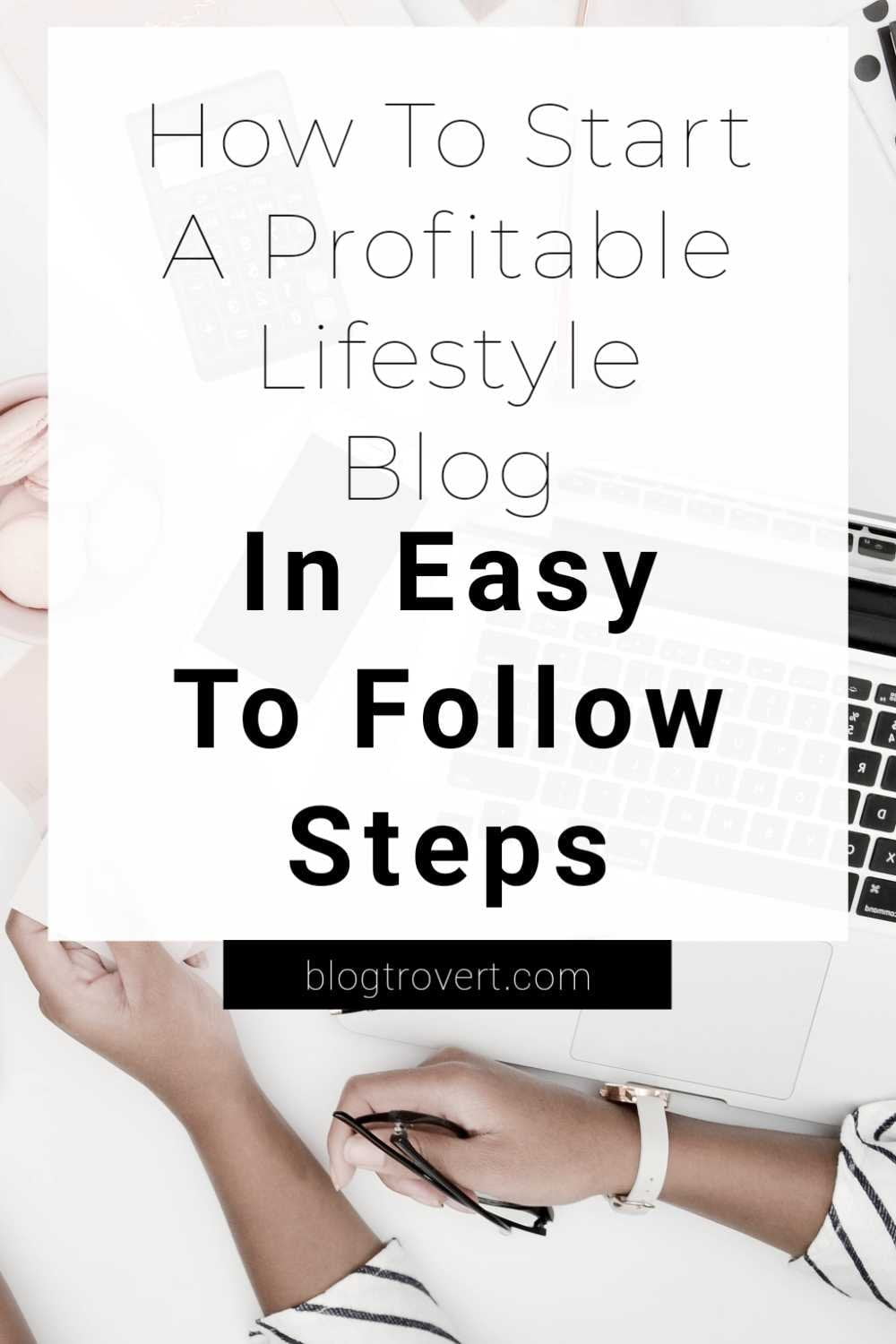 Have you have been wondering if it is possible to start a successful lifestyle blog that makes you money?
Yes, you can make money blogging in the the lifestyle niche!
Blogging has grown amazingly over the years, and it has given thousands of people the opportunity to monetize their time online.
Most bloggers started their blogs as a fun web journal before realising the possibility of making money doing what they love. Currently, more and more people are blogging to make money.
Many posts on the internet offer guides to start, grow and make money from a blog. But then, your needs are specific. You want to start a successful lifestyle blog, and desire a genuine guide that will guide you from start to finish.
In this post, I will show you easy to follow steps that will help you create a successful lifestyle blog in less than a week.
What Is A Lifestyle Blog?
A lifestyle blog is a website that showcases the personal lives, interests, and passions of its bloggers. These blogs typically focus on topics such as fashion, beauty, food, travel, parenting, pets, etc.
Simply put; a lifestyle blog is an online space to write about your life and everything surrounding it. You create contents inspired by your personal interests, daily activities and thoughts.
You can write about one or more topics, but some bloggers focus on specific aspects of their lives, like – beauty, college life, family, personal health, cooking, fashion and much more.
The lifestyle niche is so broad with several sub-niches you can decide to focus on and never run out of blog topic ideas.
Forget about entertainment and gossip, blogging in the lifestyle niche is the real deal!
Are there lifestyle blogs that make money?
You may have wondered, "are lifestyle blos profitable?"
There is no definite answer to this question as it largely depends on the individual blog and the niche they are writing about.
However, generally speaking, a well-executed lifestyle Blog can be quite profitable if it has a large following and attracts advertisers.
Any scalable business is profitable, but you are the defining factor of your success as a lifestyle blogger. You decide if you want to put in the work that brings the profit.
You can make money blogging in the lifestyle niche, but you must put in the effort required and stay committed to your goal.
Before I made my first $50, my lifestyle blog was a simple online journal. I never thought it could make me a dime, but it did! The idea of making more made me realise the importance of growing the blog.
Blogging is not a get rich quick scheme. You need to work hard, be patient, and stay consistent. Don't expect to rake in millions after only a month of diligence.
How to start a lifestyle blog in easy steps
Now that you have gotten a good reason to start your blog, sit back and make some important decisions that will affect its growth. We will discuss every step you need to take below.
STEP 1: CHOOSE YOUR BLOG TOPIC
I always tell people new to blogging to only write about what interests them. I made a lot of mistakes in the past, and would not want anyone to make the same mistakes.
It's important that you blog about what you like because it makes everything fun and easy.
Don't jump on any niche because you believe it to be profitable than others. This could disastrous for your blogging journey.
You are more likely to lose interest if you pick a niche you don't understand. You should choose a lifestyle niche you understand or wish to learn.
Pick a specific topic that your blog will revolve around. There are several sub-niches to choose from in the lifestyle field. Some are:
Do It Yourself hacks
Beauty and makeup
Self-help
Personal development.
Finance
and more.
Your skill or expertise might make a good sub-niche. Look within yourself. What are you good at? Cooking (food blogger), reading (book blogger).
STEP 2: CHOOSE A BLOG/DOMAIN NAME (URL)
After choosing your niche, the next thing you should work on is choosing your blog and domain name. This will be your website's address (like mine, blogtrovert.com).
When brainstorming for a blog name, you should have four things in mind;
Choose a name that is simple and easy to spell
Make it as short as possible. It will be easier for people to remember.
Ensure it is easy to remember
Last, it should have a connection with what you intend blogging about.
Since choosing a blog name can be overwhelming, you may want to check out my guide on how to choose the perfect blog name.
STEP 3: CHOOSE A BLOGGING PLATFORM
I would recommend "WordPress," but you can use blogger.com if you are not yet financially capable of going self-hosted.
This post will be based on WordPress, as I strongly recommend it to anyone with intentions of making blogging more than just a hobby.
Why I recommend WordPress
In 2017, I moved my blog from blogger.com to WordPress and the experience since then has been worth every penny spent.
First, I love the fact that my audience can communicate with me easily via my comment box without challenges.
WordPress has tons of free themes and plugins to make everything easier for you; there is no need for prior knowledge in coding.
STEP 4: CHOOSE A HOSTING PROVIDER
It's time to get your domain and set up hosting for your lifestyle blog.
I am currently a Namecheap affiliate because I used and definitely recommend them because of their incredibly budget friendly prices and outstanding 24/7 customer support.
You will get up to 50% off your first year with Namecheap. Their one-click WordPress installation makes it amazingly easy for people just starting out.
Procedures for buying a hosting plan from Namecheap
First, navigate to namecheap.com and decide on which hosting plan to choose
Once you have decided on the plan to pick, click on "Add to Cart".
It will take you to a page where you will select a domain to use with your hosting. Namecheap offers a free ".website" domain but that's not what an average individual needs.
Choose to buy a domain by clicking on "Buy a New domain" or "Use a domain I own from another registrar" if you bought it already, change your domain DNS to ns1.namecheaphosting.com and ns2.namecheaphosting.com first.
Once you've completed your domain selection, click on "Continue".
In the next page, review your cart carefully and click on "Confirm Order."
Create an account (or login), then choose your payment method.
Setup your contact address and billing address.
Setting your purchase to automatic renewing might be a good idea, or not.
Once you are done with the above, click on "Continue".
In the next page, review your order and click on "Pay Now".
Enter your hosting control panel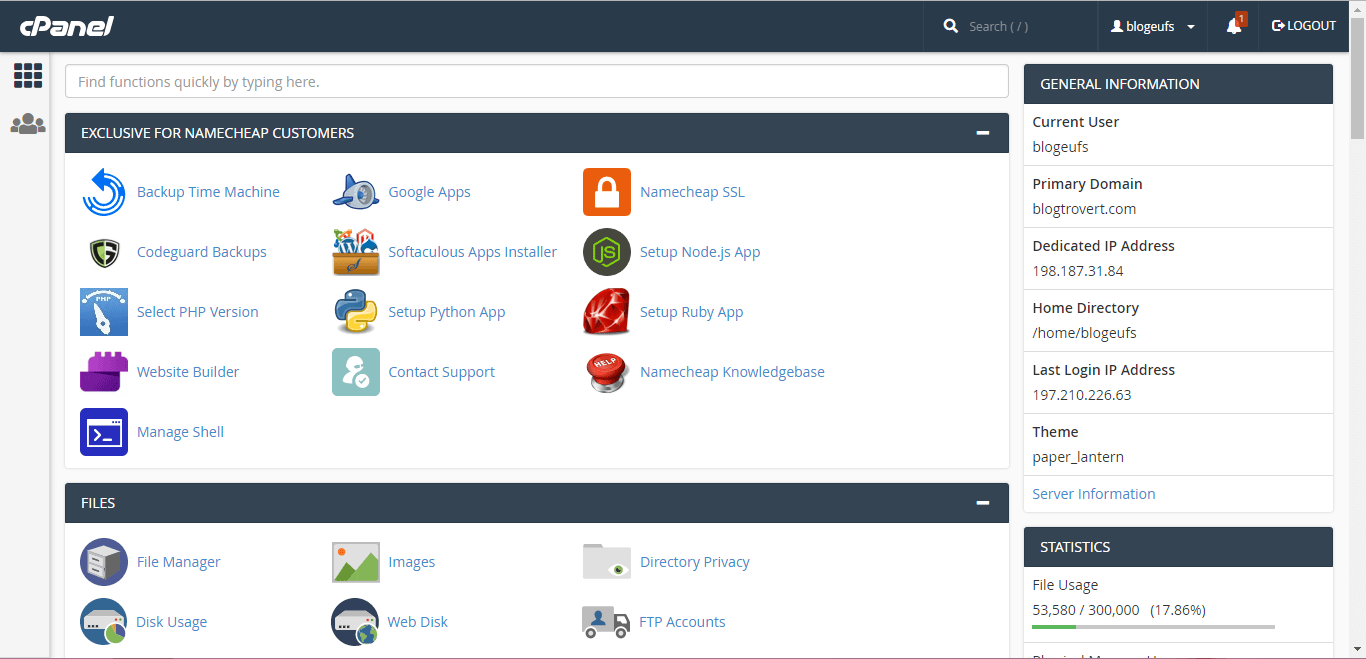 Once the payment is complete, you will receive a verification link in the email address you used to register your account. Don't forget to verify your account.
Important Notice
You will receive a message containing your hosting details. These include:
Link to your cPanel account.
Your cPanel Username and Password.
And more.
Please note the above. To be on the safer side, print the email or save it online securely. You may need this information in the future. Everything you need to access your control panel is in the message.
To begin, visit your cPanel account using the link provided in the hosting details sent to you and login with the username and password (they also sent this to you).
Now that you have logged in, you should be in your control panel. This is where all the technical matters will take place for your website. Please handle your login details with utmost care. Your cPanel will look like this:
STEP 5: SET UP SSL
It's important that your blog goes live securely with a premium SSL certificate
A secure website is necessary for visitors' and owner's safety. Your site should run on HTTPS, so you definitely need an SSL certificate. Fortunately, Namecheap offers a free SSL certificate for the first year on any domain they add.
Follow the procedures below to activate HTTPS on your blog.

If you are yet to point your domain to Namecheap, do so now in your domain registrar.
Once you've logged into your Namecheap cPanel, navigate to "Exclusive for Namecheap Customers" and click on NAMECHEAP SSL.
On the next page, you will see a list of domains eligible for free SSL from Namecheap. Simply click on Install now. Once you have navigated to the next page; input the email address with which you would like to receive your installation details, then click on "Install Certificate."
If you follow the instructions above, you will have successfully activated HTTPs for your domain.
Note: SSL is only free for the first year. Namecheap charges $8.88 for the SSL renewal annually.
STEP 6: INSTALL WORDPRESS

Now that you have bought and activated your hosting plan from Namecheap and installed SSL in your domain. It is time to install WordPress. Installing WordPress is an easy to do task, thanks to softaculous.
In your cPanel, simply navigate to; "Softaculous App Installer" – click to drop and select WordPress (you should see the large WordPress icon).
On the next page, be sure you choose to install WordPress by following the simple guide from Softaculous. Click on "Install Now."
Add your site information using the procedures below:
Choose Protocol; I strongly advise you to choose HTTPs, but select it only if your domain has an SSL certificate. Tutorial for installing SSL certificate is above..
Choose Domain: Ensure you select the domain you want to install WordPress in.
In Directory; kindly ignore the "In Directory Field" you obviously want WordPress installed on yoursite.com.
Set Up Admin account; I'm sure you know what this means. By default, the admin username and password is "admin." You should change this to a personalized username and a very strong password. Also, don't forget to keep them safe. You need them to log into WordPress after this step.
Pick an email that you have access to because they will email your WordPress installation details.
Click on "INSTALL."
Okay! This wasn't so bad! If you follow the steps above, you will successfully install WordPress on Namecheap.
Hassle free right?
Do you have questions?
Leave a comment below, email me contact@blogtrovert.com or find me on Twitter with BLOGTROVERT.
STEP 7: FIND A THEME THAT YOU LIKE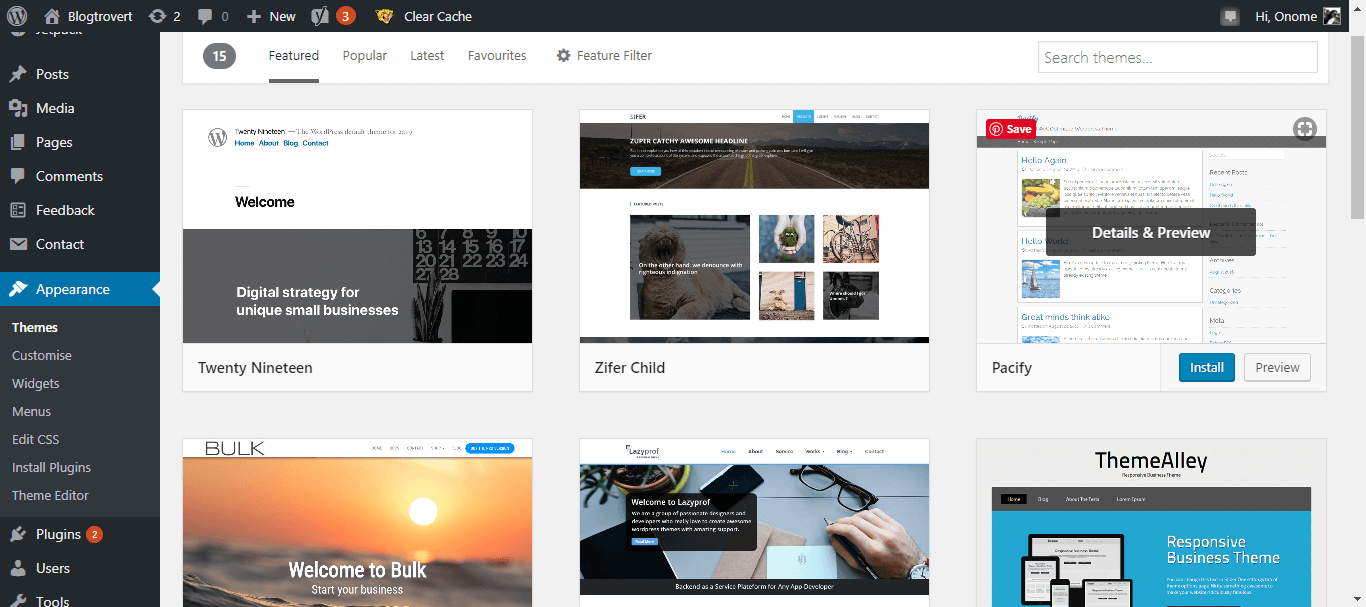 Now that you have installed WordPress in your domain, it's time to set up your blog. Choose a theme for your lifestyle blog.
First, login to your WordPress admin dashboard and navigate to "Appearance" >> "Themes" >> "Add New." You will find hundreds of free WordPress themes on this page.
Although WordPress gives you a selection of free themes to pick from, I strongly recommend that you start up with a premium design. Premium themes often give you a sense of uniqueness. You can easily stand out from the crowd. There are many (WordPress) theme developers. I recommend modern developers like Restored316 Designs, Bluchic or Solopine. You can also browse some of my favourite feminine WordPress themes.
I recommend you settle for a premium theme, as it gives you that uniqueness. You'll also get quality support from the developer. Make your selections wisely. This post will guide you on choosing the right theme for a female audience.
STEP 8: DESIGN A LOGO FOR YOUR BLOG
Apart from beautifying your blog with a theme, you'll need a logo to help build your brand and ensure your readers get to know you. You can use canva.com to create a simple logo for your blog. You can better still hire a designer.
Note that you can alter your theme and logo if they do not meet your needs, but do not change your blog name and domain name as it will affect your blog growth.
STEP 9: CREATE YOUR SOCIAL PROFILES
If you intend developing your blog in the best way, then you should have social profiles set up with your blog's name. Create a page for your blog on:
Facebook
Twitter
LinkedIn
Pinterest and other popular social media platforms.
STEP 10: INSTALL IMPORTANT PLUGINS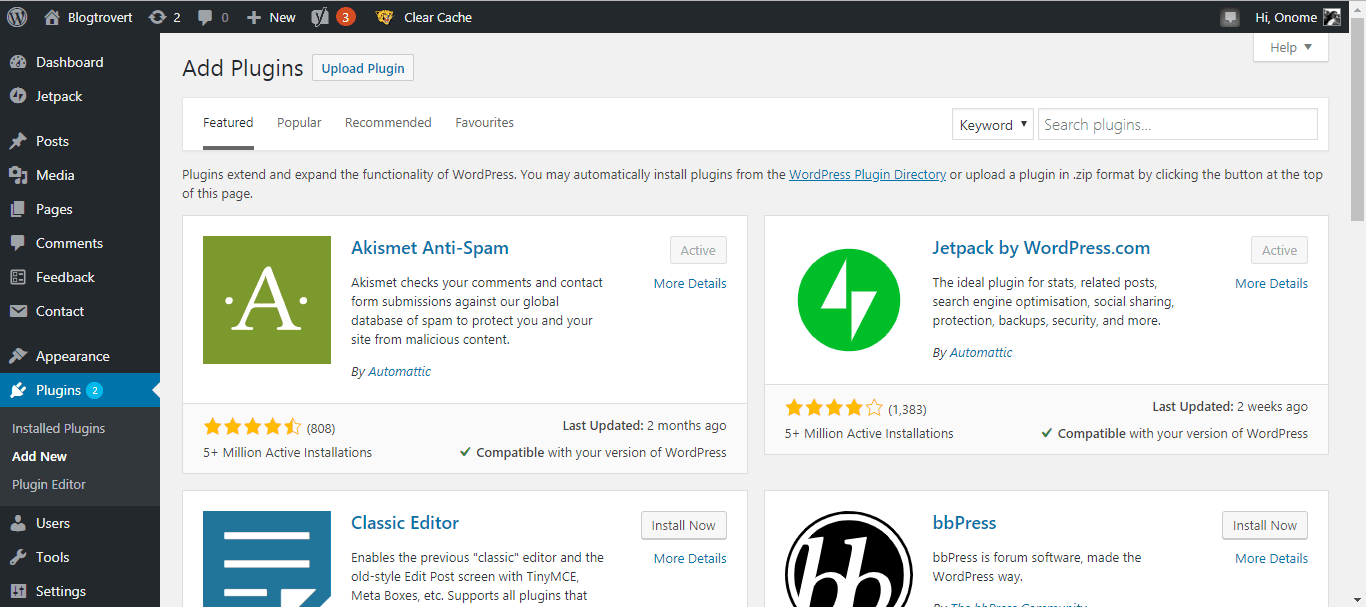 Plugins are important but not compulsory. They solve specific problems and provide essential functions. They help in the management and running of your blog. WordPress has tons of plugins to choose from. I will list a few that your WordPress blog needs.
WP Security: This plugin helps protect your blog from hackers.
Yoast SEO: This plugin is a must have as it helps you create SEO optimized posts.
Akismet: This plugin blocks spam comments on your blog posts.
Jetpack: A plugin that gives you real time statistics of visits on your blog.
To add a new plugin to your blog, simply navigate to "Plugins" >> "Add New".
STEP 11: CREATE IMPORTANT PAGES
You need Pages as they hold important and required information about and for your blog. Below are some necessary pages you should create.
About Page: Here your audience expect you to talk about yourself and your blog.
Contact Page: This page makes it easy for your readers to contact you. There are plugins to help you add a contact form to this page. I recommend contact Form 7
Privacy Policy Page: On this page, your readers expect you to inform them about the data you collect on your website and how you and other third-parties may use them.
Disclosure Page: Create this page if you want to monetize your blog with affiliate links.
To create a new page, go to "Pages" >> "Add New".
Check out the 'Important Pages that Every WordPress Blog Should Have' BY Wpbeginner.
STEP 12: PUBLISHING YOUR FIRST POST
At this stage, I assume you want to publish your first blog post.
First, delete the default welcome post automatically posted by WordPress. Log into in to your WordPress admin panel, then go to "Posts" >> "All Posts" and delete the default post. After that, click on "Add New", then you will see a blank PAGE to create your first post.
Post Ideas for your new blog
Lastly, as a new blogger, you may experience a touch of the infamous writer's block. In case you do not know what to write about, you can check out some great 95 blog Post ideas for lifestyle Bloggers
How to become a successful lifestyle blogger
There is no one "right" way to become a successful lifestyle Blogger. However, there are some key strategies you can follow to help improve your chances of success.
Write quality contents
Make sure you have a strong focus on writing quality content that is interesting and engaging for your readers. Remember to choose a good niche, stay authentic and avoid plagiarism.
Be active on social media
Develop an active social media presence and connect with your readers on a regular basis to keep them updated on what's new on your blog and what new offers you are offering for FREE or for a discounted price.
Connect with other bloggers
Be sure to network with other bloggers in the niche and offer them guest posts or joint collaborations – this will help build relationships with potential advertisers who may be interested in working with you.
Be consistent
Be consistent with your blog content and strategies, and you should be on your way to becoming a successful lifestyle Blogger!
How to monetize a lifestyle blog
Sell products
Many bloggers often sell their products or services on their blogs. You can either sell digital products like e-books, printables, or physical products like clothes, pieces of jewellery, etc.
If you plan on selling digital downloads and need resources that will help you create better products you can check out websites that offer craft templates and commercial use files. Free svg websites like Designbundles have tons of free to use commercial files you can use in your digital products.
Sponsored content
You get paid to write or publish already written blog posts for another company on your blog. This is my major source of income at the moment.
Ad networks
Google AdSense is one of the most popular advertising networks. It allows you to monetize spaces on your blog. It's easy to set up, all you need is approval to participate as a publisher.
Offer freelance services
Get paid to write for third party websites or companies.
Start a coaching business
If you can teach, then you probably should start a class on a skill or topic you know about that many others do not.
Affiliate marketing
Affiliate marketing is an amazing way to start making money from your lifestyle blog. Apparently, you are expected to refer potential buyers to websites and for each product or service sold, you earn a percentage.
Conclusion
Once you successfully set up your blog and publish your first post, don't be scared to go full time into blogging. As earlier mentioned, with consistency in play, you will be able to enjoy what you've always wanted; working at Home as your Own Boss.
Blogging presents us with so many untapped opportunities. Much the same as any business, it takes the correct knowledge, dexterity and consistency to scale through. So, whatever you've heard, blogging is more than just a hobby.