Want to know the best printable ideas to sell?
This blog post contains 65 of the best printables to sell on Etsy, creativemarket, or any other platform of your choice; from the comfort of your home with minimal efforts.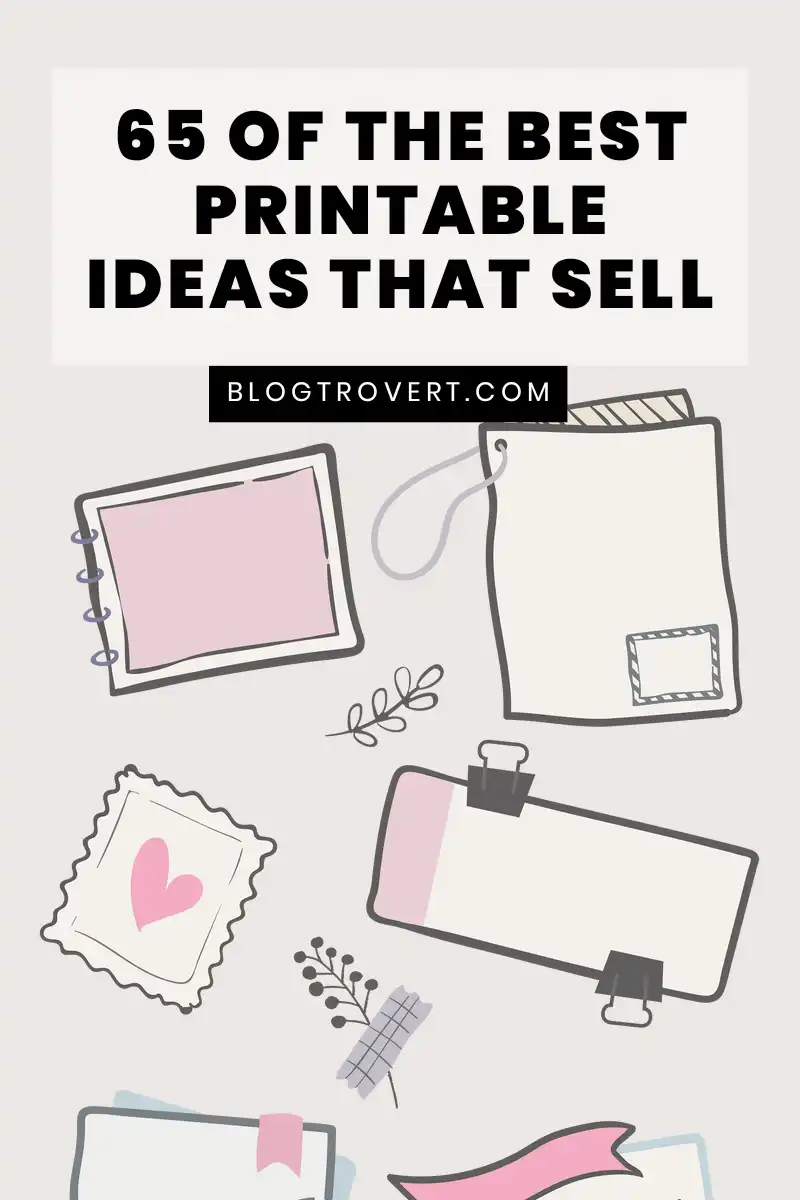 Selling printables online is a great way to make money on the side, and the good thing is you can upscale this side hustle to a full-time business. There are a few things you'll need to get started.
First, you need to find your niche then create some great products – it can be anything from art prints to planners to stationeries. Take some time to brainstorm what kinds of products you'd like to create.
Now, coming up with good printable ideas to sell can be a hard task. It takes a lot of rigorous research to find the best kind of to sell on Etsy or other platforms.
This blog post makes finding the right ideas to sell a lot easier for you; it contains some of the best printable products to sell and the best platform to sell them.
Learn how more about selling printables and why it's a great idea.
Best Printable Ideas to Sell on Etsy and other Platforms
There are so many great digital printables to sell that it's hard to choose just one. For your success, you need to pick one and specialize in creating the best of its kind.
So, what are the best printables to sell?
If you don't know what to sell, Pinterest and marketplaces like Etsy and Creativemarket are a great place to get inspired. These platforms have some if the best selling digital products that you too can create and market on any eCommerce platform of your choice.
Remember, we are only getting printable ideas to sell from what other people are creating or looking to buy. You shouldn't copy other creators' designs. It not only makes you unoriginal, but a plagiarist.
Listed in no particular order, I discussed the most popular printables you can create and sell.
Printable planners
planners are one of the most popular printables to sell because people are looking for more helpful resources to plan their day or tasks.
A planner, as the name implies, is any tool used to plan a course of action for achieving specific goals.
Planners typically have space for daily, weekly, and monthly entries, as well as a section for longer-term planning. Many also include features, such as goal setting, task prioritization, and reminders.
Planners can be extremely helpful in keeping individuals and organizations on track.
Planners are popular digital printables to sell because they are always on demand and some people rather print theirs at home, so they opt for printable planners.
People opt for printable planners because they are affordable and can opt for customizable options to meet their specific needs.
What are some of the best planner printable to sell on Etsy?
There are different planner printables to sell. Some of the bestselling include:
General Purpose planners

Daily planner
Weekly planner (often with daily planner pages.)
Monthly planner (often with weekly and daily planner pages.)
Yearly planners (often with monthly, weekly and daily planner pages.)

Planners for content creators

Blog planner
YouTube planner
Tiktok planner
Social media planner

Wedding planner
Fitness planner
Student planner
Teacher planner
Self-care planner
Meal planner
Weight gain planner
Weight loss planner
Goal planner
Finance planner
Printable wall arts
You can create wall art printables to sell to people who want to beautify their rooms or offices.
These types of printable products can be digital paintings, illustrations, line arts, typography arts or even text quotes.
If you are not a graphic designer or a digital artist, you can create and sell quotes as wall arts. Selling quotes may require you to be extra creative, but you can still sell your quotes as art even if you use just an Open Sans font.
A simple search for "printable wall arts" on Etsy will leave you with over a million different ideas to inspire you. As you can see, there is a high demand for arts!
What are the best art printables to sell on Etsy?
This is tough to answer, but here are a few ideas:
Abstract illustration
Woman illustrations or painting
Women's line art
Inspirational quotes
Bathroom printable wall art
Affirmation quotes
Scandinavian arts
Personalized arts
Seasonal arts

Christmas themed wall art
Halloween themed wall arts
St Patrick's themed wall arts
Stickers
Stickers are essentially pieces of paper or material with adhesive on one side, designed to be attached to a surface.
Printable stickers come in all shapes and sizes, and can be used for a variety of purposes; from promotion and marketing to simply adding a splash of personality to an otherwise mundane item.
People buy stickers for a variety of purposes. Some buy stickers to use as labels for products and gifts, while others buy it for fun. Whatever reasons people buy stickers, there is a market waiting for you to enter.
Stickers can be anything from texts, illustrations, animals, objects, abstract designs, phrases, statements, and any form of design people will buy.
What are some of the best printable stickers to sell on Etsy?
Product labels
Planner stickers
Laptop stickers
Printable journals
Selling printable journals is an excellent method to boost your income. You not only get paid for each book you sell, but you also help other individuals.
Journaling is a tool that many people use to track their daily activities and manage their emotions and ideas. People use them as a sort of therapy to improve people's self-esteem.
What are the best journal printables to sell on Etsy?
Gratitude journal
Self-care journal
Life journal
Printable cards
Printable cards can be anything from birthday cards, wedding invitation cards, business cards, and more. They are currently one of the best printable ideas to sell.
These types of printables are customizable. People are always to personalize the details of the cards during purchase.
You can also offer custom designs for this kind of printables. Your potential buyer gives you the details to create their printable card and you do something unique for them to print out.
What are the best card printables to sell on Etsy?
Wedding cards
Birthday cards
Valentine's cards
Christmas cards
Business cards
Invitation cards
Thank you cards
Father's day cards
Mother's day cards
Affirmation cards
Custom (personalized) cards
There is an endless list of the type of cards you can sell, but most are seasonal.
Printable Checklists
A checklist is a list of items, usually in a specific order, useful for tracking something.
People use a checklist to keep track of items that need to be completed; such as a list of tasks to do before leaving for vacation – making sure that they pack all the important items before traveling.
People use checklists to ensure that they stay organized, on track and forget nothing important.
What are the best printable checklists to sell on Etsy?
Cleaning checklists
Wedding plan checklist
Business checklists
Daily checklists
Weekly checklists
Custom checklists
Printable Trackers
People use trackers to track a variety of different goals, including personal growth goals, career goals, and educational goals.
You can also use trackers to track progress towards more general goals, such as becoming more organized or improving one's health.
There are several ways to use a tracker, but the basic idea is to track progress and identify areas needing improvements.
Trackers can be highly effective at helping individuals achieve their goals.
What are the best printable trackers to sell on Etsy?
Weight gain tracker
Weight loss tracker
Savings trackers
Habit trackers
Mood tracker
Debt tracker
Health trackers
Fitness trackers
Baby milestone trackers
Calendars
Calendars are one of the most commonly used tools in daily life. Many people use them to track and organize their daily activities.
Calendars are also used to remember important dates, such as birthdays, anniversaries, and holidays. For businesses, calendars help to track deadlines, appointments, and meetings.
What are the best printable trackers to sell on Etsy?
Basic yearly calendar
Personalized calendar
Blank calendar
Monthly calendar
Printable kids activities
Kids' activities can include a wide variety of things. They can help teach kids about a certain topic, or to provide them with a creative outlet.
Activities in kids' books or pages can range from simple puzzles and mazes to more complex crafts and projects. Whatever the activity, activity books are a great way to keep kids entertained and engaged.
What are the best printable kids' activities to sell on Etsy?
Coloring pages
Games
Worksheets
Printable adult coloring pages
Adult coloring pages are a newer trend that has been growing in popularity. They are simply pages adults can color, often with intricate designs.
People believe coloring pages to help the mind relax and de-stress. Adults are increasingly looking for ways to destress and unwind from their busy lives.
You can make money designing and selling coloring pages for adults on Etsy or any digital products marketplace of your choice.
What are the best printable adult coloring pages to sell on Etsy?
Motivational quotes
Mandalas
Doodles
Inspirational quotes
Helpful guide to sell more printables on Etsy and other platforms
Niche Down
Where there are bundles of printable ideas to sell, you may find it difficult to scale if you decide to work with every idea you like.
It's important to niche down because it is better to create products that resonate with a group of people than just everyone.
Niching down helps you to focus more on a particular market and you will continue to get more ideas of what they are buying.
Rather than creating a generic daily planner, you can create a daily planner for bloggers or moms. There are a lot of people looking for the same thing to buy.
Do not plagiarize
When finding printable ideas to sell, it may tempt you to copy what other sellers have made, because it is a lot easier than creating yours. Plagiarism is a dishonest thing to do, and it leaves you with unoriginal designs.
You also stand the risk of getting into copyright problems. If you have lost your creative juice, rather than copy what others have created, buy commercial use templates to create your own designs.
Buy Commercial Use Templates
Commercial use templates are a thing in the printable world. If you find it hard to start a design, you can buy a ready-to-use template and customize it to your taste. There are many people who allow you to sell their templates as your end product.
While the idea of using printable templates to create your designs is not illegal, it may leave you having similar designs with other creators who use the same templates.
Rather than buy and make just minor edits to the templates you buy, you can use them as a guideline to create yours.
Most commercial use templates allow you to change texts, colors, images and even the structure of the templates.
Where to buy Commercial use Templates
Creativefabrica
Creativemarket
Etsy
Fiverr
Sell on a good platform
If you want to make sales, it's import you sell on a good platform that supports digital products.
one of the best places to sell your printables is Etsy. This platform allows you list your digital items to a large audience willing to buy what you have created.
Creativemarket is also a great platform to list your printables for sale as it largely focuses on digital products.
Before you start creating your printables, it's important to know the best printables to sell on etsy or any other platform you choose; so you can make what people want to buy.
Conclusion
Here, you have found 65 printable ideas to sell and some of the best tips to stay successful. Now, it's your turn to pick the best ideas and create something people need.
Regardless of the type of printable products you choose to sell, always ensure to create high-quality files that are easy to download and print.
The good thing about selling printables is the fact that you can sell different printables in one store.
Also, always state clearly the rights your customers have when they purchase your products.
I may earn a commission from qualifying purchases made through the links on this blog, at no additional cost to you. For more information, see my Disclosure