This post aims to show you some of the best digital products to sell online from the comfort of your home. No inventory or expensive production cost.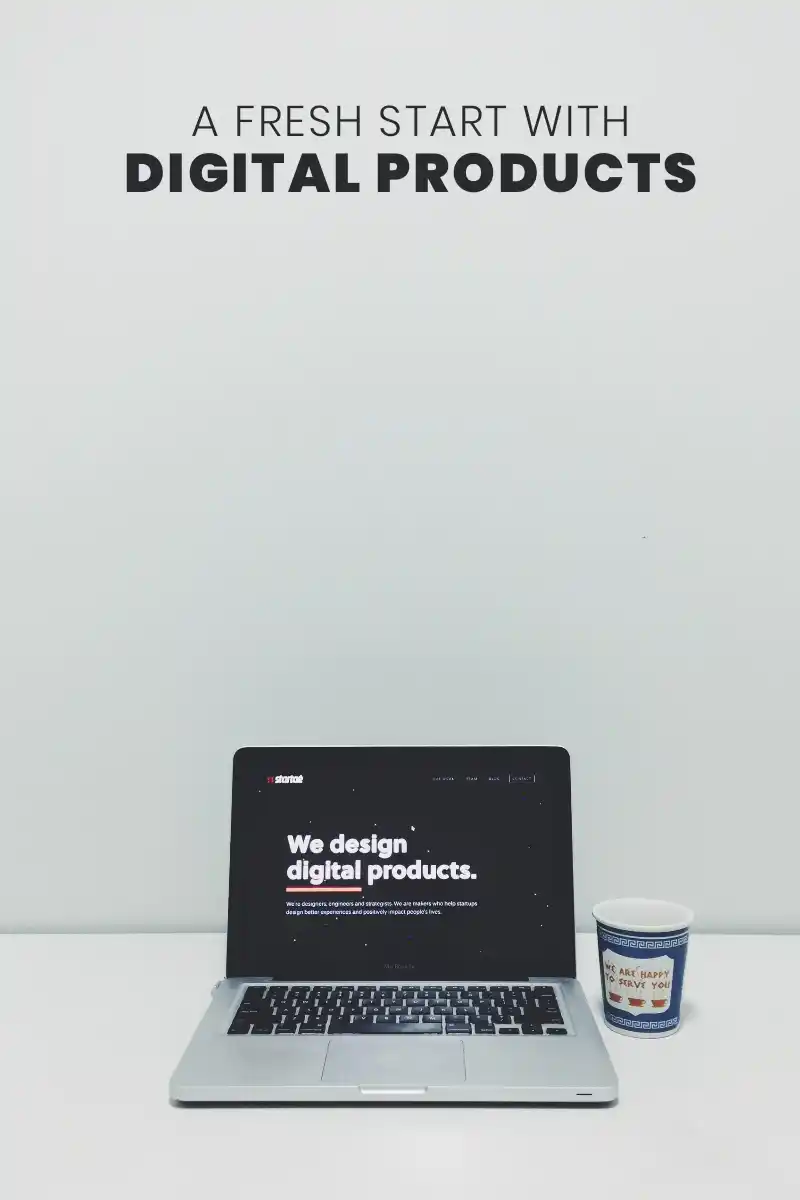 One of the recommended ways to make money online is to sell digital products. People consume digital Products in large quantities and where there is a demand, there should be supply.
If you dream about making passive income, digital products is unarguably one of the best ways to achieve your dreams.
You may not be an active buyer of digital products, but you most definitely have used one in the past. Whether it was reading an ebook on your phone, or listening to a course, digital products have become an import part of our lives.
Why Sell Digital Products?
There are so many reasons why you should consider creating digital products for sale, but here are just a few benefits:
It's all digital — no shipping, no physical inventory.
it's a lot easier to create digital products.
You can clone one product and create a whole new idea from it.
If you are able to create digital products that sell, you can resell them as many times as you want.
ECommerce platforms makes delivering products to your customers seamless and automatic. You wouldn't have to do too much.
It's easy to scale — absolutely no need to worry about production cost.
There are a lot of digital products ideas to choose from.
The Best Digital Products to Sell online
While there are a lot of digital products ideas, I streamlined the list and decided to focus on some of the best digital products that sell.
Some of the best digital products to sell from the comfort of your home:
eBooks
EBooks are one of the most popular and profitable digital products to sell.
Not only do people love reading books on their devices, they offer one of the easiest ways to grab knowledge on the go.
People can purchase a recipe ebook or a specific tutorial ebook to learn something new on the go.
65 Of The Best Printable Ideas To Sell – Helpful Tips To Create Yours
The beauty of creating and selling ebooks is that it is an evergreen product.
If done right, your ebook will continue to grow year after year because people are always looking to read and grab new information!
It is easier to update and improve the contents of an ebook. No need for a publishing company — just create your eBook and sell it online!
What Kind Of Ebook Should You Sell?
You may wonder, "what kind of ebooks do I create and sell?"
There are a lot of different ebook genres that you could sell, but the most popular ones include:
Self-help
Diet
Finance
Parenting
Health and fitness
Cooking
Home improvement
Personal development.
And more.
There are a thousand and one ideas out there, but finding the right ebook to create all depends on what you are good at and what your audience wants.
Website Themes and Templates
Bloggers are always on the look out for new designs to improve usability while they maintain a more professional look.
Also, more and more people are bringing their businesses online and most use eCommerce Platforms to showcase their products.
Most of these blogging and ecommerce platforms enable users to set a theme for their website.
Web developers create website designs for bloggers, businesses and entrepreneurs.
If you have a background in web development, you can leverage this opportunity and join the community of other developers who make money selling their pre-made designs.
What Kind Of Website Themes Should You sell?
There are a few things to consider before creating your themes. The first is the niche you want to target. Once you have narrowed down your niche, research the type of website design that sells best.
For example, to build a theme that targets Personal development coaches, you need to research and know the features they look out for in a theme.
There are a lot of website themes online to inspire and give you an idea of how pricing works.
The easiest way to get started with creating website themes is to work with a content management system like WordPress or hosted platforms like Shopify and Squarespace.
You can create:
WordPress blogging and WooCommerce themes
Shopify themes
Squarespace themes
Showit themes
Webflow themes
Wix themes
HTML templates
Make money selling mobile apps
The mobile app industry is one of the most lucrative businesses in the world today. If you have a great idea for an app, you could potentially make a lot of money by selling it to the right people.
There are a few things to keep in mind if you want to make money selling iOS or Android apps.
First, you need to create a quality product that people will actually want to use. Your app should be well-designed and offer value to users.
Second, you need to market your app effectively to reach your target audience. You can do this by creating a strong online presence and using social media to spread the word about your app.
Finally, you need to price your app correctly. If you charge too much, people may not be willing to buy it. But if you charge too little, you won't make a profit.
If you can create a quality app and market it effectively, you could make a lot of money selling smartphone apps. So if you have a great idea, don't hesitate to get started in this lucrative business!
What Kind of Apps Should You Sell?
Photo editing apps
Offer freelance services to businesses.
Games
Mobile app templates
Make money Selling Graphic Designs
graphic design niche has a lot of digital products that sell online. Your best bet is to choose products you can create and become a master of your craft.
There are a number of ways to make money through graphic design. The most common is to sell your designs to companies or individuals who need visuals for their products or events.
You can also make money by selling your designs online, creating your own products, or licensing your designs to others.
To get started, you'll need to have an artistic background and know how to create high-quality designs. Your ability to write clear, concise descriptions of your work will give you an edge in the ever saturated market.
What Kind of Graphic Designs Should You Sell?
Design comes in different shapes and forms, and it is easier to focus on your design style.
Don't want to illustrate or paint? Below are a few more digital product ideas:
Fonts
Logos
iOS app icons
Instagram Highlights covers
Business cards
Flyers
Brochures
Press releases
Web banners and ads
Greeting cards
Make money Selling Digital Arts
Digital arts are one of the best digital products that sell well. A lot of people buy digital arts and print them to beautify their homes or offices, many others use them as design resources for their works.
One great opportunity for graphic artists is to sell their works on the blockchain by converting them to Non-Fungible Tokens, NFTs. Learn more about NFTs.
If you create graphic arts that are inspired by popular culture, like movie posters or video game art, you need to target gamers or movies fans. They are likely interested in what you are creating.
What Kind of Digital arts Should You Sell?
Wallpapers
Printable arts
Illustrations
Clip arts
Make money Selling Graphic Templates
If you have a design or photographic background, or know someone who does, there is a market for your work.
You can sell graphic templates designed to help entrepreneurs start and manage their own businesses.
Alternatively, you could create your own graphic templates and sell them online. This is a more creative route and can be more rewarding if you have design skills.
What Kind Of Graphic Templates Should You sell?
I would always recommend you to do your research and know what people are creating and selling. Find a niche and create graphic templates that solve a problem.
There are a lot of graphic templates you could sell, some examples include:
Social media templates – Instagram and Pinterest templates are the most popular social media templates to sell right now.
Ebook templates
Media kit templates
Workbook templates
Planner templates
Resume templates
Business cards
Flyers
Brochures
Press releases
Web banners and ads
Greeting cards
And more.
Make money selling Adobe Lightroom Presets
Lightroom is an Adobe photo-editing program that enables you to change your pictures to a more professional look as it pleases you.
Adobe Lightroom has grown popular among social media users who want to maintain an edit pattern on their photos.
If you use Instagram regularly, you will have gotten used to the aesthetic feeds and photos.
Most bloggers and influencers on Instagram and other social media platforms achieve their professional aura with the help of Lightroom Presets.
Now, Adobe allows you to export edits made on any of their Lightroom apps as presets to use on other pictures.
People who know how to make really cool edits on Lightroom can sell their presets to other users!
If you are great at editing pictures, you can get the Adobe Lightroom App, familiarize yourself with the platform,and learn how to create beautiful presets you can sell.
It doesn't take much to get a hang of the lightroom app on smartphones. It's a lot easier if you have a background in photo editing.
What Kind Of Lightroom Presets Should You sell?
There is no one-size-fits-all answer to this question, as the type of presets you create and sell will vary depending on your personal skills, interests and what people are looking for.
However, some popular types of Lightroom presets that could be profitable to sell include:
Photo Retouching Presets
These presets can help you improve the appearance of your photos by correcting certain flaws, such as blemishes or skin tones that might be off balance.
HDR Presets
These presets can help you create high-quality photos with a more dramatic look.
Vintage Filters
These filters can give your photos a retro or vintage look, perfect for creating Old World inspired images.
Color Correction Presets
These presets can help you perfect the color balance of your photos, making them look more vibrant and realistic.
Sell Courses And Tutorials
If you have the skills and knowledge to teach people something new, then selling courses and tutorials could be a lucrative option for you.
Not only will you earn money from your students, but you'll also be able to share your expertise with a wider audience.
What Kind Of Course Should You sell?
The type of course you create and sell varies according to your skill, experience, knowledge, and understanding.
Once you discover how good you are at something, everyone else is trying to learn, you should most definitely grab the opportunity and make extra money sharing your knowledge.
Some popular types of courses that could be profitable to sell include:
Photography Courses
These courses can teach you how to take better photos and improve your photography skills.
Design Courses
These courses can teach you how to create beautiful designs using Adobe Photoshop or other design software.
SEO Course
If you have expertise in online marketing, then selling a SEO course could be a great way to monetize that knowledge and help people learn how to improve their website rankings.
Product Creation Course
If you know how to create any marketable product, you can teach other people to create and sell their own. There are courses like "how to create an NFT, font, website templates" and more!
Business Course
If you have knowledge and experience in business, then selling a business course could be a great way to monetize that knowledge and help people learn how to start and run their own businesses.
Some of the best platforms to sell your knowledge
Udemy: Udemy is one of the most popular platforms for selling online courses. You can sell virtually any type of course on Udemy.
Skillshare: Skillshare is another popular platform for teaching online, and there are many courses to draw inspiration from.
Lynda: Lynda offers a range of online training courses that cover everything from photo editing to web development.
Your website: Hosting your course on your own website is a lot less expensive and you can have more closure with your students.
Where to Sell Digital Products?
Digital products that sell need more than just quality, but a good eCommerce platform.
There are many places where you sell digital products. Here are a few of the most popular:
WooCommerce
WooCommerce is a popular eCommerce service that runs on WordPress. You can sell just anything on WooCommerce. To get started, you need to secure a WordPress host.
Shopify
Shopify is a popular eCommerce platform among business owners online.
Etsy
Etsy is an online marketplace where people can sell handmade and digital items.
Amazon
If you want to sell ebooks, Amazon is one of the best marketplaces for you. It is a home to self publishing authors and you can make your books available for physical use.
Google Play
Google Play is a marketplace for Android apps.
Apple App Store
The Apple App Store is a marketplace for iOS apps.
Conclusion
There are many ways to make money online, and selling digital products is one of the most popular.
If you have a great idea for a digital product, starting creating and marketing to the right audience.
once you have found the digital products that sell, ensure you create you best qualities and market theme to your target audience.