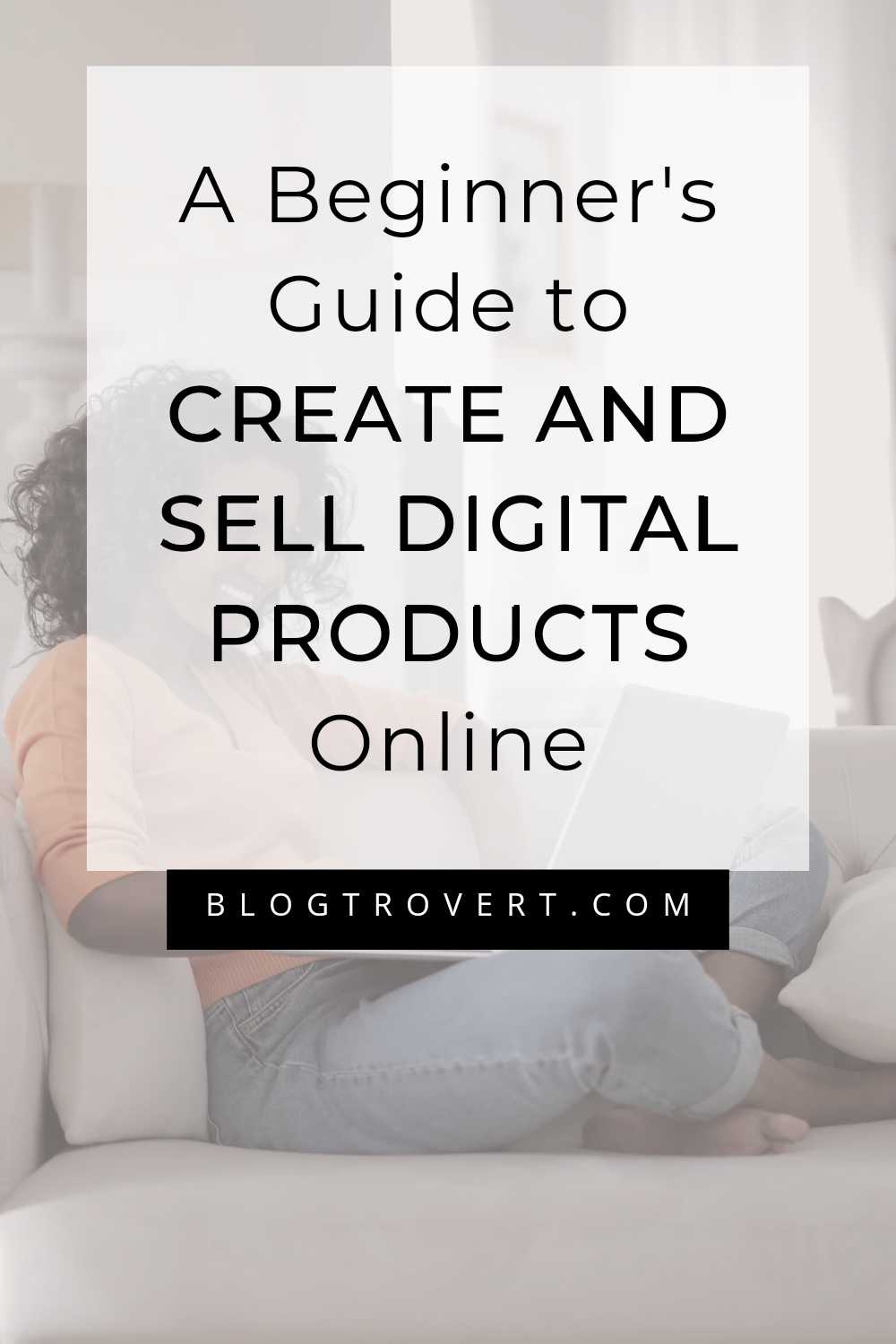 People are always looking for ways to make money, and the internet has opened up a whole new world of opportunities. One of the best ways to make money online is to sell digital products.
In this post, you learn all you need to know about digital products and how to make money selling them.
What are Digital Products?
Digital products are intangible assets you create and distribute electronically. E-books, online courses, and software are all digital items you can create and sell from the comfort of your home.
Difference between digital and physical products
The major difference between a digital product and a physical product is that one exists in digital form and the other exists in physical form.
Physical products are tangible and have a physical form. They can be touched and are usually manufactured products.
How to make money selling digital products
I will jump right into the purpose of this post. I hope the information you find here helps you start your own business online.
Find a good product to sell
When it comes to finding a good digital product to sell, there are a few things you should keep in mind.
First, you'll want to consider what your target market is looking for.
What are they interested in?
What needs do they have that your product can solve?
Once you have identified what your target market is looking for, you'll be able to come up with a good product to sell.
How to Choose a Digital Product to Sell
When choosing a product to sell, it is important to think about what you are passionate about or willing to learn.
Once you have identified a niche that interests you, research the different products that are available on the market.
There are a lot of digital products to choose from, so, you need to be selective in order to find the right ones for your business.
Examples of digital products to sell
There are different products that you can create and make money from the comfort of your home. I will list some of the best digital products to sell:
1. eBooks
These can be in any form, from a traditional eBook to a PDF document to an audio book. There is a wide range of subjects that can be covered, so there is sure to be an eBook to suit every customer.
2. Online courses
These can be in any format, from a series of videos to a PDF document. They can cover any topic, from cooking to self-improvement.
3. Software
There is a huge range of software products available, from productivity tools to games. Many software products can be sold as downloadable products, so there is no need to worry about shipping or inventory.
4. Graphics
Whether you are a professional graphic designer or simply have a knack for creating beautiful designs, you can sell digital graphics online. These can be used for website designs, logos, or simply as artwork.
5. Videos
If you have a video camera and editing skills, you can create and sell videos online. These can be educational, entertaining, or simply documentaries.
7. Music
If you are a musician, you can sell your music online. This can be in the form of MP3 files, CDs, or even vinyl.
An Extensive list – The best digital products to create and sell
Create your digital products
After you find the digital products to sell, you need to create them to actually make money.
So, how do you get the digital products you want to sell?
How to get Digital Products to Sell?
The easiest and safest way to get a digital product to sell is to create it. Creating digital a product is easy. You can make it yourself with your smartphone, tablet or PC.
If you don't trust your skills, employ the services of an expert or freelancer on platforms like Fiverr and Upwork.
If you must create any digital product yourself, ensure you have the knowledge required to make a working and sellable product.
To create graphics, you need tools like Canva, Photoshop, Indesign and illustration.
Different digital products have specific tools you need to create them. You'll learn all this when you start your creative journey with any of the products you intend selling.
Remember that you don't have to create your digital products yourself because it wouldn't matter who creates what you sell, so long as it's done right.
The most popular digital products and the skills you need to create them
Apps – requires app development skills.
Fonts – learn more about creating fonts
Stock videos – requires videography skills
Stock photos – requires photography skills.
Illustrations – requires artistic skills.
Online Courses – requires you to be a pro in your field
eBooks – requires you to be a pro in your field
Graphic Templates (Social media templates, ebook templates and more) – requires graphic design skills
Music and music beats
Website themes and templates – requires web development skills.
Digital planners, and more.
Best places to learn how to create digital products
There are a number of great online resources that can teach you the basics of digital product creation. I will discuss some of them below.
Udemy is the most popular online learning platform to learn a digital skill. It offer a variety of free and premium courses on digital product creation in different niches.
There are different tutors teaching the same skill, so, it's important you do your research and choose the best. Learner reviews are also there to help you make the right decision.
Skillshare is another online learning platform that offers a number of courses on digital product creation.
The courses are taught by industry experts and cover a wide range of topics, from product design and development to marketing and monetization.
Youtube is unarguably one of the best places to learn virtually any digital skill for free. There are thousands of YouTube creators who take their time to teach you for free.
On YouTube, you'll find several course and tutorial videos for different digital products. If you want to create website themes, there are just enough videos for different platforms. If you want to sell printables, you'll find lots of helpful videos for different printables.
If you are just starting out and do not have the finances to buy a premium course or tutorial, YouTube is your go-to platform.
Blogs
Blogs also offer tutorials on creating different digital products. You find helpful posts on how to create a profitable product or fix any problem you encounter when creating them.
Blogs are extremely helpful when you are looking for easy to follow steps in achieving your dream product.
Choose a good platform to sell your digital product
There are many platforms that you can use to sell digital products, and it can be difficult to decide which one to use.
Some factors to consider include the type of product you are selling, your target audience, and the features you need.
When choosing a platform for selling digital products, it is important to consider your needs and what will work best for you and your customers.
So, where do you Sell Digital Products?
You can sell digital products in a variety of ways. The most common way is through an online store or marketplace.
You can also sell them on your website or social media platforms, like Facebook and Instagram.
Etsy, Creativemarket and Envato are all large marketplaces popular among digital creators who sell what they make.
The best places to sell digital products
There are many places to sell digital products, but the best place really depends on what you're selling and who your target market is.
If you sell website designs and templates, selling through platforms like Envato, Creativemarket and Mojomarket is the best option for you because they likely have your target audience.
If you're selling products that are aimed at a more general audience, then selling through a site like Etsy might be a better option.
Here are some of the best places to sell your digital products depending on your specialization.
Etsy and creativemarket are a great marketplace to sell digital products.
Amazon is a go-to website for most online shoppers, and it offers a good marketplace for digital products like eBooks and audiobooks.
Google Play and Apple App Store enable app creators to showcase and sell phone apps.
Themeforest and templatemonster is a great marketplace for selling custom designed themes and templates.
Facebook groups are a great place to sell digital products and services.
Twitter is also a great place to sell digital products.
YouTube, though different, can bring good sales to your digital product if you put in the work.
Udemy and Skillshare are popular for selling video based tutorials and courses.
You can also sell your products on your personal eCommerce website. WordPress CMS and Shopify are the most popular e-commerce store providers. Some other recommended eCommerce providers include;

Ecwid
Gumroad
Sellfy
Selz
selar.co, a great option for Africans.
Selling on your website is an awesome choice if you can grow your audience and do not want to rent customers.
Most of the aforementioned marketplaces and eCommerce providers enable sellers to receive payment with PayPal, Payoneer, Paystack, flutterwave and more.
Always take note of the marketplaces and eCommerce provider's fees.
Market your products
Once you have created and listed your digital products, it is important to promote them effectively.
The ability to market your products to the right audience is one factor that will determine if you will make money selling online.
There are many ways to promote a product on the internet, so it is important to find the best method for your product.
You can do promotions through online channels like; social media, your website, or email marketing. Here are a few tips to help you market your products effectively:
1. Know your target market.
Who are you selling to?
What are their needs and wants?
What are their buying habits?
Knowing your target market will help you choose the right marketing channels and create messages that resonant with them.
2. Have a clear marketing strategy.
Before you start spending money on marketing, you need to have a clear strategy.
What are your goals? Who do you want to reach?
What do you want them to do?
Once you have answers to these questions, you can start planning your marketing campaigns.
3. Focus on benefits, not features.
When you're creating marketing messages, focus on the benefits of your product, not the features.
What will your product do for your customer?
How will it make their life better?
Answering these questions will help you create messages that sell.
4. Use attractive visuals
We are visual creatures, so make sure your marketing materials are attractive and eye-catching.
Always use high-quality images and videos to market your products.
The Benefits of Selling Digital Products
There are many benefits of selling digital products. One significant benefit is the ability to sell them from anywhere to anyone in the world.
Digital products are very easy to produce and share. You never have to worry about having an inventory, packaging products or shipping them out because you will do everything online and seamlessly.
Some more reasons to sell digital products include:
There is an unending demand for digital products.
Delivery is often instant with the right marketplace or e-commerce platform.
You can sell them in a variety of ways, including online stores, marketplaces, and social media platforms.
It is a great way to build an online presence.
If done right, selling digital products can grow to become a full-time business.
What are the Challenges of Selling Digital Products?
Like other types of products, there are a few challenges to selling digital products. We have listed some below;
Some products like website themes and templates require you to learn the related digital skill, web development.
You will need to stay relevant and create unique products in order to make sales and be successful.
The digital product space is competitive and you will have to create a sound marketing strategy to ensure your potential customers see and purchase your products.
You may violate other people's copyright.
People can steal your products and ideas.
How to Overcome the Challenges of Selling Digital Products
Every challenge has a working solution and in response to the challenges above, the following ideas can keep you above water when selling digital products.
Do proper research and background check before creating a product for sale. If you don't trust your creation skills, hire an expert.
Learn about digital marketing or hire a marketing expert that will create an effective advertising campaign to promote your business and bring in new customers.
Before purchasing any resource for your project, always read and understand the product's license. Learn more about product licensing.
To protect your products from plagiarists, you can use watermark for images and use a good file sharing system to prevent unauthorized downloads. Also, license your products.
What are the Legal Requirements for Selling Digital Products?
While there are no specific legal requirements, ensure you comply with any relevant copyright and intellectual property laws.
Only buy and use resources with a commercial use license. You cannot sell a product if part of it was created with resources reserved for personal use only. Whatever you do, make sure you understand product licenses and usage rights.
Create a concise terms and conditions page for your products so that your customers are aware of their rights and responsibilities.
How to create a successful digital product
These are some of the helpful guidelines you will need to create a successful digital product.
Identify a niche market
There are many digital products available, so it is important to identify a niche market that you can target. This will make it easier to create a product that meets the needs of your target audience.
Research your audience
Once you have identified a target market, it is important to research your audience to understand their needs and wants. This information will be helpful when creating your product.
Do some proper research so you know what others are creating and selling the most. Get inspired by already made products but DON'T COPY!
Determine what format your product will be in
Will it be a downloadable PDF?
An online course?
A series of videos?
Once you know the format, it will be easier to start creating the content.
Find the best tool for creating your dream product.
Photoshop, Procreate, Medibang and Canva are suitable tools for creating templates, ebooks, and image based designs for sale.
Create a product that is unique
There are many digital products available, so it is important to create a product that is unique and will stand out from the competition.
Ensure your products are high quality and useful
No one wants to buy a digital product that is full of fluff or that doesn't offer any real value. Take the time to create something that will really help your audience.
Remember to only use resources that are available for commercial use. Avoid products made for personal use. I implore that you learn more about licensing.
Conclusion
I hope this guide gives you a headstart as you begin your digital products business. You can save this as a resource and always revert back if you need help.
Remember to choose a good platform to sell your digital products as it's a defining factor to find your target audience; and the best chance of making a sale.
Also, don't just create any product, make them high quality or you may never grow as a business.
Promote your products as much as you can. It will give you a higher chance to make money selling digital products. If you don't promote what you sell, people may not find them unless you use marketplaces like Etsy that already have an active audience.
Thank you for reading and good luck in your endeavors!
I may earn a commission from qualifying purchases made through the links on this blog, at no additional cost to you. For more information, see my Disclosure