The internet is an amazing space with lingering opportunities. You can do so much online, and that includes making money. I have come across a lot of online opportunities to make money online and have even fallen for scams in the past, but one thing I can tell you is, there are a bunch of real profitable online side hustles; all that's required of you is to discover them.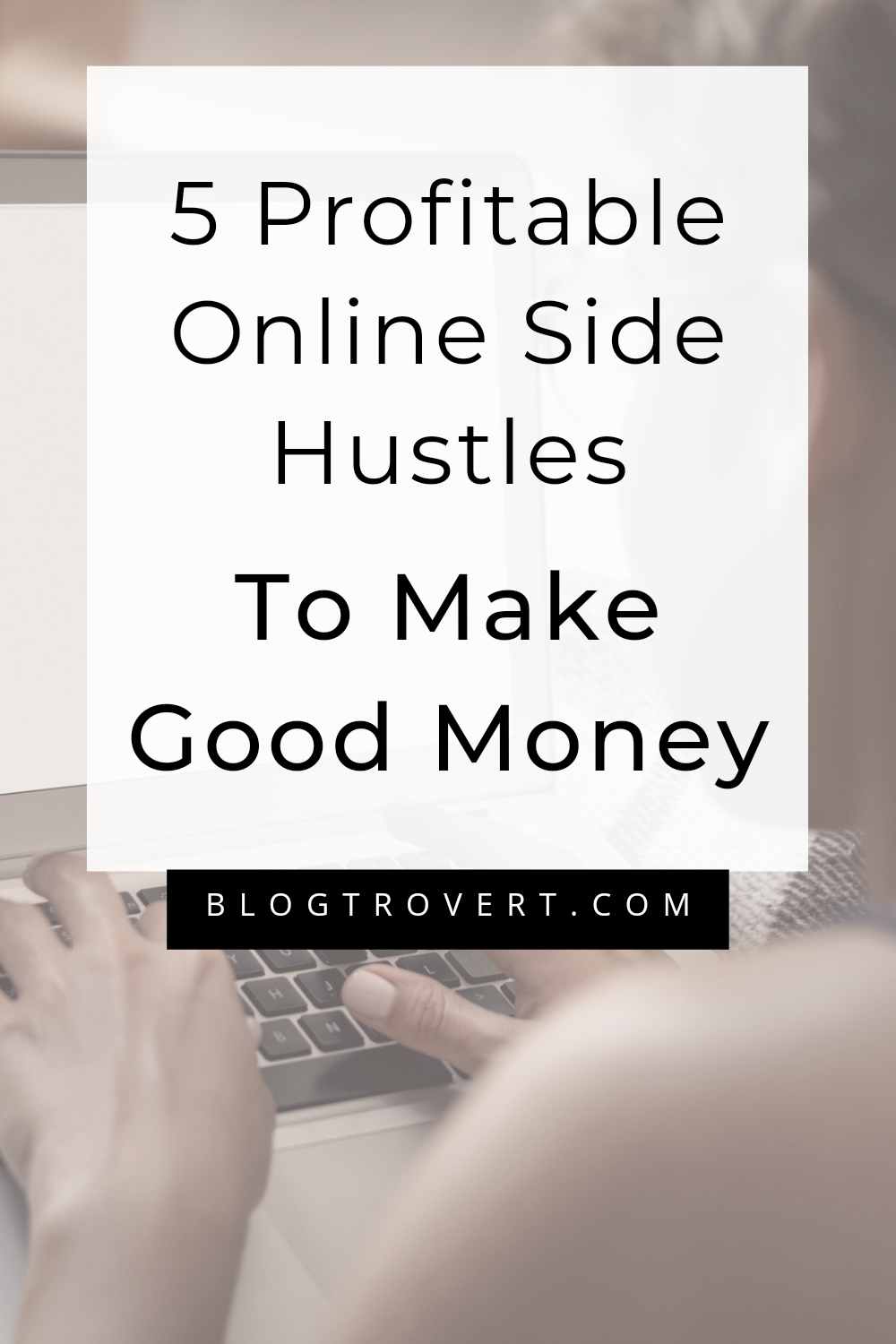 If you are looking for profitable online side hustles to pair with your 9 – 5, or simply want to grow something and make money online, then you'll appreciate the list I've compiled for you.
This post contains 5 side hustles broken down into related areas that are bound to give you results, even in the smallest way. You only need to pick the best option for you, understand how it works, take necessary actions, be consistent and patient.
Major Challenge Of Working Online In Some Countries
Before we begin, I'd like to point out one challenge you may face in your attempts to make money online: "how to receive payments." If you live in countries like Nigeria where there is limited access to payment platforms such as PayPal; you may face issues with getting paid for services or products you sell when you target a wider audience.
While reaching more people is an exciting experience, having payment challenges and limitations will stress you out. But not to worry, we'll find a way or opt for alternatives – Payoneer, Paystack and Flutterwave.
My Top 5 Profitable Online Side Hustles
This list comprises 5 side hustles that anyone willing to put efforts can do from locations with access to the internet. They are my top five because there are barely any limitations to get started with them.
Print on Demand
Sell digital files
Freelance
Content creation
Cryptocurrency
Print On Demand
Print on demand or POD allows you to sell your custom designs on products without being involved in the production process. They only require you to create designs for the items you intend selling.
This business method is called POD because there are platforms you can integrate or partner with to do all the production and shipping processes for you whenever you receive a new order.
If you've heard of dropshipping, you'll realise that print on demand is only a different variant that allows you to personalize the products you wish to sell.
Print on demand is a great way to make money online because it enables you to explore your creativity and passion without stressing over capital, inventory, printing, packaging and shipping out orders. You are basically getting 90% of the job done for you.
In Print On Demand, your creativity and sometimes marketing skills are the most important requirements from you. Your designs are your selling point and if the POD platform doesn't bring you customers, you'll have to sort that out yourself.
There are 2 types of print on demand platforms;
The marketplace
The production partners.
Print on Demand Marketplaces
POD marketplaces basically allow individuals to sign up to their platform and create designs for products people purchase from them. "Merch by Amazon" is one of the largest print on demand marketplaces. If you've ever bought a shirt from Amazon, chances are you supported a designer! Some POD marketplace include;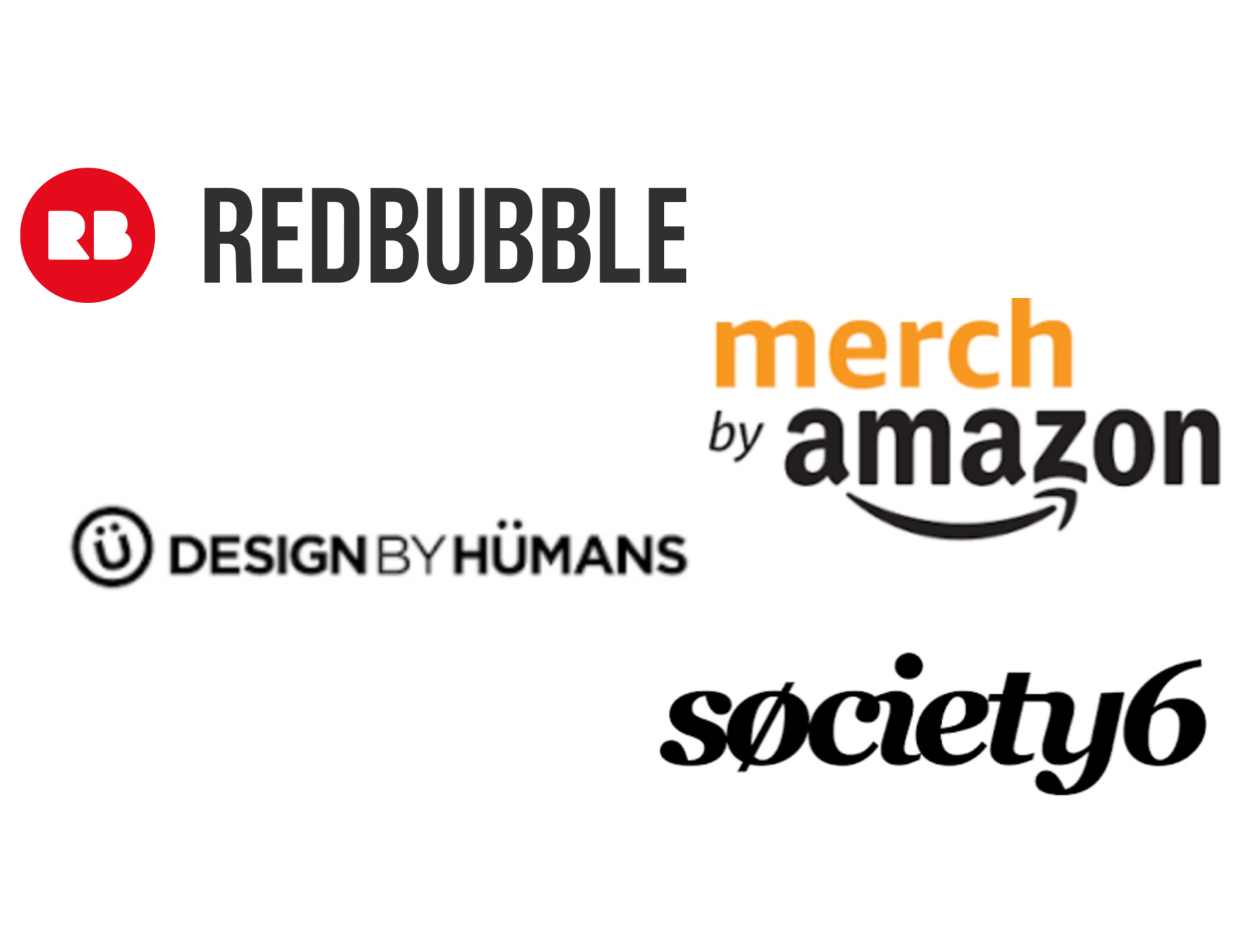 Print On Demand Production Partners
POD production partners simply provide you with an inventory to sell your designs on. Unlike marketplaces, you're 100% responsible for bringing customers to your business.
Some print on demand production partners have integrated with e-commerce platforms to allow a seamless and automatic transaction. Once you get a sale and have integrated with your chosen POD partner, it automatically sends orders to them for production and delivery. This enables you to do the most important thing, drive targeted traffic to your store. Some of the best Production partners with automatic integration are;
Where To Sell Print On Demand Products
With a POD platform, you need a shop to display your products and my best recommendations are;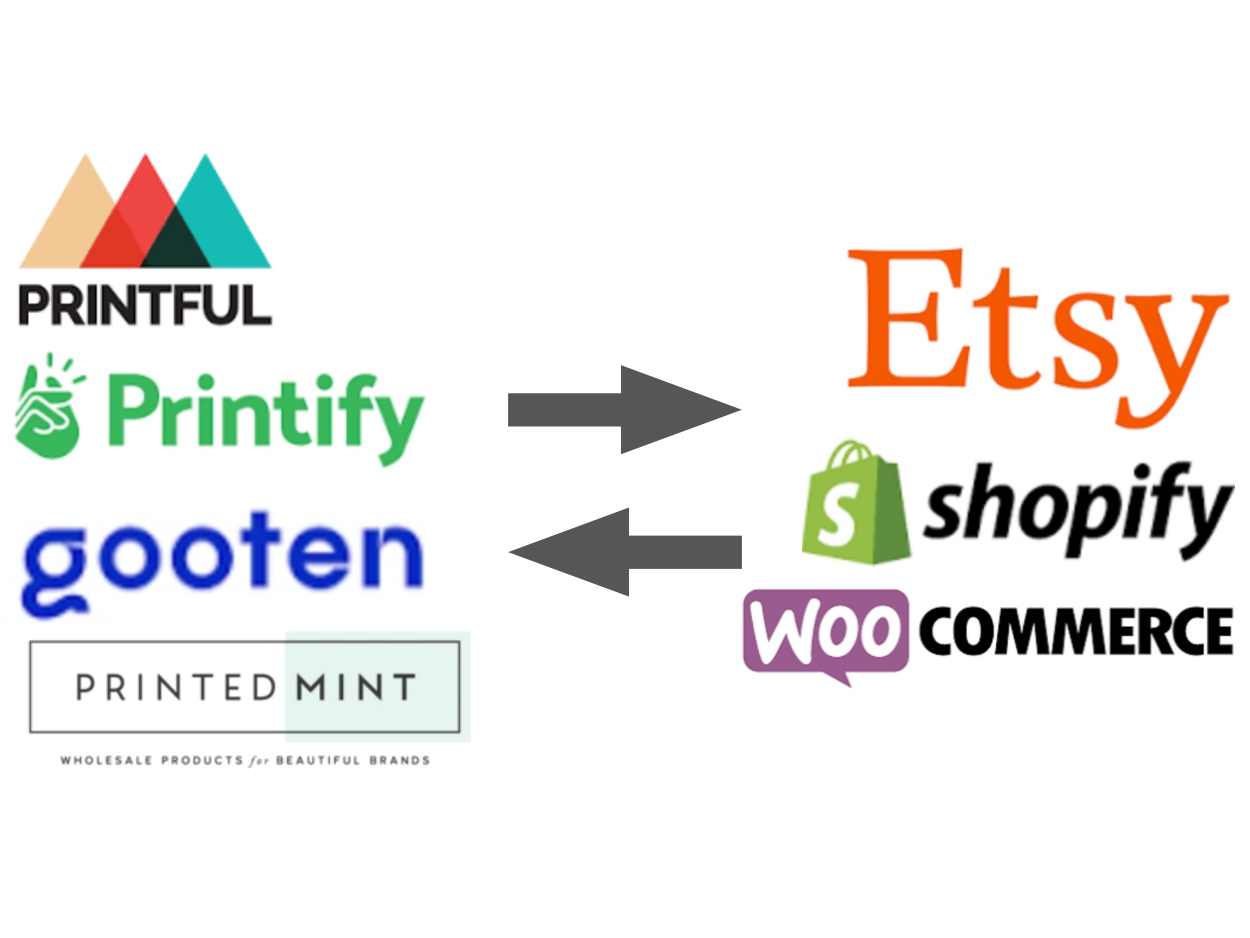 Etsy is likely the best place for a newbie who isn't ready to pay monthly fees or hosting. This platform is not entirely free, but comes with minimal fees. Below are the major fees on Etsy.
You will pay $0.2 to list and renew products. Every listing on Etsy stays online for 4 months before renewal is due. So, you aren't paying $0.2 every month. Get 40 Etsy listings for FREE.
Etsy takes 5% off every sale you make on their platform. Fees vary when you sell to Europe.
Woocommerce is an open source e-commerce plugin that runs on WordPress. It's 100% free to use but offers premium add-ons you may be interested in. To sell on WooCommerce, you need to buy a web hosting plan and use wordPress.org for your website. If you are looking to start on a small scale, check out interserver.net, they offer one of the cheapest hosting plans on reliable servers.
Shopify is a premium e-commerce platform that allows you to use them for your business on monthly subscription. Their subscription plan starts at $29 to $299/mo. This platform is not entirely for people looking to start on budget, so, consider using Etsy or woocommerce.
Try Shopify for 14 days to know if they are perfect for you.
Best Print on Demand Products to Sell
While there is no limit to the products you'll see on POD platforms, some perform better than others. I've not tried selling more than T-shirts, but I know there are more cool products to sell. I listed some of them below;
T-shirts
Hoodies
Phone cases
Mugs
Stockings
Duvets/blankets
Pillows
Stickers
Wallart
Facemasks
You can always visit the POD market places or production partners to see all products each company offers for sale.
Sell Digital Files/Downloads
Digital files are probably one of the easiest and fun things to create for sale. Being a creative person, with the little knowledge I have in this field, I enjoy creating digital designs. If you are looking for easy online side hustles, selling digital products is one of them!
Many people have sold digital files and downloads, such as ebooks, courses, and printables. This is a great way to make money online from home and an exceptional way to discover your creative side. It will surprise you how putting in a little effort will bring you extra sustainable monthly income.
The Best Digital Products To Sell
You may probably wonder how people make money online selling digital downloads. Truth is, that would have been me too if I hadn't sold a simple text design I made.
Many people rather not buy finished products but make them at home because they are cheaper and customisable. So, they simply buy digital files and print from home or at cheaper rates.
Planners and Wall Arts
An average planner and journal may be expensive, but printing and compiling your own planner could be cheaper. Same goes for wall arts and stickers. Point is, you could make money creating these types of printable files for people who'd rather make theirs at home. Some people even buy templates for their digital planners on excel, goodnotes and others.
Design Templates / Social Media templatesw
Templates are common among digital crafters. In fact, you may buy a design template in the future if you decide to sell digital files or try print on demand. Some opportunities are;
Create and sell social media templates to bloggers and business owners. Pinterest and Instagram templates are currently doing well.
Create CV and resume templates for Job seekers and media kits for bloggers looking for advertisers.
Make customisable T-shirt design templates.
Ebooks and book templates are also a thing these days.
Website Themes
While website templates require web development skills, I will say learning to create website themes will be worth it! You can create themes for WordPress, Blogger, Wix, Shopify, and many other platforms that use template designs.
There are several ways to sell your digital files, but I listed the best and common ways below.
Where To Sell Digital Products
Etsy
Creativemarket – Web themes, Craft files, templates and more
CreativeFabrica – best for templates and craft files.
Envato – Themes and templates.
Woocommerce or easy digital downloads
Shopify
If it bothers you, about what to create; the internet is a global village and there are a bunch of inspirations sitting around for you to dive into.
Freelancing
There are many advantages of becoming a freelancer. First, you are in control of your work schedule. You set your own hours, and you decide how much work you can take on.
When you're a freelancer, you can choose the services you wish to provide. Some marketable skills include; graphic designing, content creation, web development and digital marketing. It's best to focus on a skill because it will help you offer better services to your customers and improve your skill as you grow.
To get started with freelancing, choose your best skill and offer it for sale in form of services on platforms like; Fiverr, Freelancer, Guru and Upwork. They are all amazing freelancing platforms you can try today.
Content Creation
Do you enjoy writing, taking photos and making videos? You might try monetizing your skill or hobby. Content creation is not one of the easiest side hustles, but it can be fun if you already enjoy doing it. You could start a blog, YouTube, or Tiktok channel or go full mode on Instagram and Twitter.
The aforementioned content creation channels are basically the most common ways to create content these days. You can start an exceptional journey and make money while you are at it, doing what you love. A little break down below;
Vlogging
We see a lot of YouTubers and Tiktokers with rapidly growing channels make money off their contents. Once your channel grows, advertisers and brands may reach out to you for collaboration or sponsored videos.
Google Adsense allows YouTube content creators to work with them as publishers after reaching certain views and subscribers threshold.
Blogging and Writing
If you are not interested in starting a video channel, you can start a blog or offer your services to brands and other bloggers to become a part of their content creating team.
When you own a personal blog, there are a lot of ways to make money from It. You can either partner with Print on demand platforms and sell custom products or simply create digital files for sale.
Ads and sponsored posts are also a cool way to monetize your blog. Below are some helpful resources
Influencer marketing on social platforms
If you have been active on Instagram, twitter or Facebook, you'll know how much influencer marketing has grown over the years. It's become one of the full blown profitable side hustles for social media users who want to make good money online.
Love sharing photos and videos of yourself?
Are you a talented comedian
Enjoy writing viral, smart, or controversial contents?
Try doing more. Grow your followers and watch brands reach out to you for sponsored posts or collaboration.
Note: Content creation goes beyond writing.
Crypto Trading – high risk level
I'm adding crypto trading to this list because despite the risks involved, it's an incredible way to make money online. But before I go further, I'd like to remind you that;
TRADING CRYPTO IS RISKY. DO NOT INVEST MORE THAN YOU ARE WILLING TO LOSE.

Kindly understand the risks involved.
I was first introduced to cryptocurrency in 2017, when I actively took part in steemit, a social media platform that paid you for socializing. Now, there's Hive, a better platform that offers you similar incentives.
The crypto craze has resurfaced in 2021 and many people, because of the possibilities of cashing out big, are diving into trading. Yes, you can make money trading, but you can also lose money.
If you are interested in trading on the side, I'll advise you to first take a course that'll teach you everything you need to know about cryptocurrency. Some cool places to start off include;
If you are ready to trade, my recommended trading platforms are;
Please ensure you understand the risks and volatility of the market before trading with your funds.
Getting Past Payment Restrictions
Most people who aren't lucky to live in countries with operational PayPal accounts experience payment challenges. Half the clients and customers you meet online (if you target a wider audience) would rather pay you with PayPal, and I understand why. This could be a challenge, but it isn't entirely.
If you plan on using Etsy for your business and don't live in countries accepted for direct payment, you'll need PayPal. Sites like Creativefabrica, Creativemarket and more require a PayPal account.
Using PayPal when it's not allowed in your country may be risky, but we all need to take risks;
Contact a friend or family you know living in countries accepted by PayPal, they can help create a receiving account for you.
You can also create a PayPal account by yourself using the steps in this post – Very Risky, good luck!
Use Flutterwave payment platform to receive PayPal payments.
Some platforms like Merch by Amazon, Redbubble and Envato send payouts to Payoneer – Get $25 for creating a Payoneer account.
Shopify and Woocommerce allow you to receive payments in several ways. You can search each platform to know the payment method they support or provide and know which you can use. Paystack, Flutterwave and crypto payments exist on Woocommerce.
I understand that some countries like Nigeria have banned citizens from using their traditional bank accounts to send and receive money from crypto trading platforms; you can bypass this and trade without worries by using the "Peer to Peer" payment method. Binance is likely the best platform for p2p trading.
I may earn a commission from qualifying purchases made through the links on this blog, at no additional cost to you. For more information, see my Disclosure