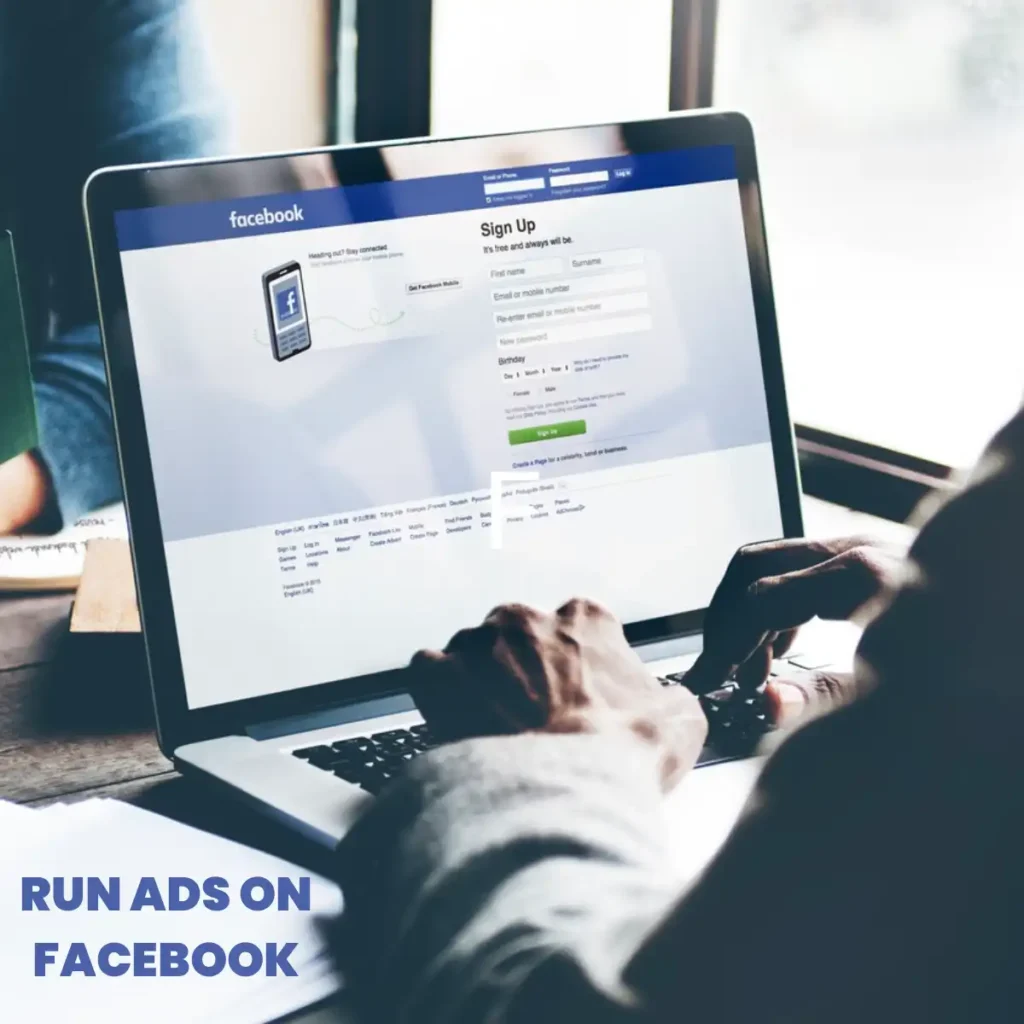 After reading this post, you are likely never to encounter any issue if you want to pay for Facebook ads in Nigeria with the local currency, Naira.
Facebook has always been an excellent advertising medium for business owners in Nigeria, looking to spread the world about their new products to a likely target audience.
In the past, we only had the option to pay for Facebook ads with the United States dollar. This didn't go well for most individuals. Some incurred debts due to exchange rates, rejected debit cards or monthly international spend limit.
To avoid this situation, most businesses opted in for dollar debit cards or paid advertising agencies to run campaigns on their behalf. But then, everything changed in 2017 for Nigerians.
The ability to pay for Facebook ads in Naira officially began in March 2017, with the help of the third party payment processor Payu.
How to Pay For Facebook Ads In Nigeria using PAYU
This integration came in as a lifesaver. Now, you don't have to worry about running ads you won't be able to pay for because of a declined debit card or a spike in our dwindling exchange rate.
Although knowing how to use Payu for Facebook ads is amazing, there is a setback; paying with verve card isn't available yet but hopefully, soon they will. As at the time of this post, you can only use Visa and Master debit Cards to make payment on Payu.
Options available to Nigerians before Payu
In the past, Nigerians who needed Facebook advertising solutions for their businesses only had one option. They must use the conventional dollar Facebook ad account to run ads or find other advertising solution.
Despite its usefulness, running ads proved rather difficult for many as there were a series of unplanned expenses because of unmeasured ad spend rates. Some Nigerians ended up being indebted to the social media platform because their cards got rejected.
I created this post to help business owners who want to run ads but need a Facebook Ad account that accepts naira payments.
I hope this tutorial does justice so that you can easily create your own advertising account on Facebook and pay with the Nigerian naira.
If you are still running your Facebook Ad account and paying in a dollar, reconsider and switch over to a Nigerian account. It is better to be charged in Naira. At least you will track your spend rate properly.
Disadvantages of Using a US Dollar Facebook Ad Account
Most banks restrict international transactions on the Naira debit cards.
The Dollar to Naira rate is quite high, and this can incur unnecessary expenses
Inability to calculate ad spends because of the fluctuating dollar to naira rate.
Running adverts and discovering you can not pay with your debit card, thus, you find yourself in some crazy debt.
Having highlighted the above drawbacks of using a Dollar Facebook advertising Account, I will go further to guide you on how to create and pay for campaigns in Nigeria.
Before you continue, note that; you must fund your Naira Facebook Ad account before creating and running ads. It is actually better because you will not have to be indebted to Facebook. This is unlike the usual advertising accounts where you could spend above your life savings unknowingly.
How To Create A Facebook Ad Account In Nigeria and Pay in Naira
Note; If you have already created an ad account previously, you will need to create a new FB account or use a friend's account for your brand new naira ad account.
---
How to Pay for Facebook Ads in Nigeria In Easy Steps with photos
Log on to facebook.com on desktop (recommended); in your homepage, On the left nav, locate "AD CENTRE." If you don't find it, click on "see more" to view more options, then select "AD CENTRE".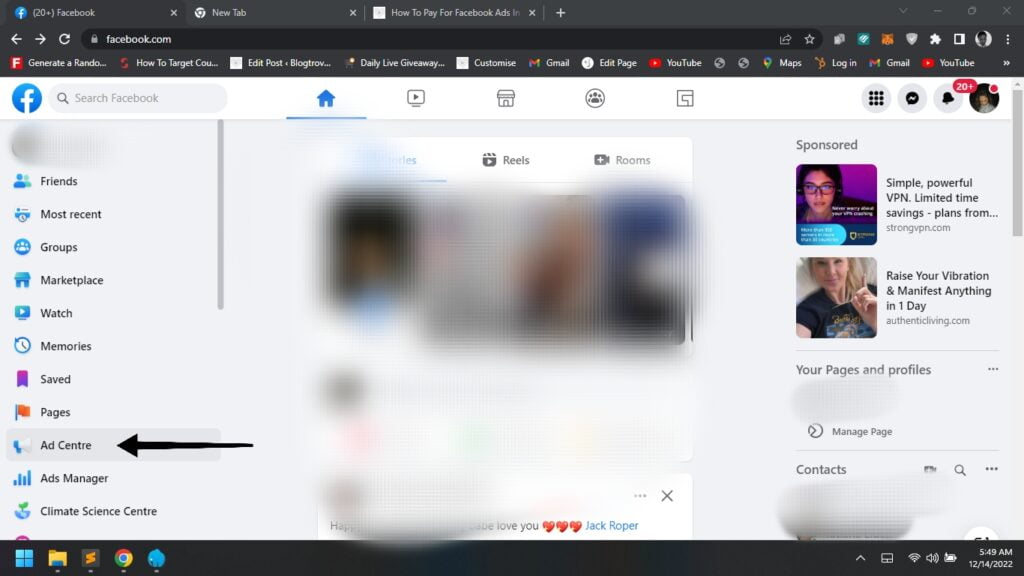 Since you are new to creating ads, the AD CENTRE page will be pretty basic,to continue, simply click on any "AD CENTRE" button to create your ad.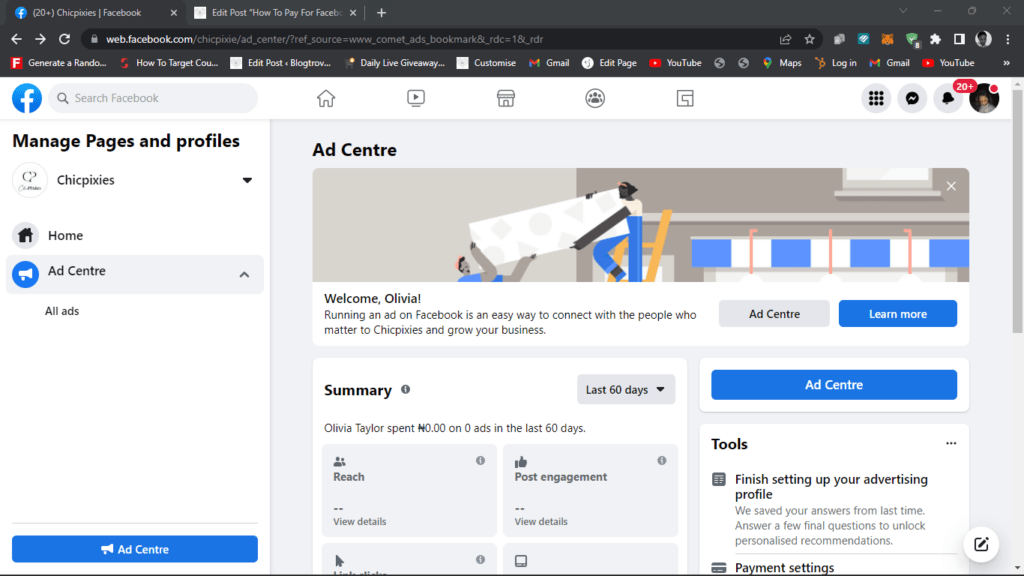 On the next page, you will find 2 ad options to create. If you choose the "Automated ads," Facebook will walk you through a process to create your ad campaign. If you would rather do everything yourself, choose the second option and start creating.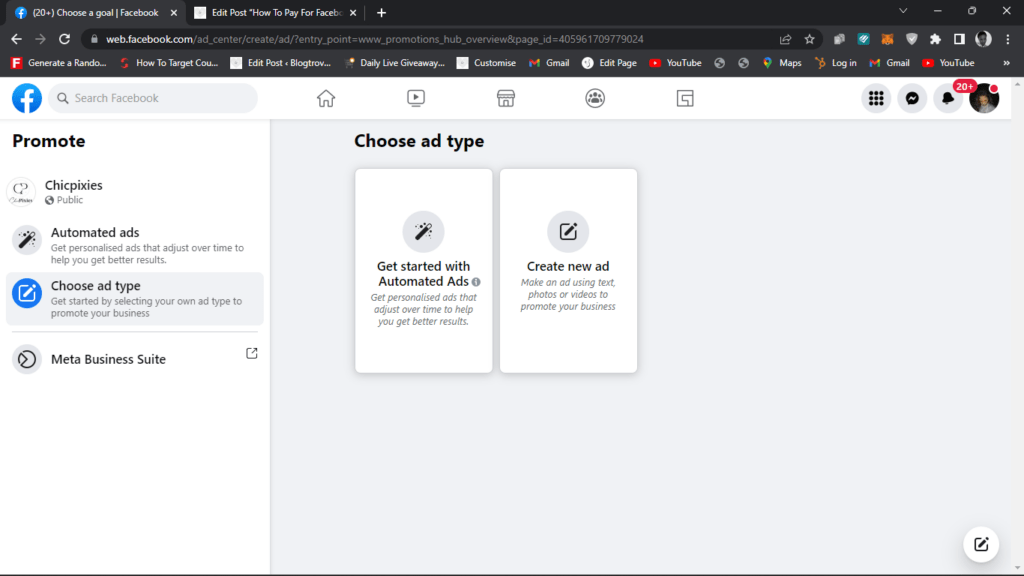 If you click on "create new ad" or "create ad type," Facebook will take you to a page to set up your ads. I will do a basic walk through below;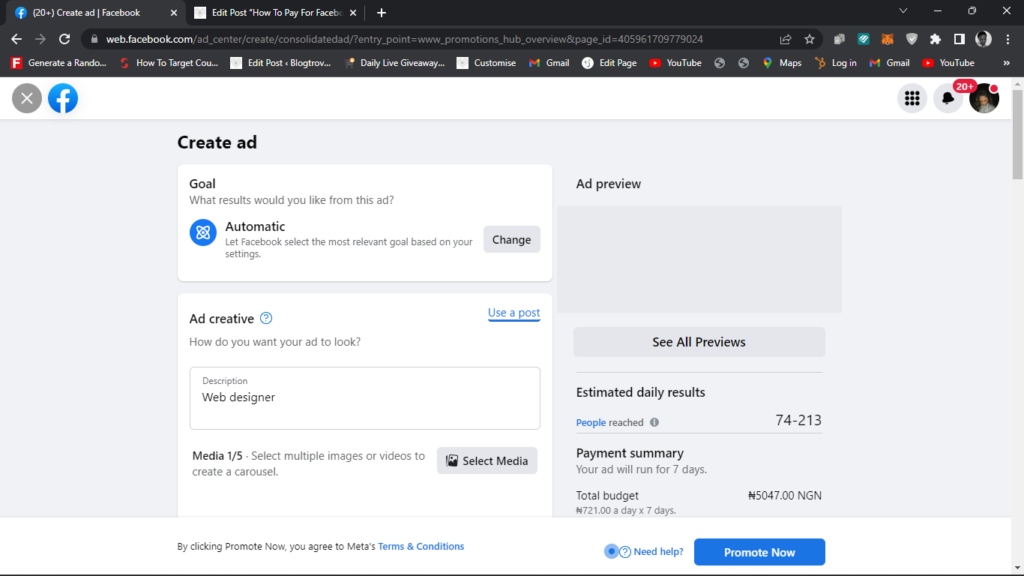 GOAL – Basically the action you want people to perform when they see your ads. If you need them to call you, choose "GET MORE CALLS."
You can choose any other option that you require or let Facebook choose the best option for you. (Don't worry if you see an error after picking an action, there is an option to set it up on the same page.)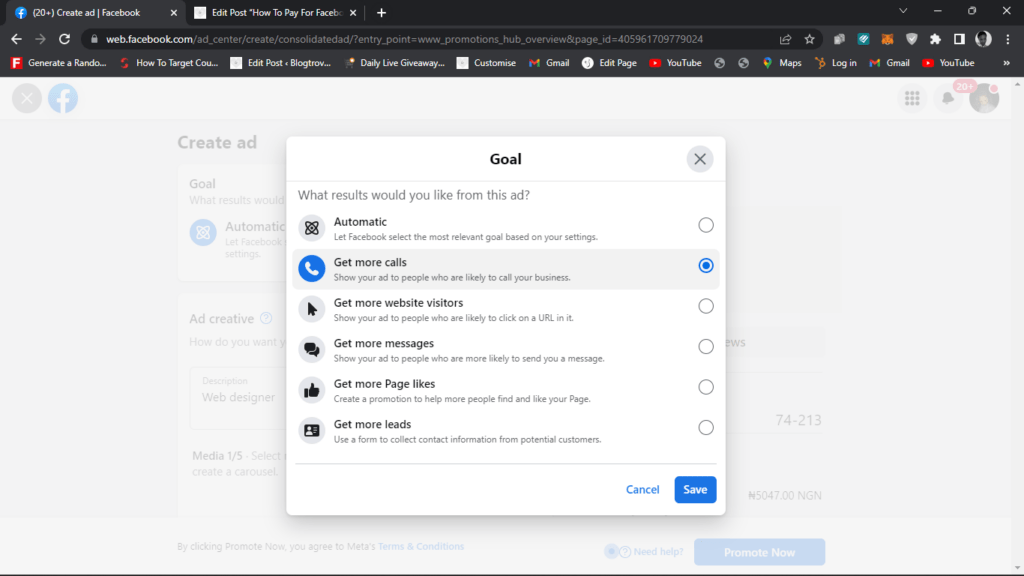 SHUFFLE CREATIVE – Do you want Facebook to optimise your ads? (This section is not available for some goals.)
AD CREATIVE – Basically, the look and feel of your ad.
Write a description
Upload up to 5 images or videos. Learn more about the recommended media size for Facebook ads.
change your headline.
Enter or edit the GOAL action details (this will remove the error on the page if you had one.)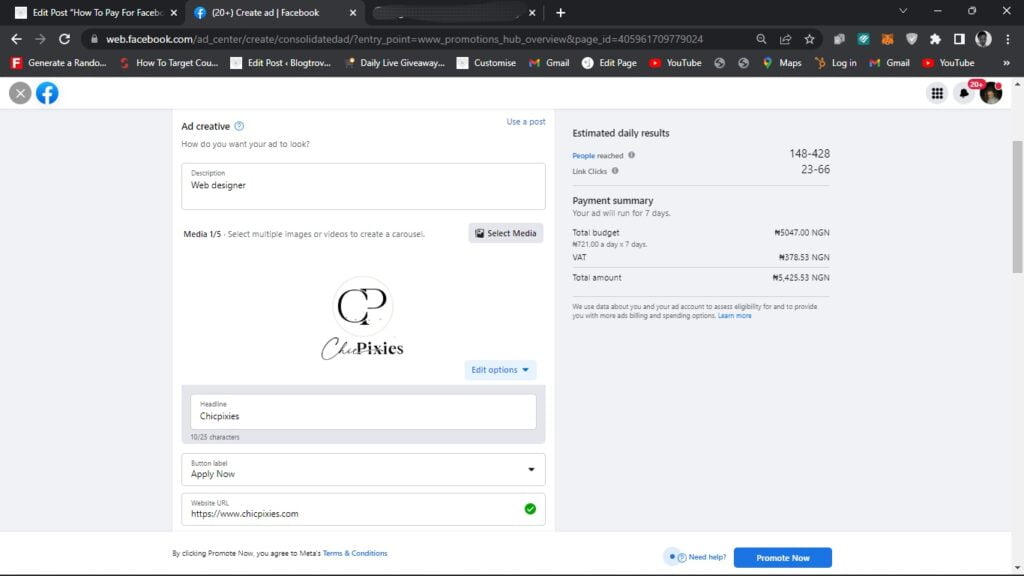 SPECIAL AD CATEGORY – Learn more about the special ad category.
AUDIENCE – This is the people you want Facebook to show your ads. This section has 3 options, but I recommend the first as it allows you to target more people. You can specify age, gender, location and detailed targeting according to their likes, interests and more.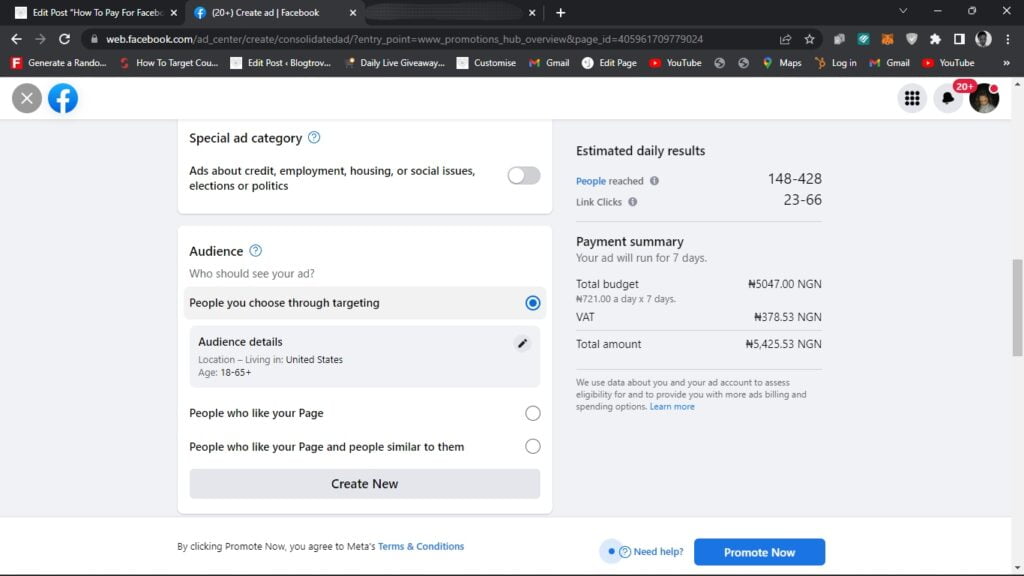 DURATION
How long do you want to run your ads?
How much do you want to spend daily?
Minimum ad spend per day depends on the ad and options you select.
Since you want to pay with naira, set "country, currency" to "Nigeria and Nigerian Naira." If you do not live in Nigeria, you can set the country to your location.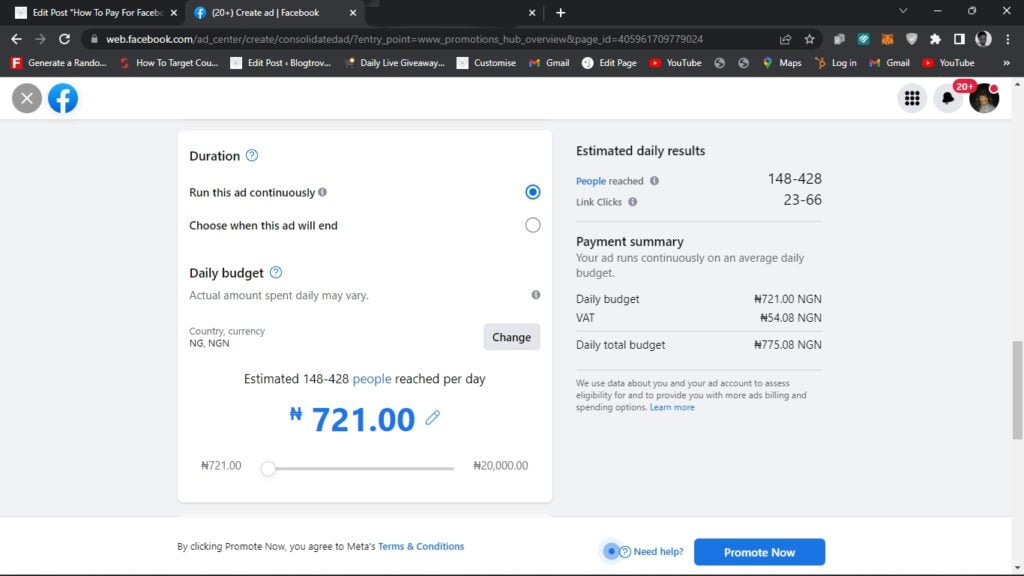 PLACEMENT – Where do you want Facebook to show your ads? Activate meta pixel if you want to monitor the action people take on your website.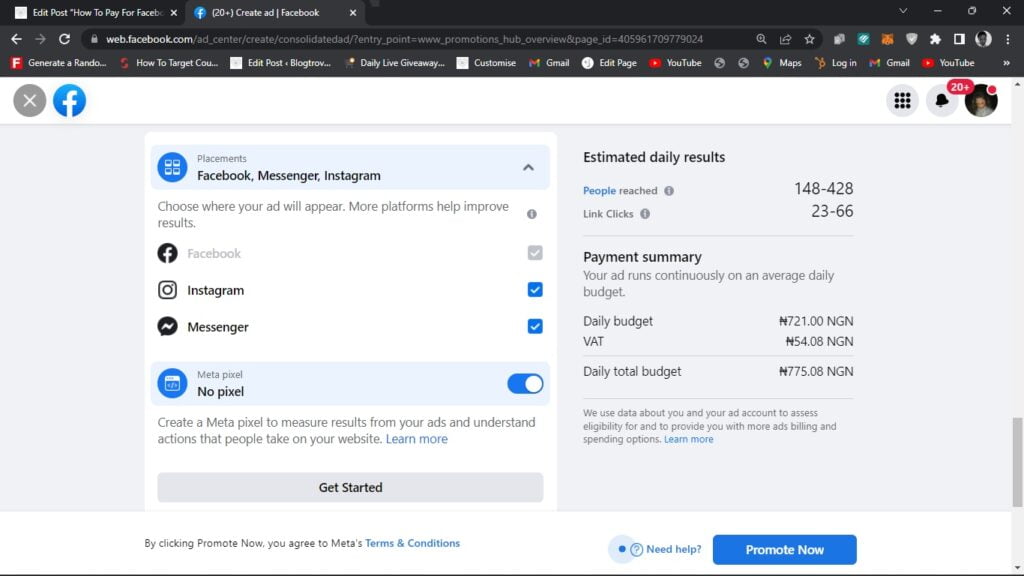 Before you can run your ad, you need to add a payment method or pre-fund your account. Paying with Payu allows you to spend the money you have to spare. Now, In the PAYMENT METHOD section, click on "Add Payment Method."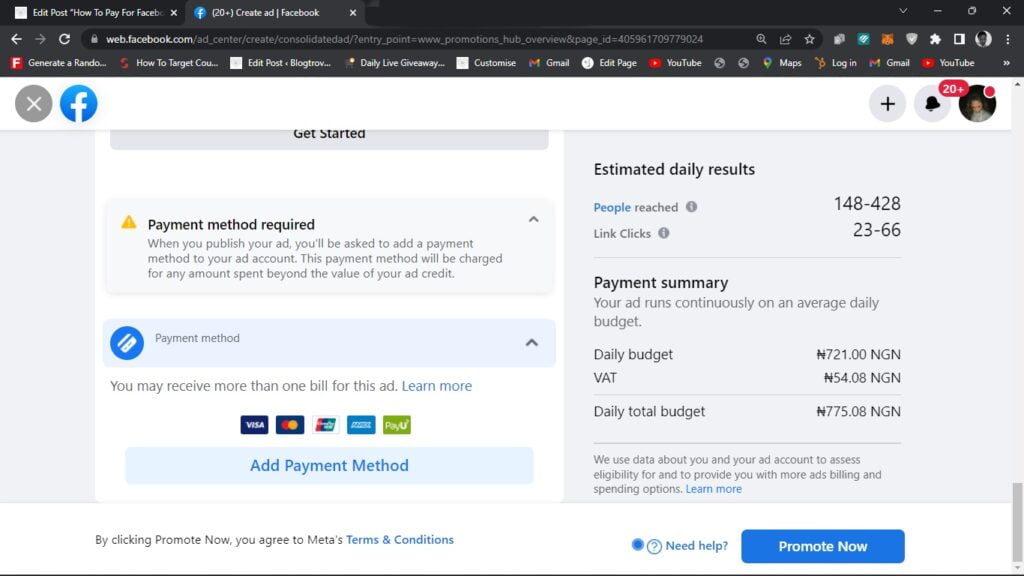 Input the amount you wish to fund your Facebook ad Account with (minimum amount is N100).
Add payment method – If you selected Nigerian Naira, you will see 2 options to pay for your Facebook ads, "Debit or credit card" and "Nigeria payment with MasterCard/VISA." Select the option and click on "Next."
If you see the business tax info, it's optional.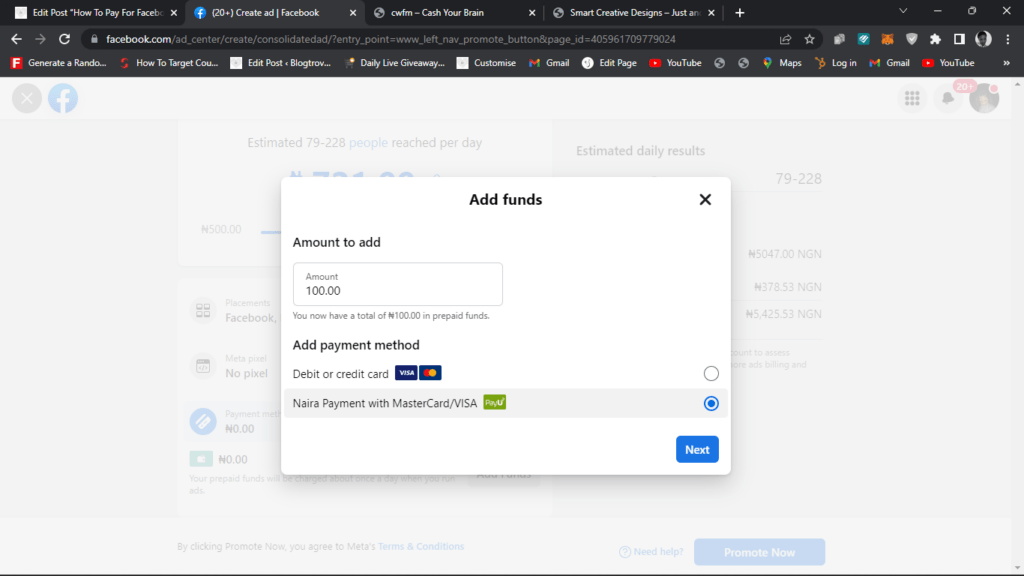 After inputting the desired amount and selecting to pay with Payu, review payment and hit make payment. The Payu payment page will open. You are to input the following;
16 digit card number,
Your account name,
Your card's expiration date (month/year).
The CVV (often at the back of your card).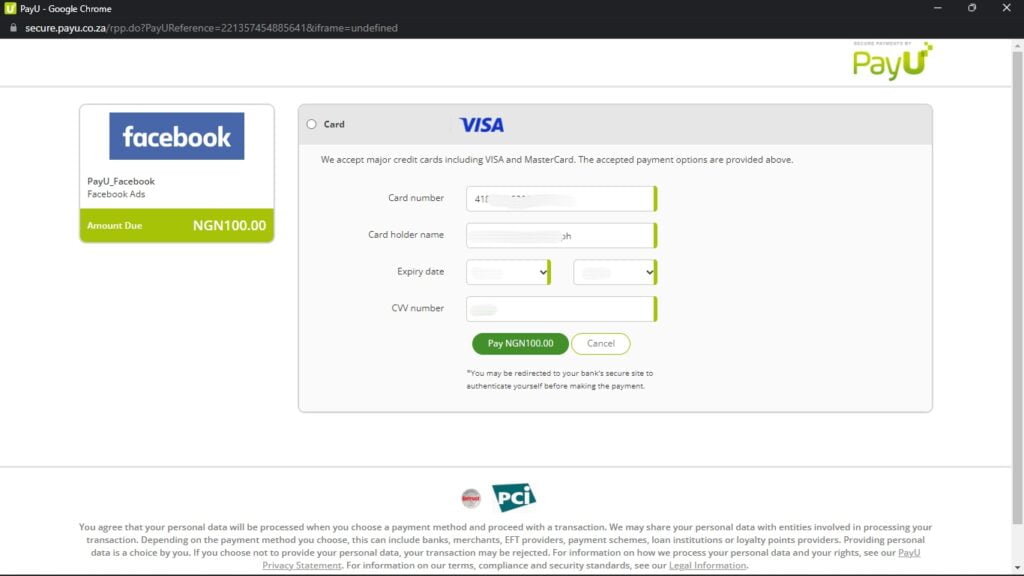 If your information is correct, Payu will send a one time pin (OTP) to your bank number. Copy, paste and complete your payment.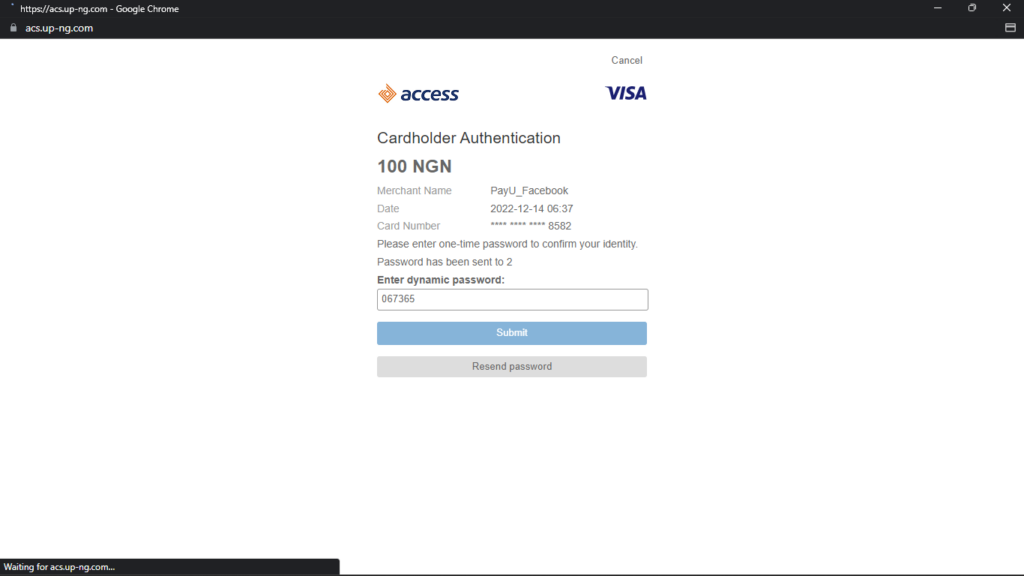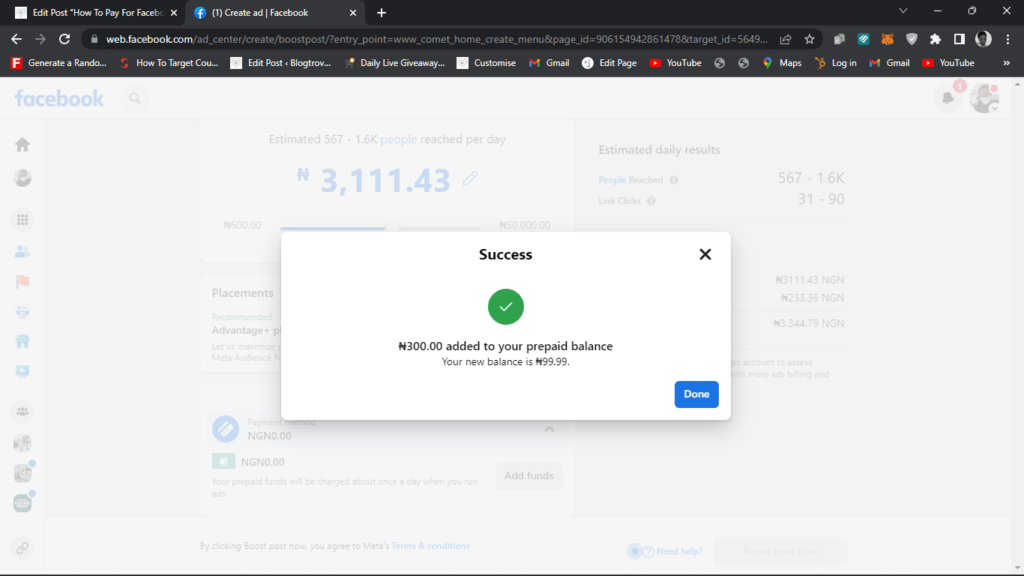 Note that some banks require you to register to do some online transactions.
I use the GTBank debit card and have encountered no problem with funding my ad account using the Payu payment processor.
---
Frequently Asked Questions
Q: What If Facebook blocked my debit card?
ANSWER: Payu is a third party payment processor, thus you can use your blocked card to fund your account.
Q: Why can't I pay with my verve card?
ANSWER: Although Payu doesn't accept Verve cards at the moment, I hope they give verve users the opportunity to pay with their debit cards
Q: Can I use Kuda card for Facebook ads?
ANSWER: Yes, you can use Kuda card for Facebook ads or any other Visa or MasterCard.
Q: What are the list of the bank that allow MasterCard on Facebook ads in Nigeria
ANSWER: you can use any Nigerian bank Visa Card or MasterCard to pay for Facebook ads using Payu.
---
Other Methods to Fund Your Facebook Ad Account
Earlier in this post, we mentioned the issues of paying for ads in dollars.
While I recommend you switch to a naira powered Ad account, you might not want to create a new Facebook account.
Here are some other alternatives for people who want to pay in dollars.
Pay with Dollar Cards
Following the low spending limits imposed on Nigerian debit cards, people looking to purchase items in dollars opt in for dollar debit cards.
You can get a dollar card from your bank or get a virtual card from companies like Flutterwave – barter.
If you decide to use a dollar debit card to pay for your Facebook ads, you will not need to create a naira ad account.
Try the barter virtual dollar card by flutterwave (currently not issuing dollar cards) or find more virtual card options.
Conclusion
This post discussed how to pay for Facebook ads using Payu for Nigerians. I suggest you use a Naira ad account as it makes it a lot easier to fund your ad wallet; It is also the only way you can pay with the Nigerian Naira.
You don't have to worry about spending limits on your card or exchanges rates to fund your dollar cards.
If you rather pay in dollars, understand that you must use a dollar card if you want to fund your ad wallet with a substantial amount of money.
Some Nigerian Naira debit cards enable you to spend a little over $20 monthly, while many others do not support international transactions.
Also, note that exchange rate to fund dollar cards are on the tall side.
Have fun running your ad.
If you have questions about knowing how to pay for Instagram ads in Nigeria, you can use the same tutorial above as both Facebook and Instagram fall under META.
I may earn a commission from qualifying purchases made through the links on this blog, at no additional cost to you. For more information, see my Disclosure