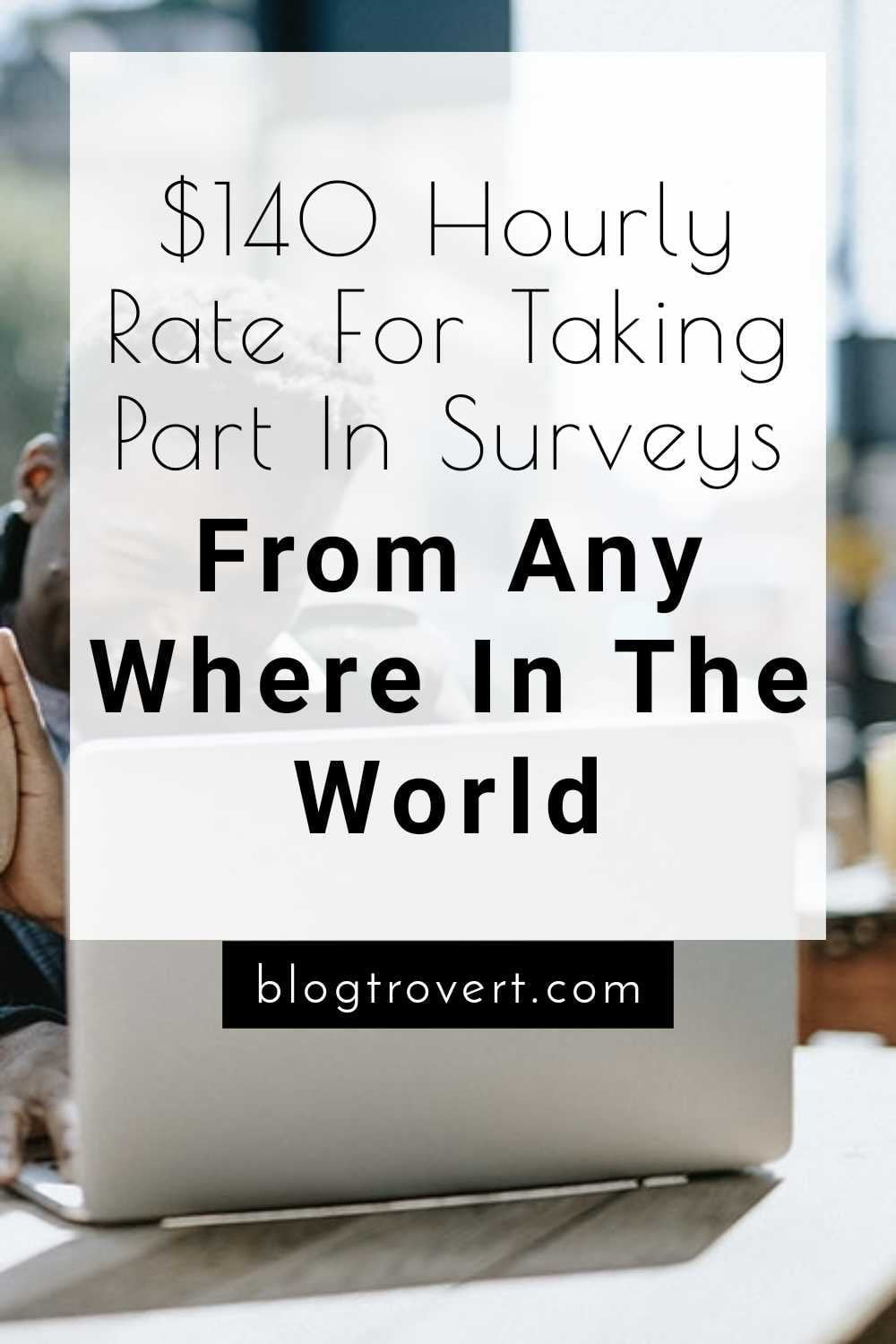 Respondent.io will pay you upto $300 for taking part in studies!
First, the title is actually no joke. I never realized the possibilities of making meaningful amount of money from taking online surveys and studies until I joined respondent.io. The platform offers the best pay per survey I have ever seen.
I know it is an amazing platform because I made my first $50 in one week of joining. That was for a phone survey that took only 30 minutes of my time. If you'll rather not waste time with penny paying surveys, then you should continue reading.
Respondent.io review; is it worth your time?
In the next few lines, I will do a major user review of respondent.io, telling you all you need to know, and of course, how to become a participant that will make actual money from the platform.
What Is Respondent.io?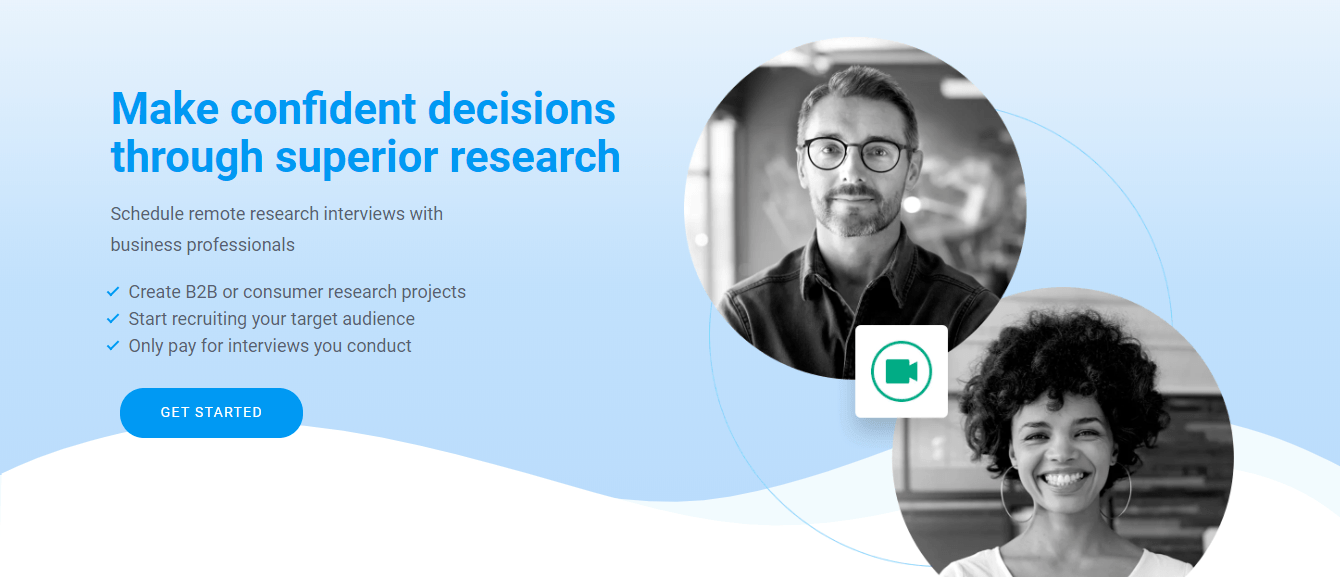 Respondent.io is a research platform that connects companies with people who are willing to participate in online surveys and research studies.
Companies can use Respondent.io to find participants for their research, and participants can use Respondent.io to find paid opportunities to take part in surveys and studies.
Basically, a respondent is one who answers to questions or queries. This platform aims to connect companies or businesses with individuals who can respond to their research questions or study. So, as a member, you're called a participant, the respondent.
Once you join the respondent survey platform, you will realize that there are lots of companies looking for individuals to participate in several studies. These companies do not just seek answers but are willing to pay reasonably for the information they seek.
Respondent.io offers incentives ranging from $5 to over $300 per study. Now, qualifying for a single study of the latter amount is likely to happen on a very rare occasion.
Once you qualify for a study, you participate by;
Filling out and answering questions online.
Taking actions on your device and recording the screen.
Getting interviewed via voice or video call (remote).
Getting interviewed by the researcher's team physically (in-person).
The remote and in-person survey are collectively called one on one participation in the platform while the first 2 are called qualitative study or unmoderated study depending on its method of survey.
Is Respondent legit?
Before I recommend any platform, I ensure that it's legit. Thus, based on my experience, Respondent.io is not out there to waste your time. It is definitely a legit survey site to make money online for your time.
I got and qualified for my first survey in the first week of joining respondent survey platform. I completed 2 more surveys before paying fewer visits to the platform due to location glitches.
Apart from my personal testimony, the platform is used by popular companies and businesses. I have bumped into studies from Shopify, Weebly, and lots more.
Who can join Respondent survey platform?
First, I do not live in the US and I have earned from respondent.io. So, you do not need to live in the United States to join this platform.
Although most studies target US residents, Respondent.io is open to international participation with a number of opportunities for you, regardless of your location. You only need to be 18 and above to sign up on the platform.
Being online has made me realize that there are bundles of untapped opportunities to make money on the internet.
While this platform is open to almost everyone, it favours people from the US. You may miss out on one-on-one participation because you can't meet your interviewer unless you're close enough to them.
What does it take to join Respondent?
Signing up on Respondent is likely one of the easiest steps to start making money on the platform. You simply need;
An email address you have access to.
A working phone number.
Your social media profile. They accept only Facebook and LinkedIn, but I urge you to use LinkedIn if you own an account there.
Your personal information; they need this to match you with relevant studies. Don't forget to fill in your "Gender, Ethnicity and Education."
PayPal account for payments.
Once you have met the above requirements, sign up, and complete your profile 'honestly'. No need to lie about your location because they are not GEO selective. The only issue you may encounter is an error a good VPN app can solve (Nigerians).
How much will you earn per survey?
The amount you earn per survey differs. You could earn $5 for one study and $150 for another. Payment varies by study. You can always choose to take projects with better pay as they are mixed up together.
The in-person survey tends to pay better than the online counterpart. In the end, it all boils down to getting accepted for the project.
Note: You may have noticed that PayPal isn't available to all countries. If you have friends and family living in operational countries, they could help you open an account. Also, you can look out for vendors who offer to open accounts for people at a price – it's risky and I do not recommend this method.
How to find good projects to work with
To get better-paying studies, use the sidebar filters to narrow down your options. While you get excited to use this platform, remember that this is not a get-rich-quick scheme and it won't give you the life you crave for. Consider this a side hustle for your leisure time.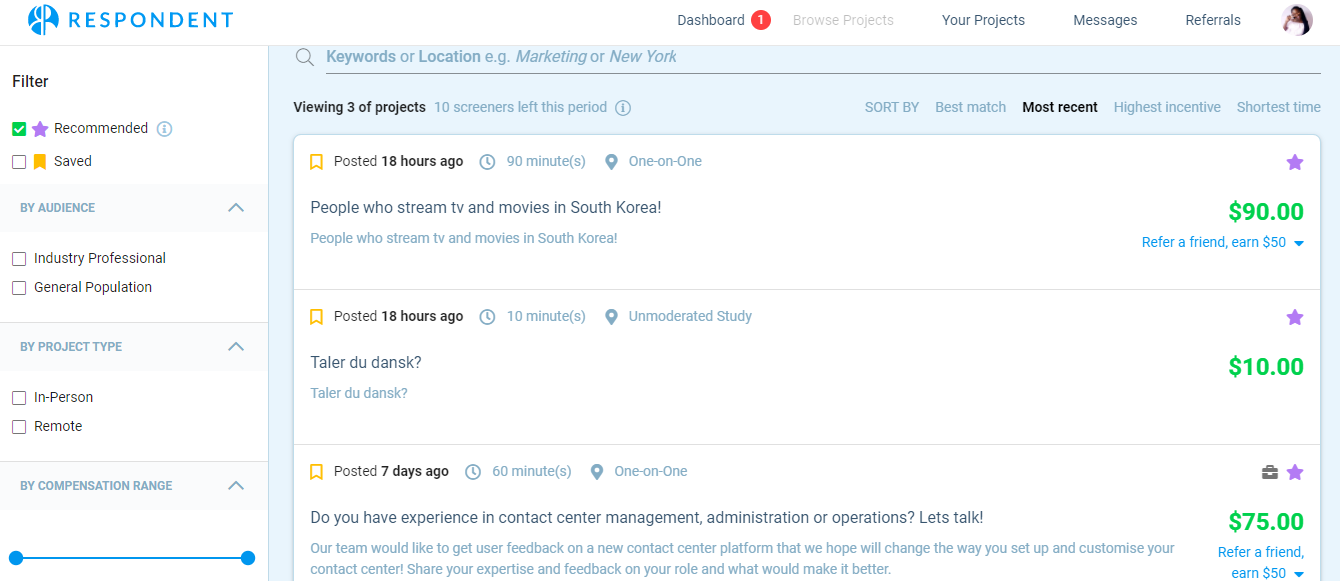 How To Get Paid
You'll get paid after 9 days of participating in a survey directly to your PayPal account. You'll have to add your PayPal email in your payment page.
How To Start Participating In Respondent Studies
You've taken the first step by registering and filling out your details on the platform. Now, all you have to do is browse through the Respondent projects page for studies you can participate in or monitor your email for messages from Respondent. They'll alert you of any study you're likely to be a good match for.
Once you find a study that you love, apply by filling out the questionnaire that helps the researchers know if you are a good fit for them. This process wouldn't take much of your time. After you've completed this, you'll have to wait and hope to get picked for the research.
Respondent.io uses a number rating to give you an idea of your eligibility for the survey. Getting over 80 gives you an advantage, but this is not a guarantee that you will get contacted for the study. You only know you are eligible when the company contact you to participate. Always check your "My Survey" page for the latest information on studies you've applied for.
Why I stopped using respondent.io
While I valued my time and enjoyed participating in respondent studies, I had to leave the platform for good. Their surveys are amazing and you'll take part in surveys totally different from the ones you're used to that pay only pennies. In respondent, the lowest amount a participant makes per study is $5; quite fair, I must confess. The major reason for my ditching Respondent.io was due to the constant errors it gave me whenever I visited the platform. Apparently, unless I used a VPN, it wouldn't let me access its features. This is absurd considering the fact it's open to people from Nigeria. So, I wasn't out for such stress and had to leave the platform in search of something more welcoming.
You will likely not encounter this issue if you do not live in a country like Nigeria. If you find yourself meeting the screen above, you only need a VPN and I recommend TURBO VPN (Android users only).
Another reason is the lack of project for people in my demographic location. There are more opportunities for people living in the US. But, you can still give it a shot – Respondent.io
Conclusion
Check out respondent.io survey if you have been looking for a genuine website that offers high incentives per survey. I only promote legitimate make money online platforms, and like I said earlier, respondent offers the best pay per survey you'll see out there.
The good thing about this platform is that it is open to anyone in the world, you don't have to be in the US or UK.
To start taking surveys, simply sign up and look for studies that you can take part in.
I may earn a commission from qualifying purchases made through the links on this blog, at no additional cost to you. For more information, see my Disclosure