I may earn a commission from qualifying purchases made through the links on this blog, at no additional cost to you. For more information, see my Disclosure
Ready to learn how to start a print on demand business?
Welcome to the world of Print On Demand (POD) business—a lucrative and exciting online business opportunity that allows you to turn your creativity into profit.
This business model enables you to sell custom designs on products without having an inventory or getting involved in the production process.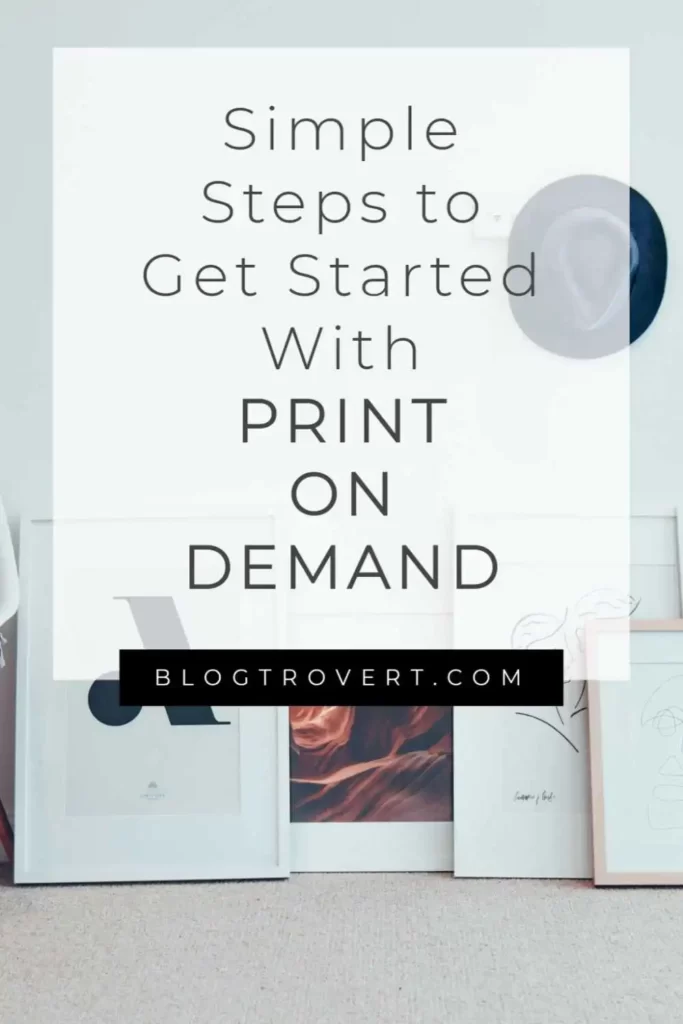 In this beginner-friendly guide, we'll walk you through every step of starting your own POD business, from understanding the business model to achieving long-term success.
what is a print on demand business?
At its core, a print on demand business is a business model that allows you to create and sell custom-designed products without holding any inventory.
This not only gives you an opportunity to make money online but enables you to explore your creativity and passion without stressing over inventory, printing, packaging and shipping. You are basically getting 90% of the job done for you.
Why print on demand?
We call it "Print On Demand" because there are platforms you integrate or partner with to do all the production and shipping processes. With Print on demand, you will only concern yourself with creating fresh designs for your production/finishing partners and driving sales. You can sell clothes, books, wall arts, planners and even jewelries.
Print On Demand requires your creativity and in most cases marketing skills. You may not have to worry about these, because you can outsource virtually anything on the internet. But having a bit of knowledge about designs and marketing is a plus.
Print on demand Vs dropshipping
This side hustle is like dropshipping, only that this time, you can customise blank products with your designs and stand out from the crowd.
If you need a good side hustle that can grow into a viable business, then it's only plausible to learn how to start a print on demand business.
How does print on demand work?
This business is pretty straightforward. Create a design, select the products you want to sell, and send your design and placement requirements to your production partners, who will then create the product and ship it to your customers whenever you receive a sale.
Most print on demand platforms offer a wide range of products like t-shirts, books, wall arts, planners, jewelry, socks and more that you can choose from.
The easiest way to make a sale is to advertise the said products to your target market. Most production partners offer mockup services that enable you to showcase your designs on blank products, but there are a lot custom mockups on the internet. Here is an example of a mockup.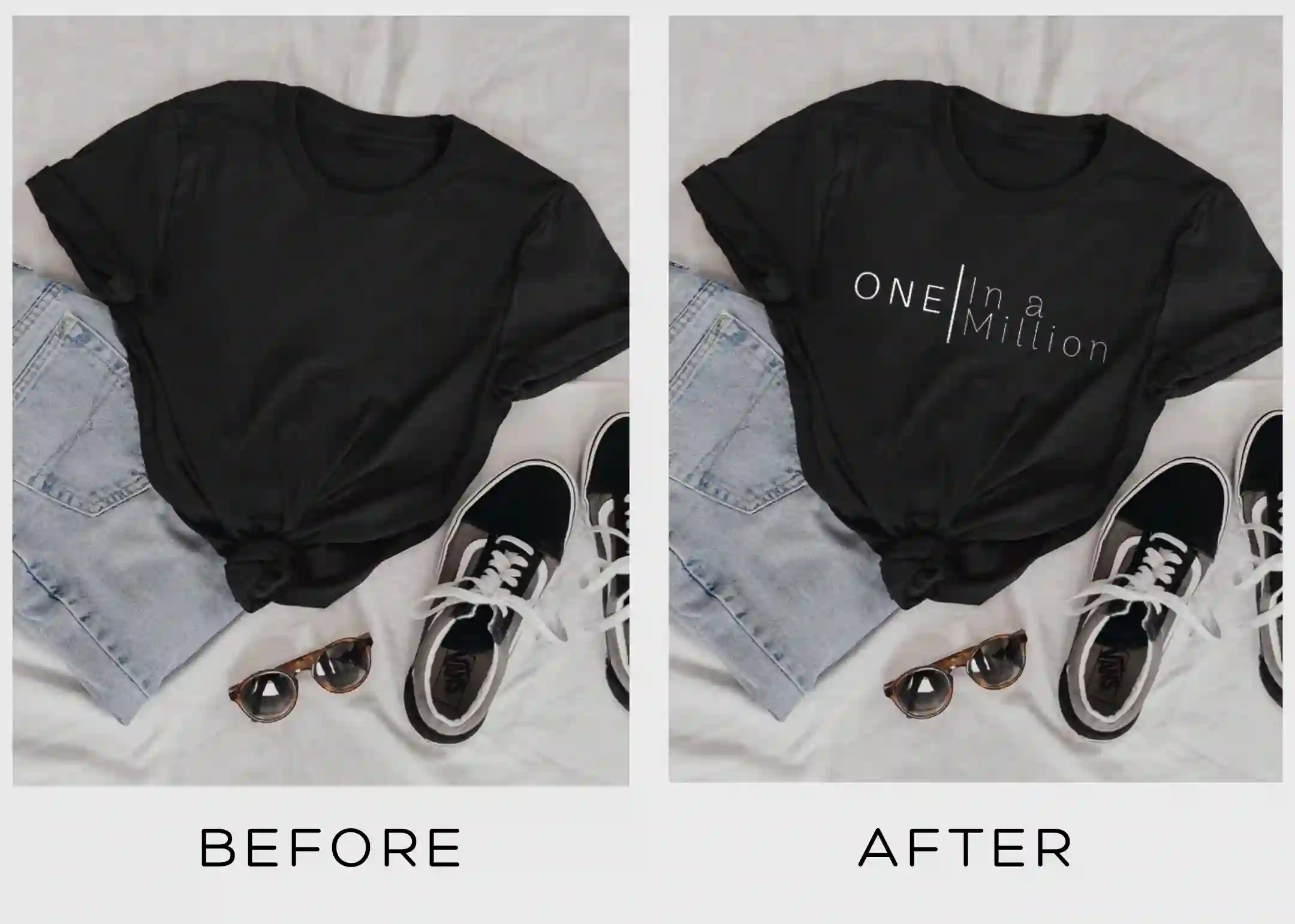 A mockup is the virtual representation of what a product will look like in reality.
Benefits of starting a print on demand business
Starting a Print On Demand (POD) business comes with a host of exciting benefits that make it an attractive entrepreneurial venture. If you need a driving force that will motivate you to learn how to start a print on demand business, here are some benefits of jumping on this online business idea;
Low Startup Costs: POD eliminates the need for large upfront investments in inventory. You only pay for products when a customer places an order, significantly reducing the initial financial burden.
No Inventory Management: As a POD business, you don't need to worry about storing and managing inventory. The products are printed and shipped directly to customers by the POD provider, saving you time and storage space.
Wide Product Range: You can offer a diverse range of products without the need to manufacture or source them individually. From apparel and accessories to home decor items, you can cater to various customer preferences.
Flexibility and Creativity: As the business owner, you have the freedom to experiment with different designs and niches. This creative flexibility allows you to cater to specific audiences and express your artistic vision.
Scalability: POD businesses are easily scalable. As demand increases, you can effortlessly scale up production to meet customer needs without worrying about production limitations.
Low Risk: The risk associated with traditional retail, such as holding unsold inventory, is minimized in a POD business. This makes it a viable option for aspiring entrepreneurs with limited resources.
Global Reach: With the internet as your marketplace, your POD business can reach customers worldwide. This global accessibility allows you to tap into diverse markets and expand your customer base.
Time Efficiency: Running a POD business allows you to focus on marketing, design, and customer service, as the production and shipping processes are handled by the POD provider. This time-saving aspect allows you to concentrate on growing your business.
Quick Turnaround: POD enables swift order processing and fulfillment, leading to faster delivery times for customers. This quick turnaround can enhance customer satisfaction and encourage repeat business.
Market Testing: The POD model allows you to test new product ideas and designs without committing to bulk production. By analyzing customer response, you can make data-driven decisions to refine your offerings.
On-Demand Customization: Customers appreciate personalized products. With POD, you can offer customizable options, allowing customers to add their names, initials, or other personal touches to products.
Sustainable Business Model: POD is environmentally friendly as it reduces waste from excess inventory. Products are printed on demand, minimizing overproduction and its associated environmental impact.
The print on demand process break down
Choose a product.
Create a design.
Send design to partners, specifying how you want them placed on the products.
Add your desired price to the product base price.
Create a mockup and market your designs to potential buyers.
Receive and send new orders to your partners. Automate the process by using a platform that automatically receives new orders.
How to start a print on demand business
Starting a Print On Demand (POD) business can be an exciting and rewarding venture. With this step-by-step guide, you'll be equipped with the knowledge and tools to kickstart your journey as a successful POD entrepreneur.
Let's jump in!
1. Research and Plan
The first half of this post will have given you the basic knowledge of the Print On Demand (POD) business model and what it entails. Let us discuss finding a niches and analyzing competitors.
Identify your niche
Research and choose a specific niche or target audience for your products. Consider your interests, passions, and the market demand to find a niche that aligns with your creativity and has potential for profitability.
Tips for Niche Selection:
Follow Your Passion: Your enthusiasm for your chosen niche will reflect in your designs and marketing efforts. Don't hesitate to dive into something you genuinely enjoy.
Trend Analysis: Stay updated on industry trends and seasonal shifts. Being attuned to what's "in" can help you create timely and relevant designs.
Address a Need: Identify gaps or underserved areas within a niche. Solving a problem or fulfilling a need can set you apart.
Narrow or Broad: Decide whether you want a niche with a narrow focus (e.g., funny cat-themed apparel) or a broader scope (e.g., nature-inspired home decor).
Test and Adjust: Don't be afraid to experiment. If a niche isn't gaining traction, be open to adjusting your focus based on feedback and performance.
Your niche is the foundation upon which your POD business will flourish. It's the canvas where your creativity meets the desires of your audience. So take your time, explore different possibilities, and when you find the niche that makes your heart race, you'll know you're on the path to Print On Demand success.
Find and analyze competitors
Study other POD businesses in your chosen niche. Identify what products they offer, their pricing strategies, and their marketing efforts. This analysis will help you discover opportunities and potential gaps in the market.
Create a business plan
Outline a comprehensive business plan that includes your business goals, target market, product range, marketing strategies, financial projections, and a roadmap for growth. A well-thought-out plan will guide your actions and decisions as you start and grow your POD business.
2. Choose a print on demand Platform
Print on demand platforms are the bedrock of this business. They allow you to create and sell custom-designed products without the need for inventory or production facilities.
These platforms offer a seamless and user-friendly process, where you can upload your designs onto various products, such as apparel, accessories, home decor, and more.
Let's take a deep dive and help you find the best platform.
Types of print on demand platforms
The marketplace
The production partners.
Print on demand marketplaces
POD marketplaces are e-commerce platforms that offer creators and designers an opportunity to sell their designs on blank products and earn a percentage of every sale. "Merch by Amazon" is one of the largest print on demand marketplaces.
With marketplaces like Amazon, you don't need to host your store or pay monthly fees. Simply create, upload your designs and set a profit margin or work with rewards per sale provided by the platform.
Most of these marketplaces run promotions for their products, so you may never have to worry about driving traffic to your designs; but you could always promote your creativity.
If you've ever bought a shirt from Amazon, you may have supported an independent designer!
Popular Print on Demand Marketplaces;
Merch by Amazon
Teespring – you market your products yourself
Print on demand production partners
POD production partners simply provide you with an inventory to sell your designs on. Unlike marketplaces, you're 100% responsible for bringing customers to your business.
Some print on demand production partners have integrated with e-commerce platforms to allow a seamless and automatic transaction. Once you get a sale and have integrated with your chosen POD partner, it automatically sends orders to them for production and delivery. This enables you to do the most important things, create designs and drive targeted traffic to your store.
The best production partners with automatic integration;
Things to consider when choosing a production partner
When choosing a production partner for your business, there are several crucial factors to consider to ensure a successful and efficient partnership:
Quality and Expertise: Evaluate the production partner's track record and expertise in your industry. Look for reviews and testimonials from other businesses they have worked with to assess the quality of their work.
Cost and Pricing: Compare pricing structures among different production partners. While cost is an important consideration, prioritize value for money and the overall value of the partnership.
Capacity and Capability: Ensure that the production partner has the capacity to handle your production requirements. Consider factors like production volume, lead times, and the ability to scale as your business grows.
Processing time: Find a partner that will fulfill your orders on time.
Location: Consider the location of the production partner in relation to your business or your target market. Choosing a partner that is geographically close can reduce shipping costs and lead times.
Shipping Fees: When running a print on demand business, you need every opportunity to cut costs so that you can make money.
Shipping duration: Buyers will always want to get their orders on time. Ensure you partner with a platform that will create and send out your orders on time.
Communication and Responsiveness: Effective communication is essential for a successful partnership. Choose a production partner that is responsive and accessible, willing to address your concerns and keep you updated on the progress of your orders.
Technology and Equipment: Check if the production partner has up-to-date technology and modern equipment. Advanced machinery and software can lead to more efficient production processes and higher-quality products.
Sustainability and Ethical Practices: Ensure that the production partner follows ethical and sustainable practices. This consideration is increasingly important to consumers, and it can enhance your brand reputation.
Flexibility and Customization: Look for a production partner that can accommodate customizations and tailor their services to your specific needs. Flexibility is crucial, especially if you offer personalized or unique products.
Samples and Prototypes: Request samples or prototypes before committing to a production partner. This will help you assess the quality of their work and ensure that they can meet your expectations.
Intellectual Property Protection: Ensure that the production partner respects and protects your intellectual property. Sign a clear agreement that addresses ownership rights and confidentiality.
Reliability and Consistency: Dependability is vital in a production partner. Verify their ability to consistently meet deadlines and maintain quality standards over time.
References and Recommendations: Seek recommendations and references from other businesses or industry contacts. First-hand experiences can provide valuable insights into the reliability and performance of the production partner.
Carefully consider these factors so that you can choose a production partner that aligns with your business goals and values and contributes to growth.
3. Choose a product to sell
While there is no limit to the products you'll see on POD platforms, some perform better than others. I've not tried selling more than T-shirts and wall arts, but I know there are more profitable products to sell.
Here are some of the best print on demand products to sell;
T-shirts
Hoodies
Phone cases
Mugs
Socks
Pet apparels
Duvets/blankets
Pillows
Stickers
Wall arts
Facemasks
Jewelry
You can always visit POD market places or production partners to see all products each company offers for sale.
4. Create original designs
Your designs are the heart of your brand and the main attraction for your customers. Ensure you create unique and eye-catching designs that potential customers will be willing to buy. Original designs set your products apart from competitors, making your store stand out and attract more customers.
How to find designs to sell
If you are a graphic designer or creative individual, you can monitor the market, find what people are buying and create designs to match the market requirement.
You can also outsource designs. Here are a few places to get excellent designs for sale.
Hire a graphic designer on Fiverr to create custom designs for you.
Buy commercial use designs on Creativemarket, Creativefabrica, Designbundles or Etsy. Always check designs and platform licenses.
Get free to use designs for commercial use on Creativefabrica and Designbundles.
Note – if you are buying pre-made designs, always read the licenses! Some designers and platforms require that you make modifications to their designs before use.
Originality is essential in the POD industry. Stand out from the competition by injecting your unique creativity into your designs.
5. Set up your online store
There are different ways to market your products, but we will always recommend you set up a store to showcase your designs. The good thing is that you will find a lot of options to choose from. Let us discuss some of my best recommendations;
Etsy
Etsy is likely the best place for a newbie who isn't ready to pay monthly or hosting fees. This platform is not entirely free, but comes with minimal fees.
Here's a breakdown of the major fees on Etsy.
$0.2 product listing fee.
$0.2 renewal fee. All products listed on Etsy stay online for 4 months before requiring renewal.
Etsy takes 5% off every sale you make on their platform. Fees vary when you sell to people living in Europe.
WooCommerce
Woocommerce is an open source e-commerce plugin that runs on WordPress. It's 100% free to use. It also offers premium add-ons for more functionalities.
To sell on WooCommerce, you need to buy a domain and web hosting plan and use the WordPress open source CMS for your website. If you are looking to start on a small scale, check out namesilo.com for your domain and interserver.net for hosting. Interserver offers one of the cheapest and reliable hosting plans.
Shopify
Another platform used by print on demand businesses is Shopify, a premium e-commerce platform. If you want to use Shopify for your business, you'll need to subscribe to their monthly services. Their subscription plan starts at $29/month. This platform is not for people looking to start on a budget, so consider using Etsy or woocommerce.
Try Shopify for 14 days to know if they are perfect for you.
6. Pricing your products
There's only one rule required when setting a price for your products; consider the profit margin! Like your designs and marketing strategies, pricing your products is very important.
First, you need to note the base price and shipping fee of the product you intend selling. Some products come with free shipping, others come with varying fees, depending on the location. If you sell to countries like the US, you may incur taxes.
Evaluate your expenses so you don't run at a loss. Consider your hosting expenses, marketplace fees and even promotion. Any service that will cost you money needs to be evaluated before choosing a worthy price.
You could monitor the market and observe how your competitors are pricing their products and do better. Below are some strategies others may be using for their print on demand business;
Price above other sellers for higher profits.
Offer prices lower than other sellers to garner more customers.
Copy your competitors' pricing techniques. Remember to consider your profit margin!
Bonus Tip – Sometimes, fees can scare customers away. Give an illusion of free shipping by combining your shipping fees and retail prices. If your retail is $20 and shipping fee is $3, you can simply make the retail price $23 and offer free shipping!
Once you have competitive prices and a good product, you need to market it effectively. This means creating a strong brand identity, developing a marketing plan, and using the right channels to reach your target audience.
How to receive payments from customers
For marketplaces, payment methods vary.
Amazon pays directly to your bank and accepts Payoneer bank accounts. So, you don't have to worry about your local banks not being supported for direct deposit.
Redbubble, pays to PayPal and Payoneer for people who can not use PayPal.
Etsy allows her sellers to receive payment via Bank and PayPal.
If you are hosting your shop, you can use any secured payment processor, but Paypal stands as the most popular.
How to pay production partners
If you've automated the production process with your production partner, they auto debit your bank or PayPal account once you receive a new order. So ensure you have funded and connected your debit card or PayPal account with them. For your financial security, ensure you trust the production you integrate with.
How to market and promote your print on demand business
Marketing and promoting your POD business is essential to attract customers, increase brand visibility, and drive sales. Here's a step-by-step guide to help you effectively market and promote your business:
Develop a Marketing Plan: Create a comprehensive marketing plan that outlines your goals, target audience, key messaging, and marketing channels. This plan will serve as your roadmap for all promotional efforts.
Leverage Social Media: Utilize popular social media platforms like Instagram, Facebook, Pinterest, and Twitter to showcase your designs, engage with your audience, and build a community around your brand.
Content Marketing: Create valuable and engaging content related to your niche. This can include blog posts, videos, infographics, or tutorials that provide insights, entertainment, or solutions to your target audience's pain points.
Email Marketing: Build an email list and send regular newsletters to keep your audience informed about new product launches, promotions, and special offers.
Influencer Collaborations: Partner with influencers and bloggers who have an audience that aligns with your target market. Influencers can help promote your products and introduce your brand to a broader audience.
Run Giveaways and Contests: Organize giveaways and contests on social media to create buzz around your brand and encourage user engagement.
User-Generated Content (UGC): Encourage customers to share photos and videos featuring your products. Share UGC on your social media and website to showcase real-life experiences with your designs.
Search Engine Optimization (SEO): Optimize your website and product pages with relevant keywords to improve your organic search visibility and attract potential customers through search engines.
Paid Advertising: Consider using paid advertising platforms like Google Ads or social media ads to reach a wider audience and drive targeted traffic to your store.
Collaborate with POD Marketplaces: List your products on popular POD marketplaces like Redbubble, Etsy, or Society6 to reach a larger customer base and benefit from their existing audience.
Participate in Trade Shows or Events: Attend trade shows, fairs, or local events to showcase your products and network with potential customers and other entrepreneurs.
Customer Referral Program: Implement a customer referral program to incentivize existing customers to refer friends and family to your store.
Track and Analyze Results: Monitor the performance of your marketing efforts using analytics tools. Identify which strategies are driving the most traffic and conversions, and use this data to refine your marketing approach.
Consistency is Key: Stay consistent with your branding, messaging, and posting schedule. Building brand recognition takes time, and consistent efforts will help establish your brand identity.
Stay creative, adapt to trends, and continue experimenting with different strategies to find what works best for your POD business. Engaging with your audience and fostering a strong brand presence will help you build a loyal customer base and thrive in the competitive POD market.
How much do you need to start a POD business?
Depending on your expectations and how fast you want to grow, you can start your print on demand hustle with little or no capital at all. Let us break down the possible fees you'll need to cover before you start a print on demand business.
Design
The cost of outsourcing designs varies depending on your needs and requirements. Graphic designers charge $5 and above on Fiverr. The cost of pre-made designs varies.
Hosting
Print in demand marketplaces are free to use. Marketplaces like Esty come with fees, but you can start selling on Etsy with 40 free listings – so, your first fee will come after a sale.
If you want to sell on WooCommerce, you will need a domain and hosting plan for WordPress. Interserver is an "on budget" but reliable hosting platform – price starts at $5/month. Platforms like Shopify and Wix come with monthly service fees.
Mockup
Remember, we mentioned mockups earlier. If you plan on hosting your own store, you may need mockups other than the ones offered by your production partners. You can buy JPEG, PNG or PSD files and make your own mockups or buy the services of platforms like placeit and smartmockups. You can also find free mockups to use or create one yourself.
Promotion
Paid ads could bring more visibility to your shop and sales to your products. It's not compulsory to do a paid promotion if you know how to market and optimize your products for search engines.
There's no fixed amount needed to start print on demand business, but knowing the expenses will give one a head-start. Also, you'll likely not spend a dime if you don't plan on hosting your shop, outsourcing designs and doing paid promotions. But, you'll need money to stay online.
Success Tips for Starting a Print On Demand Business
Choose the Right Niche: Select a niche that aligns with your interests, has market demand, and allows you to showcase your creativity effectively.
Focus on Originality: Create unique and original designs that set your business apart from competitors. Authenticity will attract loyal customers.
Research and Validate: Conduct thorough market research to identify trends, analyze competition, and validate the demand for your chosen niche.
Start Small and Scale Gradually: Begin with a manageable product selection and expand as your business grows. Avoid overwhelming yourself with too many products initially.
Provide Quality Products: Partner with reliable POD platforms to ensure the quality of your products and maintain customer satisfaction.
Optimize Your Online Store: Create a user-friendly and visually appealing online store. Optimize product pages for conversions and make the checkout process seamless.
Master Marketing Strategies: Develop a comprehensive marketing plan. Utilize social media, email marketing, influencer collaborations, and SEO to promote your business.
Embrace Customer Service Excellence: Prioritize excellent customer service to build trust and loyalty. Address inquiries and concerns promptly and professionally.
Analyze Data and Adapt: Regularly analyze sales data, website traffic, and customer feedback. Use insights to make data-driven decisions and improve your strategies.
Stay Persistent and Resilient: Success may not come overnight. Stay motivated and persistent, adapting to challenges as learning opportunities.
Engage with Your Community: Build a strong brand identity and connect with your audience through engaging content and interactions.
Embrace Continuous Learning: Stay updated on industry trends, design techniques, and marketing strategies to stay ahead in the competitive market.
Protect Intellectual Property: Ensure your designs and brand assets are legally protected to avoid any potential issues.
Build Partnerships: Collaborate with influencers or other businesses in your niche to expand your reach and tap into new markets.
Stay Compliant and Ethical: Adhere to legal and ethical standards when conducting business, including copyright and licensing requirements.
Starting a POD business requires dedication, creativity, and a customer-centric approach. Following these success tips and staying true to your vision, can help you build a thriving and rewarding Print On Demand business.
Do you think print on demand is a handful and requires a lot? Check out some more recommended side hustles!
I may earn a commission from qualifying purchases made through the links on this blog, at no additional cost to you. For more information, see my Disclosure