This post contains affiliate links. For more information, see my
Disclosure
Print on demand business is one way to make money online selling products. This business model enables you to sell custom designs on products without having an inventory or getting involved in the production process.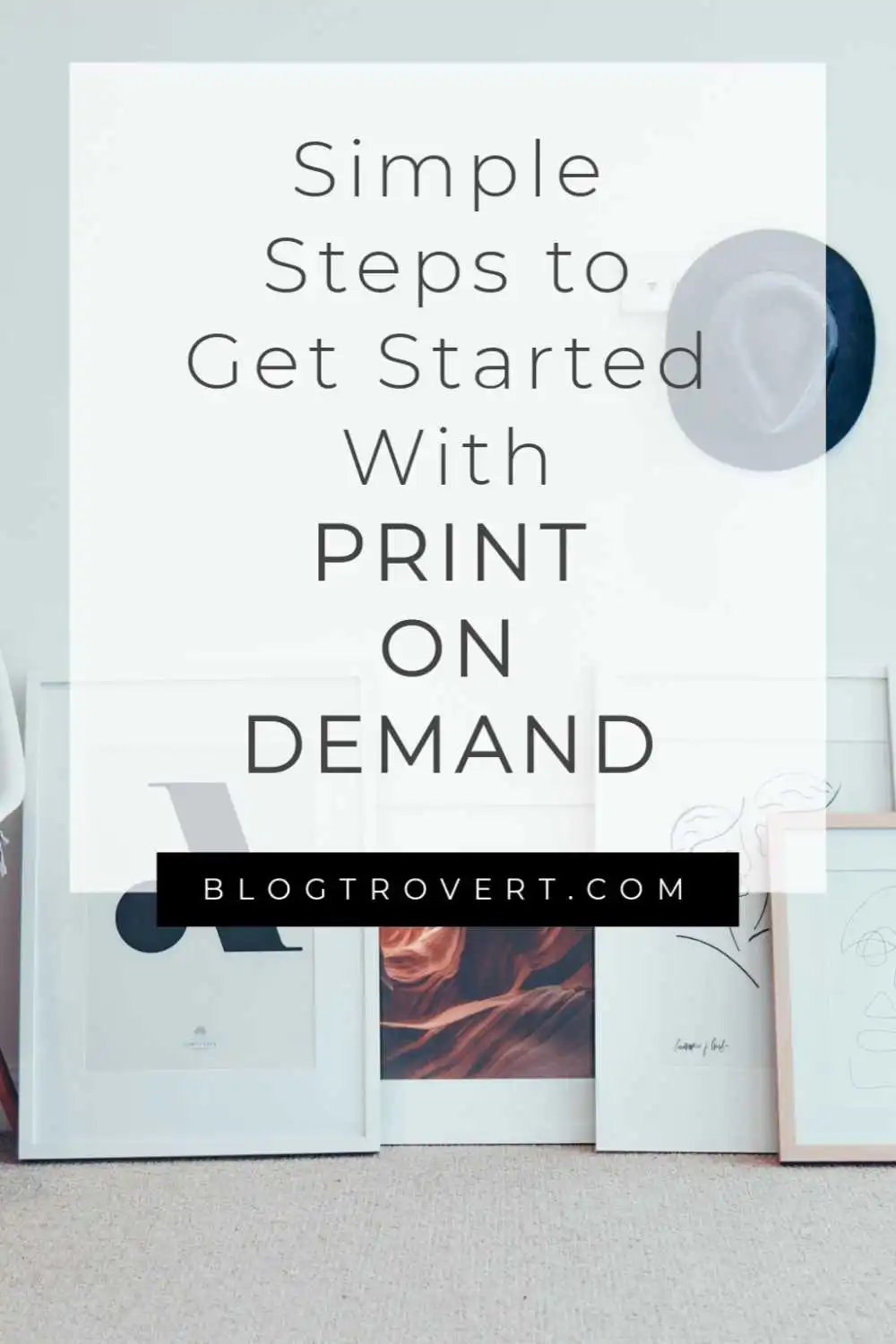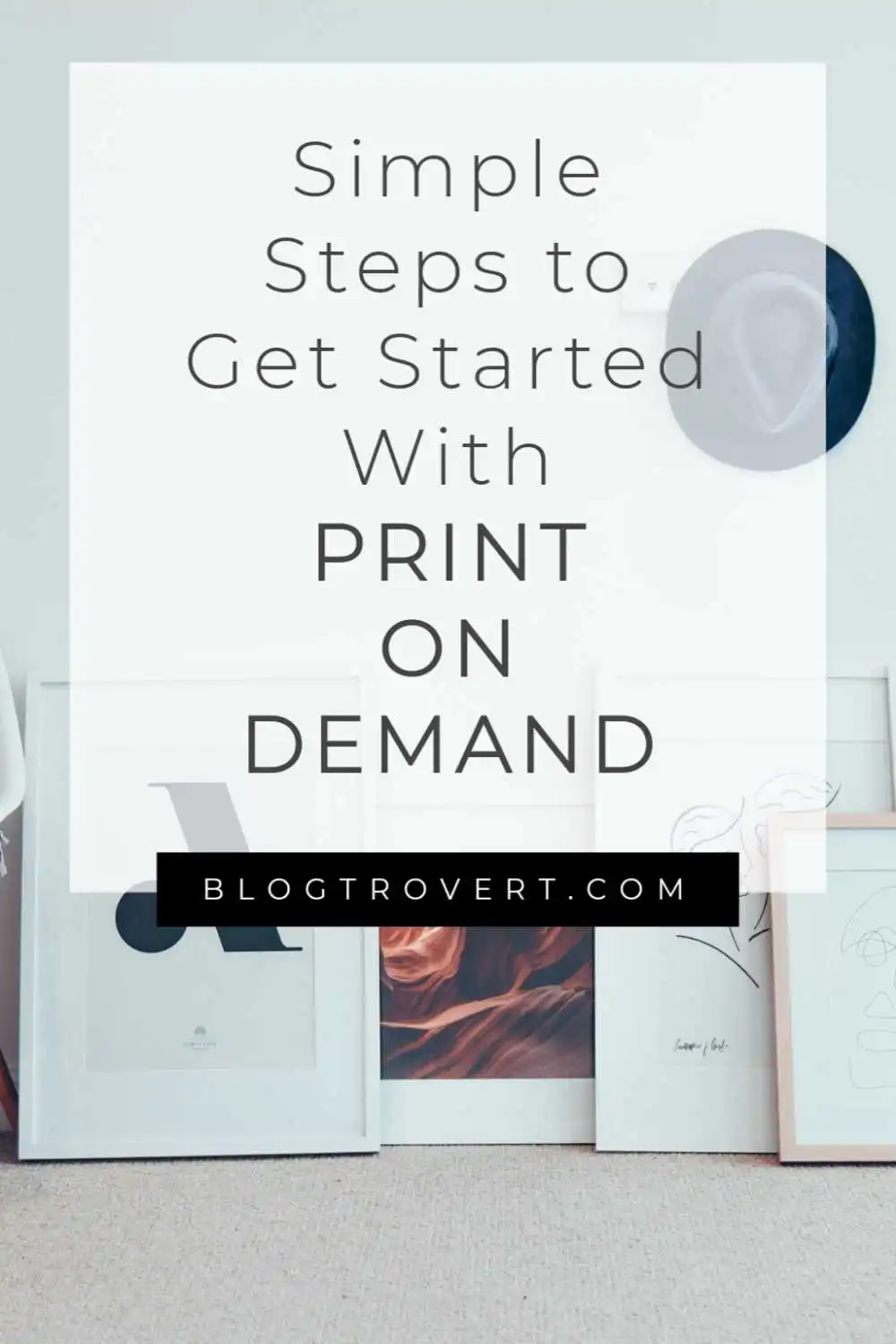 We call it "Print On Demand" because there are platforms you integrate or partner with to do all the production and shipping processes. With Print on demand, you will probably only concern yourself with creating fresh designs for your production partners and driving sales. You can sell clothes, books, wall arts, planners and even jewelry.
Why Print on Demand?
POD not only gives you an opportunity to make money online but enables you to explore your creativity and passion without stressing over inventory, printing, packaging and shipping. You are basically getting 90% of the job done for you.
Print On Demand requires your creativity and in most cases marketing skills. You may not have to worry about these, because you can outsource virtually anything on the internet. But having a bit of knowledge about designs and marketing is a plus.
Print on Demand Vs Dropshipping
This side hustle is like dropshipping, only that this time, you can customise blank products with your designs and stand out from the crowd.
If you need a good side hustle that can grow into a viable business, then jump into the Print on demand train.
How Does Print On Demand Work?
This business is pretty straightforward. Create a design, select the products you want to sell, and send your placement requirements to your production partners, who will then create the product and ship it to your customers whenever you receive a sale. Most print on demand platforms offer a wide range of products like t-shirts, books, wall arts, planners, jewelry, socks and more that you can choose from.
The easiest way to make a sale is to advertise the said products to your target market. Most production partners offer mockup services that enable you to showcase your designs on blank products. Below is an example of a mockup.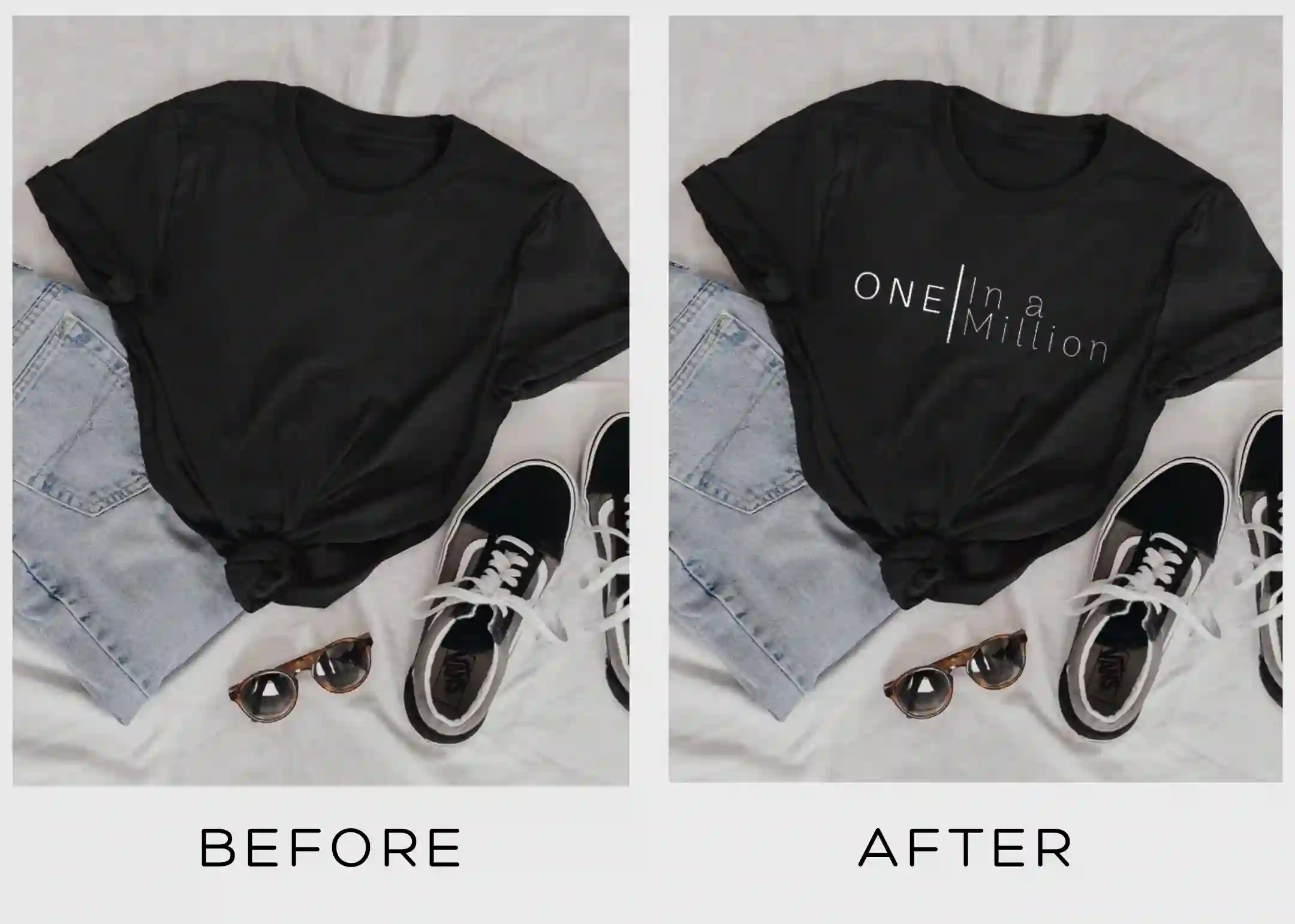 A mockup is the virtual representation of what a product will look like in reality.
The Print on Demand Process Break Down
Choose a product.
Create a design.
Send design to partners, specifying how you want them placed on the products.
Add your desired price to the product base price. Consider shipping and taxes.
Create a mockup and market your designs to potential buyers.
Receive and send new orders to your partners. Automate the process by using a platform that automatically receives new orders.
How To Price Your POD Products
There's only one rule required when setting a price for your products; consider the profit margin! Like your designs and marketing strategies, pricing your products is very important.
First, you need to note the base price and shipping fee of the product you intend selling. Some products come with free shipping, others come with varying fees, depending on the location. If you sell to countries like the US, you may incur taxes.
Evaluate your expenses so you don't run at a loss. Consider your hosting expenses, marketplace fees and even promotion. Any service that will cost you money needs to be evaluated before choosing a worthy price.
You could monitor the market and observe how your competitors are pricing their products and do better. Below are some strategies others may be using for their print on demand business;
Price above other sellers for higher profits.
Offer prices lower than other sellers to garner more customers.
Copy your competitors' pricing techniques. Remember to consider your profit margin!
Bonus Tip – Sometimes, fees can scare customers away. Give an illusion of free shipping by combining your shipping fees and retail prices. If your retail is $20 and shipping fee is $3, you can simply make the retail price $23 and offer free shipping!
Types of Print on Demand Platforms
There are 2 types of print on demand platforms;
The marketplace
The production partners.
Print on Demand Marketplaces
POD marketplaces are e-commerce platforms that offer creators and designers an opportunity to sell their designs on blank products and earn a percentage of every sale. "Merch by Amazon" is one of the largest print on demand marketplaces.
With marketplaces like Amazon, you don't need to host your store or pay monthly fees. Simply create, upload your designs and set a profit margin or work with rewards per sale provided by the platform. Most of these marketplaces run promotions for their products, so you may never have to worry about driving traffic to your designs; but you could always promote your creativity.
If you've ever bought a shirt from Amazon, you may have supported an independent designer!
Popular Print on Demand Marketplaces
Merch by Amazon
Teespring – you market your products yourself
Print On Demand Production Partners
POD production partners simply provide you with an inventory to sell your designs on. Unlike marketplaces, you're 100% responsible for bringing customers to your business.
Some print on demand production partners have integrated with e-commerce platforms to allow a seamless and automatic transaction. Once you get a sale and have integrated with your chosen POD partner, it automatically sends orders to them for production and delivery. This enables you to do the most important things, create designs and drive targeted traffic to your store.
The Best Production partners with automatic integration
Things to Consider When Choosing a Production Partner
Product quality
Base price
Processing time
Fulfilment areas
Shipping fees
Shipping duration
Terms and conditions
User reviews
Where To Sell Print On Demand Products
With a POD platform, you need a shop to display your products. Below are my best recommendations;
Etsy
Etsy is likely the best place for a newbie who isn't ready to pay monthly or hosting fees. This platform is not entirely free, but comes with minimal fees.
Here's a breakdown of the major fees on Etsy.
$0.2 product listing fee. Get 40 Free Etsy listings.
$0.2 renewal fee. All products listed on Etsy stay online for 4 months before requiring renewal.
Etsy takes 5% off every sale you make on their platform. Fees vary when you sell to people living in Europe.
Woocommerce
Woocommerce is an open source e-commerce plugin that runs on WordPress. It's 100% free to use. It also offers premium add-ons for more functionalities.
To sell on WooCommerce, you need to buy a domain and web hosting plan and use the WordPress open source CMS for your website. If you are looking to start on a small scale, check out namesilo.com for your domain and interserver.net for hosting. Interserver offers one of the cheapest and reliable hosting plans.
Shopify
Another platform used by print on demand businesses is Shopify, a premium e-commerce platform. If you want to use Shopify for your business, you'll need to subscribe to their monthly services. Their subscription plan starts at $29/month. This platform is not for people looking to start on a budget, so consider using Etsy or woocommerce.
Try Shopify for 14 days to know if they are perfect for you.
Wix
Wix is an alternative to Shopify. Price starts at £17/month.
Best Print on Demand Products to Sell
While there is no limit to the products you'll see on POD platforms, some perform better than others. I've not tried selling more than T-shirts and wall arts, but I know there are more profitable products to sell.
T-shirts
Hoodies
Phone cases
Mugs
Socks
Pet apparels
Duvets/blankets
Pillows
Stickers
Wall arts
Facemasks
Jewelry
You can always visit POD market places or production partners to see all products each company offers for sale.
How to Find Designs to Sell
If you are a graphic designer or creative individual, you can monitor the market, find what people are buying and create designs to match the market requirement.
You can also outsource designs. Below are a few places to get excellent designs for sale.
Hire a graphic designer on Fivver to create custom designs for you.
Buy commercial use designs on Creativemarket, Creativefabrica, Designbundles or Etsy. Always check designs and platform licences.
Get free to use designs for commercial use on Creativefabrica and Designbundles.
Note – if you are buying pre-made designs, always read the licences! Some designers and platforms require that you make modifications to their designs before use.
How to Receive Payments from customers
For market places, payment method varies.
Amazon pays directly to your bank and accept Payoneer bank accounts. So, you don't have to worry about your local banks not being supported for direct deposit.
Redbubble, pays to PayPal and Payoneer for people who can not use PayPal.
Etsy allows her sellers receive payment via Bank and PayPal. People living in Nigeria and other countries without access to PayPal and not supported for direct bank deposit many reconsider using the platform or use "other payment options" features in the website.
If you are hosting your shop, you can use any secured payment processor.
How to Pay Production Partners
If you've have automated the production process with your productioj partner, they auto debit your bank or PayPal account once you receive a new order. So ensure you have funded and connected your debit card or PayPal account with them.
For your financial security, ensure you trust the production you integrate with.
How Much Money Do You Need to Start A POD Business?
Depending on your expectations and how fast you want to grow, you can start your print on demand hustle with little or no capital at all.
Design
The cost of outsourcing designs varies depending on your needs and requirements. Graphic designers charge $5 and above on Fivver. The cost of pre-made designs varies.
Hosting
Print in demand marketplaces are free to use. Marketplaces like Esty come with fees, but you can start selling on Etsy with 40 free listings – so, your first fee will come after a sale.
If you want to sell on WooCommerce, you will need a domain and hosting plan for WordPress. Interserver is an "on budget" but reliable hosting platform – price starts at $5/month. Platforms like Shopify and Wix come with monthly service fees.
Mockup
Remember, we mentioned mockups earlier. If you plan on hosting your own store, you may need mockups other than the ones offered by your production partners. You can buy JPEG, PNG or PSD files and make your own mockups or buy the services of platforms like placeit and smartmockups. You can also find free mockups to use or create one yourself.
Promotion
Paid ads could bring more visibility to your shop and sales to your products. It's not compulsory to do a paid promotion if you know how to market and optimise your products for search engines.
There's no fixed amount needed to start print on demand business, but knowing the expenses will give one a head-start. Also, you'll likely not spend a dime if you don't plan on hosting your shop, outsourcing designs and doing paid promotions. But, you'll need money to stay online.
Do you think print on demand is a handful and requires a lot? Check out some more recommended side hustles!