If you are a digital creator looking for the best ways to make money with Canva, this blog post hopes to answer your questions.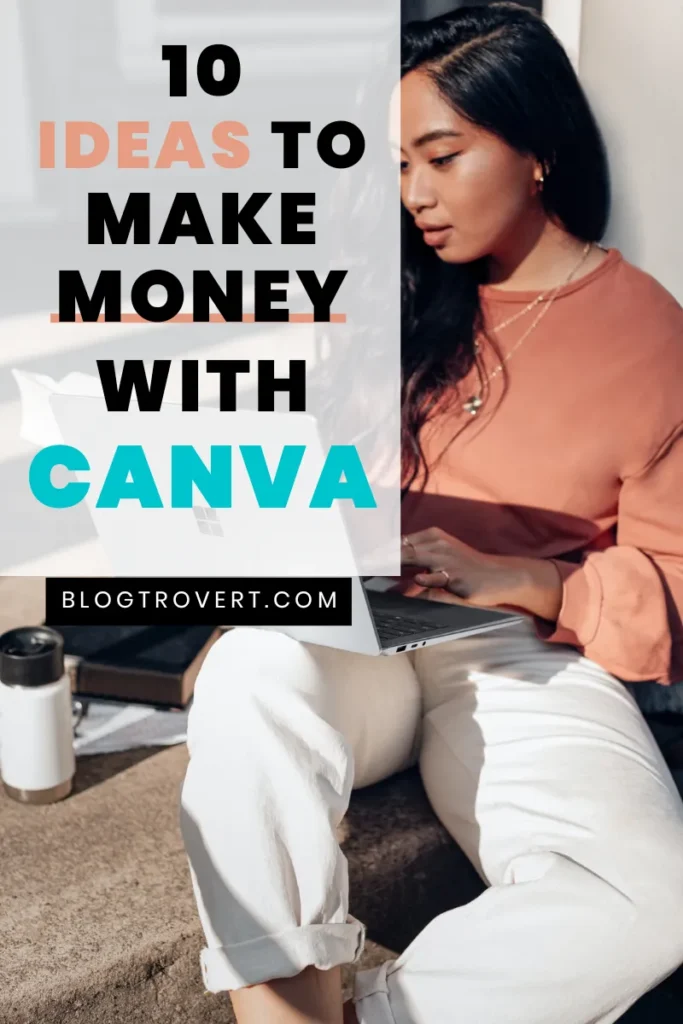 Whether you are just starting out or have been using Canva for a while, this post will help you discover some of the best ideas to start making money with Canva designs.
Stick around, and choose the best options for your creative journey.
What is Canva?
Canva is a free online graphic design tool that allows you to create and share professional designs for social media, presentations, business cards, logos and more.
Millions of people around the world, including students, small businesses, nonprofits and major brands, use Canva for their projects and designs.
The platform offers a range of tools and resources like templates, fonts, and images for you to create graphics. Using its simple drag-and-drop feature, everyone can create stunning designs, regardless of skill level or experience.
Why is Canva popular?
Undoubtedly, Canva owes its popularity to its simplicity, ease of use and the variety of tools available.
Here are a few reasons Canva is almost irreplaceable;
The platform makes designing so easy for newbies and fun to explore for experienced designers.
Canva also offers a wide range of templates and assets to help users create graphics quickly and easily.
There are also plenty of user-generated resources available, so users can find inspiration for their projects.
Unlike the likes of Photoshop, you can use Canva on any device of your choice. It has apps for laptops and smartphones and a web version that gives you more functionalities.
Canva allows a lot with its free plan. While you can extend usability with the premium plan, there's just enough a free account can do that you may never have a reason to upgrade.
You can make money with Canva and use it as a perfect side hustle!
Can you make money with Canva?
Yes, you can make money with Canva.
There are several ways to start making money with Canva; one of the most common is selling customizable templates to other businesses.
But then, there are more to monetize your time on this design platform, and this post will discuss 10 amazing ways to make money with Canva! Enjoy the post and choose the best option that ignites your creativity.
How to make money with Canva
This section will give you some tips on how to make money using Canva. You can use Canva's features and tools to create designs and promote them on social media, sell them on print-on-demand services, offer freelance services, and explore other creative opportunities.
These ideas have worked well for many Canva users and can be adapted to suit your interests and abilities.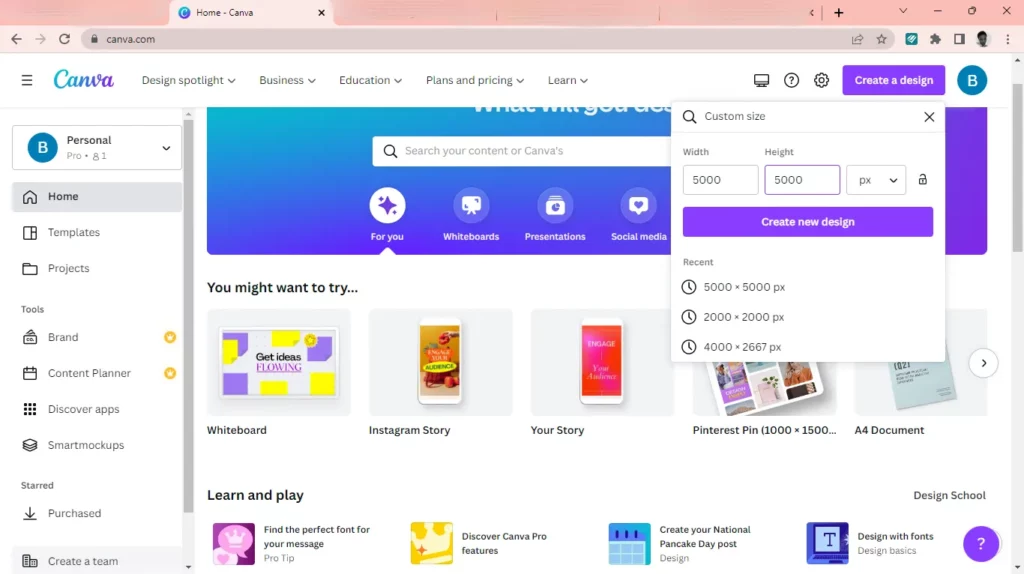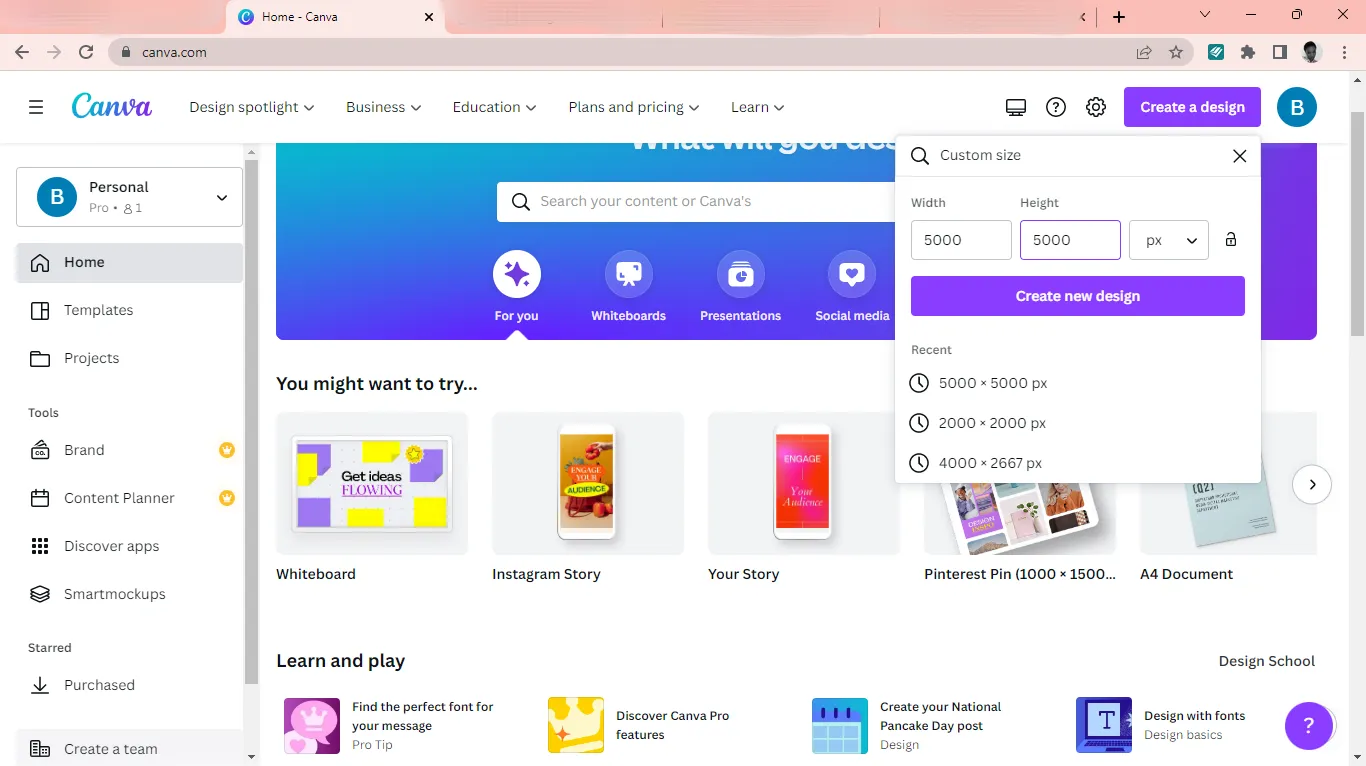 Sell templates you create on Canva
If you're a creative person with a flair for design, you can make money by selling the templates you create on Canva.
As a Canva template designer, you can create templates for different purposes, such as social media posts, flyers, posters, printables, invitations, and more.
Why do people buy Canva templates if the platform is so easy to use?
You may wonder, "Canva is already so easy to use. Why would anyone pay for my designs?"
Don't listen to that voice in your head!
People choose to pay for Canva templates for different reasons and some of them include;
They rather not create it themselves.
Canva has a library of templates for anyone, but these templates are everywhere and most people need something unique or less common.
Not everyone enjoys designing, even if it's a simple drag and drop. Some people are not skilled designers and do not want to learn.
People want to reduce their workload, so they outsource services.
So, don't let that voice in your head keep you from going through with your dreams. You can make money with Canva.
Popular Canva templates you can create and sell
Social media templates
Bloggers and business owners use social media templates to create and maintain a presence on social media.
You can use social media templates for a variety of purposes, such as creating a profile, posting updates and messages, and sharing content.
Canva social media templates make it easy to create a consistent look and feel across multiple platforms.
Popular social media templates to create and sell
Pinterest pins
Instagram highlight templates
Instagram post templates
Instagram story templates
Facebook cover templates
Facebook/Instagram ad templates
Ebook templates
One Amazing way to make money selling Canva templates is to create professional-looking ebook covers and interior templates.
Ebook templates are a great tool for creators and writers as they help them save time on design and layout as well as achieve a consistent look for all their ebooks.
The template market is highly competitive, so you'll need to create high-quality ebook covers and interiors. Your templates should be eye-catching and easy to use, so that your readers will get the most out of them.
Amazon KDP templates
KDP templates are Kindle Direct Publishing templates that allow people to quickly and easily create professional looking KDP interiors and covers.
The KDP low content market is gaining popularity, this makes their templates in high demand.
If you have an idea about the Amazon KDP platform and can create low content book templates with all necessary margins rules, you may have found the perfect side hustle!
Canva makes it a lot easier for creators; and people are looking for better alternatives to Photoshop, InDesign and PowerPoint.
You can create cover pages, planners, journals, lined pages and sell them as templates to KDP creators.
Printable products templates 
Small business owners who sell printables online are always looking for ways to cut costs and save time; and one way they do this is by using templates.
You can grab this opportunity and Monetize your creativity. If you don't mind having other people reproduce your Canva projects for sale, you can turn them into templates and offer them to others for commercial use.
What kind of Printable templates do people buy?
Planners
Stickers
Journals
Checklists
To-dos
Wall arts and more
Whatever the kind of Canva template you wish to create and sell, always ensure your designs are high quality and easy to use. You must create quality designs if you want to stand out.
Boost sales by offering custom template creation services
If you have a lot of creative ideas that you would like to turn into templates, offer custom template creation services as an extension of your eCommerce store or website.
You can charge a higher fee from your regular prices for this service, and then earn commission on the sales generated from them. For example, if you sell planner templates, you can offer a custom planner template service.
Popular eCommerce platforms to sell your Canva templates;
Everything you need to know about creating and selling Canva templates
Sell graphic design services and use Canva to create your designs
Selling graphic design services is a great way to make money with Canva. With a variety of templates and tools to help you create your designs, it's easy to get started.
Whether you're looking to create logos, flyers, or website graphics, Canva has the features and tools to help you create high-quality designs that your potential customers will love.
Where to sell your graphic design services
Fiverr – One of the largest marketplaces for making money on the side or full time is Fiverr.
WooCommerce
Create printables on Canva and sell
Start making money with Canva by creating and selling printables. Canva is one of the easiest place to create printables like planners, greeting cards, calendars, to-do lists and more. There's no limit to the type of printables you can create on the platform.
Canva also provides a wide range of file format free and pro users can export their designs in. Also, pro users can resize their designs to meet all customers' size requirements.
Learn more about selling printables and the best printable ideas to sell online if you wan to make money with Canva printable designs.
Here are a few things to keep in mind if you want to create and sell printables;
First, make sure your printables are of high quality and well-designed. No one wants to buy a poorly made printable.
Second, price your printables fairly. Consider how much time and effort you put into creating them.
Finally, promote your printables. Use social media, your blog, or even word-of-mouth to get the word out about your amazing printables.
Popular printable downloads you can create on Canva
Planners
Stickers
Wall art
Checklists
To-dos
Calendars
Coloring pages
Make money with Canva creating print on demand designs
If you run a print on demand business, you can easily create unique, stylish designs on Canva at no extra cost.
Canva offers high-quality designs that are printable on a variety of products, from t-shirts to tote bags and even duvets.
With Canva, you can create professional designs in minutes and quickly get your products online. They have a library of beautiful free commercial fonts you can use.
You can go a step further and sell your designs to other people for extra cash. You only need to create relevant high-quality designs and market them to the right audience.
To start making money with Canva designs for print on demand, ensure you use only elements that are available for commercial use!
Join the canva affiliate program
If you are an influencer, content creator or blogger, you can join the Canva affiliate program and make money when other users use your link to register for a pro account.
You will not earn a commission for free accounts, so ensure you are referring people who want to use the pro account.
Impact radius powers the Canva affiliate program and you earn over 5% for new pro sign-ups. Learn more about the Canva affiliate program.
How to join Jumia affiliate program
Make money teaching people how to use Canva
If you can guide people on how to use Canva to make beautiful designs regardless of their skill level, you can make money with Canva as a tutor.
It would surprise you to know that there are a lot of beginners willing to pay to understand Canva and its amazing features.
Opportunity: Write an extensive book or create an interactive video course on how to create stunning designs on Canva.
You could offer your services as a one time tutorial or course instructor, or you could set up a subscription service where users can access your tutorials and courses on demand.
Apart from selling your knowledge, you can also grow your blog with "how-to" posts about Canva. With this, you'll be able to attract people who may pay for other products or services you offer on your blog.
If you don't want to blog, you can create a YouTube channel that focuses on teaching people how to use and create designs on Canva.
You can monetize your blog and YouTube channel with the following methods:
AdSense ads
Affiliate marketing
Refer your audience to join Canva pro and earn rewards.
Sponsored opportunities from Canva.
Sell your Canva templates and products.
Become a contributor on Canva
You can become a contributor on the platform and make money with your graphic designer.
How do contributors make money with Canva?
Canva contributors sell their media (graphics, templates, illustrations, etc.) for other users.
As a contributor on Canva, you can share your unique designs with the Canva community and earn royalties whenever creators use your designs.
How much do contributors make per sale?
As a Contributor, you'll receive 35% of your every content license purchase. The remaining goes to payment processing fees (approximately $0.30 on a $1 purchase), and to Canva to cover costs of developing and promoting the platform.

Canva
How to become a Canva contributor
To become a Canva contributor, you must be at least 18 years and have a knack for creativity. If you meet the above requirements, visit the contributor's sign up page to get started.
Learn more about the contributor program on Canva and how to join.
Canva media license
Before you start selling your Canva projects, you must understand the rights you have to use the media on the platform and agree to them accordingly.
Canva is pretty straightforward about what you can and cannot do with their creative media; as they spell it out on the license page. I highly recommend you go through and understand your rights. Learn more about the Canva media license agreement.
Best places to sell your Canva designs
Through this post, I mentioned a few eCommerce marketplaces and platforms that enable you to sell your Canva designs.
While you may not find your favorite eCommerce provider in this post, you can sell your Canva templates and designs on any platform that support digital products.
Ecommerce marketplaces
As a newbie, Etsy is one of the best places to start. It's easy to set up an account and start selling your templates. Plus, you can easily connect with buyers and get feedback on your designs.
If Etsy does not support your country, you can sell your templates on any of the aforementioned platforms. Creativemarket and Gumroad are global eCommerce marketplaces that allow you to sell your digital templates to buyers all over the world.
Selling on Design Bundles and Creativefabrica
Designbundles and Creativefabrica are very similar marketplaces that focus on creative designs and products for crafters and online creators.
If you wish to make money with Canva designs that you create for personal use, these marketplaces are not a great option. Publishing your products on Design bundles and Creativefabrica means anyone can use them to create an end product for sale.
Ecommerce platforms
If you're looking to take your business further and own your customers, consider selling templates through your own website.
Ecommerce platforms allow you to set up an online store on your own website and sell products directly to buyers without distractions.
Unlike marketplaces, you must drive your own traffic.
Find some of the best eCommerce platforms below;
WordPress with WooCommerce
Freelance marketplaces
If you sell your designs as a service, freelance marketplaces are one of the best places to get started.
Platforms like Fiverr, Freelancer and Upwork connect you with people looking for the services you offer. You can set a price in your terms and earn when you deliver the job to your client.
This is a great way to get started if you want to start making money with Canva design skills but don't have any clients yet.
Answers to questions you may ask
Do you need Canva pro to create designs?
No, you do not need a pro account to create Canva templates and designs you can sell.
The Canva pro upgrade adds some extra features, but they are not essential for creating templates and designs that you can sell.
Whether you need a free account or a pro one to create your designs depends on the specific project you're working on. Even if you don't have a pro account, most Canva features are available in free versions.
So, don't hesitate, making money with Canva is very possible with the free plan!
Is it legal to sell Canva templates?
You can sell any design you create on Canva, but you can not pick a random Canva template and bundle it as yours.
What is the difference between a Canva template and design?
A template is a pre-made design or layout that you can use to start a new project. You'll need to make some changes to the template to personalize it for your project. A design is the finished product you'll be selling.
Conclusion
Canva gives you a lot of opportunities to monetize your creative skills and time.
You can sell your designs or promote the creative platform to your audience. Either way, there's an opportunity to make money with Canva.
If you intend to use the media on Canva, remember to adhere to their terms of condition and agree to their media license.
I may earn a commission from qualifying purchases made through the links on this blog, at no additional cost to you. For more information, see my Disclosure