If you're a creative person who wants to design and sell Canva templates but have little or no design experience, this post will teach you how to get started in this creative journey.
At the end of this post, you'll discover the type of templates to sell, how to create them and the best places to list them for sale.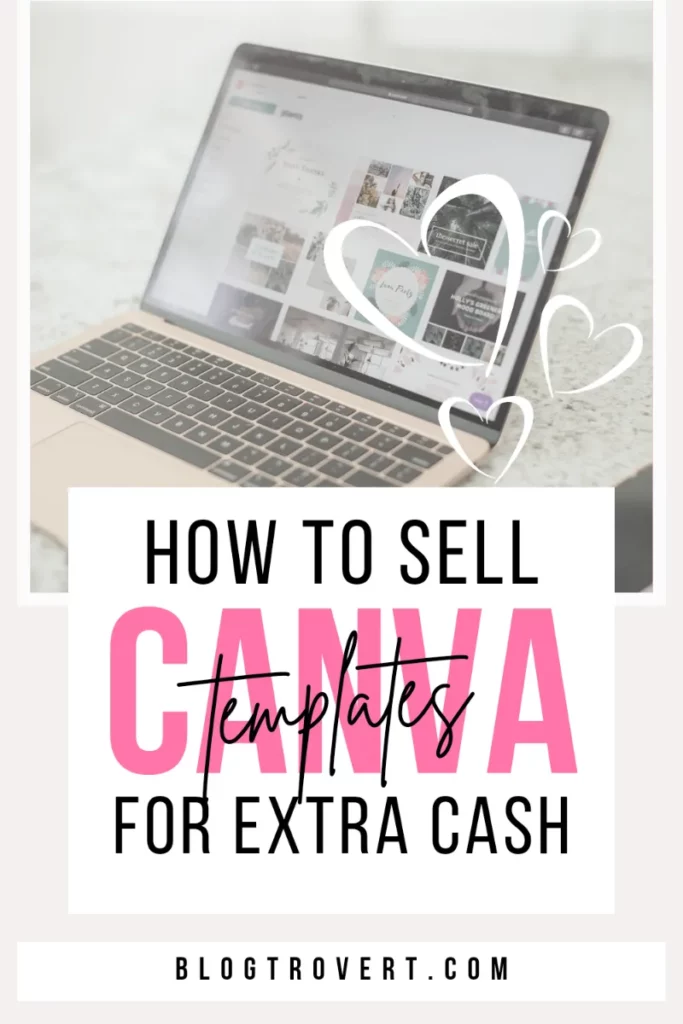 As a Canva template designer, you can create designs for different purposes, such as social media posts, flyers, posters, printables, invitations, and more.
Ready to learn how to create canva templates to sell?
Let's dive in!
What is Canva?
Canva is a popular online platform that enables users to design professional-looking graphics. It offers pre-installed images, fonts, templates, and illustrations that you can use to achieve unique designs, including ebooks, social media graphics, business cards, videos, templates and more.
Millions of businesses and individual creatives use Canva because it's easy to learn and relatively simple compared to other design tools like Photoshop and Illustrator, which are more expensive.
What are Canva templates?
Canva templates are editable pre-designed graphics anyone can customize to create their own unique designs regardless of their experience.
Canva's user-friendly platform makes it easy to customize templates to meet specific needs, whether it's for personal or commercial purposes.
If you're looking for an easy and quick way to create custom visuals, consider using a Canva template. If you want to monetize your design skills by offering resources to other creators, you can learn how to sell Canva templates.
Need more ideas to make money with Canva?
What type of Canva templates can you create?
There are many types of Canva templates to create and sell, but, for the purpose of this post, I will discuss some of the most popular templates below: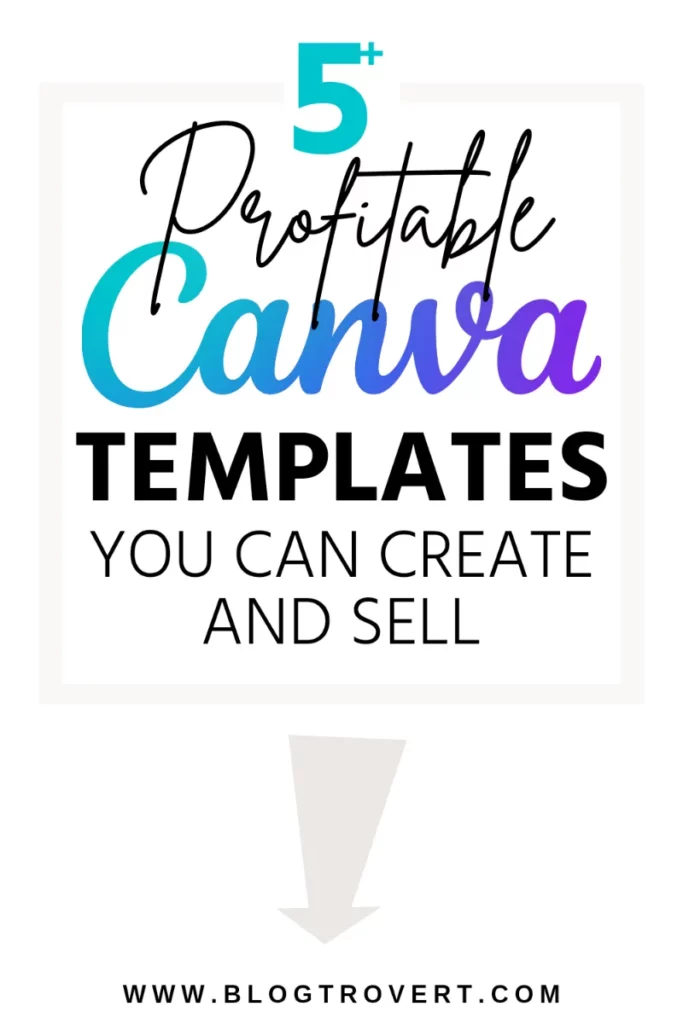 Social Media Templates
Bloggers and business owners use social media templates to create and maintain a presence on social media.
These templates provide a standardized format for sharing information, images, and links on different platforms.
Canva templates make it easy for business owners to post consistent content across all of their accounts, which can help them build relationships with their followers and attract new customers.
Popular social media canva templates to create and sell;
Pinterest pins
Instagram highlight templates
Instagram post templates
Instagram story templates
Facebook cover templates
Facebook/Instagram ad templates
How to become a digital creator
Ebook Templates
Professional-looking ebook covers and interiors make very good Canva templates to sell because they speed up the design and layout process for writers and creators, as well as help them achieve a consistent look for all their books.
The ebook template market is highly competitive, so you'll need to create high-quality ebook covers and interiors. Your templates should be eye-catching and easy to use, so that your readers will get the most out of them.
Amazon KDP Templates
KDP templates are Kindle Direct Publishing templates that allow people to quickly and easily create professional looking KDP interiors and covers.
The KDP low content market is gaining popularity, so this makes their templates in high demand.
If you have an idea about the Amazon KDP platform and can create low content book templates with all necessary margins rules, you may have found the perfect side hustle!
Canva makes it a lot easier for KDP creators who are looking for better alternatives to Photoshop, InDesign and PowerPoint.
Popular KDP Canva templates to create and sell;
Book cover pages
Planners
Journals
Trackers
Lined pages
Printable Products Templates
Small business owners who sell printables online are always looking for ways to cut costs and save time; and one way they do this is by using templates. You, on the other hand, can grab this opportunity and monetize your creativity.
If you don't mind having other people reproduce or incorporate your Canva designs into other products, you can offer them as templates to others for commercial use.
The best kind of Printable canva templates to create and sell
Printable planners
Stickers
Journals
Checklists
To-dos
Wall arts and more
Regardless of the kind of Canva template you wish to create and sell, always ensure your designs are high quality and easy to use.
The template market is highly competitive. You must create high quality designs if you want to stand out.
Skills you need to create canva templates
Before you start learning how to make money selling canva templates, you need to have an idea of the following skills:
Graphic design skills: You should have a good understanding of design principles, color theory, typography, layout, and composition.
Canva platform knowledge: You should be familiar with the Canva platform and know how to use its various features, including the design tools, elements, and templates.
Template design skills: You should know how to create templates that are functional, aesthetically pleasing, and easy to use for your target audience.
Marketing and branding skills: You should have some knowledge of branding, marketing, and sales strategies to create templates that are attractive to potential customers and stand out from the competition.
Communication skills: You should be able to communicate effectively with your customers, respond to their questions and feedback, and provide excellent customer service.
Overall, creating Canva templates requires a combination of technical skills, creativity, and business acumen.
Regardless of the above recommendations, I want to encourage you not to get discouraged if you feel that you don't have the right skills to create Canva templates.
Canva is a user-friendly platform that is relatively easy to master, and there are many resources available to help you learn. From online courses and tutorials to YouTube videos and blog posts, there are tons of ways to improve your skills and develop your template design abilities.
With a bit of time and effort, you can become proficient in creating templates that are both functional and visually appealing.
Don't be afraid to take the first step and start learning how to create canva templates to sell today. Remember, with practice and perseverance, you can develop the skills you need to succeed.
Why Do People Buy Canva Templates If The Platform Is So Easy To Use?
Dispute the skills you need, You may have seen how easy it is to create a simple design and wonder, "Canva is already so easy to use. Why would anyone pay for my designs?"
Don't listen to that voice in your head!
People choose to pay for Canva templates for different reasons and some of them include;
They rather not create it themselves.
Canva has a library of templates for anyone, but these templates are everywhere and most people need something unique that will help them stand out.
Not everyone enjoys designing, even if it's a simple drag and drop. Some people are not skilled designers and do not want to learn.
People want to reduce their workload, so they outsource services.
So, don't let that voice in your head keep you from going through with your dreams. You can make money with Canva.
How to make money selling canva templates – Step by step guide
In this section, you will learn how to create canva templates to sell. We will discuss each step from creating to listing your first canva template and provide tips for optimizing your sales and growing your template shop on any marketplace of your choice.
Step 1: Research Existing Canva Templates for Sale
Before you create, you need to know the type of product to design. I listed some of the popular Canva templates, but you don't have to limit yourself to my list.
If the templates ideas in this post do not appeal to your target audience, by all means do a more extensive research for what might sell to them. If you already have an audience, asking them is a brilliant idea.
Researching a Canva templates to sell means, you must note the sizes, design trends and price range that sell the most.
Step 2: Join/sign into Canva
If you do not have an account yet, head over to CANVA.COM and create your new account for free. If you already have an account, log in.
Note: You do not need a Canva pro account to create and sell your templates, but it's a plus, as you will get more design resources and features. It costs $12.99/month and $119.00/year for a single user.
Step 3: Create your template on Canva
Now that you have identified the type of Canva template to sell and logged into your account, it's time to create your first template!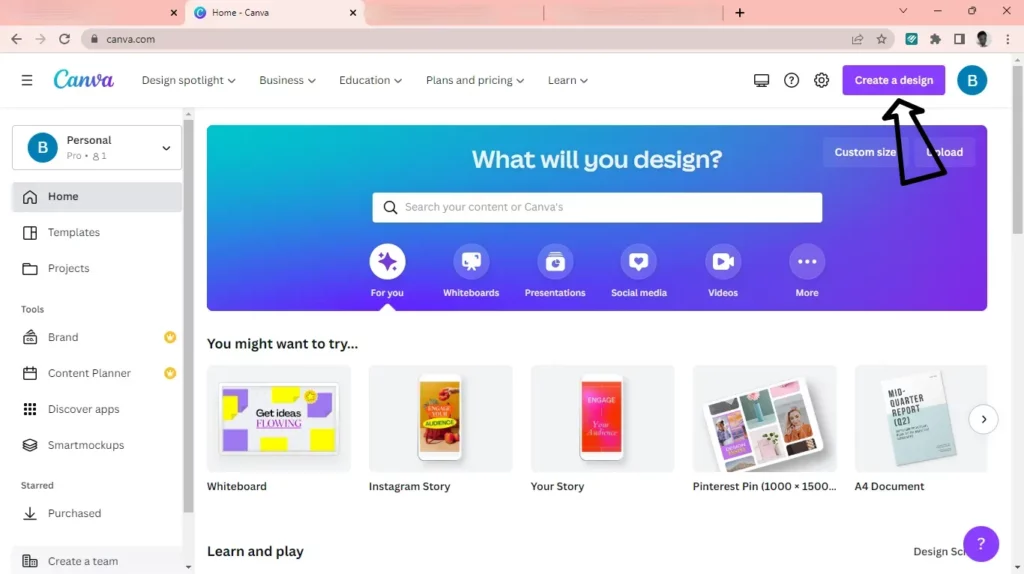 On the Home page, click the "Create a design" button; it is at the top right corner of your Canva home.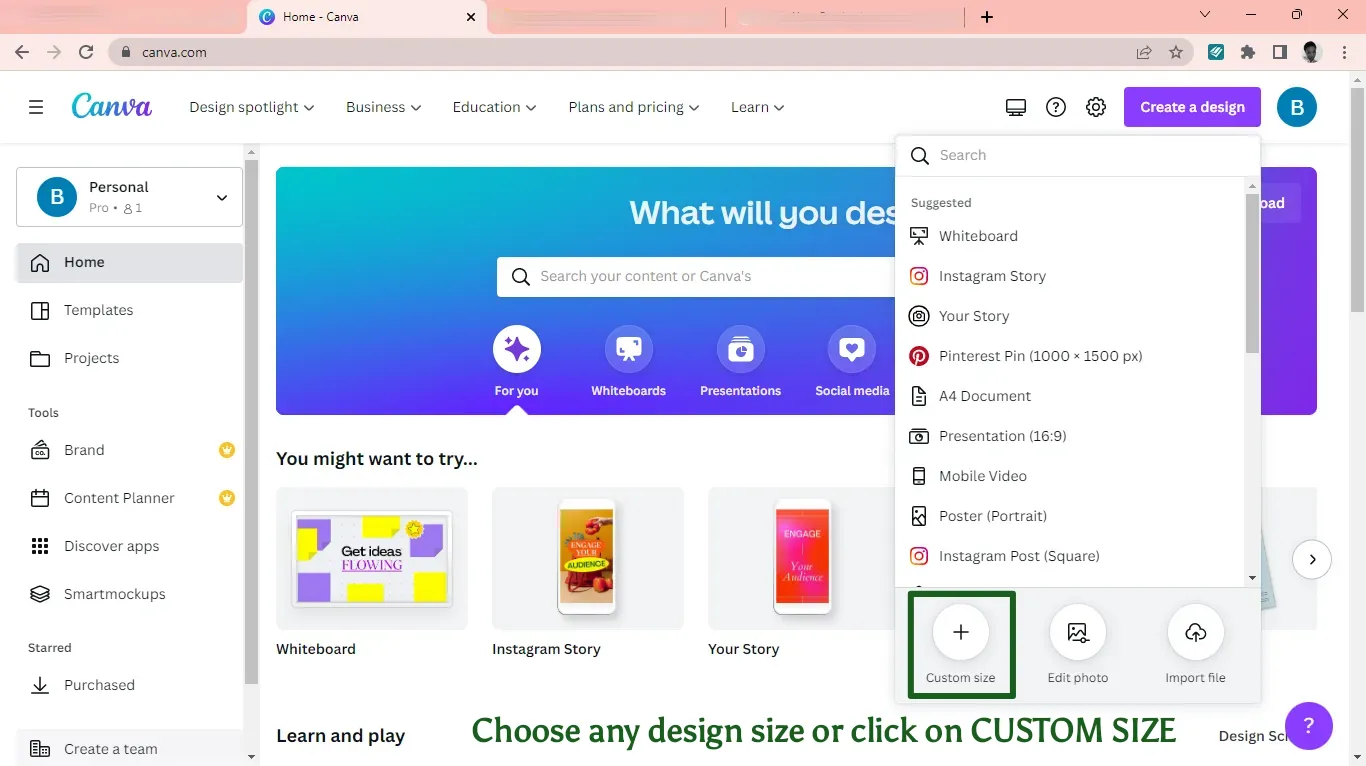 Choose a size for your design from the dropdown list that appears. If you are creating a Pinterest pin, choose "Pinterest pin."
If you do not want a predefined size, click on the "Custom size" button. Canva allows you to use different sizing units (px, in, mm, cm). Unless you know what you are doing, size your designs in px (pixels).
Once you have chosen or specified your size, click on the "Create new design" button. Canva will take you to a new tab to start creating your template.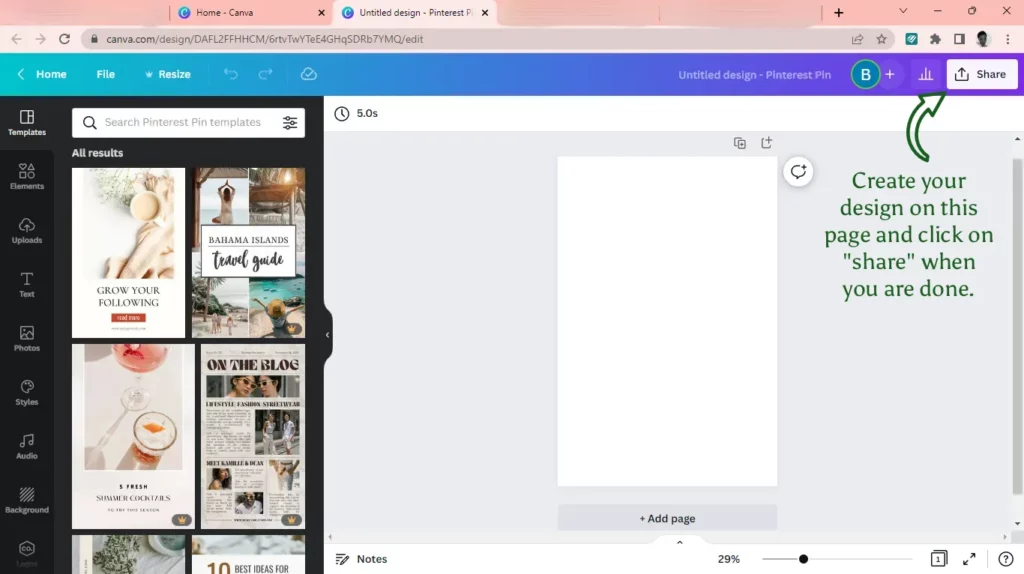 Next, add all the necessary texts, images, colors, fonts or graphics that will help you create a stunning template.
As much as possible, try not to copy the pre-designed Canva templates even if they look very tempting. Here's why:
Canva frowns at creators who copy their designs to sell.
People who buy Canva templates know that there are pre-designed templates on the platform but want something different, so, selling what they can easily copy for free doesn't do you any good.
You will not have unique designs
You will not make sales.
After creating your design, check for errors and everything looks good and meets all the required specifications.
How to make money selling digital products
Getting the shareable template link from Canva
Customers can only access the templates you create if they have access to the shareable link. You can create a link for your design by following these steps (on desktop):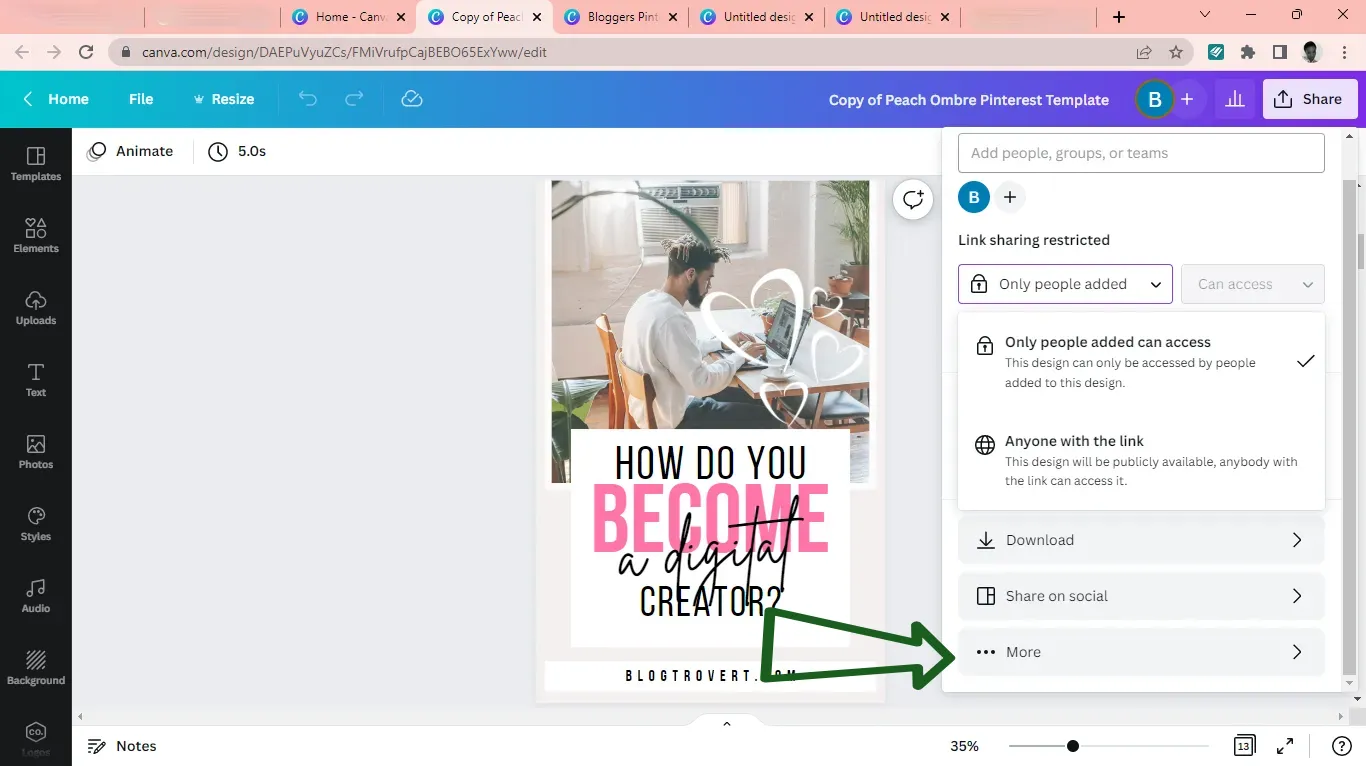 In your design area, click on the "Share" button.
Click on "Template link" from the dropdown that appears (if you don't see it, scroll down and click on "more" to view other share options and select accordingly).
Select the dropdown option to allow anyone with the link edit your design. (if you don't select this options, your customers won't be able to use your templates).
Copy the link (anyone with this link can make a copy of your design without altering the main file).
If you were sharing your template link the old way, you can upgrade to this new style. Thanks to Canva, you do not have to risk losing your designs anymore.
Note: You can not copy your link as a template on the mobile app or website yet. You must use the desktop version to share your designs as "templates."
If you do not have a laptop, always create a copy of your design before sharing its link, because anyone with the link can change your design. You wouldn't want that. Also, notify your customers not to edit the source file but make a copy of it (and hope they listen).
Create Deliverable PDF File with Canva Template Link
You can paste your shareable link in a txt file or just anywhere that allows your buyers to access them easily, but I have a better option for you.
Using PDFs to share the link to your customers makes everything more professional. Canva allows links, so you can create a single template and use it to share your designs in pdf format.
Grab this free template and customize to your taste. 100% free to use.
Shareable PDF Template
Download your free Shareable PDF Template to deliver your Canva Designs to buyers
Here is a visual step-by-step process by Kate Hayes.
How to price your Canva templates
How you price your templates solely depends on you!
If you are unsure of a good price, check the market and see how others are pricing theirs.
The prices you set for your Templates will determine how much money you make. The average price is between $5 and $50, but premium designs or bundles can sell for much more.
The important factor is to ensure you are making sustainable profit per sale after fees. Do not underprice or overprice your products!
Step 4: Set up your online shop and list your template as a product.
In this section, you will learn how to make money selling canva templates
Congratulations on creating your first template! Now, you can list it for sale on any of the many online marketplaces. There are different places to sell Canva templates, but let's find the best option for you.
When selling templates, it is important you provide buyers with clear and concise information about the template. This includes providing a detailed description of its unique features. Be sure to list any specific dimensions or sizes of the template.
Ensure your customers can easily download and access the template after purchase. Give your product an appropriate name and compress all necessary files into one zipped folder.
If the name of your product is "Ombre Pinterest Pins," ensure you name the zipped folder accordingly.
Before you start selling your templates, you need to list them on a good marketplace or website where potential customers can easily find and buy them.
Now, let us look at some of the best platforms to sell canva templates.
Best places to sell your Canva templates
If you are looking how to create canva templates to sell without owning a website, here are the most popular marketplaces for creators.
If you'd rather sell on your own website, here are some of the popular options for Canva creators:
I will discuss how to sell Canva templates on Etsy and Creative Market.
How to sell Canva templates on Etsy
Setting up your Etsy account is simple. All you need to do is register an account and open a shop to publish your templates for sale.
Here is a simple process;
Check if you are eligible to sell on Etsy. (Only a few countries can sell on Etsy).
If you are eligible to sell on the platform, visit Etsy and click on "Sign in." If you are new to the platform, click on "Register" in the pop-up and sign up for a new account. You can use your email address or quickly sign up with Google, Facebook, or Apple. Don't forget to confirm your account.
After you sign into your account, click on the user Icon (Your Account) then click on "sell on Etsy" in the dropdown and Open a new shop.
In the next page, review the information or bookmark them for later; they will help you run your shop better. You will find Etsy's Fees, FAQ and more.
On the same page, scroll down and click on "Open your Etsy shop." Ensure you review Etsy's terms of use and privacy policy before opening your shop.
Etsy will ask you a few helpful questions. You can skip this process if you do not need help.
Now, set up your shop following the interactive process and list the first template you created. Remember to choose a memorable name for your shop and list your products as digital files.
Here is a visual step-by-step process to open a shop on Etsy by Samantha Dika.
If Etsy does not support your country, you can sell your templates on other platforms that support digital products. Creativemarket is a close competitor for digital files.
Best platforms to sell digital products.
How to Sell Canva Templates on Creative Market
To sell Canva templates on Creative Market you need to sign up on the platform and apply to open a shop.
Create as many templates as possible and set up a portfolio. You can use a dribbble account to showcase your designs or set up a portfolio page on your website if you have one.
Once you have your portfolio ready, follow the steps below to apply for your shop.
Head over to creativemarket.com
Click on the "open a shop" button visible on the header
In the next page, click on "Open a shop" or connect a premium dribbble account to jump the line (get an instant shop).
Sign up for a new account using your email, Facebook, Google or Dribbble account. Login if you already have a Creative Market account.
In the next page, apply for a shop.

Ensure you choose "Templates" as your shop category. Don't worry, you can sell other types of digital products in your shop after approval.
Paste the URL to your portfolio (important to get your account approved)
Add all links to other shops you sell your templates on (if any). This can increase your chances of getting approved.

In the next page, answer the short questions and agree to their terms then submit your application.
Now, wait for approval. You can take this time to make sure your portfolio is near perfect with quality pictorial representation of your templates.
Creative Market has strict criteria for becoming a creator with them and they may prevent you from more applications after a few rejections.
After Creative Market approves your shop, you can upload, set a price for your templates and publish them for sale.
Here is a little downside you need to know – Creative Market takes a whopping 50% of every sale you make! You may pay an additional 10-30% for tax on all US sales. This means that you will make either 50%, or 40-20% from your sales.
If you are currently paying 30% tax, here's why and how to reduce it.
How to Sell Canva Templates on Fiverr
If you sell your designs as a service, freelance marketplaces are one of the best places to get started.
Platforms like Fiverr, Freelancer and Upwork connect you with people looking for the services you offer. You can set a price in your terms and earn whenever you deliver the job to your client.
This is a great way to get started if you want to sell your design skills but don't have any client yet.
Selling Canva Templates on DesignBundles and Creativefabrica
Designbundles and Creativefabrica are very similar marketplaces that focus on creative designs and products for crafters and online creators.
If you wish to sell designs for personal use, these marketplaces are not a great option. Publishing your products on Designbundles and Creativefabrica means anyone can use them to create an end product for sale.
Promoting your templates for more sales
After you create and publish your products for sale, you need to promote them as much as you can so that more people can find them. Here are a few ideas;
List your products on more marketplaces.
Post an update about them on your social media feed and stories and add a product link in the post or your Instagram bio.
If you have a blog, share the good news and publish a post about your designs. You can also add promotional banners in your posts and sidebar.
Let your email subscribers know that you've added new products to your shop.
Invest in paid ads.
Optimize your products for search engine
Boost Your Sales By Offering Custom Template Services
If you have a lot of creative ideas that you would like to turn into templates, offer custom template services as an extension of your eCommerce store or website.
You can charge a higher fee from your regular prices for this service. For example, if you sell planner templates, you can offer a premium custom template design service.
Canva Media License
Before you sell your Canva templates, you must understand the rights you have to use the media on the platform and agree to them accordingly.
Canva is pretty straightforward about what you can and can not do with their creative media; as they spell it out on the license page.
I highly recommend you go through and understand your rights. Learn more about the Canva media license agreement.
Questions you may ask;
How much do you earn monthly from selling Canva templates?
You wouldn't be reading this blog post if you didn't think there was any opportunity to make money with canva templates.
While I can not give you a definite answer of how much you will make from selling templates , here are some factors that will determine your success in this field.
The quality of your designs.
The price you charge.
The demand for your products.
If you are able to produce high-quality Canva templates and price them competitively, you could potentially make a significant income all year round.
Realistically, beginners who put in the work can make between $20 and $100 or more per month. You can scale this and see more earning potentials by improving on your skills and staying consistent.
Do you need Canva pro to create designs?
No, you do not need a pro account to create Canva templates and designs you can sell.
The Canva pro upgrade adds some extra features, but they are not essential for creating commercial designs.
Ultimately, the designs you create determines whether you need a free or pro account. Even if you don't have a pro account, many of Canva's features are available in the free version.
Can you use pro elements on template designs?
When creating your canva templates, you will notice some graphics with a gold crown, this indicates that they are exclusive for premium users or require a small fee to use.
Now, when creating, as much as possible avoid these premium elements, even if you are a pro user.
This is because, the people who buy your templates will not have access to these elements if they have a free account. Canva will require then to upgrade, buy the element or have a watermark on their design.
Is it legal to sell Canva templates?
You can sell any design you create on Canva, but you can not pick a random Canva template and bundle it as yours.
What is the difference between a Canva template and design?
All templates are designs, but a template is a pre-made design or layout that you can customize to make a new design.
You'll need to make some changes to the template to personalize it for your project.
Not all designs are templates, but you can create designs from a template.
Positive affirmations for running a successful business
Conclusion
I hope this blog post showed you how to make money selling canva templates in easy steps. Now, it's your turn!
With a little practice, you can create profitable products that are popular and sell them over and over again at your desired price.
I may earn a commission from qualifying purchases made through the links on this blog, at no additional cost to you. For more information, see my Disclosure