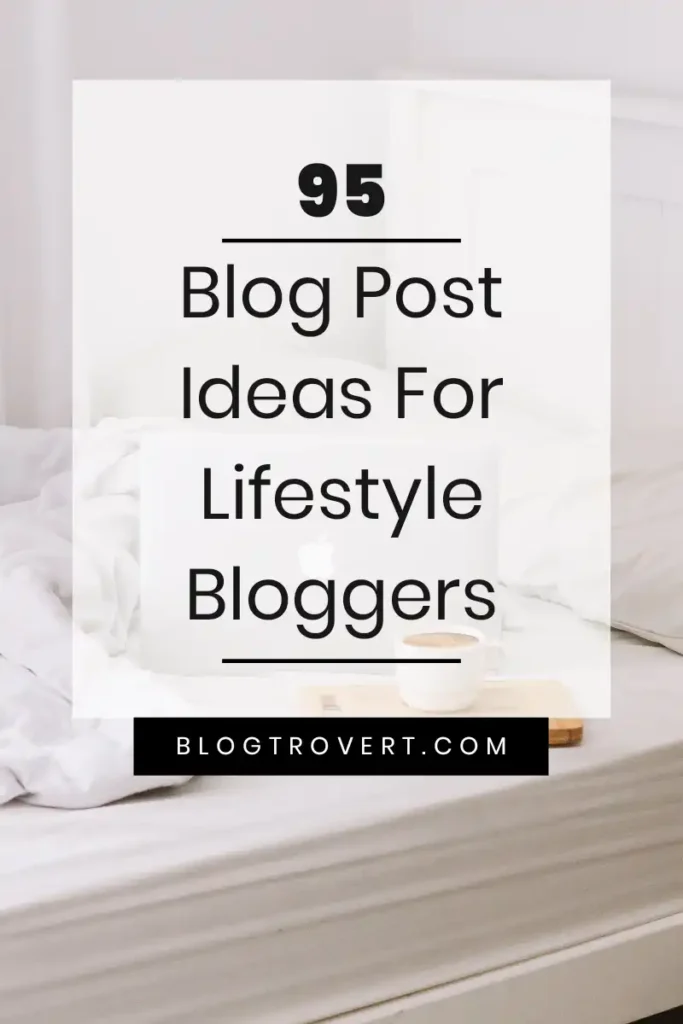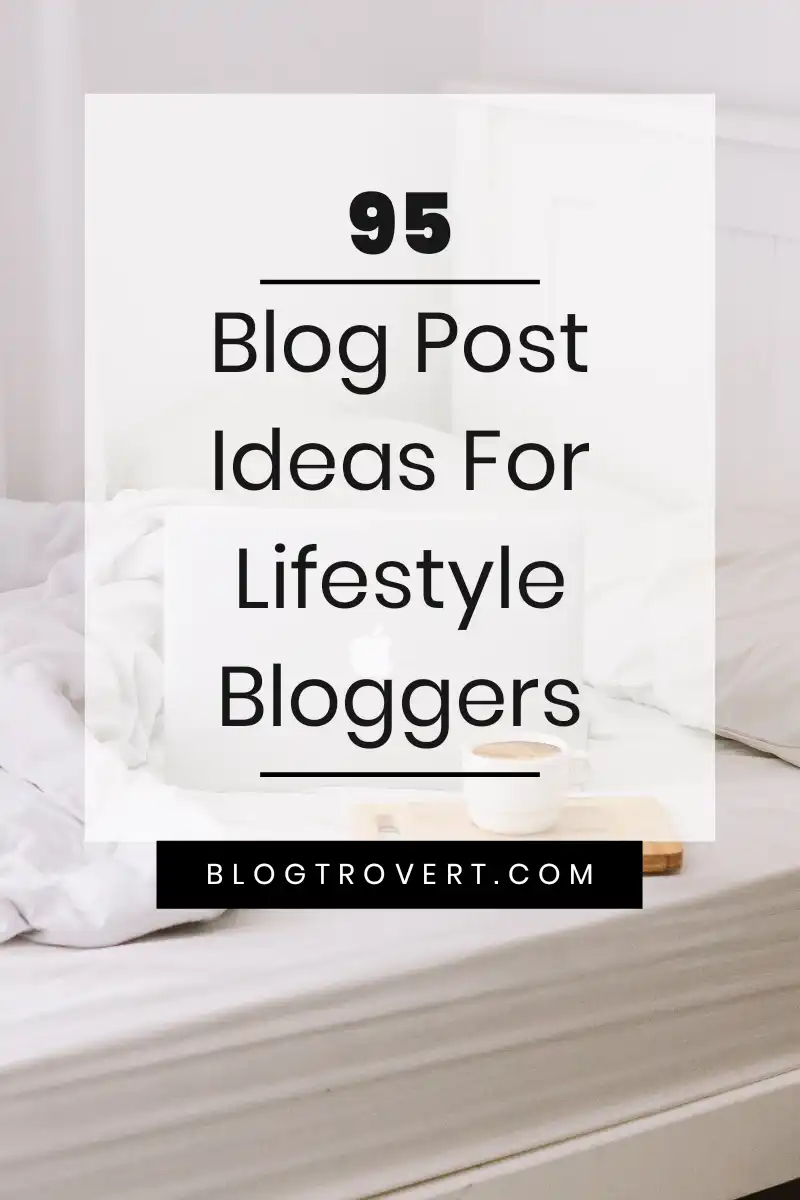 looking for interesting lifestyle blog topics ideas?
Ever struggled to come up with lifestyle topics ideas for your blog or felt like you had nothing interesting to write about?
You're not alone!
Many bloggers experience this block and often have a hard time coming up with ideas on a regular basis. But this post will teach you how to come up with interesting post ideas as well a list of 100 lifestyle blog post ideas you can copy and write about.
What is a Lifestyle blog?
A lifestyle blog allows you focus on many different niches. You can explore the world and write about several topics without restricting yourself.
Want to start a blog? I have written an extensive guide on how to start a lifestyle blog and explore your creativity.
It doesn't take much to become a blogger but creating quality contents to keep your blog alive can be challenging.
To make things a lot easier for you, I will discuss some of best ways to get lifestyle blog topics and share with you 100 ideas to help you beat writers block.
What topics does a lifestyle blog include?
Lifestyle blogs can include topics on food, travel, fashion, beauty, home décor, and more. However, each lifestyle blog is unique and offers its own spin on these topics.
For example, some lifestyle blogs focus on healthy living, while others may focus on luxury items.
No matter what topics a lifestyle blog focuses on, it should provide readers with useful information and interesting content.
5 ways to find lifestyle blog post ideas
Sometimes, you feel you've written all that is left to write! But the world is definitely too big for a limited number of topics. Every day is a new day for emerging blog post ideas.
Get blog post ideas on Quora
There are reliable question and answer sites, of which Quora and ask are great places to start with. Take note of what people are asking and create content that answer such questions.
To get the best of Quora for your lifestyle blog, choose categories in your niche to get related questions about contents you can write about.
Write down your ideas immediately they Come
As a blogger you will always get flashes of ideas you can write about. Inspiration comes from anywhere and at anytime, so, it's important you to always write them down as they come.
There are various note-taking apps for bloggers that enable you write on the go. You can take a few minutes off whatever you are doing and save your inspirations for later.
Whenever you are ready to write your post, it will be easier to look into your journal or note app for the blog topic ideas rather than racking your brain because inspirations run off as quickly as they come.
Do keyword research
Keywords research is one of the best ways to come up with blog post ideas. Keywords research is not the easiest way to get content ideas, but it sure one of the most recommended because you will be able to create contents that people are looking to read.
If you are new to keyword research you can use tools like UberSuggest for finding endless keywords you write blog post about. Ubersuggest gives you 3 free daily searches that can do just enough for you.
I suggest you learn about the best practices for finding the best keywords. Some helpful resources below;
Brainstorm fresh lifestyle blog topics from your old posts
Although old posts are as good as great, reading your previous blog posts is a great way to find an empty space that you may have missed.
You can always improve on blog posts or create fresh content from a heading that requires more contents.
Use blog topic generators
Sometimes all you need is a push. Blog topic generators offer an easy fix to writers block. If you are confused about what to write, use these tools to generate new content ideas. In most cases, you only need to input a keyword to get tons of blog titles.
Still lost on what to write?
I have compiled a list of 100 topics for lifestyle blogs. You can copy as is or make changes to suit your brand.
100 interesting lifestyle blog post ideas
Whether you're a seasoned lifestyle blogger looking for fresh content or just starting out in the blogging world, these ideas will cover a wide range of topics and are sure to spark your creativity. So, let's dive in!
Lifestyle blog topics for food and recipes
Exploring Unique Ethnic Cuisines

Take your readers on a culinary adventure as you explore different ethnic cuisines from around the world.
Share interesting facts about the culture behind the food and provide authentic recipes for your readers to try at home.

Healthy and Easy-to-Make Smoothie Recipes

Help your readers kick-start their day with delicious and nutritious smoothie recipes.
Provide tips on choosing the right ingredients and creating a variety of flavors to suit different tastes.

Baking Adventures: Decadent Chocolate Desserts

Indulge your readers' sweet tooth with a collection of decadent chocolate dessert recipes.
Share your baking tips and tricks for achieving perfect results every time.

Quick Weeknight Dinner Ideas for Busy Professionals

Provide your readers with easy and delicious dinner recipes that can be prepared in no time.
Include tips for meal planning and prepping to help busy professionals save time in the kitchen.

Gluten-Free and Dairy-Free Recipes

Cater to readers with dietary restrictions by sharing a collection of gluten-free and dairy-free recipes.
Offer tips on ingredient substitutions to help your readers adapt their favorite dishes.

Delicious Homemade Pizza Recipes

Everybody loves pizza! Share your favorite homemade pizza recipes and tips for achieving a perfect crust.
Get creative with different toppings and flavor combinations to keep your readers coming back for more.

Farm-to-Table: Spotlight on Local Produce

Highlight the importance of supporting local farmers and share recipes featuring fresh, seasonal produce.
Discuss the benefits of eating locally and provide resources for finding local farmers' markets.

Unconventional Barbecue Recipes for the Adventurous Cook

Shake up your readers' barbecue routine with unique and delicious recipes that go beyond the traditional burgers and hot dogs.
Introduce them to adventurous flavors and techniques that will elevate their grilling game.
Lifestyle blog topics for travel and adventure
Hidden Gems: Underrated Travel Destinations

Uncover lesser-known travel destinations that are off the beaten path.
Share your personal experiences and insider tips for making the most of these hidden gems.

The Ultimate Travel Bucket List

Create a comprehensive list of must-visit destinations and experiences from around the world.
Include stunning photographs and captivating descriptions to inspire your readers' wanderlust.

Road Trip Essentials and Tips

Help your readers plan the perfect road trip by providing a comprehensive list of essentials and sharing useful tips and tricks.
Include recommendations for interesting stops along the way to make the journey as memorable as the destination.

Solo Travel: Empowering Journeys

Empower your readers to embark on solo adventures by sharing your own experiences and tips for solo travel.
Address common concerns and provide resources for staying safe and making the most of the experience.

Exploring Europe on a Budget

Help budget-conscious travelers discover the beauty of Europe without breaking the bank.
Share money-saving tips, affordable accommodation options, and hidden gems that offer great value for money.

Off-the-Beaten-Path Hiking Trails

Take your readers on a virtual hike as you explore lesser-known hiking trails around the world.
Provide detailed descriptions, trail maps, and tips for enjoying a safe and rewarding hiking experience.

Sustainable Tourism: How to Travel Responsibly

Educate your readers on the importance of sustainable tourism and provide tips for reducing their environmental impact while traveling.
Highlight eco-friendly accommodations and activities that promote responsible travel.

Cruising the High Seas: Unique Cruise Destinations

Dive into the world of cruising and introduce your readers to unique and lesser-known cruise destinations.
Discuss the advantages of cruising and provide tips for choosing the right cruise for different interests and budgets.
Lifestyle blog topics for health and wellness
Beginner's Guide to Yoga: Postures, Benefits, and Equipment

Introduce your readers to the world of yoga by providing a beginner's guide that covers basic postures, benefits, and equipment.
Offer tips for establishing a regular practice and address common concerns for yoga newbies.

Mindful Eating: Nourishing Your Body and Soul

Encourage your readers to cultivate a mindful approach to eating by sharing tips for savoring meals and making healthier choices.
Discuss the benefits of mindful eating and provide resources for further exploration.

Mental Health Awareness: Coping Strategies and Resources

Dive into the important topic of mental health by sharing coping strategies and resources for maintaining emotional well-being.
Offer tips for managing stress and anxiety and provide information on seeking professional help when needed.

Holistic Remedies for Common Ailments

Help your readers discover natural and holistic remedies for common ailments like headaches, allergies, and colds.
Highlight the benefits of using natural alternatives and provide recipes or recommendations for effective remedies.

The Power of Meditation: Finding Inner Peace

Illuminate the transformative power of meditation by sharing its benefits and offering guidance for establishing a meditation practice.
Provide tips for finding the right style of meditation and addressing common challenges.

Goal Setting for a Healthy and Balanced Life

Empower your readers to set and achieve goals that promote their overall health and well-being.
Offer strategies for setting achievable goals and provide tips for staying motivated on the journey.

Staying Active: Fun Workouts for Any Fitness Level

Keep your readers motivated and engaged in their fitness journey by sharing fun and inclusive workout ideas.
Provide modifications for different fitness levels and celebrate different types of movement.

Self-Care Practices to Elevate Your Well-being

Inspire your readers to prioritize self-care by sharing a variety of practices that promote well-being.
Discuss the importance of self-care and provide practical tips for incorporating it into daily life.
Lifestyle blog topics for home and decor
DIY Home Decor: Transforming Spaces on a Budget

Help your readers create a home they love without breaking the bank by sharing DIY home decor projects.
Offer step-by-step instructions and tips for finding affordable materials.

Minimalist Living: Decluttering and Simplifying Your Home

Show your readers the benefits of minimalist living by offering tips for decluttering and simplifying their homes.
Discuss the impact of minimalism on mental well-being and provide resources for further exploration.

Creative Organization Ideas for Every Room

Help your readers conquer clutter and stay organized with creative organization ideas for every room in their home.
Share storage hacks and creative solutions for common organizational challenges.

Green Living: Sustainable and Eco-Friendly Homes

Guide your readers on a journey towards sustainable living by sharing tips for creating an eco-friendly home.
Discuss eco-friendly building materials, energy-saving tips, and sustainable living practices.

Interior Design Trends: Modern and Timeless Styles

Keep your readers up-to-date on the latest interior design trends by sharing tips for incorporating them into their own homes.
Discuss both modern and timeless styles to cater to different tastes.

Decorating with Indoor Plants: Bringing Nature Indoors

Plant lovers unite! Inspire your readers to bring the outdoors in by sharing tips for decorating with indoor plants.
Discuss the benefits of indoor plants for air quality and provide recommendations for low-maintenance varieties.

Home Renovation Projects: Tips and Inspiration

Provide your readers with inspiration for their next home renovation project.
Share before-and-after photos, tips for working with contractors, and budgeting advice.

Making the Most of Small Spaces: Clever Storage Solutions

Help your readers maximize the space in their small homes or apartments with clever storage solutions.
Share space-saving tips, furniture recommendations, and organizational hacks.
Personal growth and development lifestyle blog topics
Building Positive Habits: Small Changes, Big Impact

Guide your readers on a journey of personal growth by helping them build positive habits.
Discuss the science behind habit formation and provide practical tips for making lasting changes.

Unlocking Your Creativity: Artistic Pursuits for Everyone

Encourage your readers to embrace their creative side by exploring various artistic pursuits.
Offer guidance on finding the right creative outlet and provide inspiration for getting started.

Overcoming Fear and Stepping Out of Your Comfort Zone

Empower your readers to face their fears and embrace new challenges.
Share personal stories and provide strategies for stepping out of their comfort zones.

Finding Your Passion: Pursuing What Truly Inspires You

Help your readers discover their passions and inspire them to pursue what truly lights them up.
Share your own journey of finding your passion and providing practical tips for exploration.

Time Management Tips for a Balanced Life

Help your readers achieve a better work-life balance by sharing time management tips and tricks.
Discuss strategies for prioritizing tasks, setting boundaries, and making time for self-care.

Being Mindful: Living in the Present Moment

Introduce your readers to the practice of mindfulness and its benefits for mental well-being.
Provide tips for incorporating mindfulness into everyday life and share mindfulness exercises.

Cultivating Gratitude: Appreciating Life's Everyday Joys

Encourage your readers to cultivate a mindset of gratitude by sharing the benefits of gratitude practice.
Offer tips for incorporating gratitude into daily life, such as keeping a gratitude journal or practicing random acts of kindness.

Inspiring Biographies: Learning from Remarkable Individuals

Share inspiring biographies of remarkable individuals who have made a positive impact on the world.
Discuss the lessons readers can learn from these individuals' life stories.
lifestyle blog topics for parenting and family
Navigating the Teenage Years: Parenting Tips and Advice

Help parents navigate the challenges of raising teenagers by sharing tips and advice.
Discuss communication strategies, setting boundaries, and promoting independence.

Family Game Night Ideas: Bonding Through Fun Activities

Encourage family bonding by providing fun game night ideas that the whole family can enjoy.
Include recommendations for games suitable for different age groups and interests.

Balancing Work and Family Life: Strategies for Busy Parents

Help busy parents find balance by sharing strategies for managing work and family responsibilities.
Offer tips on time management, delegation, and self-care.

Creative Ways to Celebrate Special Occasions with Kids

Inspire parents to make special occasions memorable by sharing creative celebration ideas.
Provide DIY decorations, games, and activities that are suitable for different ages.

Effective Parenting Techniques: Positive Discipline Methods

Promote positive and effective parenting techniques by offering strategies for positive discipline.
Discuss the importance of connection, communication, and setting age-appropriate expectations.

Teaching Kids About Financial Literacy and Saving Money

Help parents teach their kids about money management and financial literacy.
Share age-appropriate activities and resources for teaching kids about saving, budgeting, and investing.

Single Parenthood: Strengths and Challenges

Offer support and guidance to single parents by discussing the unique strengths and challenges of single parenthood.
Share personal stories and provide tips for building a strong support network.

Outdoor Activities for the Whole Family to Enjoy

encourage families to enjoy the great outdoors by sharing fun and engaging outdoor activities.
provide ideas for different seasons and budgets, ensuring there's something for everyone.
Lifestyle blog topics for relationships and dating
Maintaining a Healthy Long-Distance Relationship

Offer guidance and support for those in long-distance relationships by sharing tips for maintaining a strong connection.
Discuss communication strategies and provide recommendations for activities to do together while apart.

Nurturing Friendships: Building Strong Connections

Help your readers build and nurture meaningful friendships by sharing tips for cultivating strong connections.
Discuss the importance of mutual support, active listening, and making time for each other.

Dating in the Digital Age: Online and App-Driven Romance

Explore the world of online dating and app-driven romance by offering tips for navigating the digital dating landscape.
Discuss safety precautions, profile creation, and engaging conversation starters.

Balancing Independence and Togetherness in a Relationship

Guide your readers in finding a healthy balance between independence and togetherness within their relationships.
Discuss the importance of maintaining individual identities while also fostering a strong bond.

Surprise Date Ideas to Keep the Romance Alive

Share creative and unexpected date ideas that will keep the romance alive in any relationship.
Include ideas for different budgets and preferences, ensuring there's something for everyone.

Conflict Resolution: Effective Communication in Relationships

Help couples navigate conflict by providing strategies for effective communication and conflict resolution.
Discuss active listening, expressing needs and desires, and finding compromises.

Love Languages: Understanding and Expressing Affection

Explore the concept of love languages and help your readers understand how to communicate love effectively.
Discuss the five love languages and provide tips for expressing affection in each language.

Dating Advice for Introverts: Navigating the Social Scene

Offer guidance and support for introverts navigating the world of dating and relationships.
Provide tips for finding compatible partners, managing social anxiety, and maintaining personal boundaries.
Lifestyle blog topics for finances and budgeting
Saving Money on a Low Income: Tips and Strategies

Help your readers make the most of their finances by sharing money-saving tips for those on a low income.
Discuss budgeting, meal planning, and finding affordable resources.

Creating a Budget that Works for You

Guide your readers in creating a budget that aligns with their financial goals and values.
Offer tips for budgeting, tracking expenses, and saving for the future.

Side Hustle Ideas to Boost Your Income

Explore different side hustle ideas that can help your readers boost their income.
Discuss different options suitable for varying skills and interests.

Smart Shopping: Making the Most of Sales and Discounts

Teach your readers how to be savvy shoppers by providing tips for making the most of sales and discounts.
Discuss strategies for finding the best deals and avoiding unnecessary purchases.

Debt-Free Living: Achieving Financial Freedom

Inspire your readers to live a life free from debt by sharing strategies for debt repayment and financial freedom.
Provide resources for managing debt, creating a repayment plan, and avoiding future debt.

Investing for Beginners: Building Wealth for the Future

Educate your readers on the basics of investing and help them build a solid foundation for a secure financial future.
Discuss different investment options, risk management, and long-term financial goals.

Meal Planning and Grocery Budgeting Tips

Help your readers save money on groceries by offering meal planning and grocery budgeting tips.
Share recipes, bulk-buying strategies, and ways to reduce food waste.

Traveling on a Tight Budget: Making Every Penny Count

Provide your readers with tips and hacks for traveling on a tight budget.
Discuss budget accommodation options, transportation alternatives, and free or low-cost activities at various destinations.
lifestyle blog topics for technology and gadgets
Must-Have Apps for Productivity and Efficiency

Share a curated list of must-have apps that can help your readers boost their productivity and efficiency.
Discuss how these apps can streamline daily tasks, manage time, and stay organized.

Exploring the Latest Tech Innovations in Fitness

Dive into the world of fitness technology by exploring the latest innovations and gadgets.
Discuss how these technologies can enhance workouts, track progress, and provide motivation.

Home Automation: Simplifying Your Life with Smart Devices

Introduce your readers to the world of home automation by showcasing smart devices and their benefits.
Provide recommendations for different aspects of home automation, such as lighting, security, and entertainment.

Gadgets for Every Hobby: Enhancing Your Favorite Activities

Help your readers make the most of their hobbies by showcasing gadgets that can enhance their experiences.
Discuss gadgets for photography, cooking, gaming, fitness, and more.

Cybersecurity: Protecting Your Digital Life

Educate your readers about the importance of cybersecurity and offer tips for protecting their digital lives.
Discuss safe online practices, password management, and resources for staying informed about cyber threats.

Virtual Reality Experiences: Taking a Trip Beyond Reality

Explore the exciting world of virtual reality and share immersive experiences that your readers can enjoy.
Discuss the different applications of virtual reality, from gaming to travel to education.

Breaking Down the Latest Smartphone Features

Keep your readers informed about the latest smartphone features by breaking them down in an easy-to-understand way.
Discuss new camera technologies, security features, and innovations in user interface design.

Gaming: From Classic Consoles to Modern Trends

Take your readers on a journey through the world of gaming, from classic consoles to the latest trends.
Discuss popular games, gaming platforms, and the impact of gaming on culture.
lifestyle blog topics for books and literature
Book Recommendations for Different Genres and Moods

Help your readers discover their next great read by providing book recommendations for different genres and moods.
Discuss your favorite books and why you think they're worth reading.

Book Review: Spotlight on Engaging Fiction Novels

Share in-depth book reviews of engaging fiction novels that will captivate your readers.
Discuss the plot, characters, and themes of each book, enticing your readers to pick up a copy for themselves.

Discovering Classic Literature: Timeless Masterpieces

Introduce your readers to the world of classic literature by discussing timeless masterpieces.
Discuss the historical and literary significance of each book and why they still resonate with readers today.

Author Spotlights: In-Depth Interviews with Writers

Shine a spotlight on talented writers by interviewing them and sharing their stories and insights.
Discuss their writing process, inspiration, and upcoming projects.

Non-Fiction Books that Inspire Personal Growth

Share a curated list of non-fiction books that have inspired personal growth and transformation.
Discuss the lessons, ideas, and strategies presented in each book.

Book Club Ideas: Engaging Discussion and Reading Guides

Help your readers start or enhance their book clubs by providing engaging discussion questions and reading guides.
Discuss different themes and genres suitable for book club discussions.

Top Poetry Collections for Every Reader

Inspire your readers to explore the world of poetry by recommending top collections from different poets.
Discuss the themes, styles, and impact of each collection.

Exploring Genre Blending: Unique and Experimental Reads

Dive into the world of genre blending by recommending unique and experimental reads that defy traditional categorization.
Discuss the creative and thought-provoking elements of each book.
lifestyle blog topics for entertainment and pop culture
TV Series Reviews: Must-Watch Shows for Every Genre

Share your thoughts on must-watch TV series from different genres, from dramas to comedies to thrillers.
Discuss the strengths of each show and why you think your readers will enjoy them.

Film Analysis: Exploring the Artistry Behind Major Movies

Dive deep into the world of film by analyzing and discussing major movies from different genres and eras.
Discuss the storytelling techniques, cinematography, and themes of each film.

Upcoming Concerts and Live Performances

Keep your readers in the loop about upcoming concerts and live performances in various genres.
Discuss the excitement and anticipation surrounding these performances and offer tips for getting tickets.

Anime and Manga Recommendations for Beginners

Recommend must-watch anime series and must-read manga for beginners looking to explore this popular art form.
Discuss the unique storytelling, art styles, and cultural significance of each series or manga.

Gaming Updates: New Releases and Exciting Developments

Keep your readers informed about the latest gaming news, new releases, and exciting developments in the gaming industry.
Discuss upcoming games, console updates, and industry trends.

Celebrity Spotlight: Inspiring Stories and Philanthropy

Shine a spotlight on inspiring celebrities who are making a difference in the world through their philanthropic efforts.
Share their stories, discuss their causes, and provide resources for readers to get involved.

Exploring the World of Podcasts: Engaging Audio Entertainment

Introduce your readers to the world of podcasts by recommending engaging and thought-provoking shows.
Discuss different genres and provide episode recommendations to get your readers hooked.

Music Playlists for Different Moods and Activities

Curate music playlists for different moods and activities, from workout playlists to study playlists to relaxation playlists.
Discuss the power of music in enhancing our daily lives and offer tips for creating personalized playlists.
Lifestyle blog topics for fashion and style
Seasonal Fashion Staples for Every Closet

Keep your readers stylish all year round by sharing essential fashion staples for each season.
Discuss current trends and provide tips on how to incorporate them into everyday outfits.

Thrift Store Haul: Affordable and Stylish Finds

Show your readers that great style doesn't have to come with a hefty price tag by sharing your latest thrift store finds.
Offer tips on how to thrift like a pro and find unique pieces that make a statement.

Dressing for Different Body Types: Flattering Outfit Ideas

Help your readers embrace their unique body shapes by offering outfit ideas that flatter different body types.
Provide styling tips and tricks to help them feel confident and comfortable in their own skin.

Accessory Must-Haves to Elevate Any Outfit

Show your readers how accessories can take an outfit from drab to fab.
Share your favorite accessory trends and provide tips for mixing and matching them to create stylish looks.

DIY Fashion Projects: Revamping Your Wardrobe

Inspire your readers to unleash their creativity by sharing DIY fashion projects that breathe new life into old pieces.
Offer step-by-step tutorials and ideas for upcycling clothes and accessories.

Sustainable Fashion: Brands Making a Difference

Educate your readers on the importance of sustainable fashion and showcase brands that are leading the way.
Discuss ethical production practices and offer tips for building a sustainable wardrobe.

How to Find Your Personal Style

Guide your readers on a journey of self-discovery as they find their unique personal style.
Share tips for determining what styles and colors suit them best and provide inspiration for building their dream wardrobe.

Athleisure: Combining Comfort and Style

Show your readers how to rock the athleisure trend by sharing outfit ideas that marry comfort and style.
Discuss the advantages of athleisure wear and provide recommendations for brands that offer stylish activewear.
lifestyle blog topics for personal reflections and stories
Lessons Learned from Traveling the World

Share your personal reflections and the lessons you've learned from your travels around the world.
Discuss the transformative power of travel and how it has shaped your perspective on life.

Overcoming Personal Challenges: Inspiring Stories of Triumph

Offer hope and inspiration to your readers by sharing your personal stories of overcoming challenges and triumphing in the face of adversity.
Discuss the lessons you've learned and the strategies you've used for resilience.

Finding Happiness and Fulfillment in Unexpected Places

Explore the theme of finding happiness and fulfillment in unexpected places by sharing personal stories and insights.
Discuss the moments and experiences that have brought you joy and satisfaction.

Reflections on Life's Milestones: Birthdays, Anniversaries, and More

Reflect on life's milestones, such as birthdays, anniversaries, and significant events, by sharing personal stories and insights.
Discuss the lessons and wisdom you've gained from these milestones and how they have shaped your journey.
Do you want to start a lifestyle blog?
Have you wondered, "How do I start a lifestyle blog?"
I have just the right resource for you.
First, decide what kind of lifestyle blog you want to create, the domain and hosting for your blog, then your writing strategy.
Here is an extensive blog post that will help you start a successful lifestyle blog.
Conclusion
We made it through 100 exciting lifestyle blog post ideas!
I hope you've found plenty of inspiration to ignite your creativity and kickstart your blogging journey. Remember, the key to creating captivating lifestyle content is to find a balance between providing valuable information and infusing your unique voice and experiences.
Writing is difficult! But let your passion shine through, and your readers will keep coming back for more. Happy blogging!
I hope you find these lifestyle blog topics helpful.
I may earn a commission from qualifying purchases made through the links on this blog, at no additional cost to you. For more information, see my Disclosure