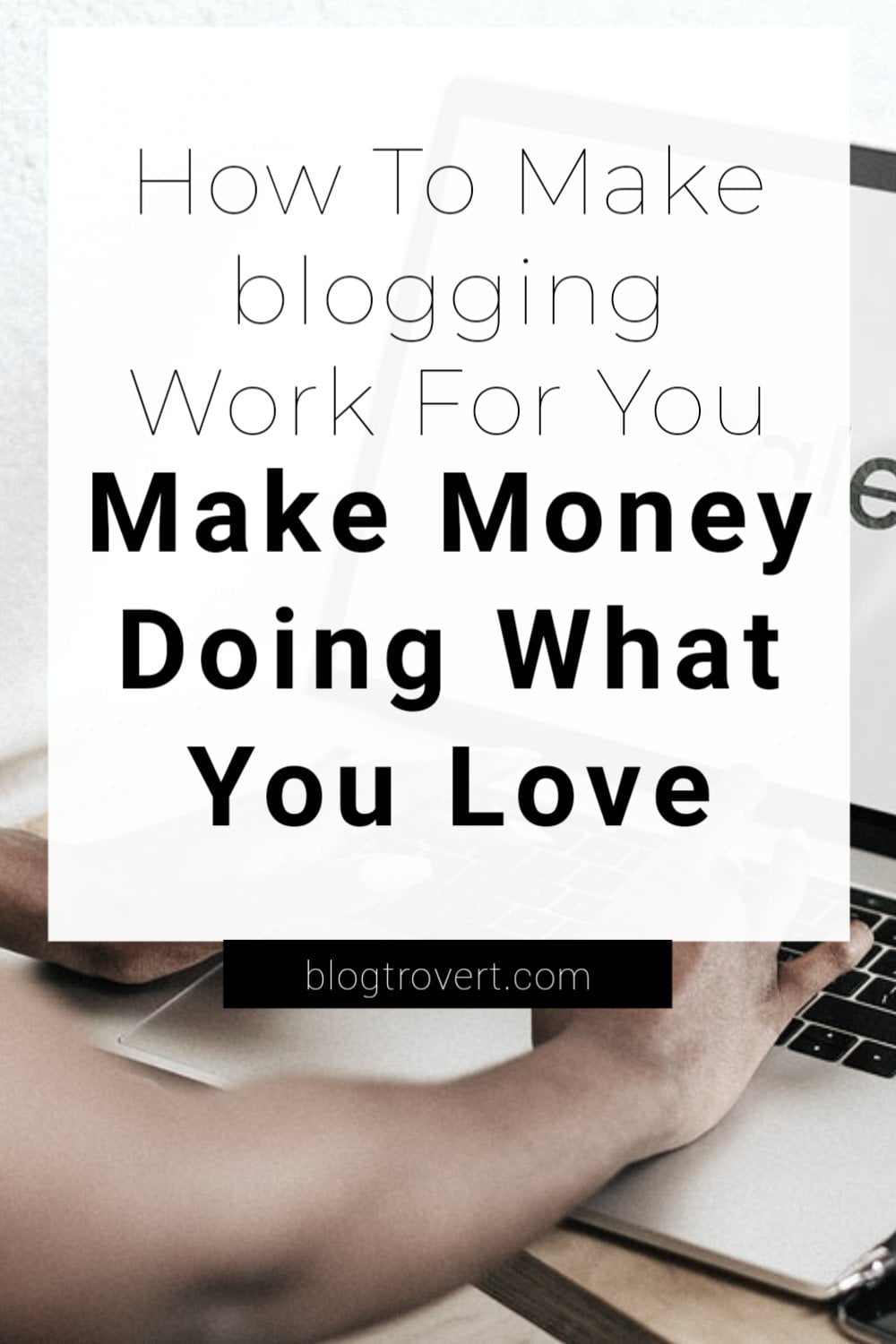 Do you want to become a blogger?
Do you want to share your thoughts and ideas with the world?
Do you have a story to tell?
If so, blogging might be the perfect medium for you! As a blogger, you can share your voice and perspectives with millions of readers around the globe.
As a blogger, you will be in control of what people see and hear about your work, make a real impact and also make money.
So, what does it take to become a blogger?
There are no guarantees, but this blog post hopes to answer some important questions and provide you with information on how to become a blogger and the resources you need to get started.
Why should you become a blogger?
There are a lot of significant reasons to become a blogger.
First, blogging is a great way to share your thoughts and ideas with the world. You can write about anything you want (as long as it's legal), and people all around the world will read your blog.
Second, blogging can be lucrative. If you're good at writing, and you create interesting content, you may make money from your blog.
You can monetize your blog by selling advertising space, offering opportunities for sponsored contents on your blog and a more – we will discuss everything in this blog post.
Last, blogging can be fun! If you enjoy writing, then blogging may be the perfect way for you to share your thoughts and ideas with the world.
Does it cost money to start a blog?
This is a "YES" and NO answer, here's why;
The cost of starting a blog can vary depending on a number of factors. It is possible to become a blogger for free or with very little money.
There are a number of free blogging platforms, such as WordPress.com and Blogger.com, which allow users to start a blog without any upfront costs.
However, these platforms may have limitations on what users can do with their blog, such as advertising and customizing the blog's design.
Those who are looking for more control over their blog may opt to set up a self-hosted blog using WordPress.org software. This option requires a small investment in hosting and a domain name, but it gives users complete control over their blog."
So, it costs money to start a blog if you want a standard domain name and a premium or self hosted blogging platform.
If you are not a web developer and need a professional looking blog, you may also need to hire someone to design your website.
If you're seriously want to become a successful blogger, investing into your blog will to be worth it in the future.
Can you make money blogging?
Yes, you can make money blogging, but you need to dedicate your time and efforts to make that come true.
Like any other business, you must work and set things in place to see positive results. Don't expect overnight success if you want to make genuine money from your blog.
Most people believe that blogging is difficult because results did not meet their expectations.
Misinformation makes many people to jump in and out of blogging. Most people stopped blogging because they did not start making money as fast as they expected. With the right information, you will not have to be one of such persons.
Always remember that blogging is not a get rich quick scheme! It's takes more than just starting a blog to become a successful blogger!
You don't have to get depressed because you've created an enormous list of expectations. Learn the art of blogging first, then proceed to figuring out the best ways to go about monetizing your blog.
There are several helpful information in this post that'll help you become a blogger that actually makes money from blogging.
How to become a blogger that makes money
Yes, it does take quite a while to build up a successful blog, particularly in an oversaturated niche, but it is more than possible to make a living from blogging. Here, I will share a few tips to help you get started.
Find a niche
Finding a niche is important for success in blogging. A niche is a specific topic area on which your blog focuses.
There are a few approaches for finding a blogging niche. The first is to consider what you're passionate about.
What are you an expert on?
What are people currently reading?
Once you have a few ideas, narrow them down to a single topic that you can write about in extensively.
Another way to find a blogging niche is to look at what other bloggers are writing about.
Once you've identified a few potential blogging niches, find other bloggers in your niche and see what they're doing well. Also, look for any gaps in their contents that you could fill with your own blog.
When you have a clear understanding of the niche, you'll be able to create content that appeals to your target reader. Finding a blogging niche can be a challenge, but it's worth taking the time to find one that's right for you.
some popular blog niches that may interest you;
Brainstorm A Domain Name
Once you have found a niche, the next step is to come up with a brilliant domain name. When choosing a domain name, you must be careful as it is going to be your brand and you wouldn't want to change your brand name all the time.
Take your time and be picky. Your domain name should be catchy, easy to spell, and relevant to your niche. There are many resources online to help you find the perfect domain name. Tips and tricks to choose a good domain name.
Once you have chosen a domain, you need to register it with an appropriate registrar. Domain names cost between $10 – $20 per year (one of the first investments you will make as a blogger).
I recommend you use Namesilo.com for all your domains. They offer the cheapest option with free Whois protection.
Pick a blogging platform
Once you have decided and registered a domain name, it's time to pick a good platform for your blog.
There are various platforms for bloggers to choose from. Blogger, WordPress and Wix are some of the most popular.
Platforms like blogger.com allow you to blog for free but you can go a step further and use a self hosted platform like WordPress.org to have more control over your website.
You can either use a free blog host like WordPress.com and blogger.com, or you can invest in a more reliable platform like WordPress.org with a good web host. Either way, you need to host your blog.
Interserver is an inexpensive and reliable web hosting platform you can use to host your WordPress blog. Their plan starts at $2.50 monthly. Learn more about Interserver.
Get 99% off your first month on Interserver with this coupon code: BT1OFF.
Procedures For Buying A Hosting Plan From Interserver
First, navigate to interserver.com and click on "Buy Now" – you will be buying the Standard Web Hosting plan.
It will take you to a new page instructing you to register a new domain name or use a domain you already own. If you purchased your domain name already, select "I already have a domain," else select "register a new domain." Interserver will register your domain name for the first year at $7.99 – renews at $12 yearly.
Once you complete your domain selection, click on "Continue" and choose to not transfer your domain (except you want to).
In the next page, create a new account with your correct details or login if you are an existing customer.
Once you are logged in, you can review your cart, carefully taking note of how much you are paying now and for renewal. Use BT1OFF to get your first month at $0.1!
Select a billing interval: 1 month, 6 months, 12 months or 24 months. "Choosing a higher billing interval can give an additional 5-20% discount."
Once you are satisfied with your order selections, choose a payment method: Credit Card or PayPal.
Read and agree to the Interserver offer terms then click on "Place Order."
Interserver will mail you all the important details about your new web hosting account and a link to log into your Cpanel.
If you bought your domain name on Namesilo or any other domain registrar, change your domain nameservers to dns.trouble-free.net and dns2.trouble-free.net.
How To Change Nameservers On Namesilo
First, log into your Namesilo account and follow the video guide below;
Enter Your Hosting Control Panel
Important Notice
You will receive a message containing your hosting details. The message entails:
A link to your cPanel account.
Your cPanel Username and Password.
And more.
Please note the above. To be on the safer side, print the email or save it online securely. You may need this information in the future as everything you need to access your control panel is in the message.
To begin, visit your cPanel account using the link provided in the hosting details sent to you and login with the username and password (they also sent this to you).
Now that you have logged in, you should be in your control panel. This is where all the technical matters will take place for your website. Please handle your login details with utmost care. Your cPanel will look like this:
Important tip – Install SSL Certificate
It's important that your blog goes live securely with a premium SSL certificate
A secured website is necessary for visitors' and owner's safety. Your site should run on HTTPS, so you definitely need an SSL certificate. Fortunately, Interserver offers a free SSL certificate for any domain you add to your Cpanel.
Follow The Procedures Below To Activate HTTPS On Your Blog.
If you are yet to point your domain to Interserver, do so in your domain registrar.
Once you've logged into your Interserver cPanel, navigate to "Security" and click on "SSL/TLS STATUS."
In the next page, you will see a list of domains without an SSL certificate. Simply select all unsecured domain and click on "Run AutoSSL."
Interserver will process the request and assign an AutoSSL certificate to your domain. Make sure you point your domain to Interserver before you run this process, else it will fail.
If you follow the instructions above, you will have successfully activated HTTPs for your domain.
Set Up Your Blog
Once you have purchased a suitable host for your blog, you will need to install WordPress and take care of other basic settings.
How to Install WordPress in Interserver
Interserver makes installing WordPress an easy task with Softaculous apps installer.
In your Cpanel, simply navigate to; "Softaculous App Installer" and select WordPress (you should see the large WordPress icon).
On the next page, click "Install now." Softaculous will pull up a setup options to install WordPress. The guide below will help you set up your WordPress site properly.
Install WordPress With The Procedures Below:
Softaculous will install WordPress in a few seconds and send you the necessary details you need to access your WordPress admin dashboard.
Okay! This wasn't so bad! If you follow the steps above, you will have successfully installed WordPress on the Interserver shared standard web hosting plan.
Hassle free right?
Do you have any question or need more help?
Leave a comment below, email me at contact@blogtrovert.com or find me on Twitter.
Important settings for your blog
ChicPixies offers affordable, modern and stylish WordPress themes for bloggers who just want to blog.
Write Contents for Your Blog
Now that you have your blog set up, it's time to write! Think about what your readers will want to know, and write about topics that will interest them.
Use search engine tools to know what people are currently searching for and create contents around such topics.
Make sure you write blog posts that are informative and interesting — this will help you attract dedicated readers.
Be sure to link to your sources where applicable and use engaging images for every blog post you create.
Most of the photos on my blog come from Unsplash and Rawpixels. Discover some of the best places to find images for your blog.
Writing is difficult, always use grammar tools to proofread your work and make necessary edits so you do not end up with error filled posts.
Grammar tools will help you write better sentences and fix minor writing errors you may never notice. I currently use ProWritingAid. Grammarly is also a great tool for writers.
You need to be updating your blog regularly and consistently, whether it's every day, three times a week or once a week. Google tends to favour blogs which post frequently; this will help you with your search engine ranking and visibility.
Share Your Contents and Grow Your Audience
Once you have written a few blog posts, it's time to share them with your audience. Share them on social media, and encourage your readers to sign up to your email list to get firsthand access to your contents.
To grow your email list, you can offer free resources that require your readers to sign up to your email list to access. Also, place an attention grabbing newsletter form in visible areas of your blog. Mailchimp is a popular service for hosting email lists.
Organic traffic can be very difficult unless you are well versed in search engine optimisation. However, if you have an active social media presence linked to your blog, you can share your posts there and reach a wider audience.
Monitor your blog's stats so you can see how it is performing. This will help you understand where you need to focus your efforts in order to improve your blog's performance.
Monetize Your Blog
Once you have a growing audience, consider monetizing your blog. There are several ways to do this, from selling advertising space on your blog to charging for access to your subscriber list and offering sponsored content opportunities.
If you want to earn money by displaying ads on your blog, here are a few of the best advertising platforms to work with;
If you want to offer sponsored posts on your blog, Adsy is a great platform for bloggers who want to get connect with people looking to sponsor a post.
Apart from displaying ads and offering sponsored posts, you can offer paid membership services or sell your own products and services through your blog; you can sell your own merch with print on demand or create a digital product. Discover some of the best digital products to sell.
What To Do Before Setting Your Blog Money Goals
If you want to become a blogger or just starting out, here are a few helpful tips to make your blogging journey fun!
Blog about what you know!
It will be pretty helpful if you blog about what you know and not just what your "blogging hero" blogs about. It's only normal to admire fellow bloggers and get inspired by what they do. But what's not normal is hiding in their shadow, blogging in their voice and doing what they do! You should stop being a pest, crate your unique brand!
If you really have no specific niche or area of specialisation, I'd suggest you blog about yourself, at least it's fair enough. It is a popular and easy topic to blog about. You can focus on your life or a little section of it.
Below are examples of things you can start blogging about if you enjoy talking about them.
Imagine you are an individual who follows the trend and enjoys shopping for new clothes, you'd make a good, if not a great fashion blogger! Now, your fashion style is one aspect of your life to blog about; in blogging it is called niche.
What if you are someone who enjoys following celebrities or loves talking about them and their controversial lifestyles? You could start a blog on celebrity gossip and stop stressing yourself blogging about a niche you struggle with!
If you excel in a field, let's say an educational field, chances are there are a million or a thousand others searching for what you appreciate and enjoy learning.
You can start a blog that provides information and solutions related to your educational field. If your blog applies to your field, it could start getting organic tractions in no time and likely compete with several other related blogs.
Learn From Other Bloggers
Understand that you can never know it all. Despite the magnificent knowledge about blogging you may have gained, you can never know it all.
Learning is an unending process. Sometimes, we have to unlearn some things because they become outdated or were never worth knowing.
To make learning a lot easier, you can get yourself a mentor who has been in the field before you and knows what blogging is truly about. No knowledge is a waste, it either helps you or teaches you a lesson.
While you blog, don't be an island lest you sink without knowing. Bookmarking several other blogs like yours doesn't make you a loser, it only makes you someone willing to learn and grow.
Some Successful Bloggers to Inspire You:
Use beautiful photography and visuals
A few years ago, a blog was purely about the writing, but these days it is so much more. The way your blog looks and in particular, the photography and visuals are so important.
Keep an eye on Pinterest for photography tips and tricks to improve your pictures or use stock photos and images from royalty-free websites such as Unsplash and Pexels.
However, unless you are making a conscious effort to remain anonymous include an up-to-date photo of you in your about me page. This will help your readers get a sense of who you are, which is crucial if you want to connect and engage with them.
Learn a Monetization Strategy
Since you're likely blogging for money, it's best you know what method to use in monetizing your blog. There are several methods to make money blogging, but you may not be successful with all the methods.
The easiest way to make money from your blog is by integrating ads. Google Adsense and Mediavine are popular ad networks bloggers can use.
Other common ways of monetizing your blog include sponsored posts, affiliate marketing, offering services, membership subscription and selling your products.
Make out Time for yourself
Do you know that blogging has a way of taking the life out of you?
Once you make your blog more than just a hobby, it becomes either a part-time or full-time work at home job! People who work need to rest.
Take breaks and avoid getting stressed out by the lack of rest and sleep. Create time for yourself and refuel so you can be more productive.
You can help yourself stay healthy by using a planner to schedule your daily activities so you can train yourself to take resting breaks. Planners help you learn how to combine blogging and your everyday life in a way that it doesn't affect your health and overall wellbeing.
It's all about the money, but be patient!
You want to become a blogger that makes money and hope that you actualize wealth by doing what you love. But truth is, many have placed the idea of making money through their blogs ahead of the need to offer qualitative value to their readers.
Make your blog something you enjoy updating despite the shortcomings. A lot of bloggers have abandoned their blogs only to start up another claiming that a specific niche is better off than the other.
You shouldn't start a blog solely because someone else makes a fortune off blogging. Also, know that not all income reports are genuine. Also, what works for one person may not work for the other.
Don't let the luxurious lives you see on social media fool you. Don't pressurize yourself into buying one likely worthless course that's promises to switch up your blogging results in a snap.
Hopefully, these tips will help you get started on writing your own successful blog.
Conclusion
Blogging is a massive deal at the moment with people of all ages realising that writing can be a great creative outlet. Some people take it a step further and make money from it, either alongside their current jobs or even as their main job.
When you blog for money, you understand the time and efforts you'll need to make sure strategies and plans yield results. In your endeavours, it's best you know what works for you and what doesn't.
This post outlines everything you need to know in order to get started as a blogger, from choosing a blog platform to creating your first post and monetizing your blog.
Follow these steps and you'll be on your way to becoming a successful blogger in no time!
It's always nice to indulge in something you enjoy. If you feel blogging is too difficult for you, then you may find something you are better off with. Realise that not everyone can become a blogger or make a fortune blogging.
I may earn a commission from qualifying purchases made through the links on this blog, at no additional cost to you. For more information, see my Disclosure