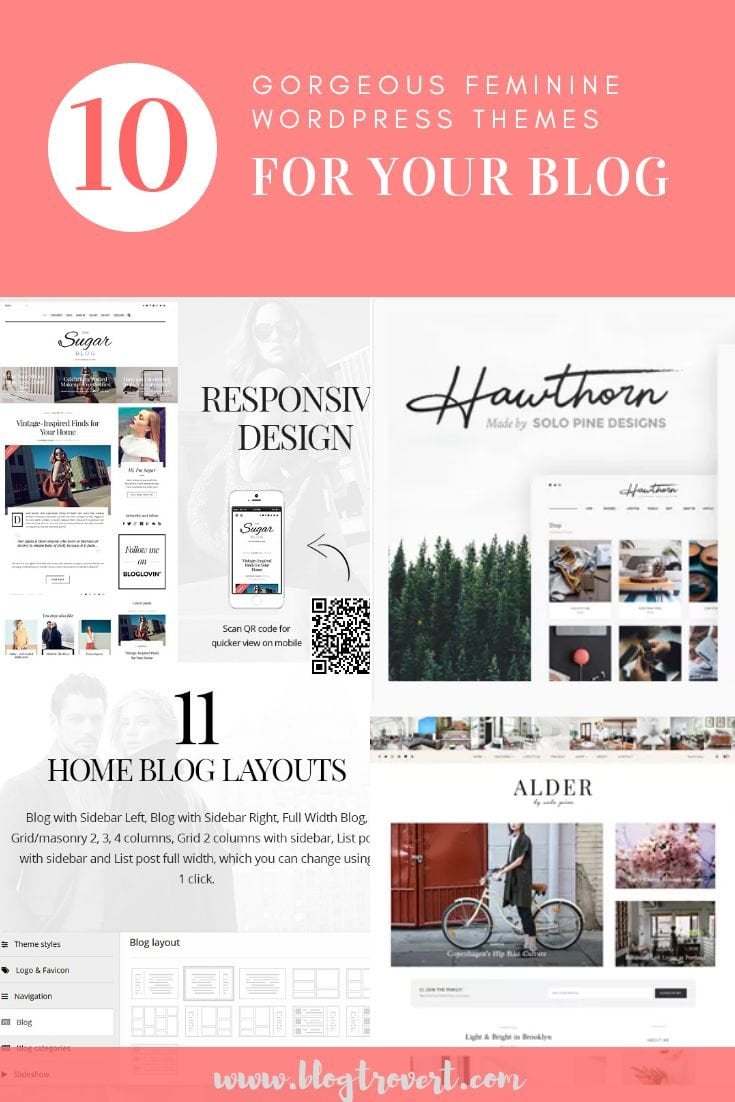 One of the greatest struggles I had in setting up my blog was settling for a WordPress theme. I used a lot of free and a few premium themes that never really did justice to my desires. I had always wanted my blog to make a good first impression on visitors because obviously, a beautiful layout tends to leave visitors glued and returning to your site. It's important you use an amazing theme that complements your blog because it shows professionalism.
Using a pretty theme for your blog often give visitors the idea that you have great and reliable contents. I have seen a rise in returning visits with my current theme. It's simple, straight to the point and above all so inexpensive.
Things To Look Out For Before Choosing A Theme
Themes are an important aspect of your blog. They are as delicate as the content you put on your blog. Whether you are getting ready to start a new blog or redesigning an already existing blog, you need to pay absolute attention to the theme you want to install. The most important aspect of good blog design is that it should fulfil you and your readers' requirements.
Impression
While choosing a theme, you should be able to select one that blends in with your niche. One that tells of what you blog about. The theme should be as straightforward as possible. It should also send a message to your visitors so that they can get an overview of what your blog is all about.
SEO Friendliness
Search Engine Optimization is very important in running a blog. Get an SEO friendly theme. Ensure your theme is well coded and the basic structure obeys SEO rules.
Colour Combination
Before buying or using any theme, ensure it has a customisable colour scheme. The theme should be able to output a beautiful colour combination. Make sure the colours you choose doesn't turn out to be too loud or too pale. You can use a green or brown background for nature blogs. Use minimal and subtle colours for a personal blog. When your blog represents a company or organization, you should use the identification colours of that company and not just any colour.
Responsiveness
These days bloggers are advised to use responsive themes on their blogs so that it fits into any screen that it is viewed on. Get a responsive theme to boost your user engagement.
Load Time
Some themes are packed up with JavaScript and naked CSS codes which increase the load time. Although getting a perfect design goes along with increased load time, you should find a blog theme that has either a shorter load time or try optimizing the code to decrease load time.
Widget space
A good template/design should have space for widgets like the sidebars and footers where you put information and other blog attributes different from your blog posts.
Ads Ready
Do you intend monetizing your blog? If you do, then before choosing a blog design, you should look out for its ad space. Your blog theme should have proper space for advertisements, without mingling with the main content.
Why I Overlooked Free themes
Using a free theme for your blog might not be an issue especially if it does what it's expected to do, beautify your blog. While I'm not against using free themes, the best are widely used on a different blog. I hate the idea of looking like 10 other blogs. If you hope to stand out, you will have to look beyond free feminine WordPress themes.
Best Feminine WordPress Themes For Your Female Audience
If you've been struggling with settling with a design or constantly switching themes, then this post will surely help you make a decision on what theme to use for your WordPress blog. To help you make the right decision, I have compiled a list of my favourite feminine WordPress themes that won't tear your pocket or get you stack broke. Some are amazingly cheap!
Rosemary by Solopine (themeforest)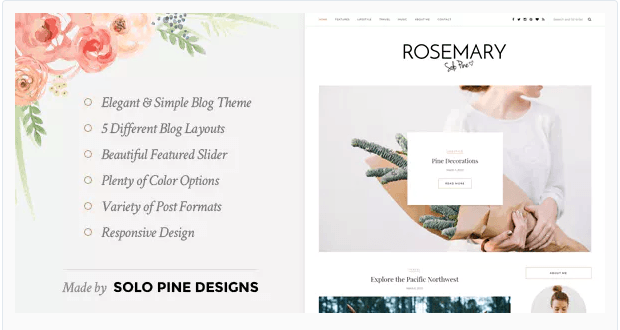 Rosemary can't be wrong with over 7,000 sales on ThemeForest. Created by Solopine, this theme simply wants to showcase your content beautifully. Rosemary is packed with amazing features that you can not resist. This beautiful design comes in 5 Different Blog Layouts you can choose from. Classic, grid, list and more.
Price: $39 | Learn More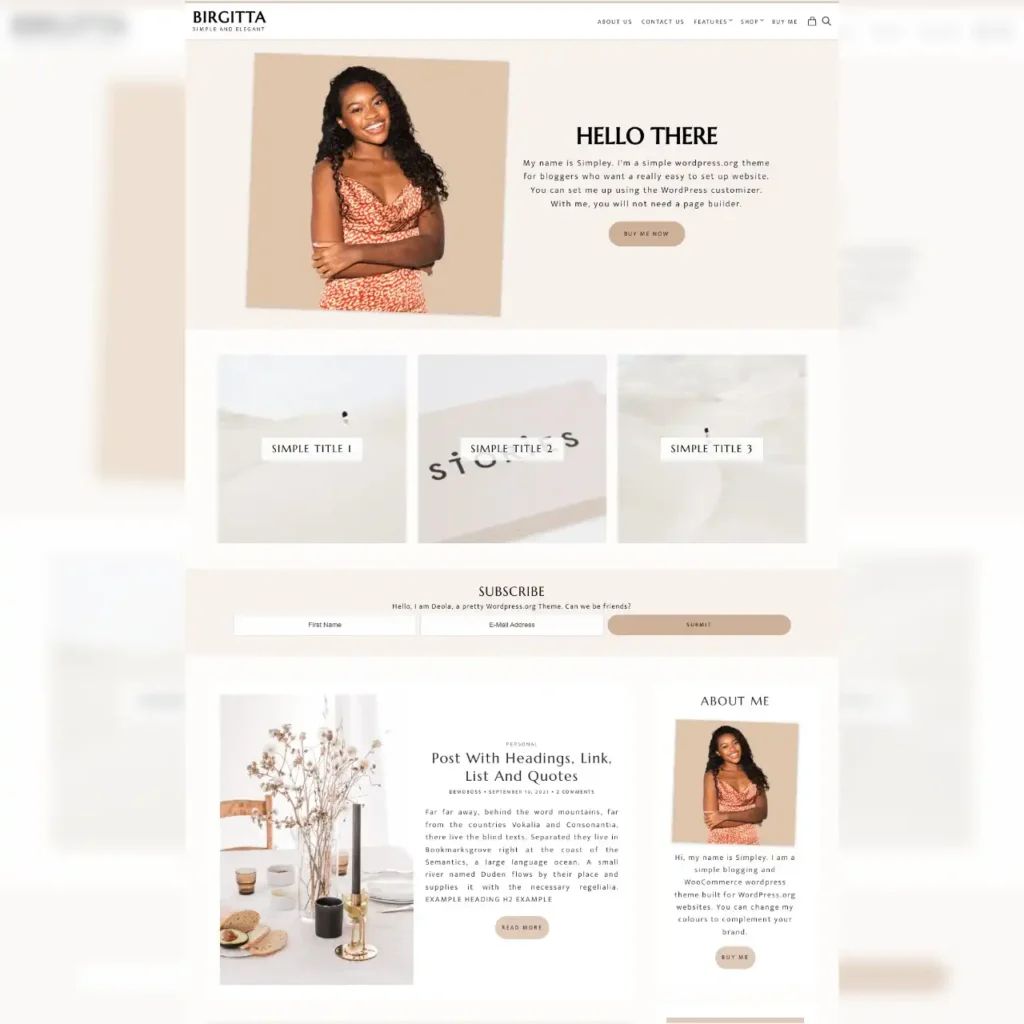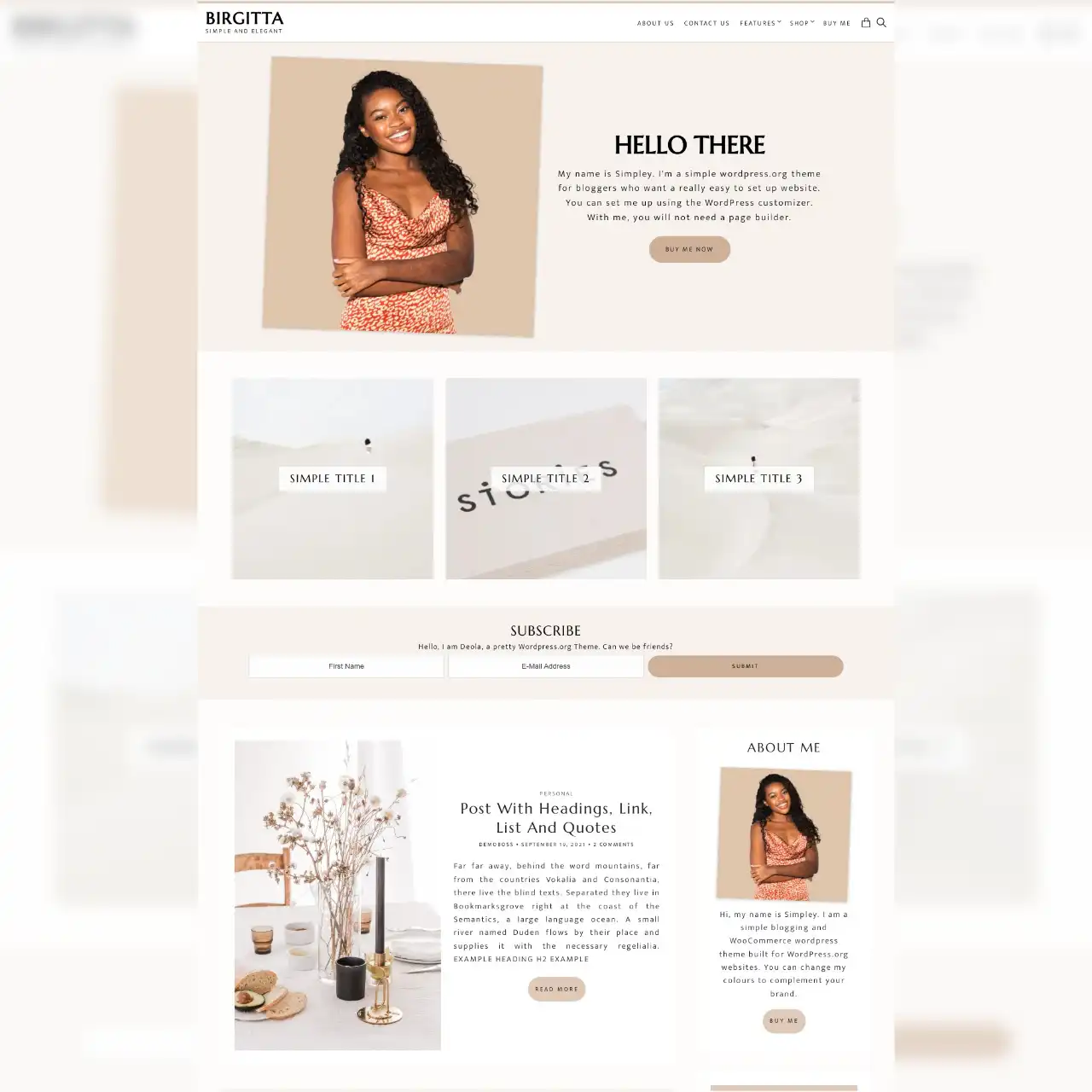 You'd love Birgitta if you have a thing for subtle designs.
This theme comes in a simple and minimal earth tone feel. You can easily display an about me and featured images in the front page.
If you want a modern design for your lifestyle, personal, travel or mom blog then you should definitely checkout Birgitta.
Price $21.99 | Learn More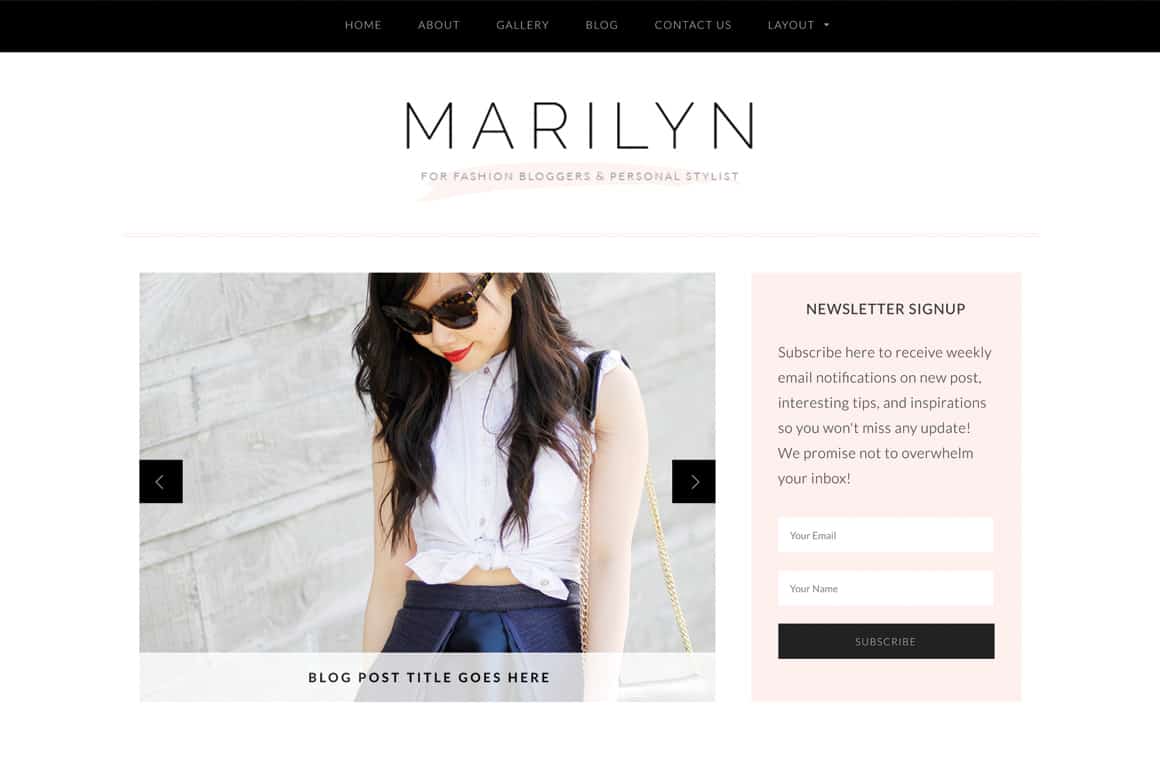 I wouldn't call this a theme for bloggers on budget, but if you've got great taste, you should definitely Checkout Marilyn. Bluchic has a thing for crafting astonishing themes. This beauty Is everything feminine. It combines black, white and a touch of peach.
Price; $79 | Learn More
Alder by Solopine (themeforest)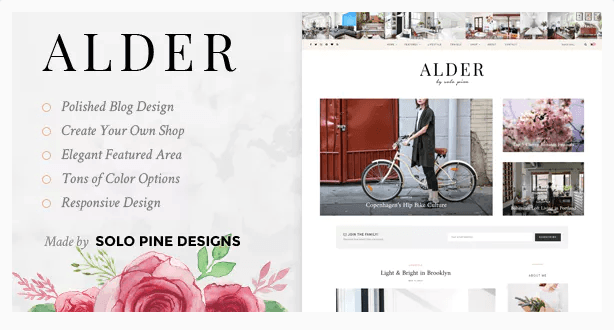 Alder is yet another theme by solo pine, one of themeforest's best selling authors. Alder is not just another feminine wordpress theme. it's developed with business in mind. If you ever have plans of setting up a WooCommerce shop, then Alder will be a great fit for your blog. Promo boxes are in the perfect position to advertise and showcase anything amazing to your audience.
Price $39 | Learn More
Tesh by ChicPixies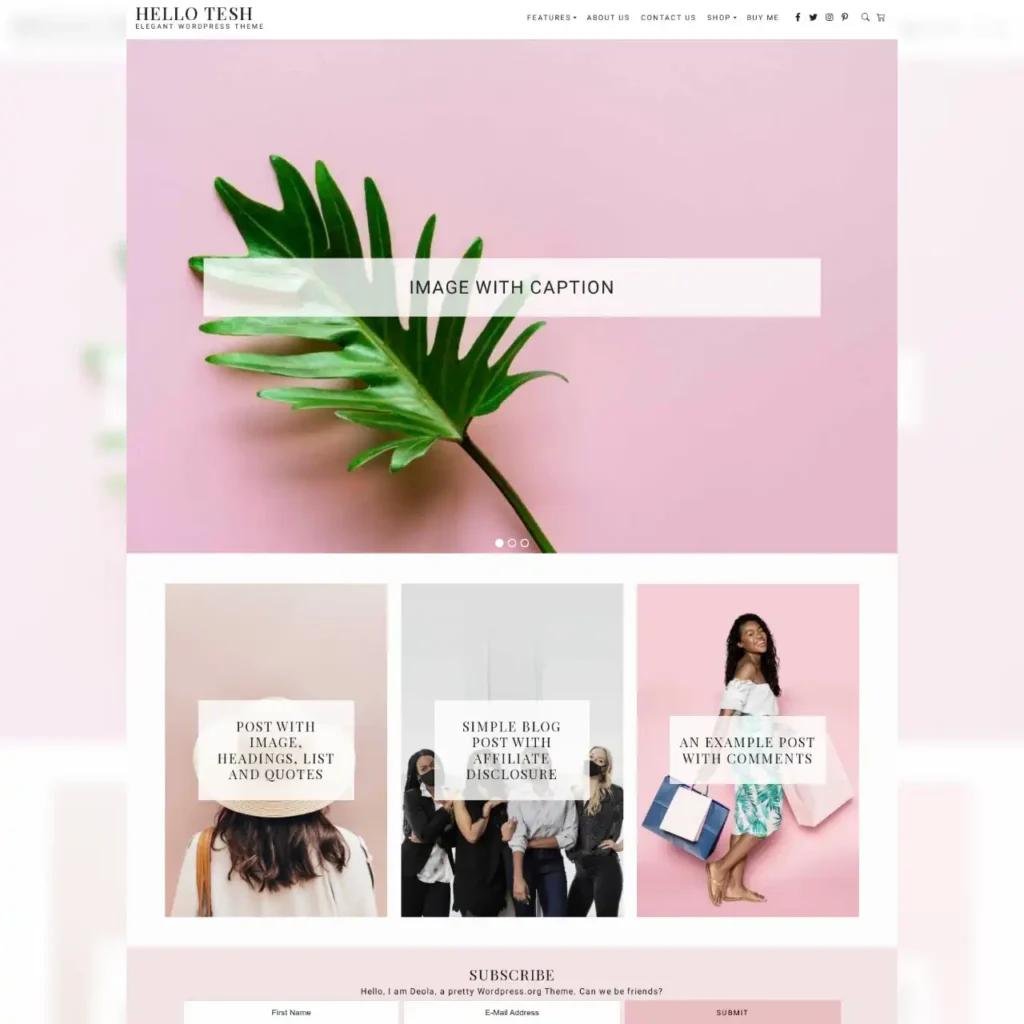 If you want a super simple but gorgeous theme, then Tesh is all you need. The theme is clean, beautiful and attractive. If you are looking for a modern and wordpress theme with a pink feel, then you've found yourself one.
Price $24.99 | Learn More
Hawthorn by Solopine (ThemeForest)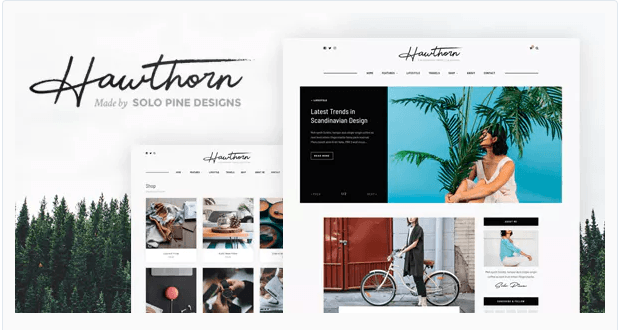 Themeforest's Hawthorn is yet another theme by solopine. This time it targets bloggers with a thing for black and white. If you want your blog to have a classic feel, then you should totally opt for Solopine's hawthorn. It comes in a first post classic then grid layout and equipped with a pretty slider functionality. It also supports woocommerce.
Price; $39 | Learn More
Poise by Ludidthemes (CreativeMarket)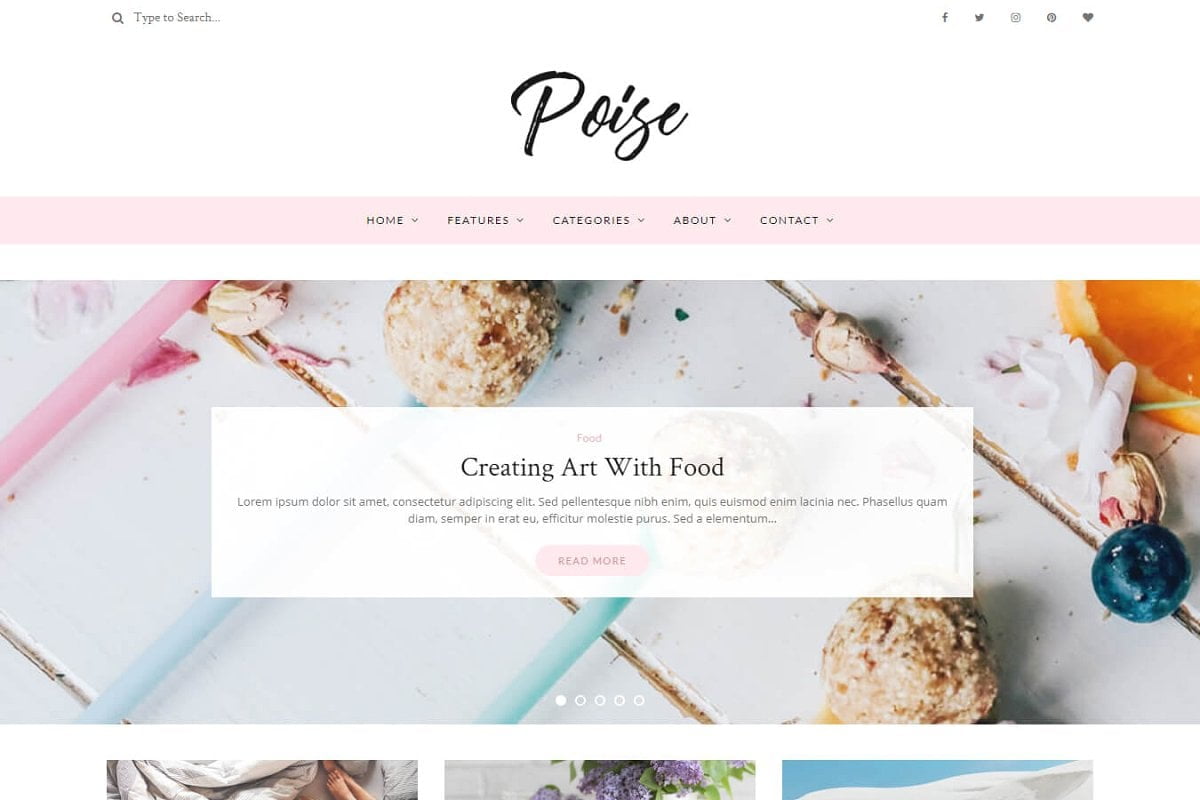 Your personal, lifestyle travel, food, or mom blog will do just with Poise, a clean and modern WordPress theme. Create a unique website with the easy to use options for layout and color. You can choose between the two different layouts offered by the author.
Price: $49 | Learn More
Sugarblog by Hercules Design (ThemeForest)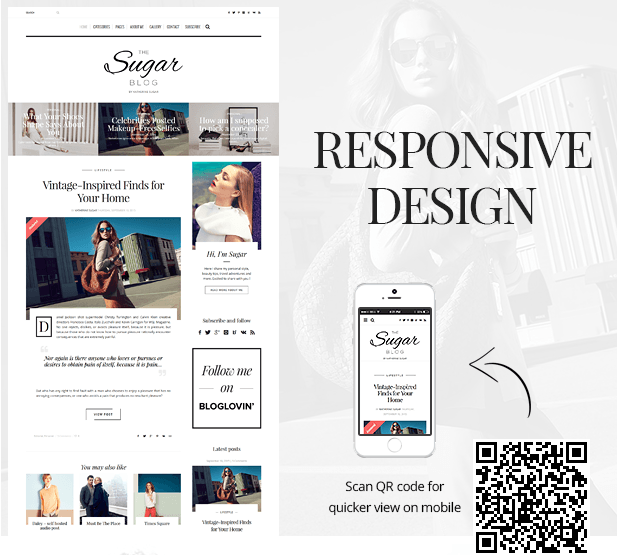 SugarBlog is a simple, clean, personal, modern and professional blog ideal for feminine bloggers. It's packed with unlimited styles and compatible with WooCommerce 2.x and more.
Price: $39 | Preview and Buy
Hemlock by Solopine (ThemeForest)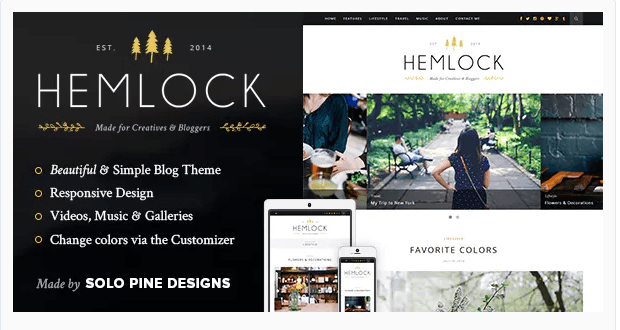 The only one column theme on the list. You should totally take advantage of Hemlock's clean and straightforward functionality. It's less distracting, straight forward and simple.
Price: $39 | Learn More
Spirit by LucidThemes (CreativeMarket)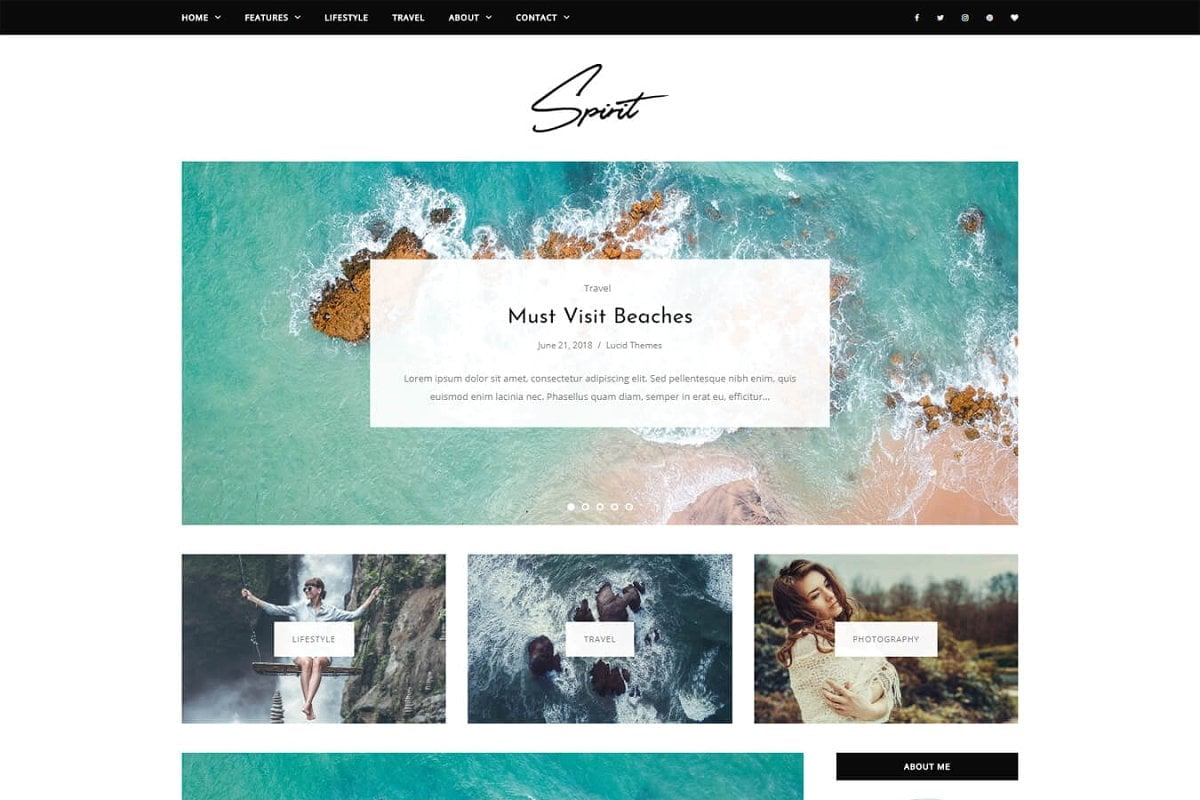 Spirit, the cheapest theme in this list is likely more effective than most premium themes I used in the past. The theme is clean, simple and designed for bloggers and personal websites. It comes in 3 beautiful design layout and a simple interface.
Price: $14 | Learn More
Conclusion
If you've been on the lookout for a good theme, you'll agree with me that there are a lot of feminine WordPress themes to choose from. This can make it difficult for you to make the right choice. To help you choose a good theme, I will continue to update this post with beautiful themes that will suit your female audience.