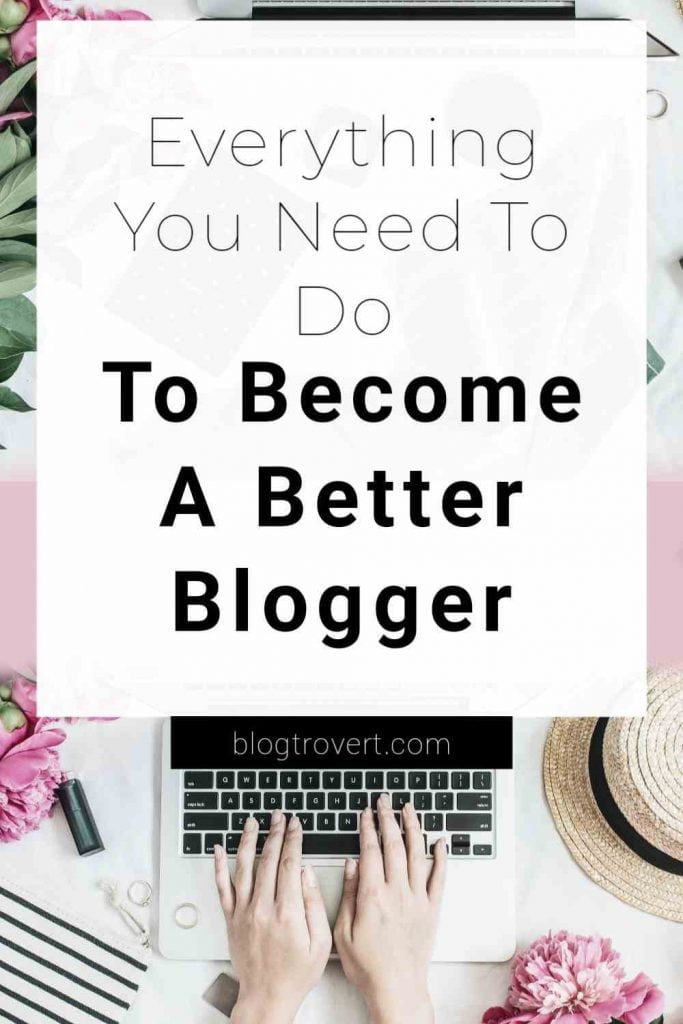 Cheers to moving from amateur blogger to pro blogger!
NB: If you are skimming through, do so with passion!
Rough guess: you own an amateur blog and feel it needs some revamp. Not an issue, but you don't know which part of the blog needs the retouch.
It could be in writing, promotion, design, SEO, hosting, or simply everything that makes up the blog.
I understand what it feels like to own an established or amateur blog and not pay attention to its development. I have been there and am still getting out of this school. To me, every part of my blog needed redress.
You don't have to be scared of stepping up your game because this post will show you some useful tips to become a better amateur blogger. Let's not sugar coat the challenge; I made a lot f blogging mistakes in the past and I'm still striving to become a better blogger than I was.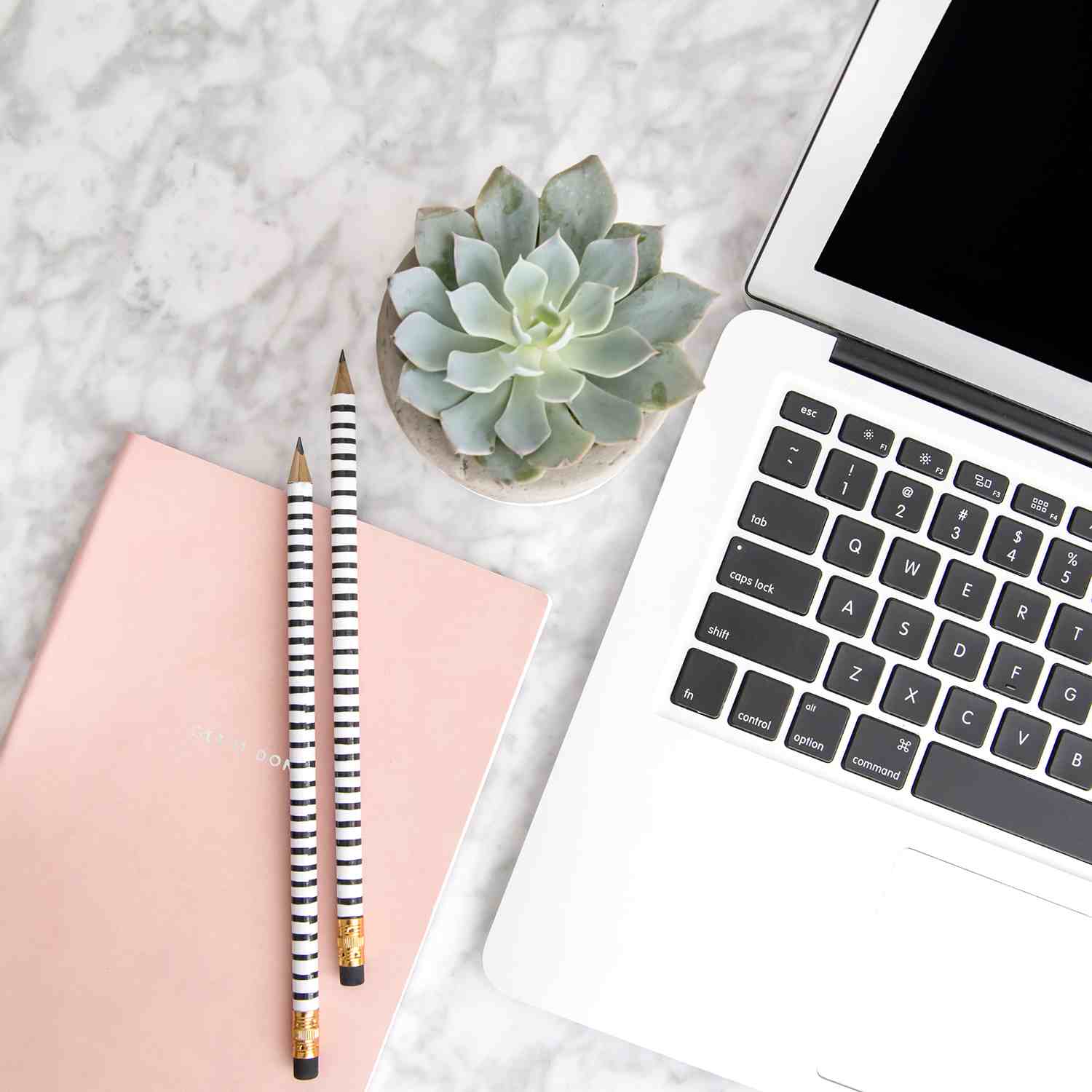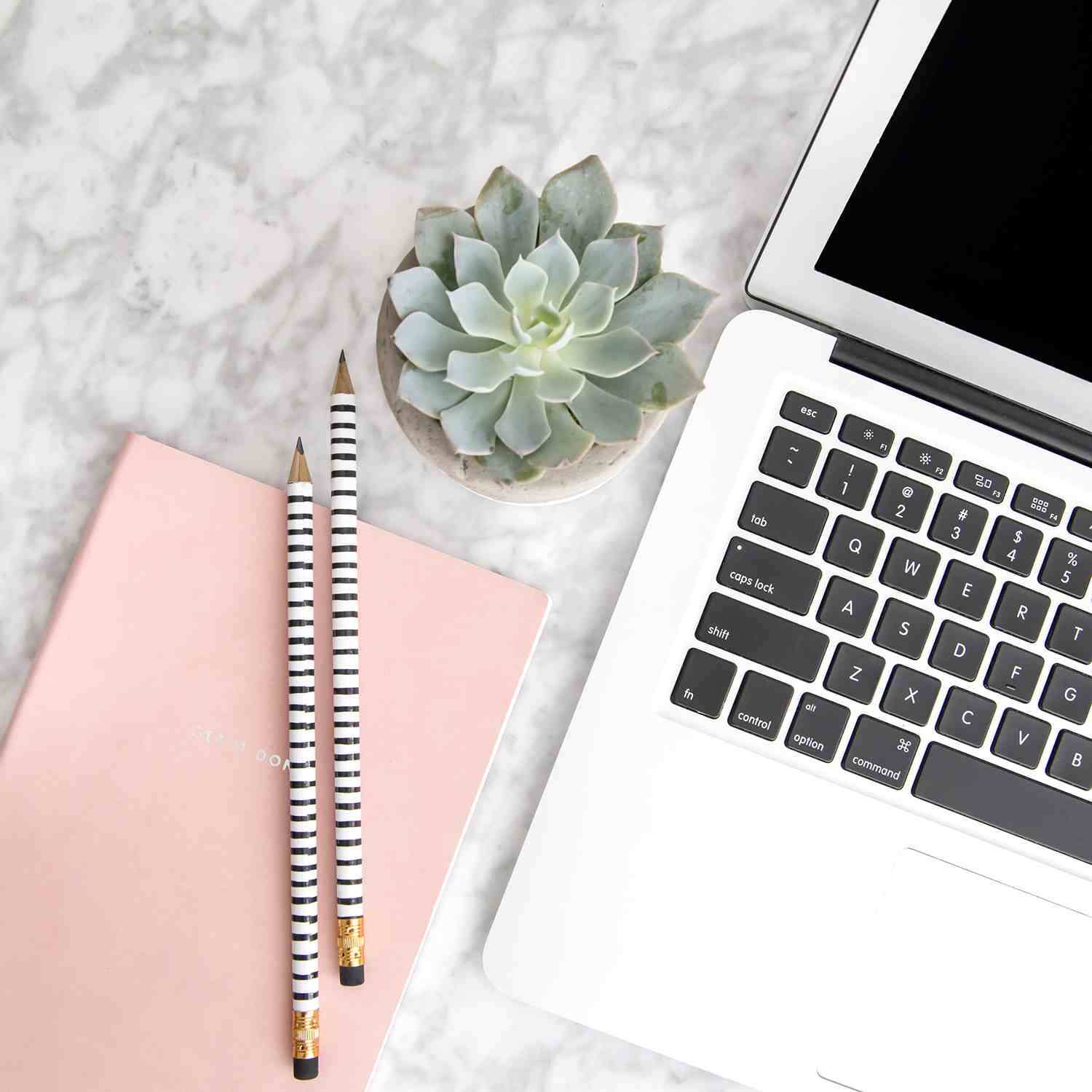 This year, like you, I am improving on a lot of things, especially in my grammar and proofreading skills. It takes a lot to have a good command of English (especially when you are only borrowing the language). Though I became better with time, the goal is to upgrade to an excellent writer.
Today you are just starting out, an amateur blogger; tomorrow you become a pro teaching others how to achieve all you have. Just out in the work.
9 amateur blogger mistakes you most stop making
You do not define your target audience
One of the most common mistakes that amateur bloggers make is failing to define their target audience.
Without a clear understanding of who your target audience is, it will be difficult to create content that resonates with them.
As a result, your blog is likely to be ignored by the very people you are trying to reach.
You do not understand the purpose of your blog
Another mistake amateur bloggers make is not understanding the purpose of their blog. A blog should have a specific purpose, whether it is to share your passion for a hobby or to promote your business.
Without a purpose, your blog will quickly become stale and uninteresting to readers.
Failing to plan your content
Another common mistake that amateur bloggers make is failing to plan their content.
Without a content strategy in place, it will be difficult to consistently produce high-quality content that your target audience will find valuable. As a result, your blog is likely to quickly become stale and uninteresting
Not promoting your blog
Just because you have a blog does not mean people will automatically find it.
There are millions of blogs out there, and it can be difficult to stand out from the crowd. If a blogger is not actively promoting their blog, it is unlikely that anyone will find it.
You need to actively promote your blog through social media and other channels. Otherwise, your blog will languish in obscurity.
Not being consistent
It's easy to start a blog, but it's much harder to keep it going. The best way to stay consistent is to treat your blog like a job and set aside time each week to create new content.
Amateur bloggers often make the mistake of not being consistent. If you start a blog and only update it sporadically, your readers will quickly lose interest.
When a reader finds a blog they like, they will often come back to see new content. If there is no new content, or if the content is of poor quality, the reader is likely to move on to another blog.
To be successful, you need to be consistent with both the frequency of your posts and the quality of your content.
Not interacting with readers
Many amateur bloggers make the mistake of not interacting with their readers. A blog is a two-way conversation, and if a blogger does not respond to comments or questions, the reader will quickly lose interest.
Not optimizing your post for search engines
The number one most important thing every blogger needs to be aware of is the endless possibilities that search engine optimization provides for their blog.
If you want to be successful, you must make sure your posts are optimized for search engines so people can actually find them.
Not proofreading your contents
If you do not proofread your posts before publishing them they may have a number of embarrassing typos or even factual errors that can drive your readers away.
The simple way to correct this blogging mistake is to take the time to proofread your posts before hitting publish.
Not Crediting your source
Another mistake that bloggers make is failing to properly credit their sources. This can lead to plagiarism allegations, which can be very damaging to one's reputation.
It's important to always give credit where it's due and to link to your sources whenever possible.
Avoid these mistakes and you will be well on your way to becoming a successful blogger!
Everyday Amateur blogging revamp to make you a better blogger
Before you beat yourself up, no one started as a pro. It takes a lot of practice and lessons to get better in whatever you are doing, even if it's blogging.
Regarding my issues with writing, I wish I could take you back to 2016, I cringe at my sentence construction and have been on an editing and updating spree.
To make the process of becoming a better amateur blogger easier for you, I will walk you through my guide, all I am doing and have done to make my blog better.
These blogging techniques will only help you become a better blogger if you don't just read or skim through but take action; actions bring results.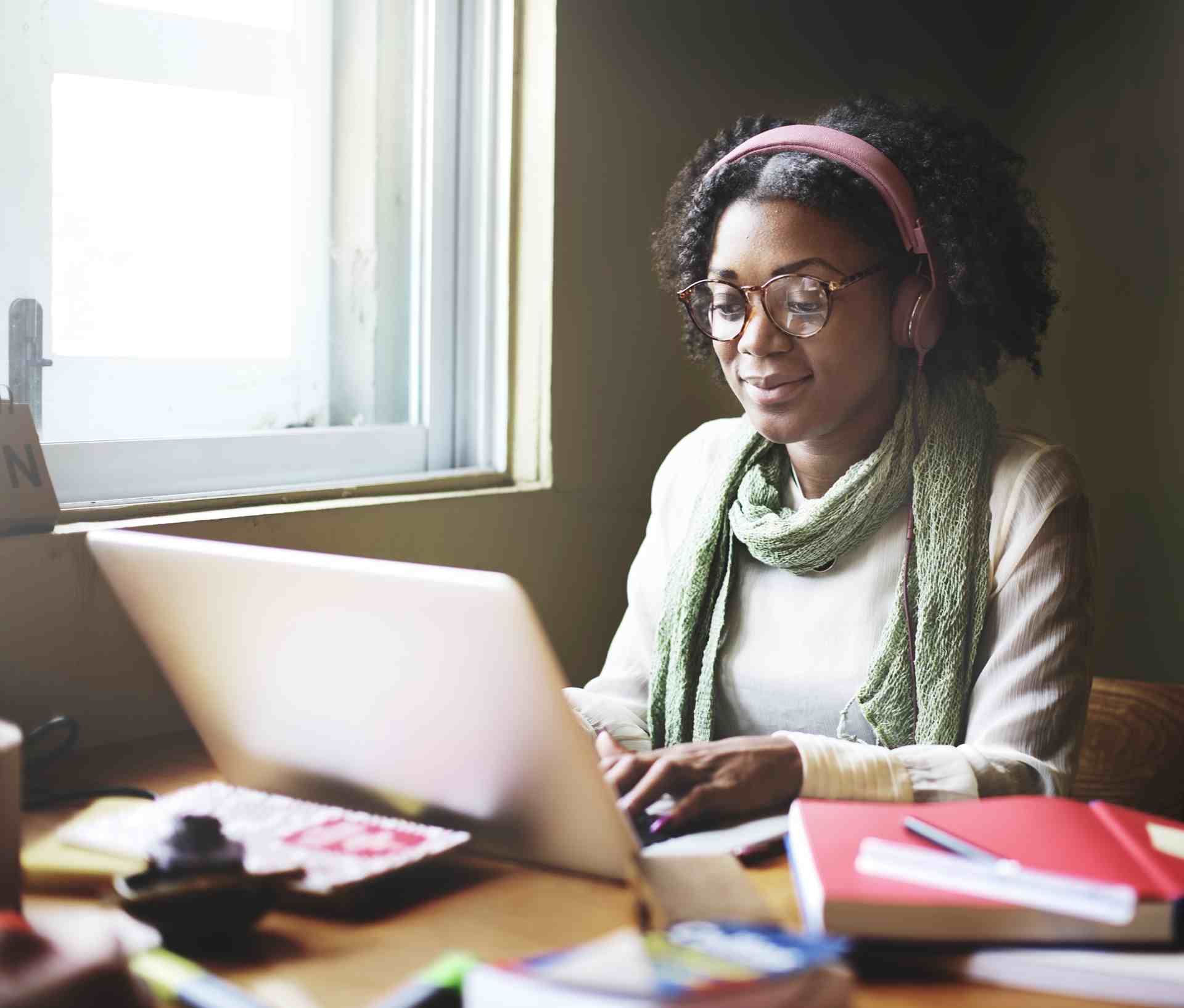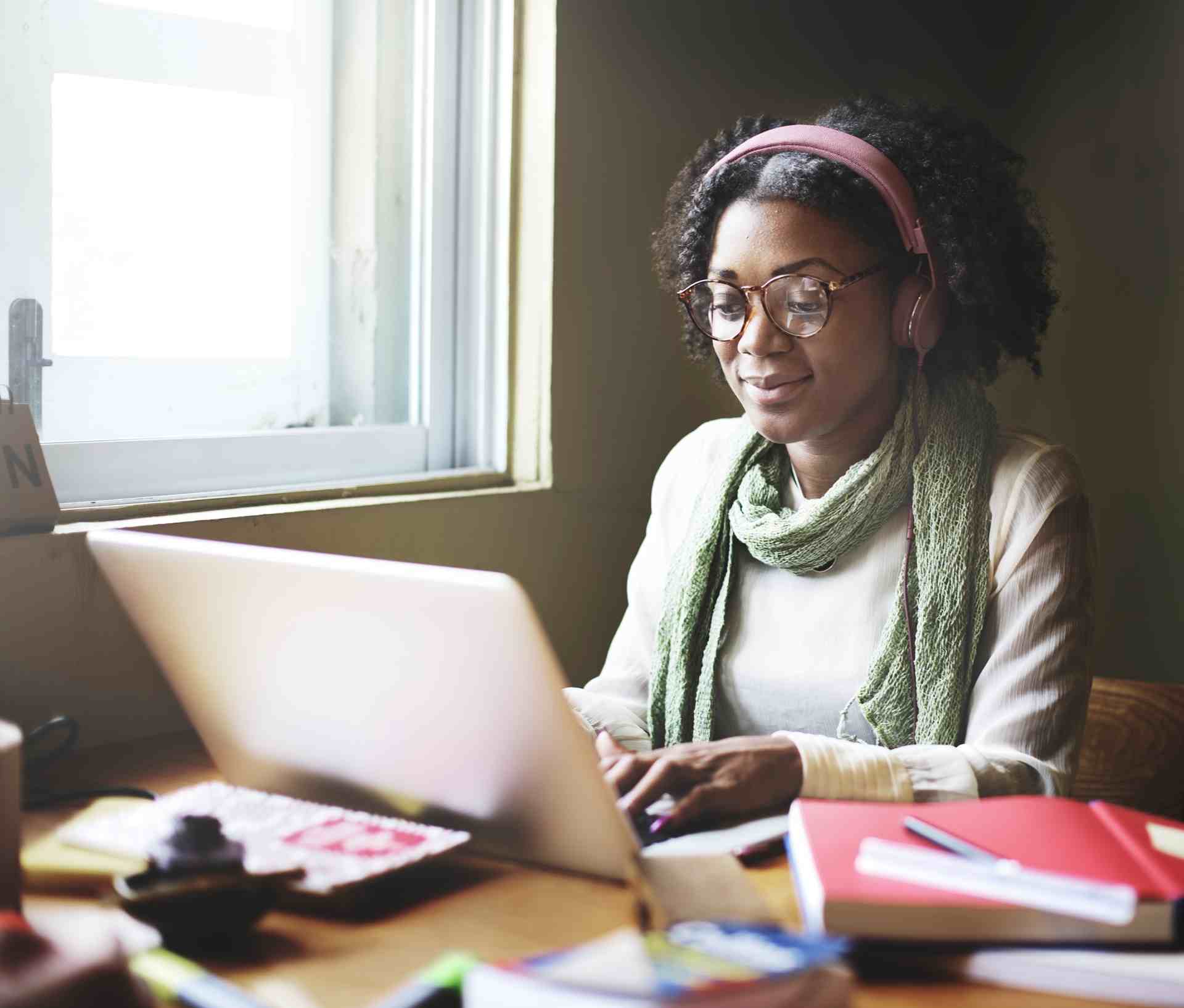 How to become a better Amateur blogger
Create a viable plan
Before anything else, a good plan can create wonders if followed. If you started as disorganised as I was or even worse, then it is time to take a new turn.
To become a better amateur blogger, you need to create a plan for your blog. You can buy a ready made, digital or printable planner. You can also make one for yourself.
I plan my contents with google sheets and always outline everything I hope to achieve for and with my blog by the end of each year. For the first time, I feel like my blog has a purpose and a free deadline to meet.
Plan all possible activities for your blog and watch things get better for you as the year progresses.
Before you write out your plan, question yourself on "what you want to achieve with your blog," and how you aim to achieve them.
Take your time, plan the activities of your blog, follow suit and watch how you stay on track with the necessary work that will move your amateur blog to a more professional space for readers.
Break projects into months, weeks and days. A plan broken down into daily steps and small tasks make achieving your goals easier.
When you plan out your activities, you'll loosen things up and simplify seemingly tricky tasks.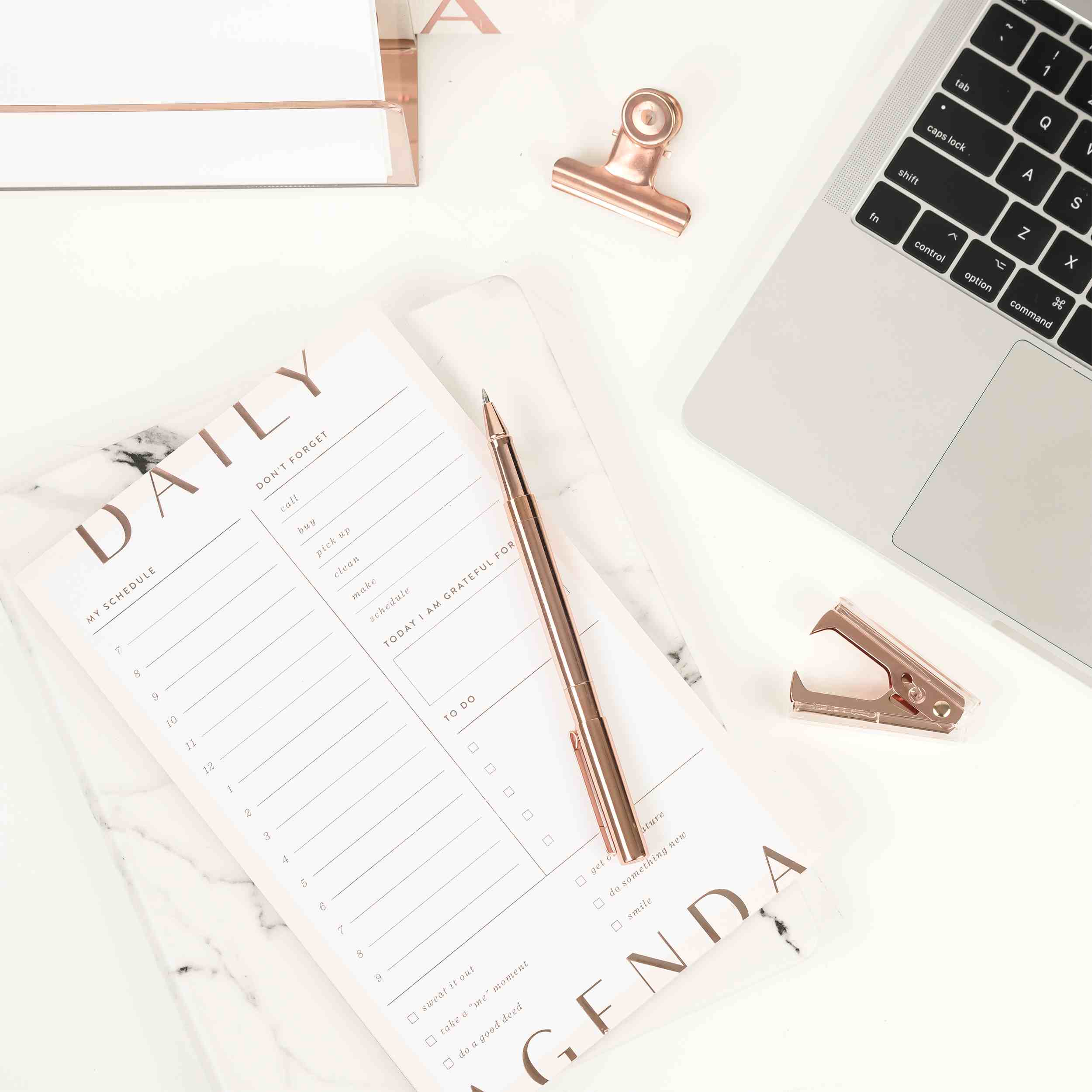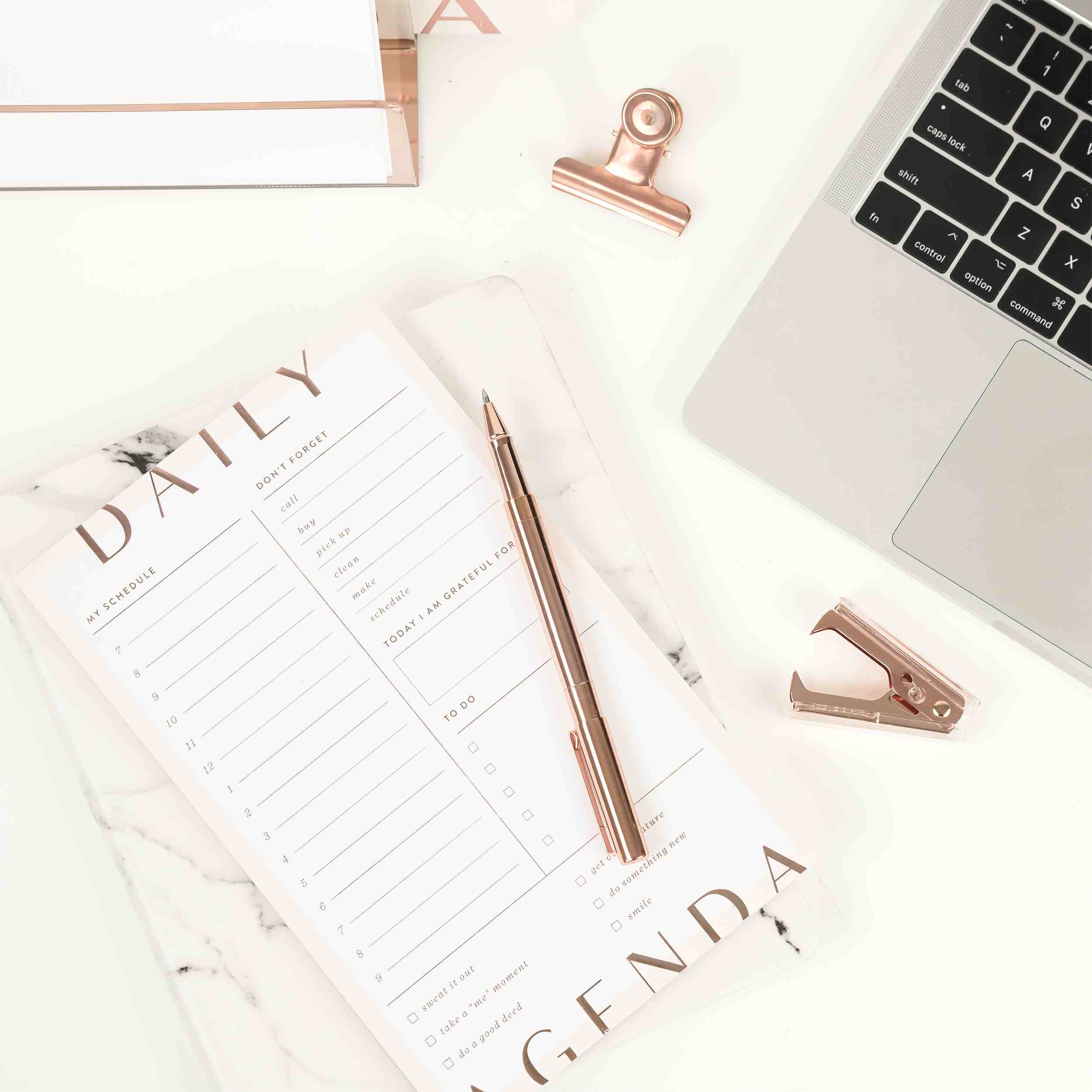 Follow your plan consistency
You have a plan, what next?
A plan is useless unless you execute all you plan. If you intend to become a better blogger, you need to develop your plan consistently.
It's one thing to set a goal, create a plan, and another to keep up with activities. Don't just set goals and create a plan because someone else did, or every article says you should.
Create something you can follow consistently without burning out. You have to be consistent in posting and updating your blog. Otherwise, you risk running an outdated blog.
If you own several social media pages you wish to maintain for your business, ensure you have planned out doable tasks to keep them updated.
Get inspired: learn from successful bloggers
The truth is, we never stop learning. Every day new strategies spring up. Successful bloggers talk about their challenges and mistakes, obviously to help new and upcoming bloggers.
As an amateur blogger, you need to follow bloggers that have been there before you. The internet is scattered with self-acclaimed successful bloggers, but it's quite easy to know those who struggled and have attained their success over time.
Do not get jealous of their success; let them inspire you. Make their efforts an inspiration, learn their strategies then implement them on your blog, but don't go creating a replica of their websites; that's plagiarism and stealing.
Bottom line: Save yourself some from the failure that have met other amateur blogs. Learn how to navigate avoidable mistakes by learning from successful bloggers in your niche.
Learn the art of writing
You may have been commended in the past, Everyone thinks you are a fantastic writer, but we never stop learning.
It is a good thing if you already know how to write, but if you know nothing about writing, It's not too late to join the learners club.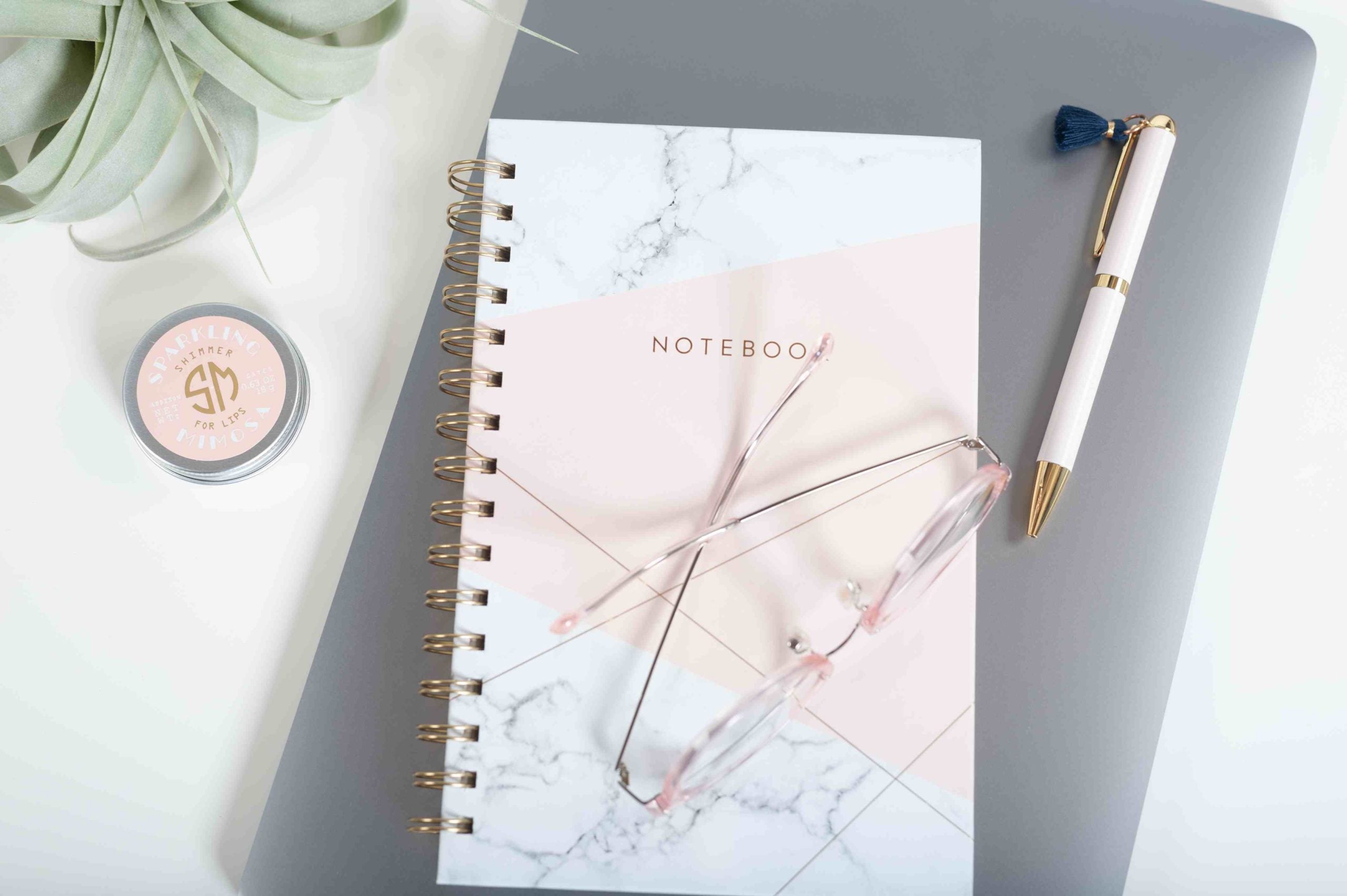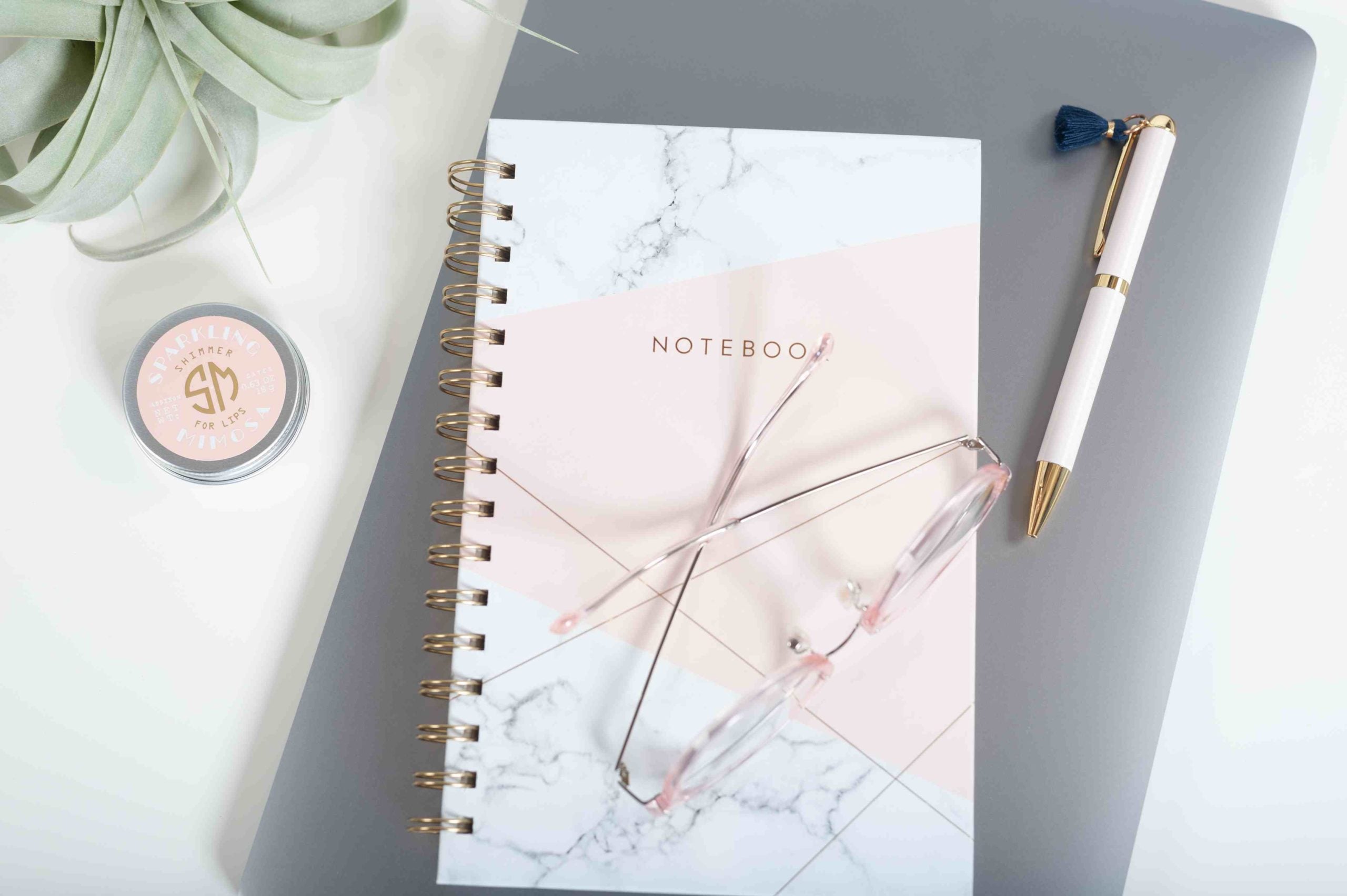 Keep writing, keep learning, correct your mistakes and stick to the rules of writing. If you do not know the rules already, learn all of them.
I know, English is an unending complexity; you have no option but to keep being a student. Learning to write is challenging, but quitting is not an option.
Whatever you write, proofread it! I sucked at this but have rapidly developed the habit of proofreading my work. Also, don't forget to section your posts into short Paragraphs.
Like everyone else says, readers are better writers. Bottom line, read books! Reading helps us learn new words and improve our vocabulary.
To become a better writer, you need to get schooled on everything about creating constructive sentences. – How to become a better writer – Lifehack
Find a writing style
While you learn how to create constructive sentences and use proper grammar; you must find and develop your voice, your writing style.
While writing, I try as much as possible to flow in a manner that fits my overall sensitivity, a relaxed tone with bits of humour to ease tension.
When writing, consider your readers and use simple sentences because no one has the time to keep an open dictionary while reading a blog post.
Writing is fun when you find your style. To do that, I would advise you to let your voice flow naturally. Write as it comes even if you have ten tabs of similar posts open in your browser. You will feel more comfortable.
Be real and authentic, and people will read your blog post. As you develop your voice, consider creating evergreen posts, the ones that don't lose relevance over time.
The way you write goes a long way in helping you become a better blogger.
Do extensive research
This is the internet; nothing is new any more. With years and years of information scattered across the web, I would be marred if anyone comes up with an idea that isn't already sitting on google search page.
Before you start writing any blog post, research as much as you can because it is an integral part of good writing. Researching helps you write better and authentic articles.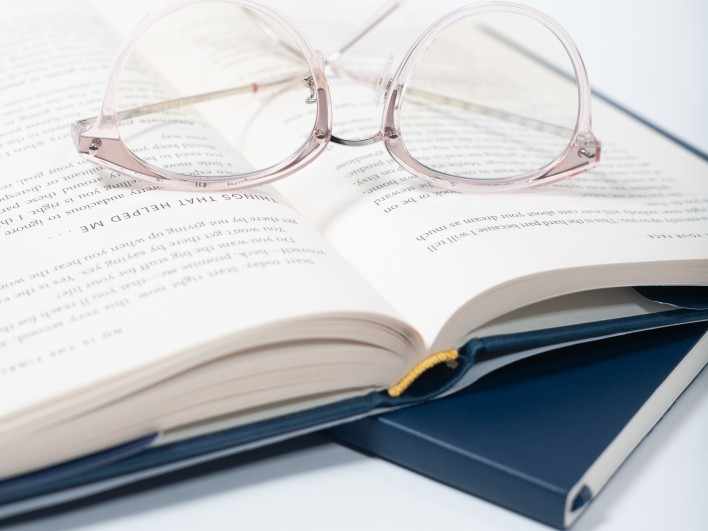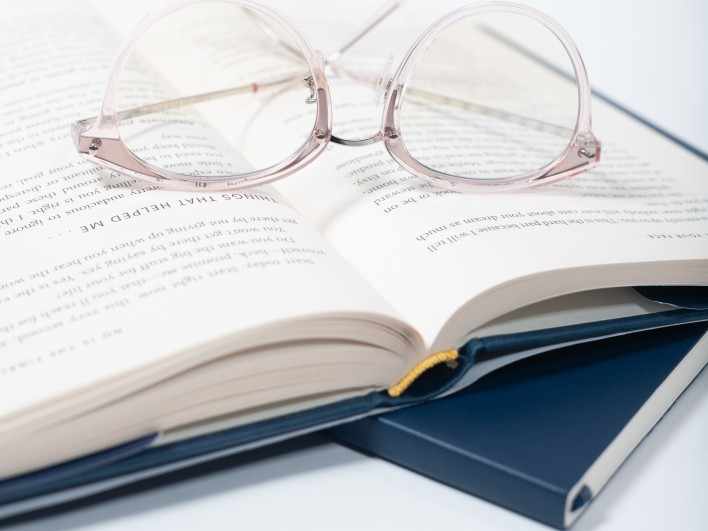 Before you start writing, read at least three or more articles related to your proposed topic and write even better posts that might outrank competitors.
Learn SEO
I knew nothing about Search Engine Optimization until it became a term associated with blogging.
SEO is likely the bedrock of your blog. You need to learn Search Engine Optimization to get your blog to more people who are genuinely interested in reading your blog post.
To practice proper SEO, you need to learn about backlinks, keywords research, quality blog posts and much more.
Keyword research
In learning SEO, I mentioned that you should be acquainted with keyword research. Before you start writing any posts, do some research to find out what users are looking for so you can implement them in your blog post.
The most obvious place to look for keywords is Google search engine, to further go in-depth, use SEO tools that analyse keywords to know how much people use a particular keyword to find information on a search engine.
Use a free keyword tool like ubersuggest or Google Keyword Planner and start with a general topic like, "self-confidence."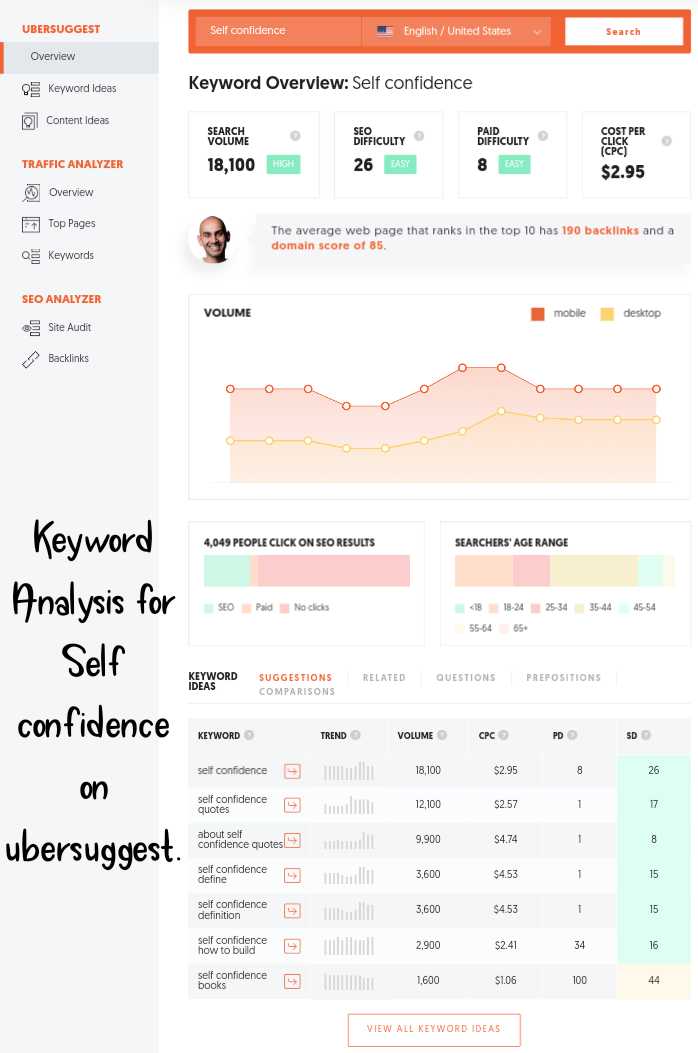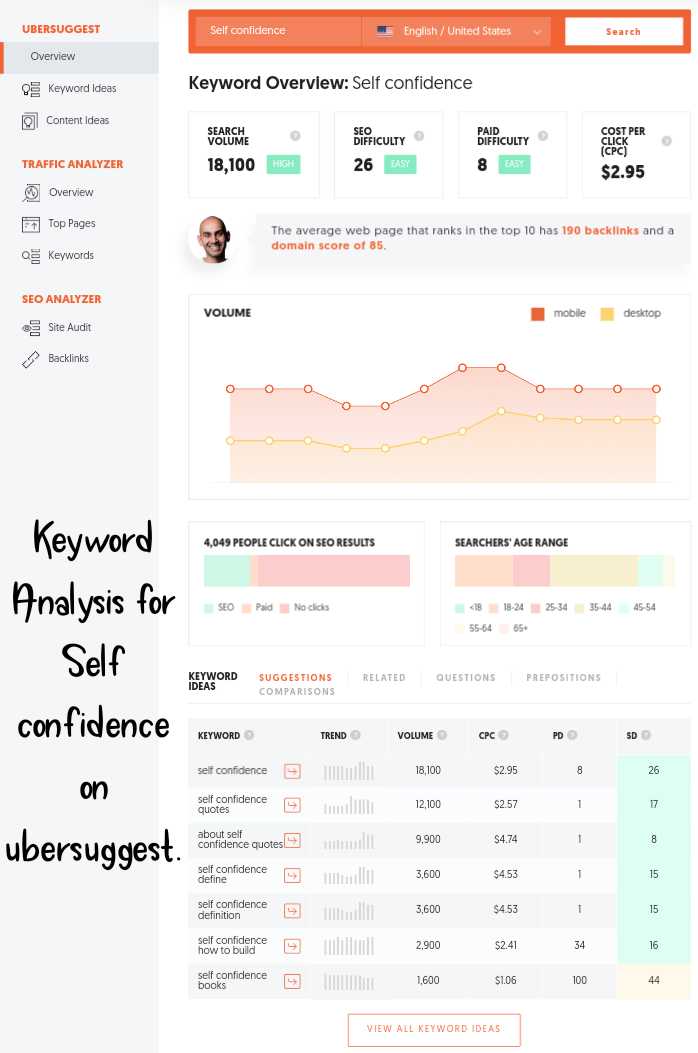 Undoubtedly, self-confidence is an oversaturated keyword with top blogs dominating the first page. The tools mentioned above will help you expand on a keyword and give you several unsaturated and long-tail keywords that people are using to search for information on self-confidence.
When picking keywords for your blog, choose one that has a high number of monthly searches with relatively low competition from other sites.
This post doesn't do justice to the best practices with keywords. You can learn more about keywords and implementation through any of the links below;
Use good photos
Think beyond a post with just texts. Use pictures, graphics, videos, audios and presentations.
Combining your posts with all or any of the aforementioned features will make your posts even better and keep readers glued.
Ensure you have the rights and permission to use the media you have in your post.
Sites like Pixabay and Pexels offer free pictures for both personal and commercial purposes with no needed attribution.
Check out this extensive list of websites providing free photos
Improve your brand image
Growing your blog from a small entity into a larger company is going to impact your initial brand message. It is likely that you'll need to rethink the visual assets of your organization.
Check out "https://www.templafy.com/corporate-identity-management," here you will see how to maintain a consistent design for your business.
Update old posts
Content is king! Every day a blogger either brainstorms a new topic or continues writing a draft. But then, how many times do they update their old posts?
Going back to my old posts, I realised how much of an update they needed. Some had lots of grammar blunders, and others needed a revamp.
Go back in time, check out, reread and update old posts where necessary. It's essential, and it helps keep your content fresh and up to date.
As an amateur blogger looking to become successful, you are charged with the continuous duty of providing relevant and up-to-date information. So, it is crucial that you not just update your posts, but ensure they are still relevant to the public. How to come up with blog post ideas
Network with other bloggers
I sucked at this. We can only get better and change our ways. I have decided to connect with more bloggers who know what they are doing.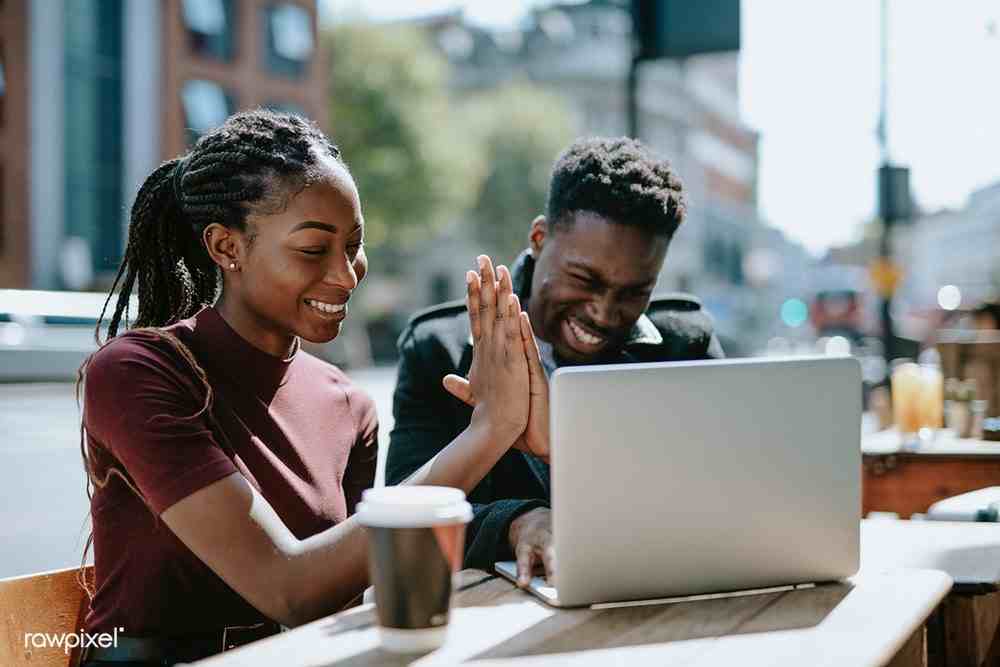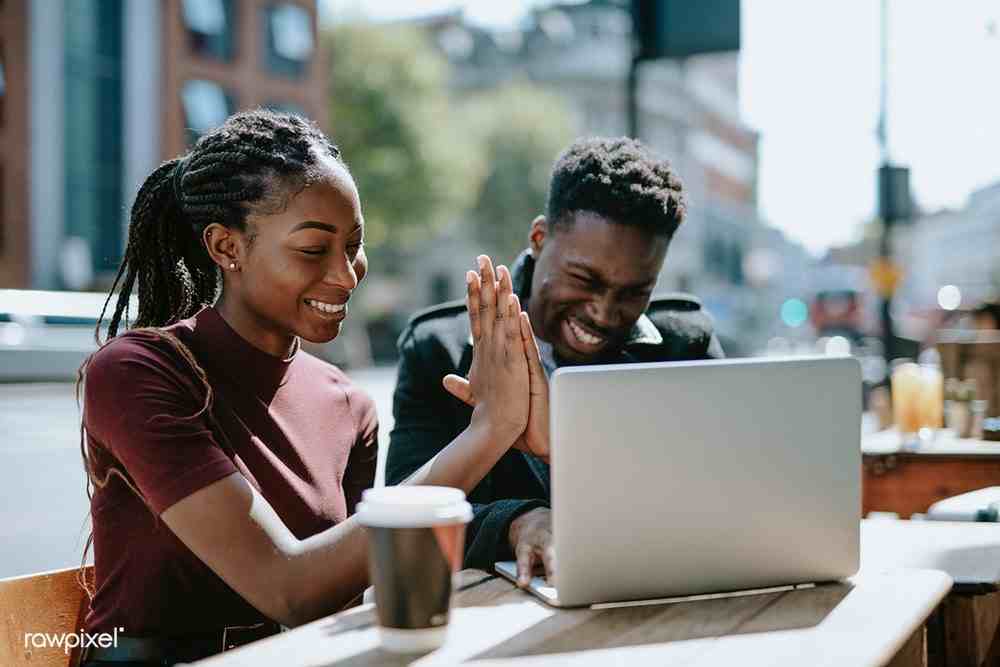 Look for any bloggers' group close to you and make some new friends. Stop being too introverted, go out, meet with with other bloggers, learn more and understand how others do their thing.
You have higher chances of becoming a better blogger and you can find more brand collaboration opportunities when you connect with like-minded individuals. Stop being an island.
One of the easiest ways of finding bloggers to connect with is searching for them on social media. Instagram and Facebook is an excellent place to find groups near you.
Simplify your search by using "your location + bloggers" or "your location + bloggers group/forum" (Lagos bloggers, New York bloggers forum, etc.). Check out my list of the best Facebook groups for bloggers.
Think of a monetization strategy
Running a blog was fun until I decided it's time to monetise my efforts!
The idea of making money from your blog is cool until you start speculating how to go about the best monetisation strategy.
There are many recommended ways to make money from your amateur blog; Ad Networks, Sponsored posts, Affiliate marketing, Influencer marketing, personal brand development (physical or digital products) and more.
Picking a method to develop on can be daunting. Also, getting results is on another level. But it's best to choose a monetisation method and improve it. Better still, try all of them, then decide what works best for you.
You are not in a competition
The goal is to become a better blogger and not to compete with others.
Give yourself a break.
Take things one step at a time.
If you must make it one, it should be a healthy competition. Connect with others to learn and not make them opponents. You are going to stress yourself out.
Conclusion
We learn every day, and it's only reasonable to want to become better in whatever you do.
This post only lists a few things that can help you become a better amateur blogger that grows successfuly.
Take some time off and discover more changes you need to make for overall better performance in blogging.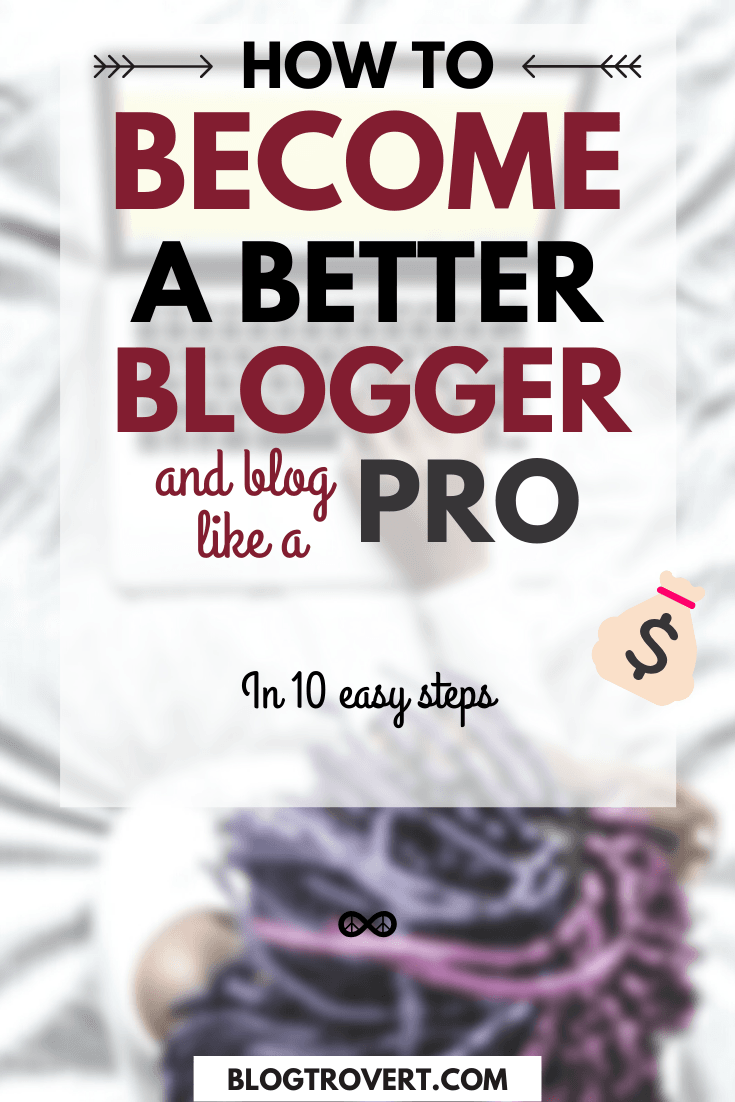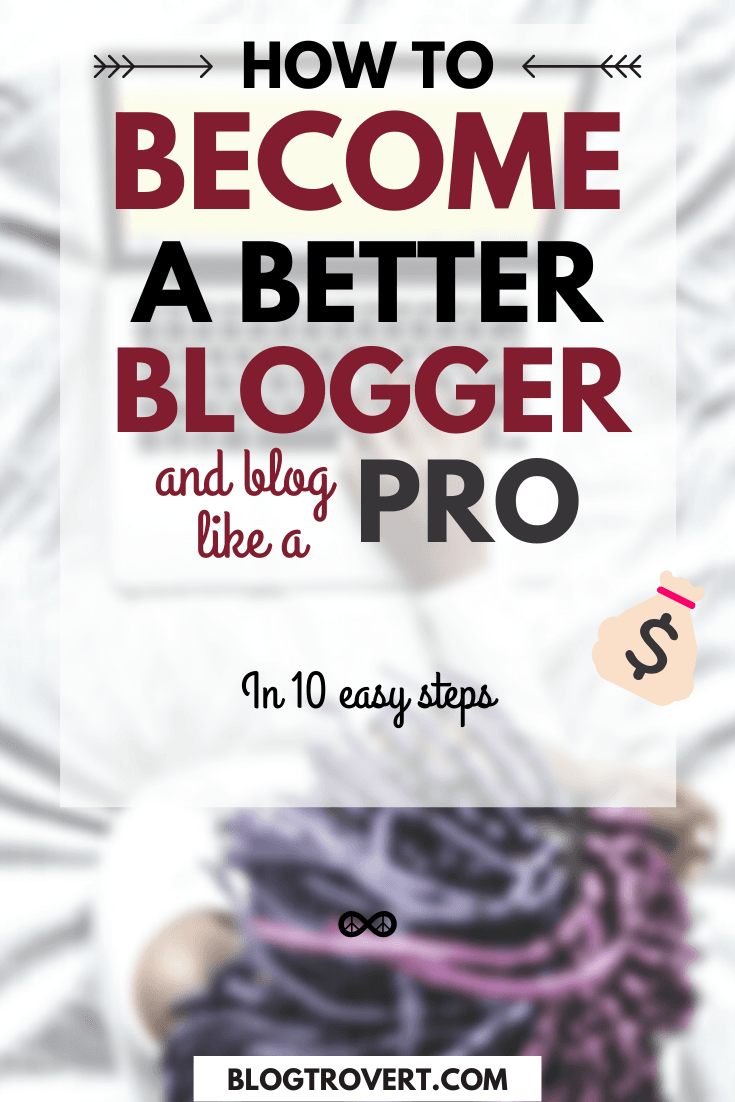 I may earn a commission from qualifying purchases made through the links on this blog, at no additional cost to you. For more information, see my Disclosure