Looking for the best places to find free blog images, social media and ads?
We have got you covered!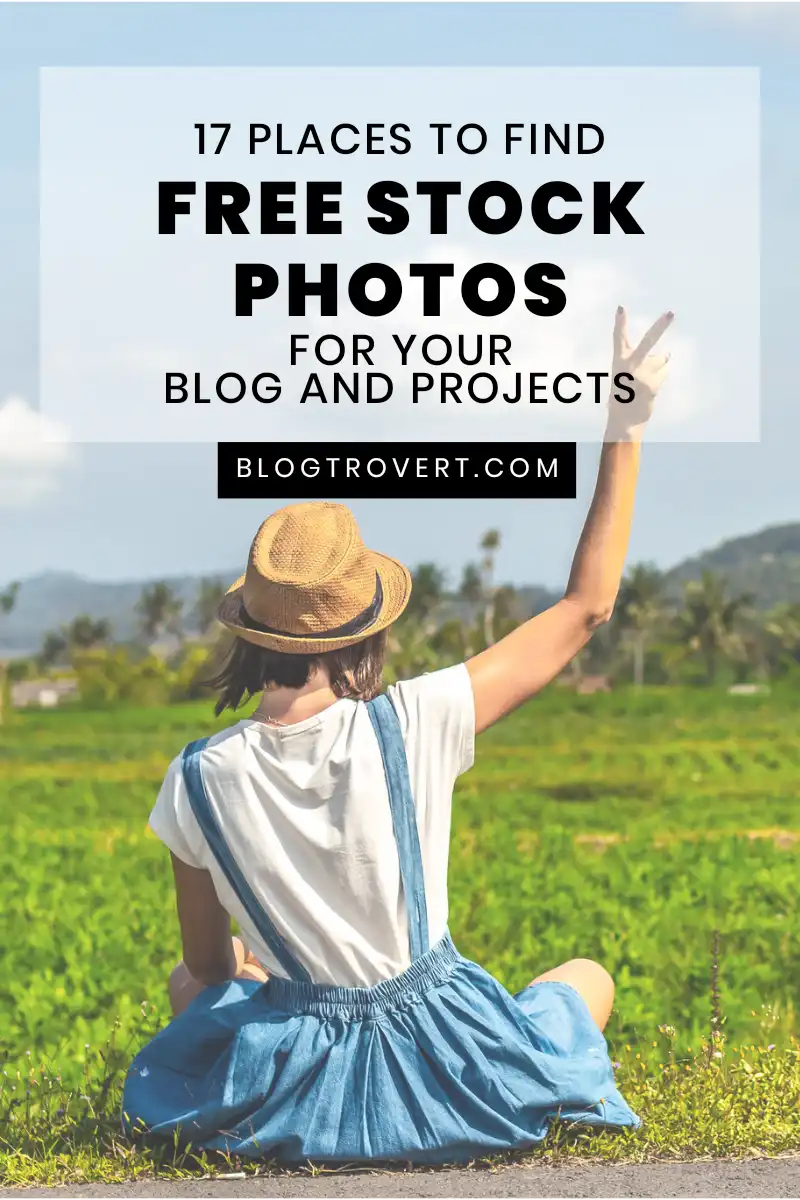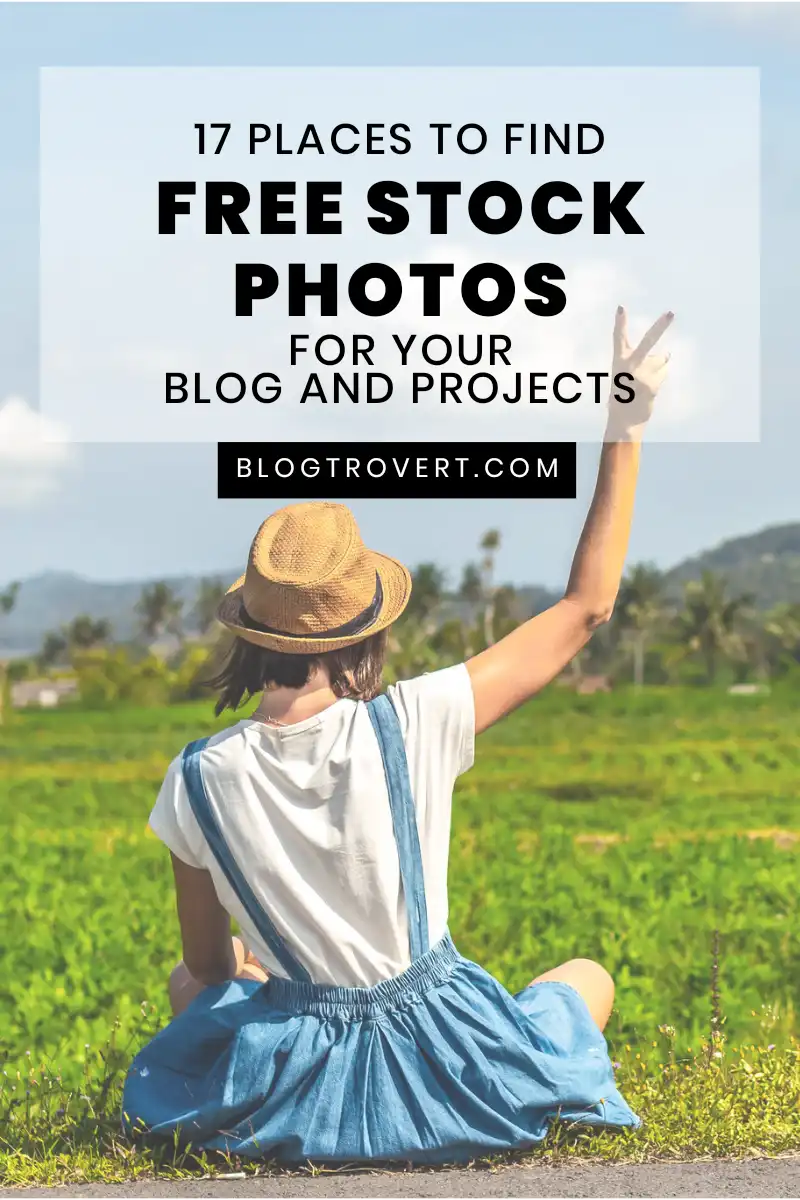 There are a ton of free blog images out there on the internet. But which ones should you use? And how can you make sure you don't violate any copyright laws?
Finding copyright free images for blogs can be a challenge; you want to find photos that are high quality and relevant to your topic, but you also don't want to spend hours combing through search results. And of course, you want to make sure you're not violating any copyright laws.
The good news is, there are plenty of sources for high-quality, free images for your blog that you can use.
What Do You Know About Photo Licenses?
Learn how you're allowed to use different free images for blogging and other purposes. You will also discover what (if any) attribution is required.
Read on to get an overview of the three main types of photo licenses:
Public Domain Images
Photos in the public domain are pictures with expired copyrights, or the creators have abandoned rights of ownership. Some of these images are 100% free for personal or commercial use.
While some public domain photos are free to use, there is an exception to the "free-for-all-use" policy.
If you're using the image of a recognizable person, you may have to get his/her permission to use the photo. Some sites offering such photos already have a formal release.
Royalty Free Images
If you are asking "Can I use royalty free images for blogs?" I mean, I understand if you think they are "free." Saly, they are not.
Royalty images are not FREE images. You must pay for the right to use them. They are called royalty free because you pay once and use the images as many times as you want – in accordance to the photo license.
While you can use royal free images commercially, there are limitations. One of these limitations is the fact that you do not own the images and can not incorporate them in your brand.
Websites like Shutterstock and Dreamstime offer royalty free images for blogs and other commercial purposes.
Creative Commons Images
Photographers who license their images under the Creative Commons (CC) usually define how you use their images by specifying a particular CC license. I listed two common creative commons license below;
Public Domain Dedication (CC0) — The owner has given up all rights to his or her work.
CC 2.0 Variants — The author requires the end-user to provide attribution. Learn about Creative Commons licenses.
Now that you know the different image licenses, ensure you confirm your usage rights before downloading any image off the internet.
Avoid Copyright Claims
Before we dive into some of the best websites with copyright free images for blogs, here is a head up; Stop downloading pictures off Google or any other search engine's image section!
A large percentage of the images you find on Google search result pages are copyrighted. So, it's best to stay away from these photos. If you feel the need to use an image you find in Google, kindly confirm it is free to use, else stay clear!
17 of the best websites To find copyright free images for blogging
The websites you will find in this blog posthttps://www.blogtrovert.com/healthy-things-to-do-every-day/ offer copyright free images curated by photographers that grant you the license to use their products on your posts, social media, ads or project under creative commons. I recommend you do your due diligence and know how you may use each photo you download.
Rawpixel is one of my favourite Platforms for finding beautiful modern photos for commercial use. They offer both premium and free images and illustrations you can get for your project. They also provide free lightroom presets, PSD files and more.
If you need really pretty copyright free images for blog posts, Rawpixel has a large collection of photos you will definitely fall in love with.
Their photos come with different licenses you should take note of before downloading and picture from their platform. Subscribe to their premium plan to get access to more awesome photos.
Update: Rawpixel now require attribution and allow free accounts to download only 5 photos daily. 🙁
Unsplash is a directory of high-quality free blog images that are released under the CC0 licence. This platform offers really modern and clean photos under the creative commons license.
Constantly in need of new images for your blog?
Unsplash uploads new high quality pictures every 10 days.
Kaboompics is a website that provides free, high-quality, clean and modern stock photos. The website is easy to use and has a wide variety of photos to choose from.
Kaboompics is one of my favorite go to sites for free blog images because of the high quality photos they curate.
You can use Kaboompics photos in a variety of projects, both personal and commercial. Ensure you read their license agreement!
If you have a thing for really modern pictures, burst by Shopify checks your requirement.
You will find interestingly beautiful and clean pictures to use for free on your blog and other personal and commercial purposes.
According to a note on the Platform, you can their images to create t-shirts, mugs, or other products!
A huge database of public domain and CC0 mages. They have a wide variety of pictures, from nature to people and illustrations. You can also find pictures of products, buildings, and other interesting things.
This platform offers a wide range of searchable creative commons images. You can use image you find on Pexels for commercial use without restrictions or attributions.
If you need unique afrocentric pictures, Pichastock is all you need. The offer a wide range of African image you can use on your social media platforms and blog.
Pichastock does not give you the right to use their free images for commercial use including ads and prints. But they allow you to use them for your blogs.
You can opt for the premium license that carters to your needs.
Foodies feed offers the best free blog images about food and recipes. So, if you are a food blogger, This website is your best bet for free blog images perfect for food bloggers.
Magdeleine uploads one free photo every day (and access to a full repository of images). Some are public domain and some require attribution.
Public domain images taken by the owner of the site. They offer some good location-based images.
This is a searchable database of public domain images.
Photogen offers free images for personal or commercial use, You can not sell or redistribute the images you download.
High-quality, public domain images with no copyright restrictions.
A directory of vintage photos from public archives.
A vast repository of free images for blogging. You're free to use the images for personal or commercial purposes, but you cannot claim ownership.
Free amateur public domain images. The pictures sometimes lack in quality, but they make up for in quantity.
Access all Flickr photos sorted by different creative commons licenses. You can find good copyright free images for blogs under the public domain, non-commercial licence, attribution licence, etc. Select "Public Domain" to find images that are free to use without restrictions or attributions.
There are a lot of sites offering free images. All you need to do is find the best that meet your needs.
Don't Want free images for blogging?
If you want to stand out from the crowd or can't find what you are looking for on the aforementioned websites, you can opt for premium photos or Rotaly free images of you are on budget. .
Websites like Pixistock, Shutterstock and iStockphoto offer some of the best premium photos you will find on the internet. Buying the rights to use premium mages not only gives you a different feel, it also helps you stay on your rights.
Have other recommendations?
Do you have any cool websites that offer free images you would love to add to the list above, then share them in the comments below!
Conclusion
The website I mentioned in this post are likely all you will ever need of you are looking for free images to use for your blogs.
I recommend you read the license agreement of any website you intend using to get free image for blogs or any other project
I may earn a commission from qualifying purchases made through the links on this blog, at no additional cost to you. For more information, see my Disclosure