We all know how hackers have been taking over people's social media accounts for unknown reasons. A few of my friends have lost their Facebook accounts and have no way to retrieve them. Hackers gain access to owners' accounts, change every detail and delete files (now this hurts).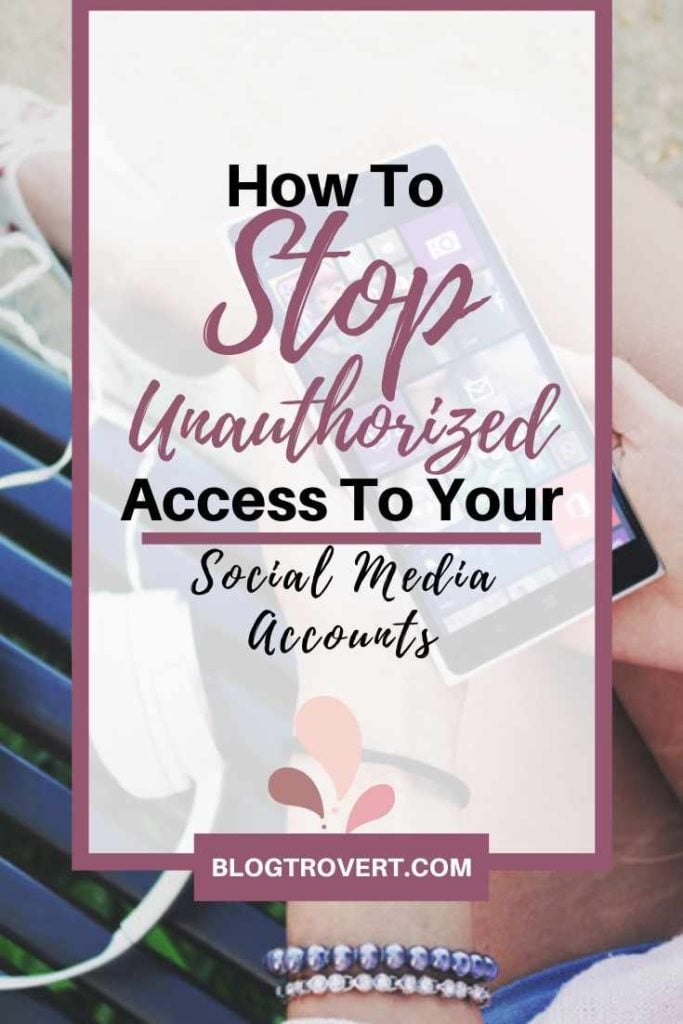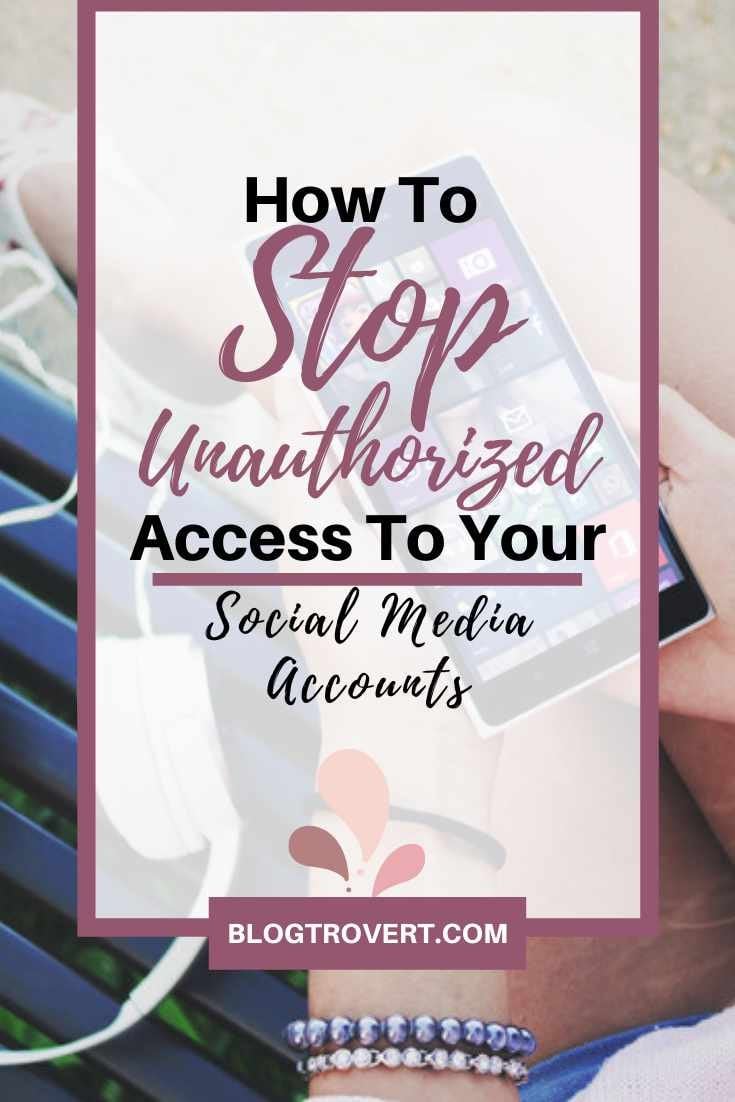 Sometimes scammers hack your account to poise as you and demand money from friends. I'm deeply sorry if you've gone through this and lost your age long social media accounts to hackers. Most victims of stolen social media accounts did not have to click on phishing links before getting hacked.
My Instagram account was hacked in 2018. I lost all my photos and had to rebuild my credibility afterwards. Although I was able to retrieve my account, most people don't get so lucky because everything about them gets erased by the hackers, even emails and phone numbers.
If you use social media platforms for your business, you must take precautions and set up two factor authentication to prevent unauthorized access to your account.
How To Protect Your Social Media Accounts From Hackers
Somewhere, someone is learning how to hack a social media account. This is bad, but there is little we can do about what others choose to do with their lives. The only duty you're charged with is to keep your account safe.
Use a Strong Password
One of the first steps to protect your social media accounts from hackers is to use strong passwords. Avoid vocabulary words and simple number combinations. You would be surprised with how a simple rough guess can get your account unlocked.
If you can not learn your passwords, use password managers or better still Google's password keeper. You only have to save the desired generated password so the can be easily accessed. Using password managers helps you secure dynamic passwords without having to remember them word-for-word. The only thing you have to remember is the password to unlock your password manager.
It's understandable if you don't wish to use any third-party app or site. You can write your passwords on paper or a text app, and save them to Google drive or anywhere you alone have access to.
Be wary of Links You Click
In the past, phishing was a terrible issue on social media. Scammers and hackers still use this method to get people to reveal personal details like; passwords, debit card numbers and more. I believe internet users are now more careful with links they click now. If you click on any link whatsoever, best be careful with the details you input so as not to give a hacker easy access to your social media accounts. Your privacy and safety is worth more than a gift or some crazy video.
Log out of Devices you do not own
While you might trust whoever gave you access to their device, for security reasons, do not save your password after signing in. Always log out of your accounts once you're done with whatever you're doing. If you must use someone else's device, stick to incognito mode.
Connect to only trusted Apps
I believe you have used apps that work with Facebook, Twitter and Instagram for easy login access. Be mindful of the kind of apps you allow to access your social media accounts. Some apps may even require you to use your password. Usually, media platforms advise against this, but not all apps want to hack into your account.
Change Your Password
If your social media platform emails you and advise you to change your password, do so without delay as they know best. Change your password when you feel sceptical after using a device you do not own. In the event of a stolen or lost phone, do get a new password. If you think you've used a password for too long, change it. Stay secure.
Use Two-factor Authentication
Honestly, you'd want to blame social platforms for not having a reliable security system, but then, they do. You have to set up security measures for your accounts to protect them from unauthorised access.
I can't fault you if, after all this while, you don't know that your favourite platform has a two-factor authentication which helps protect you. Social media devs need to prioritise informing users of security features that prevent hackers from gaining unauthorised access to their accounts.
How to set up Two-factor Authentication on your social media accounts
This is likely one of the best ways to protect your social media accounts from hackers. Two-factor authentication has been put in place to secure accounts from unauthorised access. Apparently, you'll receive a code to verify it's you trying to access your accounts from a new or an unsaved device.
To enable you to protect your Facebook, Twitter, Instagram and WhatsApp account with this method, I have made short and detailed instructions of how to set up two-factor authentication. The processes are straightforward and easy to follow. I hope you take the time to secure your social media platforms today. I am tired of losing friends and unfriending hacked accounts (smiles).
Two-Factor Authentication for Facebook
First, log in to your Facebook account and click on the hamburger icon (on mobile) or the caret drop-down icon (web).
Find and select Settings > Privacy > Settings > Security and Login. In the next page, scroll down and click "Use two-factor authentication." When the page opens, you'll be prompted to choose a security method. You can choose to receive verification code by SMS (on your phone number) or on the authentication app. I use the SMS option as it is the easiest to access, but you can always choose the best for you.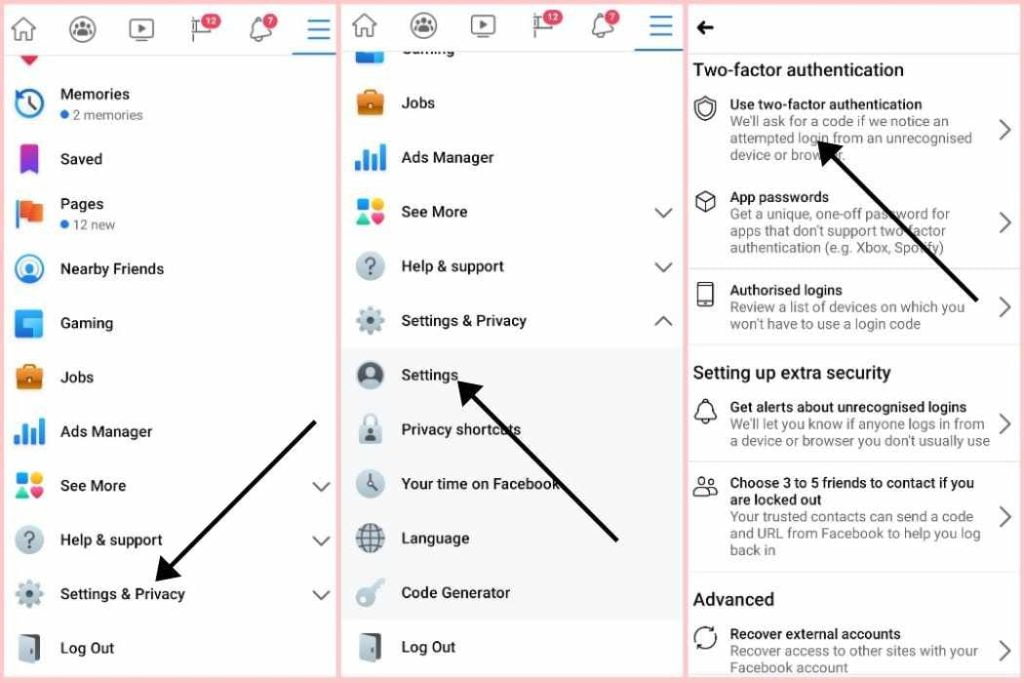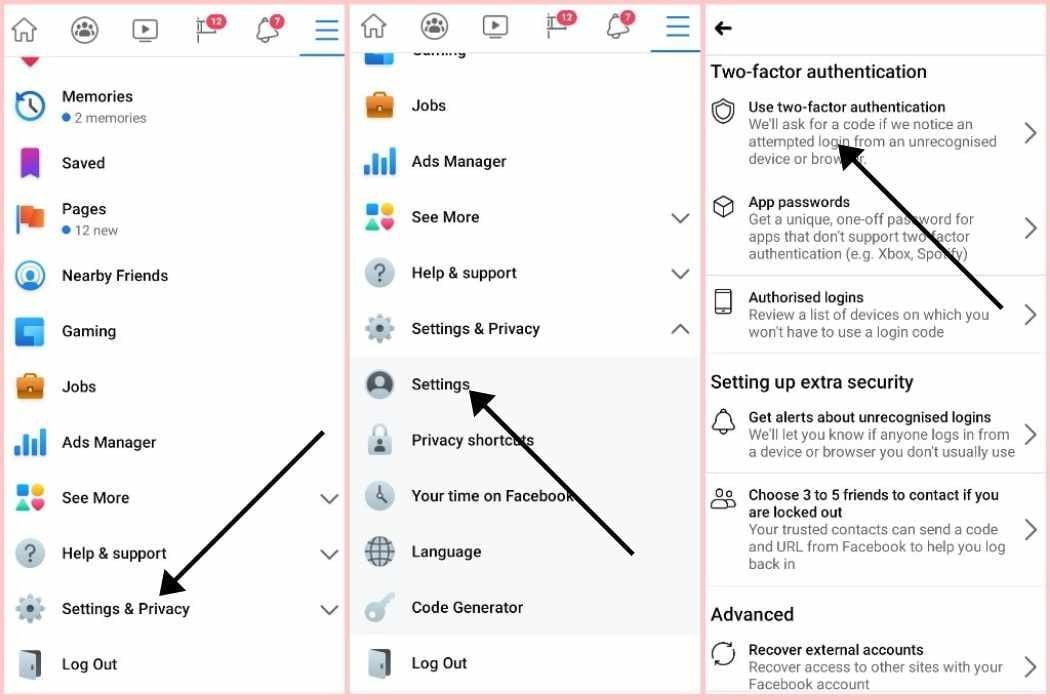 Once you've made and selected your choice, you'll receive a code in your phone or authentication app. Copy and paste them in the required space to have your account secured
There are pre-generated recovery codes you can use if for some reason you do not receive the login code, can not easily access your number or authentication app. Do well to copy and save them where you alone can access.
Note: each code can be used once. Regenerate recovery codes when they are all exhausted. Applicable to Instagram and Twitter.
Two-Factor Authentication for Instagram
You can activate Instagram 2FA for your account via the web or mobile app. To begin, log in to your account and navigate to your profile then click the hamburger menu on the upper right corner. Select Settings > Privacy and Security > Two-Factor Authentication.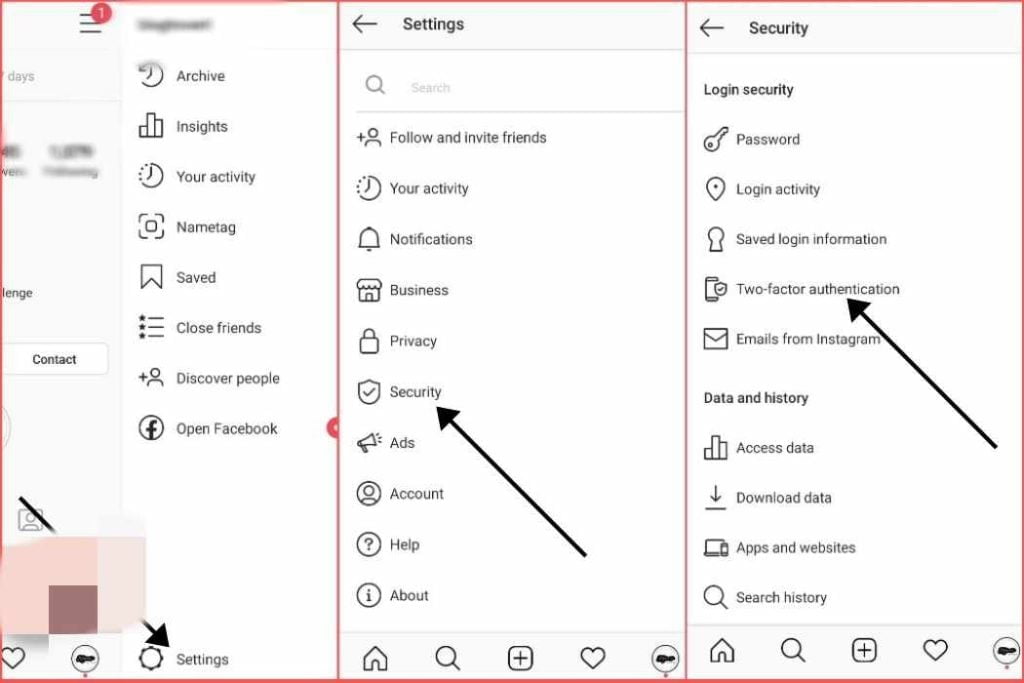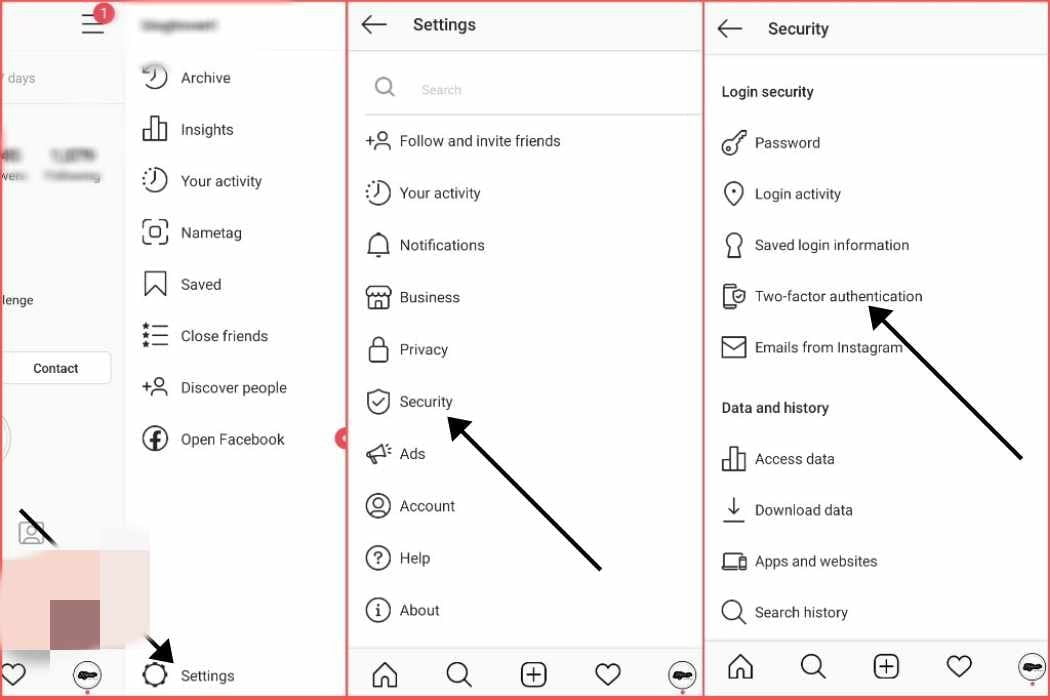 In the Two-factor Authentication page, everything else works like the Facebook verification option. You can opt for SMS or an authentication app and recovery codes.
If you're using IG on the web, login and navigate to your profile, click the icon gear that's next to your profile name, then select Privacy and Security in the pop up that displays. Follow the instructions as on Facebook.
Two-factor Authentication for Twitter
Log in to your Twitter account, click your profile avatar then find and select Settings and privacy > Account > Security.
In the security section, before you proceed, check "password reset protection" if it's unchecked. Now, select two-factor authentication.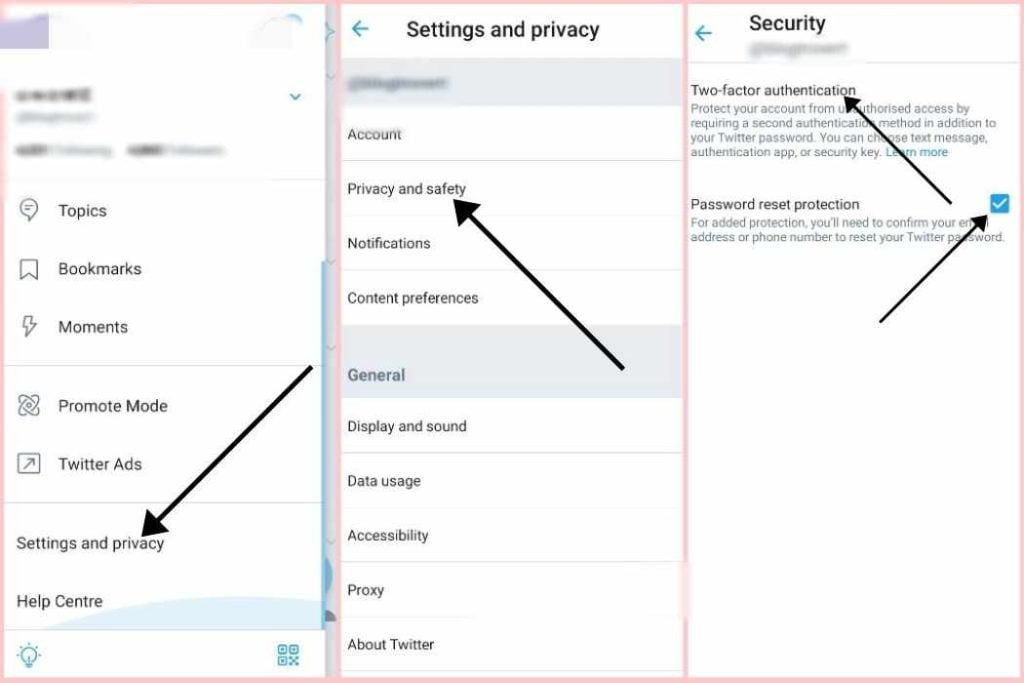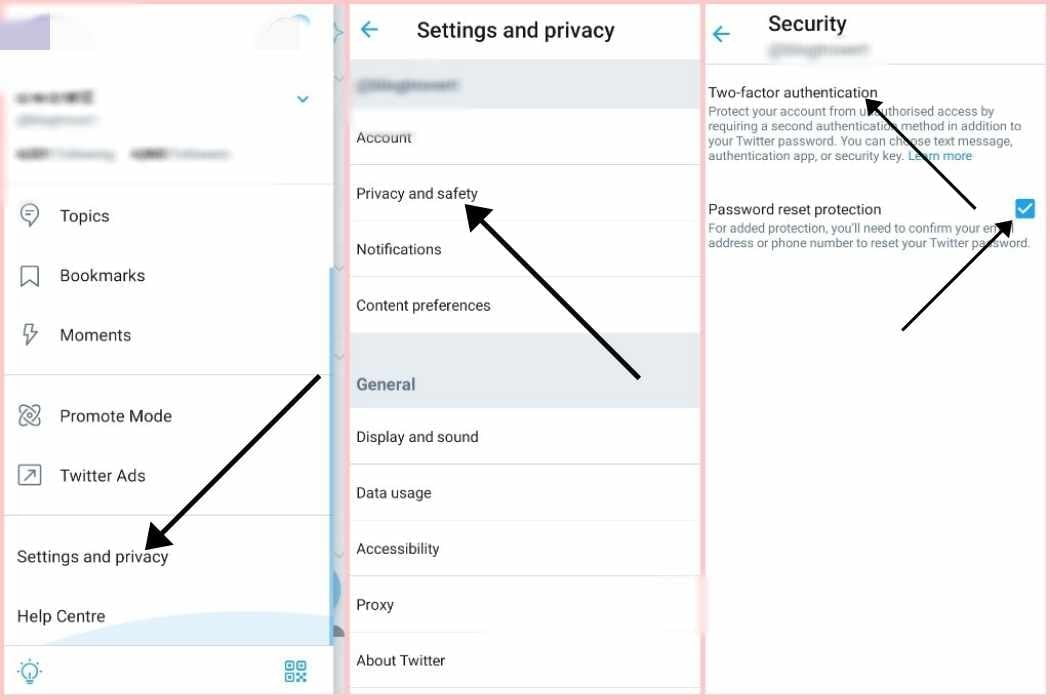 Like Facebook and Instagram, Twitter uses either SMS or authentication app. Select whichever you prefer. Twitter will then send a code to your phone number or Authentication App. Copy, paste, proceed and you're all set.
There are also pre-generated backup codes to use when you face any challenge with the SMS or authentication code.
Note: you must connect and verify your email address with your Twitter account before setting up two-factor authentication.
Two-factor authentication for WhatsApp
Open WhatsApp, click on the kebab icon, select Settings > Account > "Two-step verification" > Enable. WhatsApp will prompt you to enter a six-digit PIN to use as verification, and optionally add an email address in case you forget your PIN.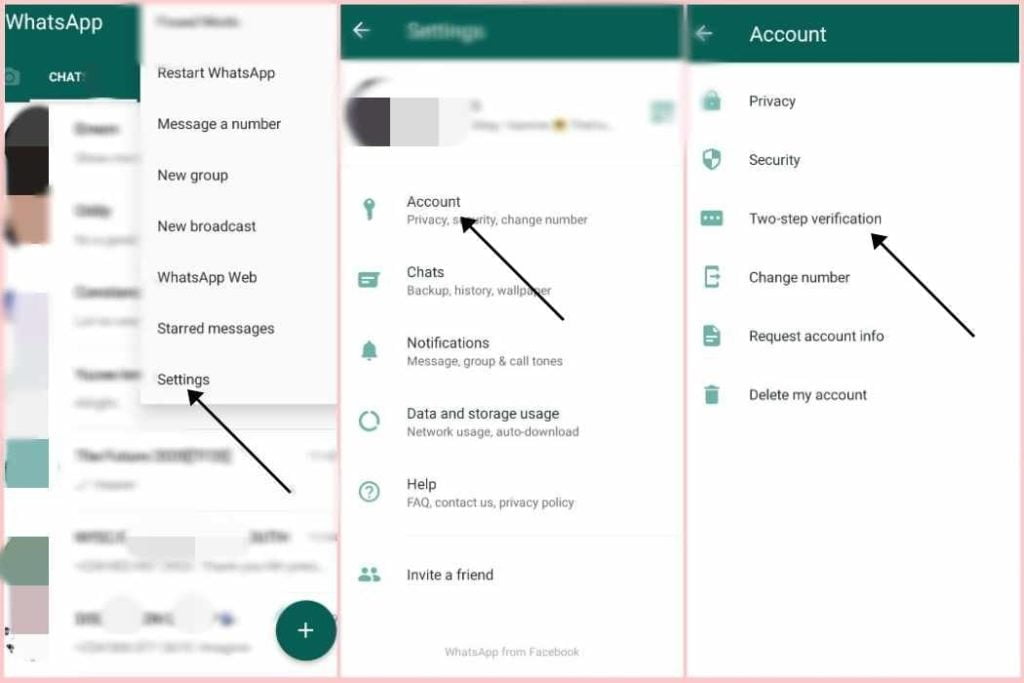 You must add an email address during this process as you won't be able to recover your account if you forget your pin until a week has passed.
Final Note
If you follow the process above, you will have secured all your social media accounts in the best feasible way. Share this post with your friends and family to help them stay safe and protect their social media accounts from hackers.
Let's Be Friends
Enjoy my weekly newsletter and be the first to hear about latest posts.