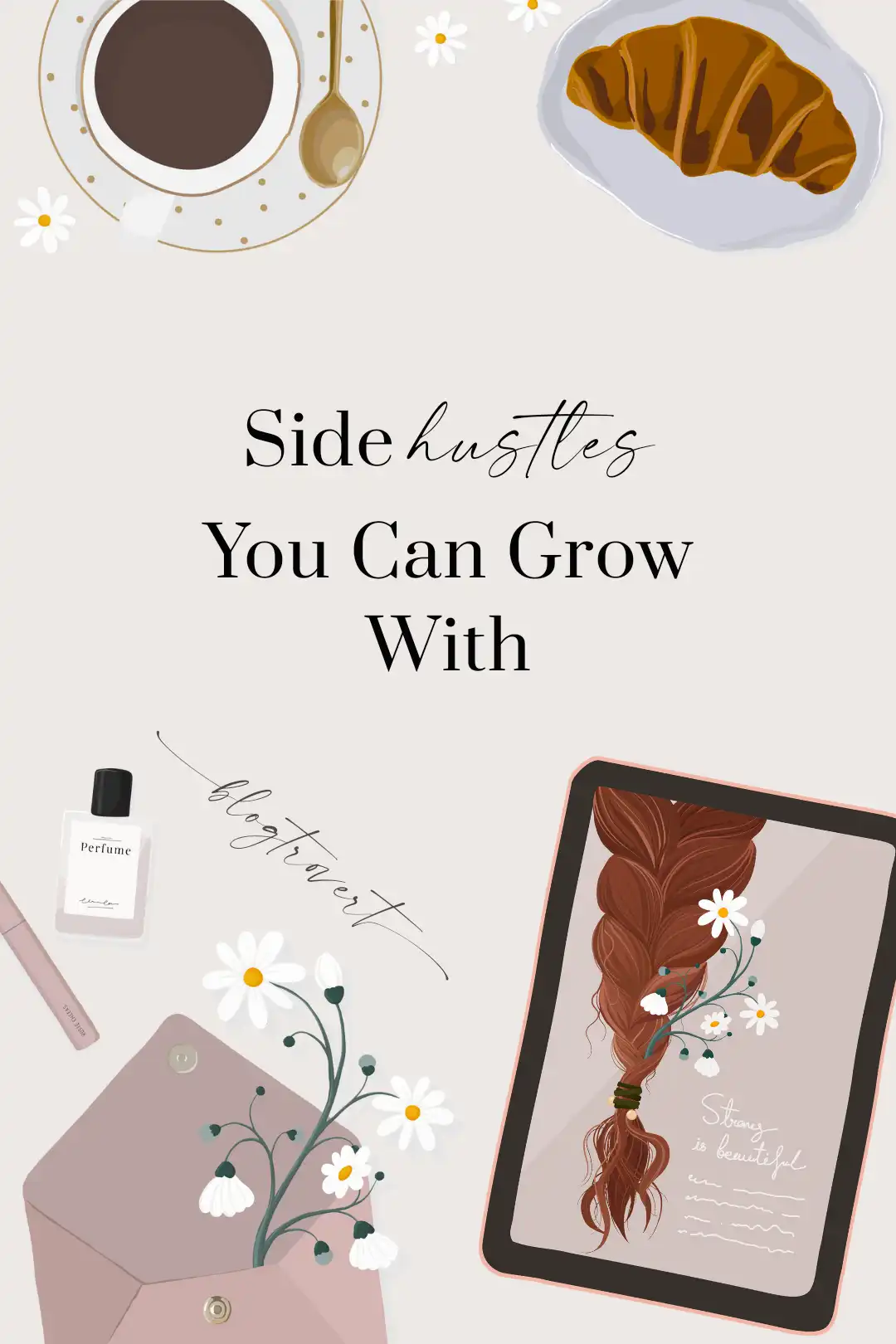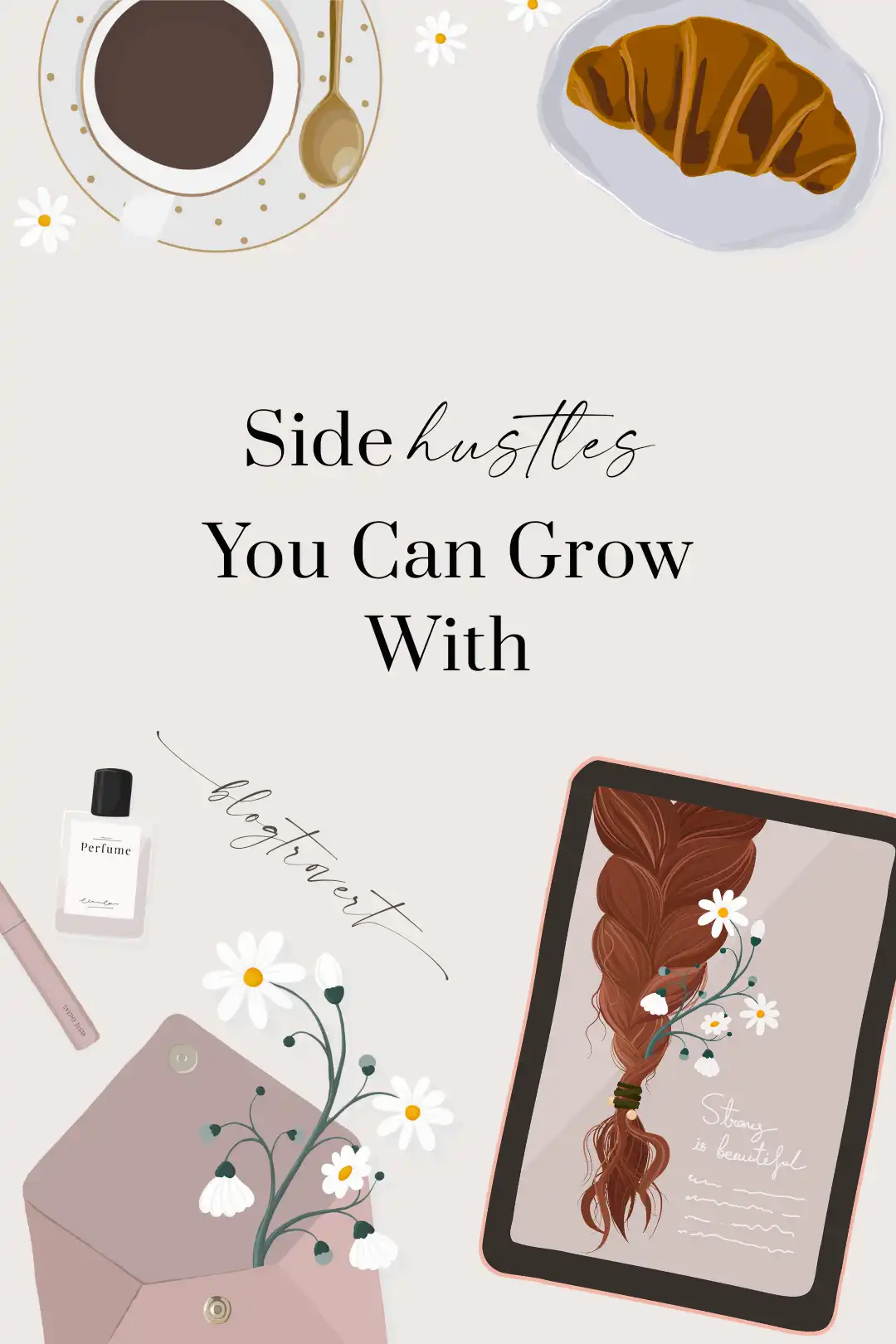 Looking for the best side hustles for women?
You're in the right place!
This post breaks down the best ways to make money online as a .
You're not alone if you are looking to earn an extra income to boost your finances. As a woman, it can be difficult to find the right side hustle. There are so many options out there, and it can be overwhelming to try to figure out which one is right for you.
The good news is, there are a few side hustles that are particularly well-suited for women.
In this post, you'll find the top 10 side hustles for women, along with instructions on how to start each one. These suggestions will give you a good boost whether you want to start a new business or supplement your current income.
You will find some popular money making ideas for women like becoming a freelance writer, starting a blog, becoming a virtual assistant or selling your own products! Whichever way, I hope you find the best choice at the end of this post.
Why you need a side hustle as a woman
There's no doubt about it, women have to hustle harder than ever to make ends meet. Whether we're single or married, with or without children, we all have to find ways to stretch our budgets and make our money go further.
There are a few key reasons why every woman needs a side hustle;
A side hustle can provide some much-needed extra financial security. Women are still paid less than men for the same work in many industries, meaning that a side hustle can help to close the wage gap.
A lot of side jobs for women give you a sense of empowerment and control. Having your own business or side project can make you feel more confident and capable, both in and out of the office.
And finally, a side hustle can be a great way to meet new people and network. Whether you're working on a collaborative project or simply promoting your business to potential customers, a side hustle can help you to expand your social circle and build important relationships.
Whatever it is, side jobs for women provide a much-needed financial boost.
So why wait?
Get started on your side hustle and discover the best ways to make money online as a female!
18 Side Hustles For Women Who Want To Make More Money
Now that you know why you need another source of income, lets us jump right into the ideas I have prepared for you.
Explore these side hustles and pick any idea that will help you make extra money on the internet. The best best part is, they are just perfect for women.
Sell handmade crafts online
Handmade crafts comes tops as on of the best money making ideas for women because they are typically easy to make and can be sold for a decent profit.
What's more, many women already have the skills needed to make handmade crafts – sometimes, it's inborn. Some of us just love making crafts!
One reason to put a price on craft is the fact that people are more interested in buying handmade crafts because of their unique nature. If you are a crafter, this is a great time to be selling your creations!
Things to consider when starting a crafts hustle
There are a few things to keep in mind when starting a handmade craft business.
Choose a craft that you're passionate about and have some experience with. This will make the creative process more enjoyable and help you produce better quality products.
It's important to set some realistic goals for your business. Don't expect to become a millionaire overnight – focus on making a modest income that can supplement your regular earnings.
Ensure you market your products well and price them competitively. There are many ways to market handmade crafts, such as through social media, online marketplaces, and craft fairs.
With a little planning and effort, you can turn your passion for crafting into a successful business.
Some craft ideas for you;
baking
sewing
jewelry making
Scented candles
Bath bombs
Anything that brings in extra income is worth doing!
One of the best places to sell your crafts online is on marketplaces like Etsy, Poshmark and Ebay.
Create and sell digital products
Selling digital products is not only one of the best side hustles for women, but it also is one of the best ways to make money online.
There are different types of digital products you can create, from eBooks and online courses to software and apps to downloadable printable. And the best part is, you can do it all from the comfort of your own home!
The most important factor is to choose a product that you are passionate about and know your target audience will be interested in. I will discuss some of the best digital products you can create and sell;
Best digital products women can create and sell
Ebooks
Creating and selling ebooks is one of the most popular ways to make money online as a female because it's a viable way to earn a passive income. Ebooks can sell over and over again.
Also updating your contents doesn't require more than working with the source file. No need to reprint or have older versions competing with the newer version. You can easily update your old ebooks across all platforms you sell them.
Creating an ebook does not have to be a difficult or time-consuming process, and there are a number of different platforms that make it easy to sell your book to a wide audience.
Aside from making money on the side with ebooks, you also have the bonus of building an audience of potential customers who may be interested in your other products.
Here are a few things to put in mind when creating your ebook;
Choose a topic that you are passionate about or have extensive knowledge in.
Have a clear idea of what your ebook will be about and who your target audience is. Once you have a good understanding of this, you can start to plan and write your book.
Try to make your ebook title as unique and valuable as possible, as this will help it to stand out from the thousands of other titles available.
Once your ebook is complete, choose a reliable platform to sell it on. There are different ebook marketplaces, such as;
Amazon Kindle
Apple Books
Kobo
So, make sure to select the one that is right for you. Each platform has different guidelines for submitting your ebook – be sure to read them carefully before proceeding.
When your ebook is live and available for sale, it is important to promote it so your target audience can find it.
Online courses
Nowadays, with the development of technology, more and more people are willing to learn online.
Online courses have become a popular way to learn new skills and knowledge. And it is also a great side hustle for women.
If you have some skills or knowledge that you think others would benefit from, you can create an online course and sell it. Online courses will enable you to earn passive income and help others at the same time.
You can create a course on almost any topic. For example, you can teach people how to cook, how to speak a foreign language, or how to use a certain software.
The course can be in the form of text, audio, or video. You can also create a course that constitute all three formats.
Things to keep in mind when creating an online course
First, you need to determine what topic you will be teaching. It is important to choose a topic that you are passionate about and have a lot of knowledge in.
Once you choose your topic, you need to create lesson plans and materials. This can be time-consuming, but it is important to make sure your course is high quality.
Before you start creating, choose a good platform to host your course and follow their creator guidelines. If you're selling courses that are mostly video-based, then you'll want to choose a platform that makes it easy to host and stream your videos.
Best places to sell or host your online course;
Once you successfully create your course, you can upload it to the platform of your choice and start promoting it to your audience.
You can do this through social media, your website, or online directories. It is important to get the word out there so people can find your course and buy it.
Creating and selling online courses can be a viable way to make money online as a female. Just make sure you choose a topic you are passionate about, create high-quality materials, and promote your course to the right people.
Graphic templates
There is a market for you if you have design or photographic experience or know someone who does.
Graphic templates are basically pre-designed layouts that people can use to create their own graphics.
This can be anything from a simple background image to a complex design with multiple layers. Templates save creators and businesses time and effort by giving them a starting point for their design.
Selling graphic templates is among the best side hustles for women because it currently has a large market among women and a bigger margin for success.
You can create graphic templates and market them to other women or creators. There are a lot of templates you can create and sell, some examples include:
Social media templates – Instagram and Pinterest templates are the most popular social media templates to sell right now.
Ebook templates
Amazon KDP templates
Media kit templates
Workbook templates
Planner templates
Resume templates
Business cards
Flyers
Brochures
Press releases
Web banners and ads
Greeting cards… And more.
I have just the perfect blog post that will teach you how to create your first graphic template with Canva and the best places to sell them.
Printable downloads
Printable products are of digital contents (usually in PDF, JPG or PNG form) that are designed to be printed out and used in a variety of different ways.
There are different kinds of printables that sell well. Some of the most popular you can create to make money online as a female include:
Planners and organization printables. Educational resources, such as flashcards and worksheets.
Decorations and party printables.
Business and marketing materials, such as business cards and flyers.
Personalized gifts, such as nameplates and monogrammed stationery.
Fun and unusual items, such as coloring pages.
Seasonal items, such as holiday cards and decorations.
Helpful resources, such as checklists and reference sheets.
Creative projects, such as printable art and crafts.
Printables are a great way to add a personal touch to any project, and there is definitely a market for them. If you're looking to sell printables, it's important to choose items that are popular and in demand.
Learn how to how start a profitable side hustle selling printables and discover 65 of the best printables to sell online.
Best places to sell your digital products
You can sell digital products in a variety of ways. The most common way is through an online store or marketplace.
You can also sell them through your website or social media platforms, like Facebook and Instagram.
Etsy and Creativemarket are large marketplaces popular among digital creators who sell what they create.
Direct link to the best eCommerce websites for digital creators;
Marketplaces
Online store providers
Start a blog
There are many ways for women to make money online, and blogging is a perfect option because it is easy to get started and there are many ways to monetize a blog.
For example, you can start a blog about topics you are passionate about and then use affiliate links to earn income.
You can also use your blog promote your own products or services. You can go further to sell advertising space on you blog to earn even more.
So, if you have been looking for the best side hustles for women that's a perfect fit for you, blogging is a great option.
I mean, there are many ways to monetize your blog plus you can make money even when you're not actively working on your blog. Get started today and see how much money you can make!
Beyond the earning potentials, blogging can also be a great way to connect with other like-minded women, to build your confidence and writing skills, and to promote your personal brand.
Here are a few tips to get you started with blogging:
Choose a niche that you're passionate about
This is important because you'll be more likely to stick with it if you're blogging about something that you enjoy. There are so many different niches out there, so there's sure to be one that's perfect for you.
There are many great blogging niches for women, but which one is the best? It really depends on what you are passionate about.
Here are some of the most popular blogging niches for women:
Each of these niches has the potential to be very successful, but it really depends on your strength and interests.
It is important to choose a niche that you are passionate about, because that is what will make your blog successful.
Find a blogging platform that works for you
There are a few different blogging platforms to choose from, so do some research to find the one that will work best for you and your goals.
Some of the best blogging platforms include;
Write about what you know
When it comes to your business blog, focus on writing about topics that you're an expert on. Not only will this help you produce content that's more accurate and helpful for your readers, but it will also make the writing process a lot easier for you.
Be consistent with your contents
One of the keys to successful blogging is consistency. Try to blog on a regular schedule and put out high-quality content that your readers will enjoy.
Engage with your readers
Building a strong relationship with your readers is essential for success. Make sure to respond to comments and questions, and interact with your readers on social media.
Promote your blog
Once you've got some great content, make sure to promote your blog posts with an engaging image and a short description in your social media channels.
Get Inspired, here are 10 successful blogs by women
Become an independent publisher with Amazon KDP
The world of independent publishing has never been more accessible, thanks to Amazon KDP. With KDP, you can self-publish eBooks and paperbacks on Amazon.com, and reach millions of readers worldwide.
60% royalties on each sale. Plus, you can use KDP's tools to promote your book and build a following of loyal readers.
Whether you're a seasoned author or a first-time writer, KDP is a great way to reach a large audience with your work.
So if you've got a great book idea, don't wait any longer—publish it with KDP today!
Start a print on demand business
A print on demand business is a great side hustle for women who want to sell their own merchandise but do not want a physical inventory.
With a print on demand business, you can create and sell custom-printed products without having to invest in inventory or shipping. All you need is a realisable production partner, a shop to showcase your products and unique marketable designs.
Things to keep in mind when starting a print on demand business;
Choose a niche market
You can print anything from t-shirts to mugs to posters, so it's important to choose a focus for your business. This will help you attract customers and create a unique selling proposition.
Pick a good production partner or marketplace
Next, you need to find a good print on demand partner or marketplace. A partner prints your products on request and sends them to your customers; while a marketplace allows you to showcase your designs on their products, and you in turn earn a percentage of every sale they make.
popular print on demand platform;
Create good designs
Once you choose your partner or marketplace, you'll need to create your designs if they are not ready. If you're not a designer, you can hire one, or use a design service like Placeit.
Once you have your designs ready, you can upload them to your print on demand provider and start selling.
Market your products
Finally, you'll need to market your business. You can do this through social media or online ads.
By promoting your business and getting the word out, you can start generating sales and earning a profit.
Starting a print on demand business is a great way to enter the world of online business. With a little creativity and some marketing savvy, you can build a successful business that brings in a steady income.
In-depth guide on how to start a print on demand business
Start a YouTube channel
YouTube is a popular video sharing website where users can upload, share, and view videos. YouTube is a great platform for women who want to make money sharing video contents.
You can make money with YouTube by creating and uploading videos, and then monetizing your videos with ads when you qualify to become a YouTube Partner.
Another way to monetize your channel is to work with brands in your niches or promote affiliate products. Starting a YouTube a channel is profitable, but you need to put in the work.
You can use your phone, a digital camera, or a camcorder to film your videos. Just remember to keep your videos interesting and engaging. If your viewers are not entertained, they will not stick around for long.
If you want your YouTube channel to be successful, you need to promote it. You can promote your channel by sharing your videos on social media, asking your friends and family to subscribe, and collaborating with other YouTubers. Follow this step by step video guide to start a successful YouTube channel.
Starting a YouTube channel can be a lot of work, but it is also a fun. Just remember to be creative, stay organized, and promote your channel to get the most views and subscribers.
Become an Affiliate Marketer
As an affiliate marketer, you have the potential to earn commissions from every product or service you promote. You create value for both the merchant and the customer, and in return, the merchant rewards you with a commission for your efforts.
Affiliate marketing is a win-win situation for you and the merchant. The merchant gets new customers and increased sales, while you, the affiliate gets commissions and the opportunity to promote even more products.
There are a few different ways to become an affiliate marketer, but the most common is through affiliate networks. These networks act as a middleman between the merchant and the affiliate, and they provide a platform for the affiliate to find and promote products. Some affiliate networks are generalists, while others are more specialized.
Here are some of the best general affiliate marketing networks
When choosing an affiliate network, it's important to consider what type of products or services you want to promote, and what features and benefits are most important to you.
Affiliate marketing can be a great side hustle for women who blog, have a YouTube channel or large following on social media. If you understand your audience, you can promote the products they are interested in and earn extra, or even a full-time income.
Become a social media influencer
A social media influencer is someone who uses their platform to promote a product, service, or brand. They are often considered to be experts in their field and have a large following on social media.
Influencer marketing is a great side hustle for women because there are a lot of fashion and beauty brands looking for women influencers to work with. Plus you really don't have to spend a dime to grow your following and it can be a jolly good ride.
As a social media influencer, you can use your platform to reach a large audience and promote the products or services that you believe in. You can also sell your own products to your followers.
If you are interested in becoming a social media influencer, you will need to build up a strong presence on social media. This means creating quality content that your audience will find valuable and engaging. You should also interact with your followers regularly and build up a rapport with them.
Once you have a strong social media following, you can start to approach brands or businesses about working with you. You can offer to review their products or services, write sponsored posts, or host giveaways.
There are a lot of female social media influencers that can inspire your growth and encourage you to do more.
Offer freelance services to other businesses
If you have a skill or knowledge that other businesses could use, offer your services as a freelancer. This can be anything from social media marketing to data entry and more.
Freelancing is one of the best side hustles for women because you are in control of your own time, which means you can offer your services to other businesses on your own schedule. You can also work on other personal projects and not burn out.
Things to keep in mind when offering freelance services
First, make sure you are clear about what services you are offering and what your rates are.
It's important to be professional in your communications.
Always deliver quality work on timely basis.
With some hard work and a little luck, you can build a successful freelance business that gives you the freedom and flexibility to work on your own terms.
Best platform for freelancers
Start a web development business
If you have a knack for coding or design, you can start selling website themes and designs. You can create website design for platforms like WooCommerce, Shopify, Squarespace, Showit, Webflow and Wix.
Each of the aforementioned web platforms have their core programming language and guidelines that you must adhere to.
If you have no coding skills, you can become a no code website designer by using page builders that's come with most of these platforms.
WordPress for one has lots of page builders like Elementor, Divi and Gutenberg plugins like Coblocks and Kadence.
Choose any of these platforms that you can develop your skills in and get designing. You can start learning on Udemy, YouTube or any platform of your choice.
Do research for companies and offer consulting services
One great way to make money from home is to offer your services as a consultant. You can research companies and offer your services to help them with their business operations. This could include things like marketing, product development, or even financial consulting.
Before you offer any consultancy services, ensure you have the proper licensing and certification. If you're not qualified to offer your services as a consultant, be sure to disclose this to your potential clients. Find jobs on directories like glassdoor and indeed.
Offer your services as a virtual assistant.
Monetize your spare time by becoming a virtual assistant. If you have a 9-5 and need an extra income, you can easily combine this hustle with your job.
Virtual assistants provide help with a wide range of tasks, from administrative work to website design and development or research projects.
If you have experience working with computers and internet-based applications, this could be the perfect opportunity for you!
Places to find virtual assistant;
Offer paid search engine optimization (SEO) services
Through the years, businesses continue to bring operations to the internet. The need to structure their online business to reach more people organically (via what they search for) is what we know as search engine optimization.
There are a lot of businesses in need of increased online visibility for their products and/or services, and you can benefit from this as it's one of the most perfect side jobs for women in tech.
If you have experience optimizing websites and have a knowledge of search engine algorithms, this could be the perfect opportunity for you. You must have a sound knowledge of Search Engine Optimization skills before you start this business.
New to SEO?
Take a course, learn more about search engine optimization and become a master of your craft and we your skill.
Offer Paid Transcription Services
Transcriptionists convert recorded or live audio files to written contents. If you have good listening skills, can pay attention to details and want to make additional money online; offer transcription services through online platforms like Upwork or transcription websites.
Freelancing is a great way to get started in the transcription business. You'll be able to build your reputation and garner the required experience for the future.
You can charge based on the amount of work completed, the time spent doing the job, or any other factors that may be important to you.
Some companies need transcriptionists to help with their work; If you have the skills, this could be a great opportunity for you to make money on the side.
popular transcription websites;
participate in online surveys or paid focus groups
In recent years, online surveys and paid focus groups have become one of the increasingly popular side jobs for women. They offer a convenient way for companies to gather feedback from consumers about their products and services.
Online surveys and focus groups offer you an opportunity to earn money for providing valuable feedbacks. This opportunity does not require to travel or take time out of your busy schedule.
Overall, participating in online surveys or paid focus groups is an ideal side hustle for women who want to earn some extra money and provide valuable feedback to companies.
If you have the time and opportunity, I highly recommend participating in one or both of these activities. Learn more about respondent.io, a high paying survey platform that pays as high as $100 per survey.
If you do not live in the US or UK, you might want to learn more about participating in online surveys outside these countries.
Tips to help you get started with your new side hustle
Now that we have gone through some of the best side hustles for women to make money online, here are a few tips to help you get started with your new business;
Know your worth
Don't be afraid to ask yourself what you're worth. Though you can't easily measure your worth, having an idea is an important part of self-evaluation and setting realistic goals.
Prepare yourself mentally and physically
Starting any new business is hard work. Make sure you're mentally and physically prepared for the challenge ahead. Powerful daily affirmations for women.
Do your research
You need to be familiar with the business, market, and competition. This will help you make informed decisions about starting a business venture and help you determine if the business is something that is workable for you to pursue.
Start with small goals.
Setting smaller goals will help keep you motivated and on track as you work towards achieving larger goals. This will also prevent you from becoming discouraged if your initial efforts do not result in immediate success.
Be innovative when starting out
There are no specific rules to achieve success in any business. You must be smart, ready to experiment different money making ideas for women and take risks!
Have a solid marketing plan
Have a solid business plan and marketing strategy in place before starting any of these hustles, as without proper planning, it's difficult to achieve desired results.
Prepare to work hard
Most of these hustles require long hours spent on the phone, online, or in person meeting with customers. So buckle and get ready for the bumpy ride and stay consistent.
Be willing to take risks
Most hustles involve starting up new businesses from scratch, which is risky but rewarding if done correctly.
Stay organized and plan your activities
Planning your activities and organizing your time will help you stay on track and avoid wasting time.
Be creative
Be creative with how you can bring your hustle to market and make money from it.
Prepare to pivot
If your hustle isn't working as planned, be willing to change it up and try something new.
Be patient
It takes a while for some hustles to generate income. Encourage yourself to stick with them for a while.
Get support
Don't do it all alone. Get support from family, friends, and colleagues if you need it.
Don't over commit yourself
Don't put too much pressure on yourself to succeed. Take your time and build a firm foundation before jumping into more ambitious projects.
Be flexible
Always be ready to change or adapt your plans as needed in order to meet deadlines or achieve success.
Have fun
Where is the fun if you don't enjoy yourself during work? You'll likely not make much money from anything you don't enjoy doing.
Conclusion
You can tap into these money making ideas for women if you work hard. Learn a new skill, start a craft business, build yourself and stay consistent!
I may earn a commission from qualifying purchases made through the links on this blog, at no additional cost to you. For more information, see my Disclosure