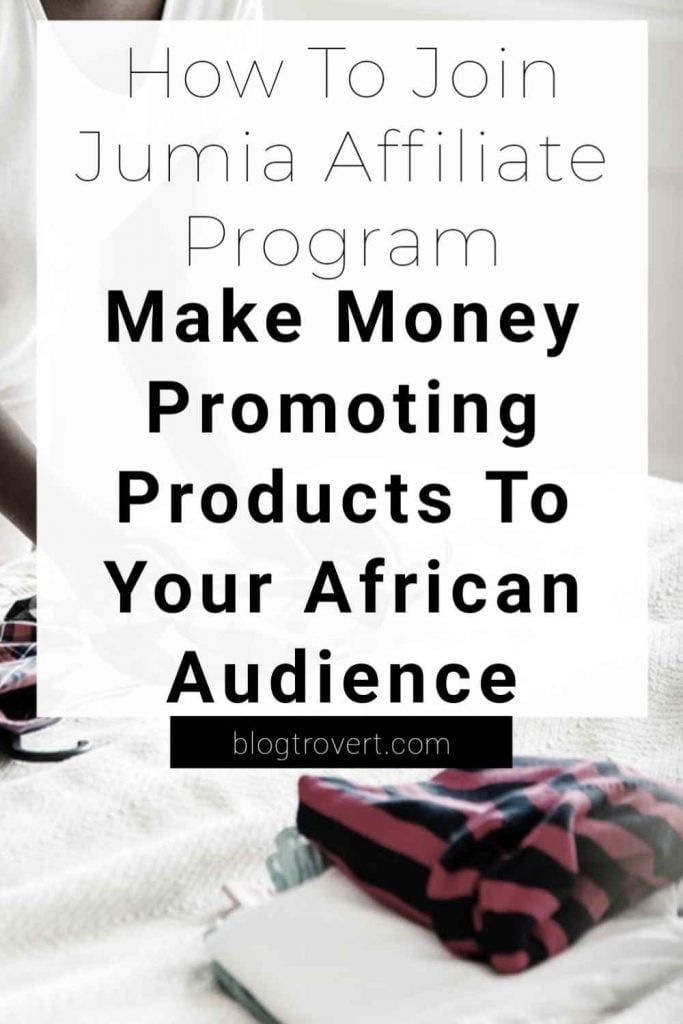 One of the many ways to make money online in Nigeria and Africa at large is affiliate marketing and the jumia affiliate program is designed to help you earn money by promoting their products.
We want to make sure that you have the best possible experience while participating in the jumia affiliate program, and that's why we've put together this comprehensive guide.
In this guide, we'll answer all of your questions about the affiliate marketing and how to make money on jumia promoting products.
What is Affiliate Marketing?
Affiliate marketing is a business model where a company pays a commission to an affiliate for referring customers to the company's products or services.
you earn a commission whenever anyone you refer purchases a product through your affiliate link or code. commissions per sale depends on the percentage set by the platform.
Affiliate reward could be anything ranging from 0.5% to as high as 50% depending on the affiliate program and product.
Is affiliate marketing easy?
While affiliate marketing can be a great way to earn money online, it is not always easy. There are a few things you need to do in order to be successful with affiliate marketing. One of them is finding a good program to work with. Jumia affiliate program is one of the best options for Nigerians and a few other African countries.
Another determining factor for success with affiliate marketing is the ability to create effective ads that will make people to click and buy the products you are promoting.
While affiliate marketing is not always easy you can surely find success by doing it the right way.
How does Jumia affiliate program work?
Jumia affiliate program like any other platform requires you to generate leads and convert them into sales. To do this, you will need to find products that are relevant to your audience and promote them using your own channels.
If you own a blog that target local audience or have a large following on social media and know how to convince people to buy from you; the Jumia affiliate program is a perfect fit for you. You may earn some money for reviewing and promoting products online.
There are plenty of choices to make when it comes to choosing the best products to promote jumia.
Who can join Jumia affiliate program?
If you target African audience, you are more likely to make sales when you promote products from a platform they are able to use without restrictions; Jumia is one of such retail shop and currently available in 11 African countries!
Nigeria
Egypt
Morocco
Ivory Coast
Kenya
South Africa
Tunisia
Ghana
Algeria
Uganda
Senegal
China
Portugal
United Arab Emirates
Here are a few reasons to join Jumia affiliate program
Jumia offers high commission rate – a great incentive for promoting their products.
It offers a wide range of products and services from which to choose, so you can promote anything that interests you.
Jumia affiliate marketing program is easy to join and manage, so you can get started promoting their products right away.
Finally, Jumia provides an extensive customer support system so that if anything goes wrong with your account or promotions, you can easily get help.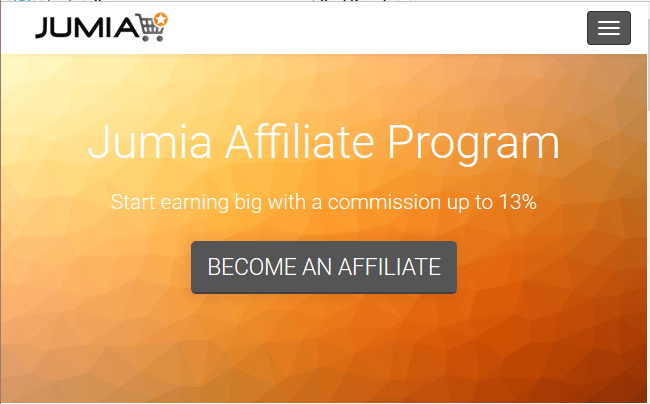 What do you need to promote Jumia products?
Most people will say you need a blog or website. But, the truth is, you do not need to have a blog or website to make money online with affiliate marketing. Your Facebook, Twitter and Instagram page can be a good enough medium to promote your products.
Even though it's okay to not have a blog, creating one is a great option as your own website will help you promote better and even grab returning visitors outside your friends and family.
Some of the best medium to promote affiliate products;
1. Blogging
You can promote the products by writing blog posts about the products and linking to the specific item you promote.
2. Social Media
You can promote products using social media platforms such as Facebook, Twitter, Instagram, Pinterest, Tiktok and LinkedIn.
3. Email Marketing
You can promote products by emailing your website subscribers about the products. Add link to enable your audience easily access the product.
4. Paid Advertising
You can promote the products by using paid advertising platforms such as Google AdWords and Facebook Ads.
How to Join Jumia Affiliate Program
With the simple steps below, you should be able to sign up with Jumia affiliate program;
First, visit jumia affiliate site and click on the "JOIN NOW" button.
After you have filled in all necessary details, choose to register as an affiliate then click on the "SIGN UP" button.
Wait to receive an approval email – Jumia confirms all signups manually.
Once they approve you, you'll receive an email with a link to the Jumia login page.
It's that easy to sign up for the Jumia affiliate program.
How to make money on jumia Marketing Products
Once Jumia approves you to become an affiliate you will be able to log in and view your dashboard.
In your dashboard, click on "Advertising » Offers."
In the next page select the country you want to work with. If you live in Nigeria and target Nigerians, choose Nigeria to promote products local to Nigerians. If you target Ghana, choose Ghana.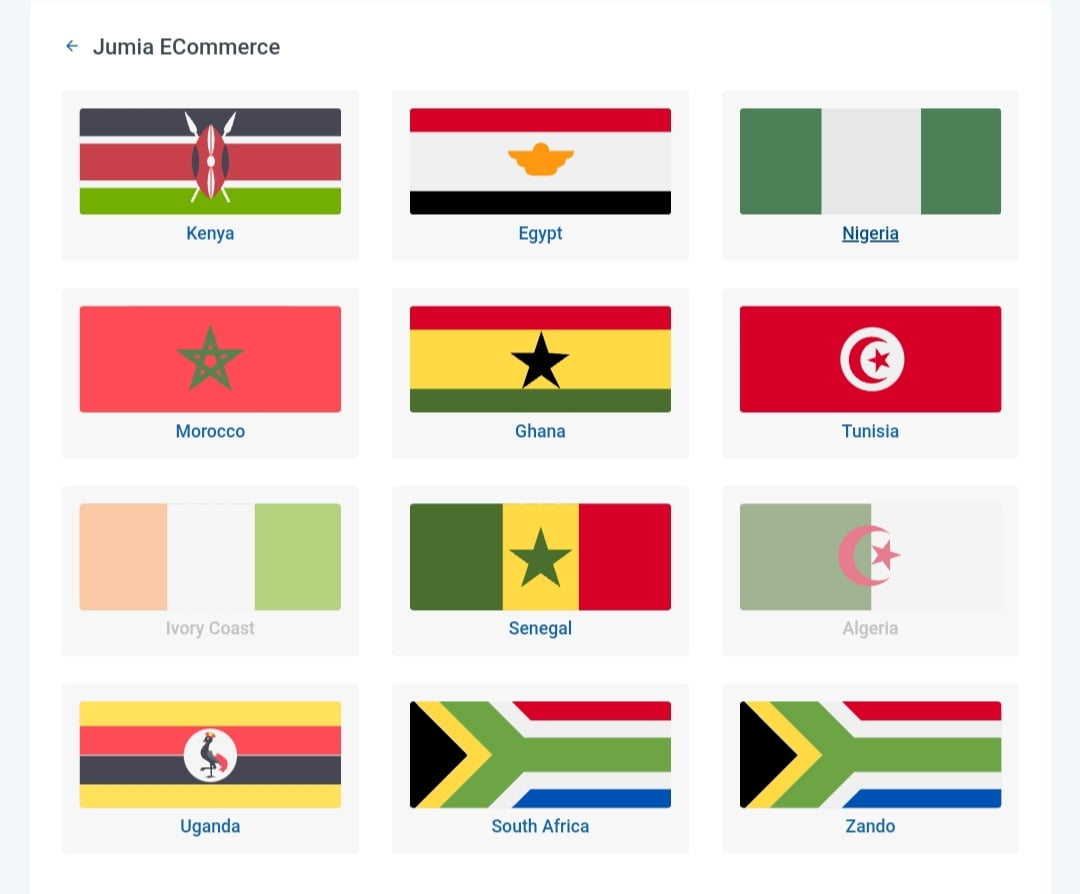 Once you select a country, Jumia will show you a list of offers you may want to promote.
Click on any of the offers to see the options you can work with.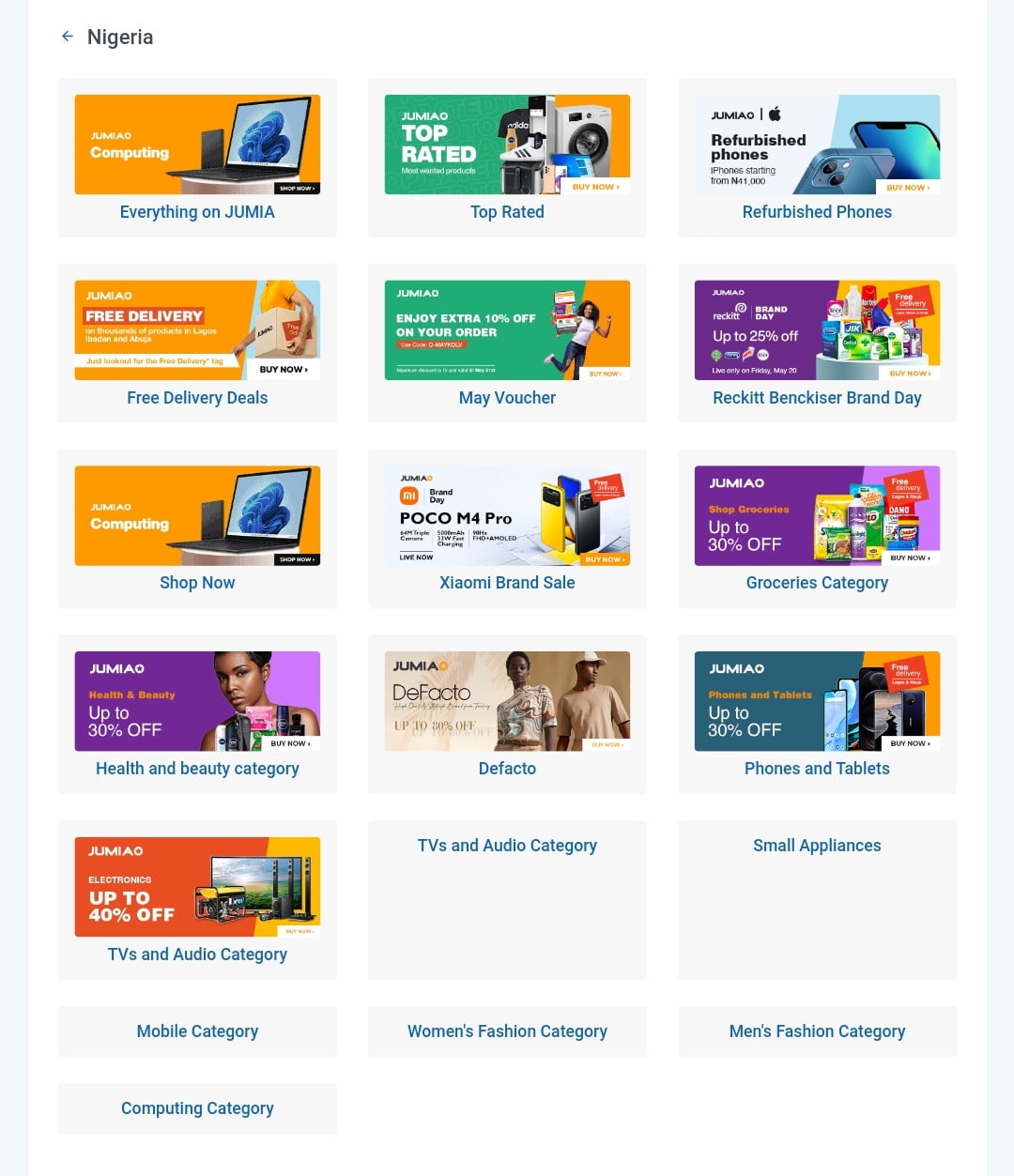 When you click on an offer, you'll find some options that you can tailor to your needs.

Copy affiliate link or share instantly to Facebook.
Shorten URL – great for a clean and shorter link.
Select banner size to place on your website. (You can use more than one banner for the same product.)
Additional parameters work with links you generate yourself. Useful for when you want to track link performance in different platforms.

Finally, copy your affiliate link or Banner Code (for your website).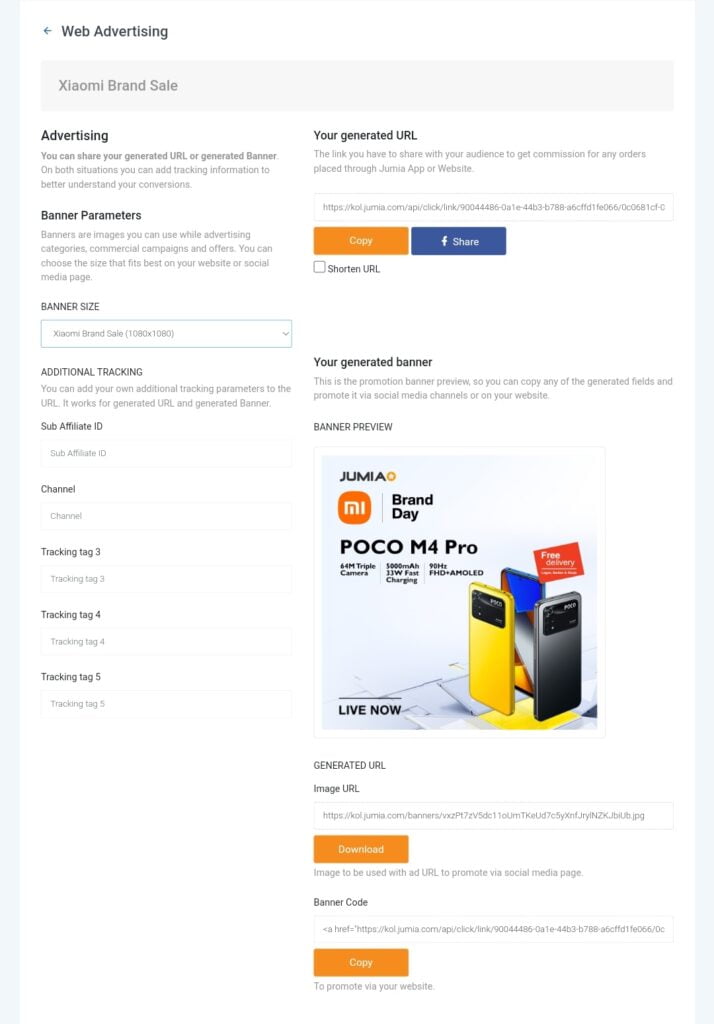 Promote specific Jumia products with the Affiliate Program
If you are looking for how to make money on Jumia without to promoting any of the default affiliate offers, you can generate copy any product link you find in the Jumia retail store and generate a custom affiliate link to promote.
This is the easiest way to generate a sale; so, I recommend you link directly to any Jumia product you think your audience will want to buy. Step by step guide below;
Visit Jumia shop to copy the link of any product you wish to promote. Copy the URL from the address bar.
Go back to Jumia affiliate site and click on "Advertising » Custom Links" in the navigation menu.
In the next page, click on "Jumia eCommerce" and select the Jumia shop country just like we did above.
Once you are in the Custom Links page, all you need to do is paste the product URL(link) you copied in the "web page URL" field and add type in any text or numerical value in the. "Sub Affiliate ID" text field and hit enter.
You can add other additional tracking options if you wish to.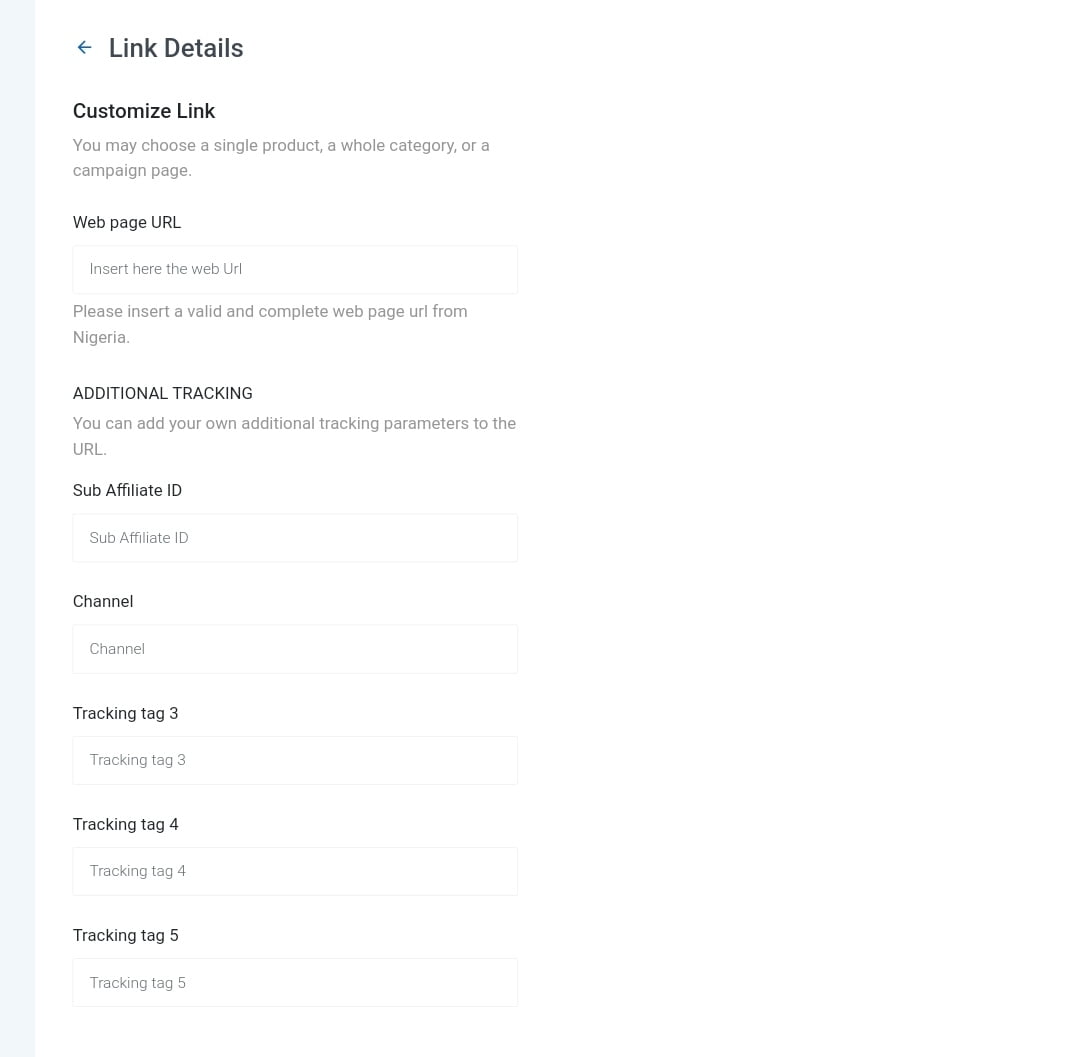 How much can you make per Affiliate Sale?
The amount you make per sale depends on the price and sales commission of the product.
Commission rate per products differ and if you are wondering which product is the best to promote, the image below has the answers you are looking for.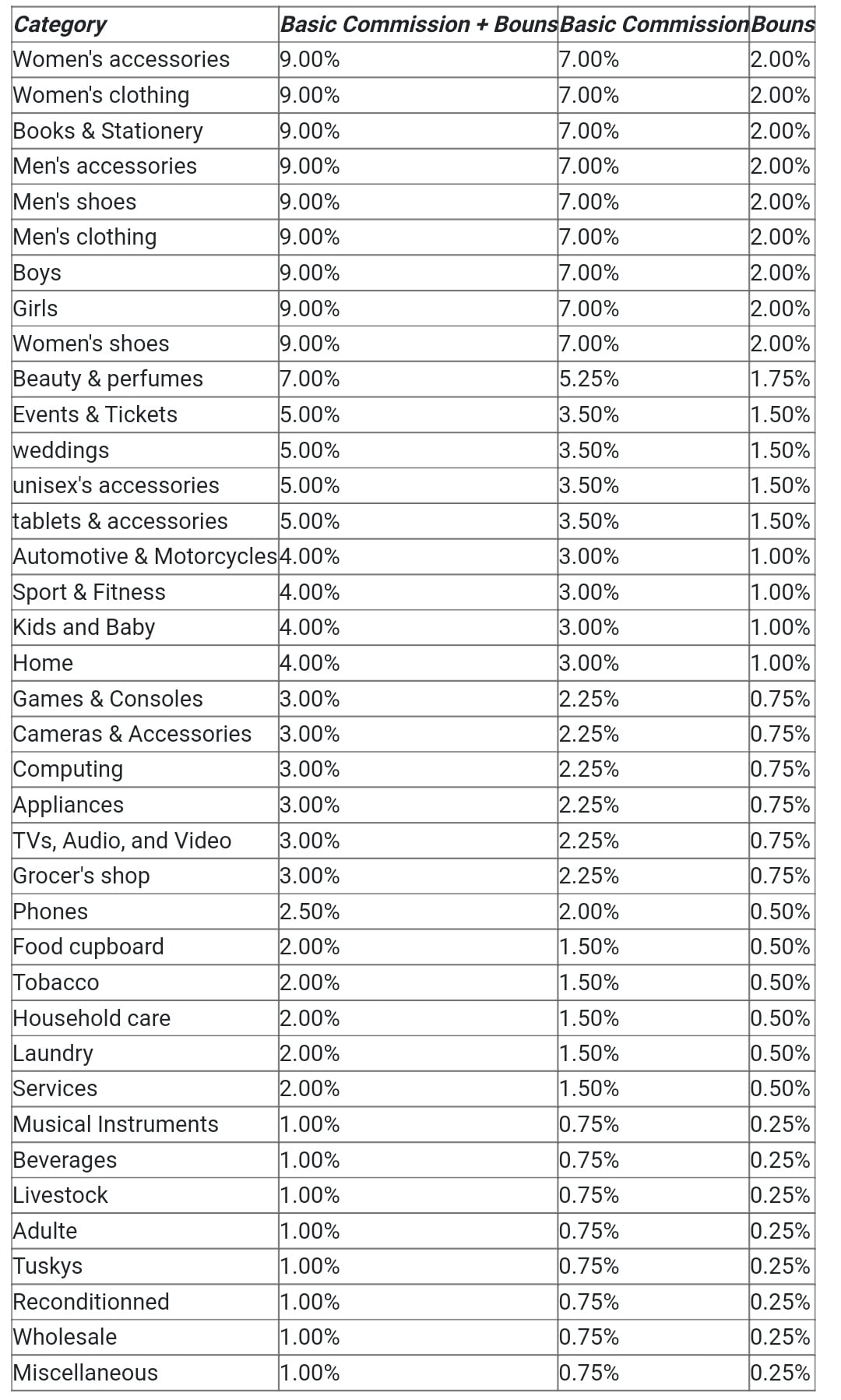 The image above details the commission rate for products in Jumia Nigeria.
To check the commission rate in other countries, simply click on 'commission model' under support in the navigation menu.
How Jumia Pays Affiliate Partners
Jumia pays you directly to your bank account once you've met a minimum threshold of 2 EUR for local transfers and 50 EUR for international transfer.
Convert to your local currency to get an insight of how much you need to earn before withdrawing.
Before you can cash out, you will need to add your bank account details. Click on "your name » Account details » Payout details" to edit your payout bank details.
To save you the stress of looking for your bank's swift code, you can visit the swiftcodes to look up your bank's code.
Final Note
The main purpose of joining the Jumia affiliate program is to refer customers to their website, who in turn purchase something so you earn commissions.
Don't be overwhelmed with the Jumia affiliate program because you feel you will not find interesting products to promote. Jumia offers thousands of products in various categories like electronics, game consoles, fashion products, beauty products, laptops, phones tablets and many more.
Note that you cannot get paid for mere visits. Anyone you refer to jumia must buy before you make money.
I hope this blog post helped understand how to make money on jumia with affiliate marketing. Good luck!
Let's Be Friends
Enjoy my weekly newsletter and be the first to hear about latest posts.