Looking for the best motivational quotes for women's success?
I have compiled a list of 60 inspirational quotes for women that will give you the creative boost you desire.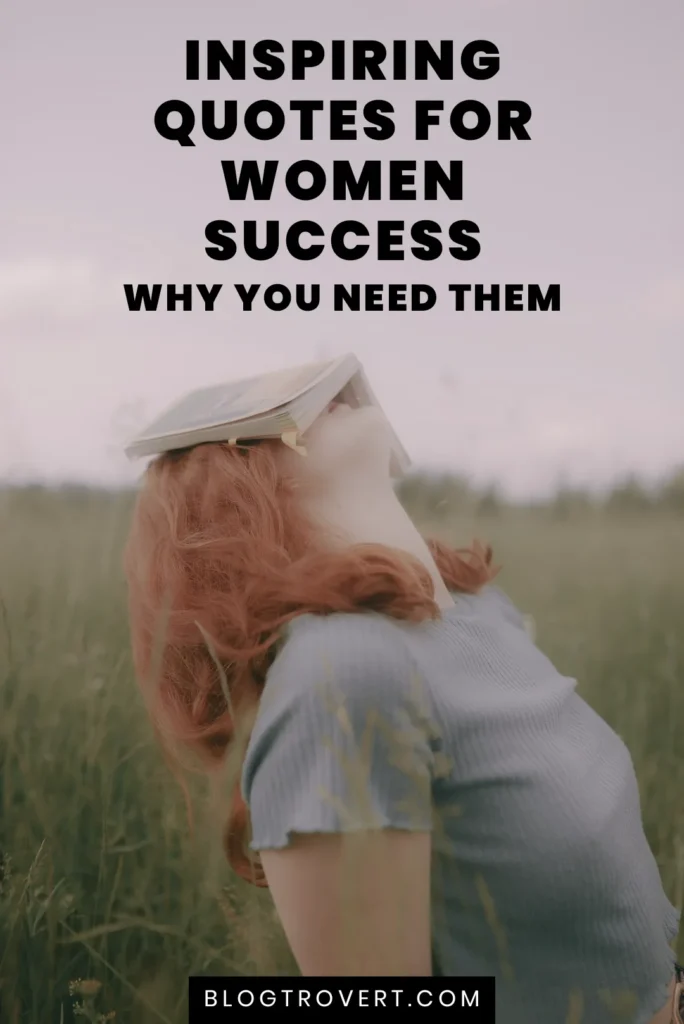 There is no one formula for success, but there are some things that all successful women have in common.
80 Powerful Positive I Am Statements and 8 Ways To Make Them Work
One of those things is a positive attitude. Having a positive attitude means believing in yourself and your ability to achieve your goals. It means setting your sights high and refusing to settle for less than you deserve.
It can be easy to get bogged down in the day-to-day grind and forget what we're working towards. That's why it's important to have reminders of why we're doing what we're doing.
60 motivational and inspirational quotes for women's success
Here are 60 motivational quotes for women's success to keep you inspired. Use them as your daily go to quotes or make an affirmation out of them.
These quotes provide valuable encouragement and motivation for anyone want to consistently develop their creative abilities.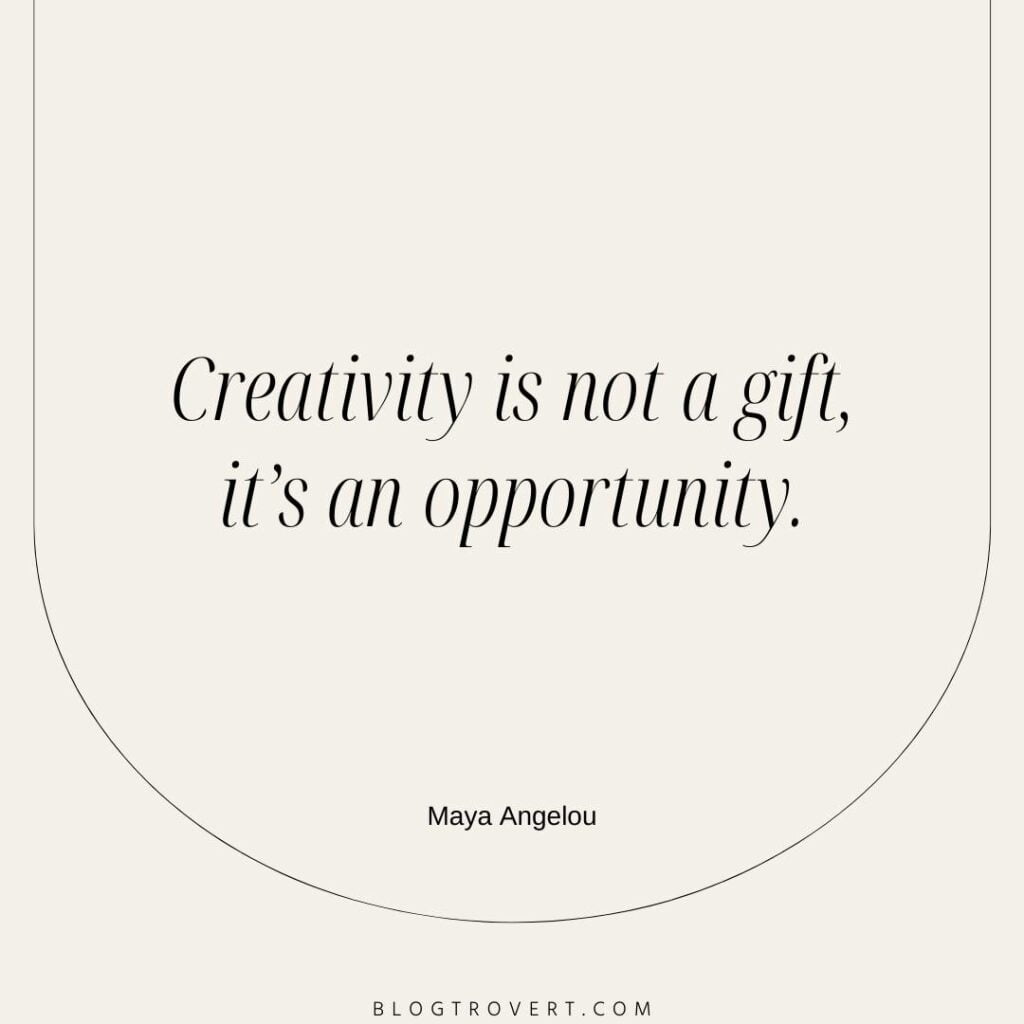 Creativity is not a gift, it's an opportunity. — Maya Angelou.
I know society says you should be a certain way, but I think [you should] stop and look at what is your natural way of being who you are. — Ari Horie.
Strive every day to work with brands and people you believe in, in industries you're passionate about. When you do that, you'll be more creative, more driven, more innovative. — Alannah Sandehl.
You can't use up creativity. The more you use, the more you have. — Maya Angelou.
80 Hustle Boss Ladies Mindset Quotes For Motivation And Success
I don't care what you think about me. I don't think about you at all. — Coco Chanel.
Whatever the problem, be part of the solution. Don't just sit around raising questions and pointing out obstacles. ― Tina Fey.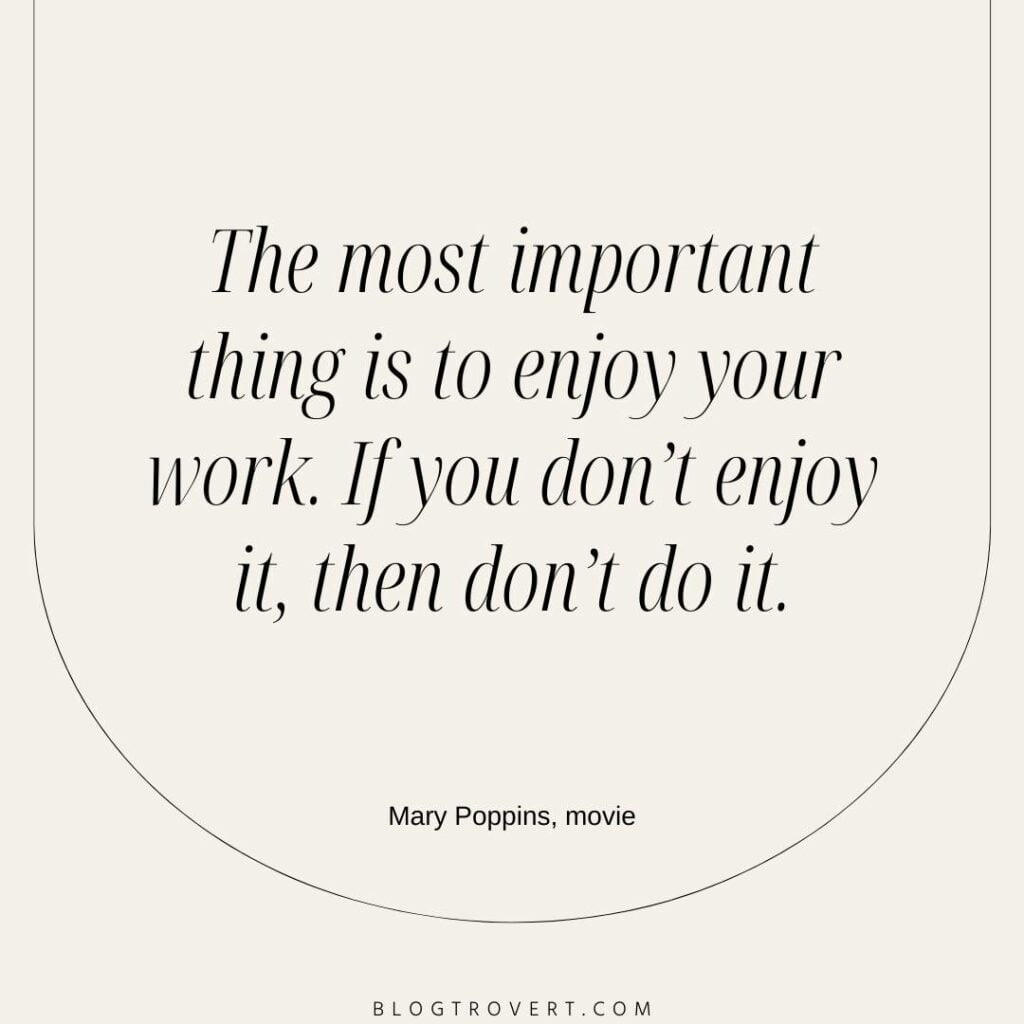 The most important thing is to enjoy your work. If you don't enjoy it, then don't do it. — Mary Poppins, movie.
It's through mistakes that you actually grow. You have to get bad in order to get good. — Paula Scher.
I never saw myself as a pioneer. I just was driven to tell stories in a medium that I love. — Brenda Chapman.
A strong woman understands that the gifts such as logic, decisiveness, and strength are just as feminine as intuition and emotional connection. She values and uses all of her gifts. — Nancy Rathburn.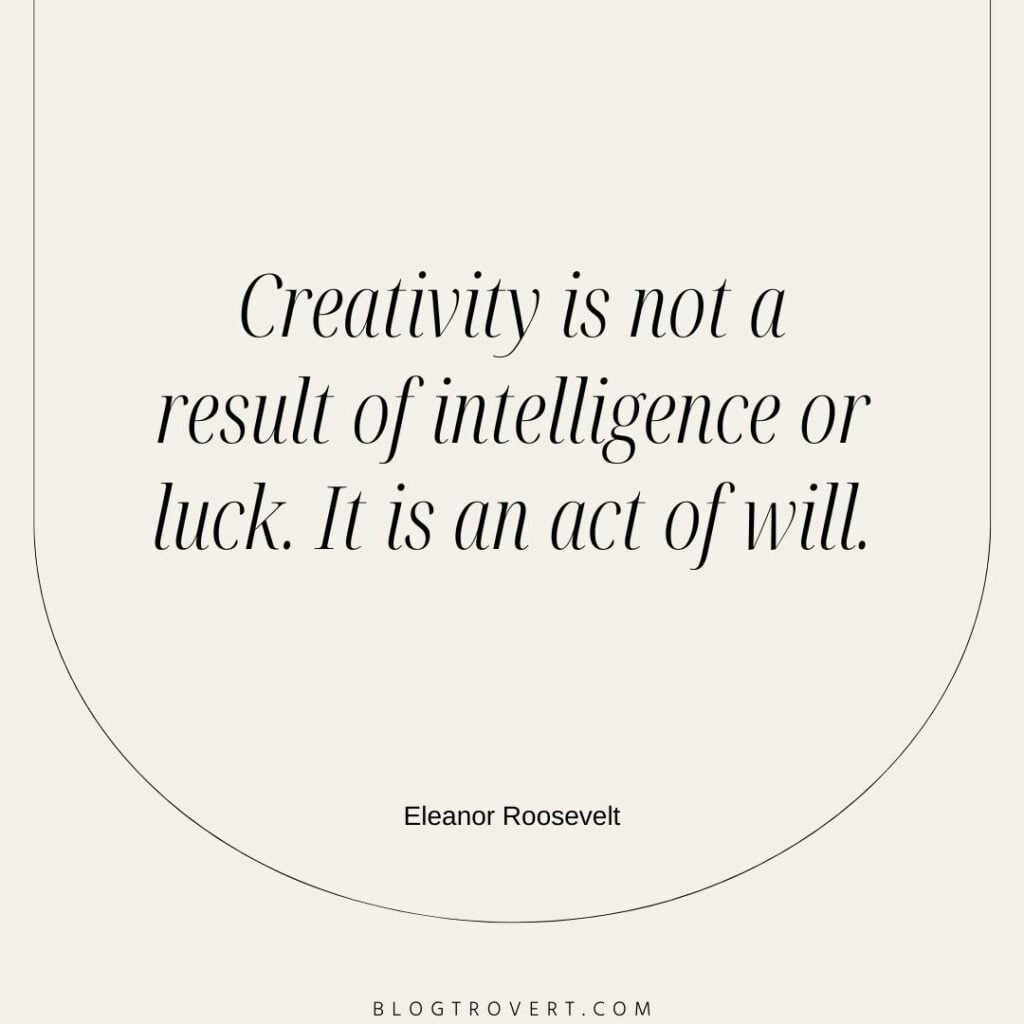 Creativity is not a result of intelligence or luck. It is an act of will. — Eleanor Roosevelt.
Life is not about waiting for the storms to pass. It's about learning how to dance in the rain. — Vivian Greene.
We must have perseverance and above all, confidence in ourselves. We must believe that we are gifted for something and that this thing must be attained. – Marie Curie.
You have to have confidence in your ability, and then be tough enough to follow through — Rosalynn Carter.
Don't be afraid. Be focused. Be determined. Be hopeful. Be empowered. — Michelle Obama.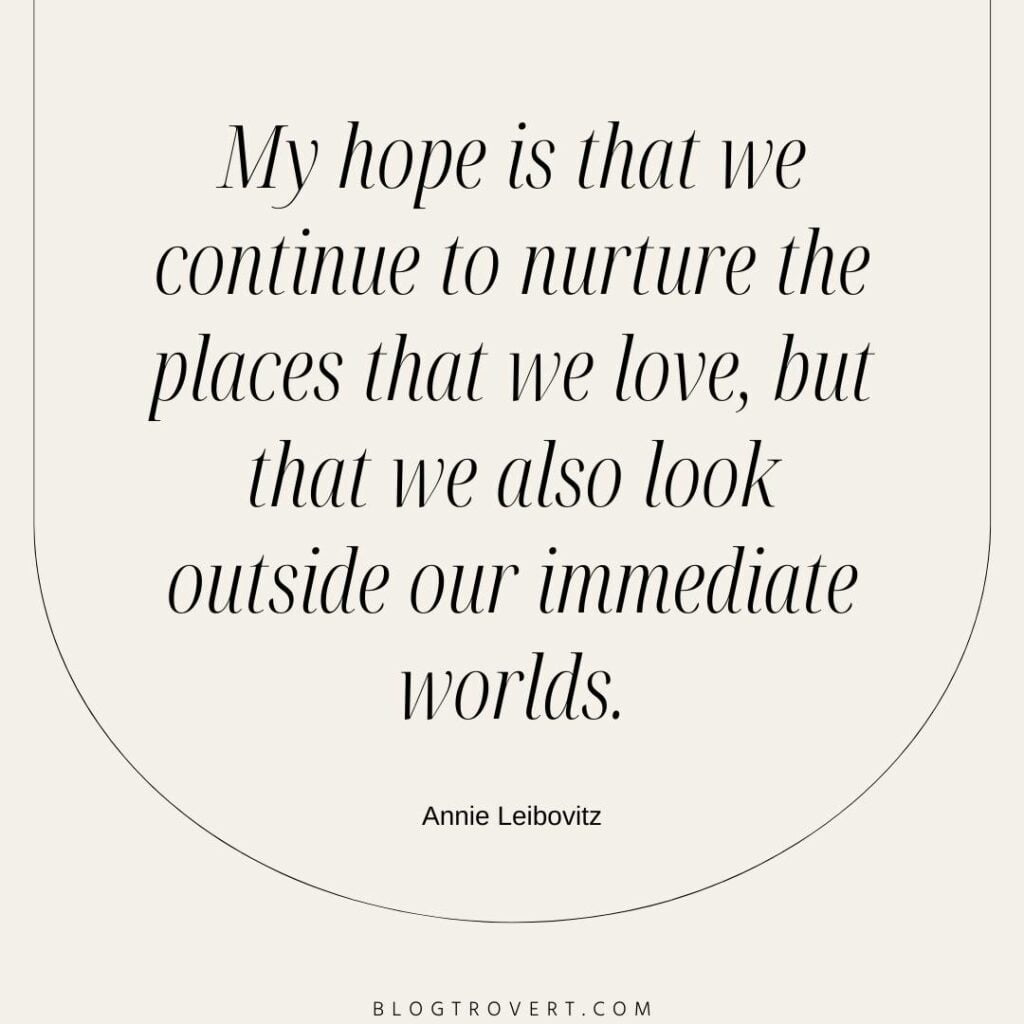 My hope is that we continue to nurture the places that we love, but that we also look outside our immediate worlds. — Annie Leibovitz.
I have come to understand and listen to the fear. — Tracee Ellis Ross.
Take any challenge as a creative opportunity. — Alexandra Watkins.
Figure out who you are, separate from your family, and the man or woman you're in a relationship with. Find who you are in this world and what you need to feel good alone. I think that's the most important thing in life. Find a sense of self. With that, you can do anything else. — Angelina Jolie.
The question isn't who's going to let me; it's who's going to stop me. — Ayn Rand.
Step out of the history that is holding you back. Step into the new story you are willing to create. — Oprah Winfrey.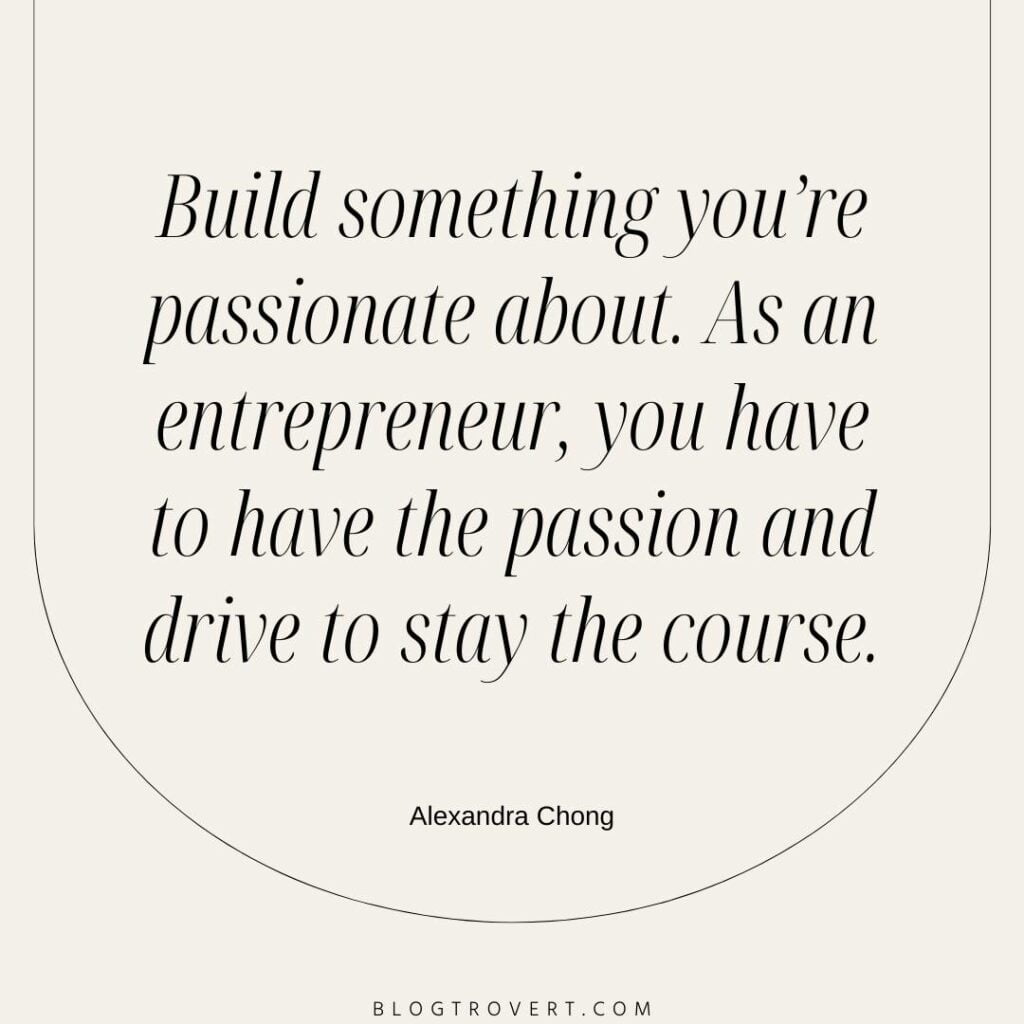 Build something you're passionate about. As an entrepreneur, you have to have the passion and drive to stay the course. — Alexandra Chong.
Forget yourself. Become one with eternity. Become part of your environment. — Yayoi Kusama.
You really have to look inside yourself and find your own inner strength, and say, 'I'm proud of what I am and who I am.' — Mariah Carey.
What is fascinating about illustration is that there are no limits. You are only limited by your imagination. — Malika Favre.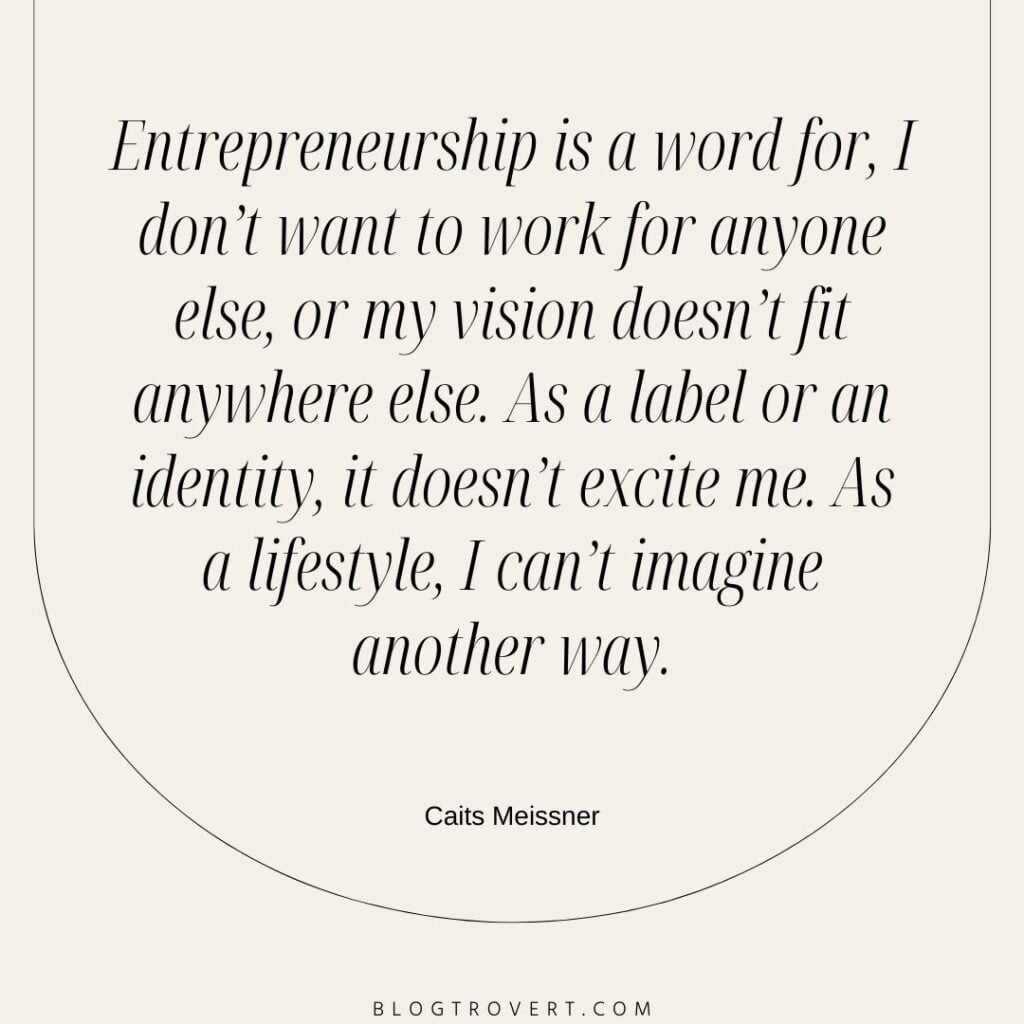 Entrepreneurship is a word for, I don't want to work for anyone else, or my vision doesn't fit anywhere else. As a label or an identity, it doesn't excite me. As a lifestyle, I can't imagine another way. — Caits Meissner.
Don't let anyone speak for you, and don't rely on others to fight for you. — Michelle Obama.
The most courageous act is still to think for yourself. Aloud. — Coco Chanel.
We should all feel confident in our intelligence. By the way, intelligence to me isn't just being book-smart or having a college degree; it's trusting your gut instincts, being intuitive, thinking outside the box, and sometimes just realizing that things need to change and being smart enough to change it. — Tabatha Coffey.
Some women choose to follow men, and some choose to follow their dreams. If you're wondering which way to go, remember that your career will never wake up and tell you that it doesn't love you anymore. — Lady Gaga.
It's possible to climb to the top without stomping on other people. — Taylor Swift.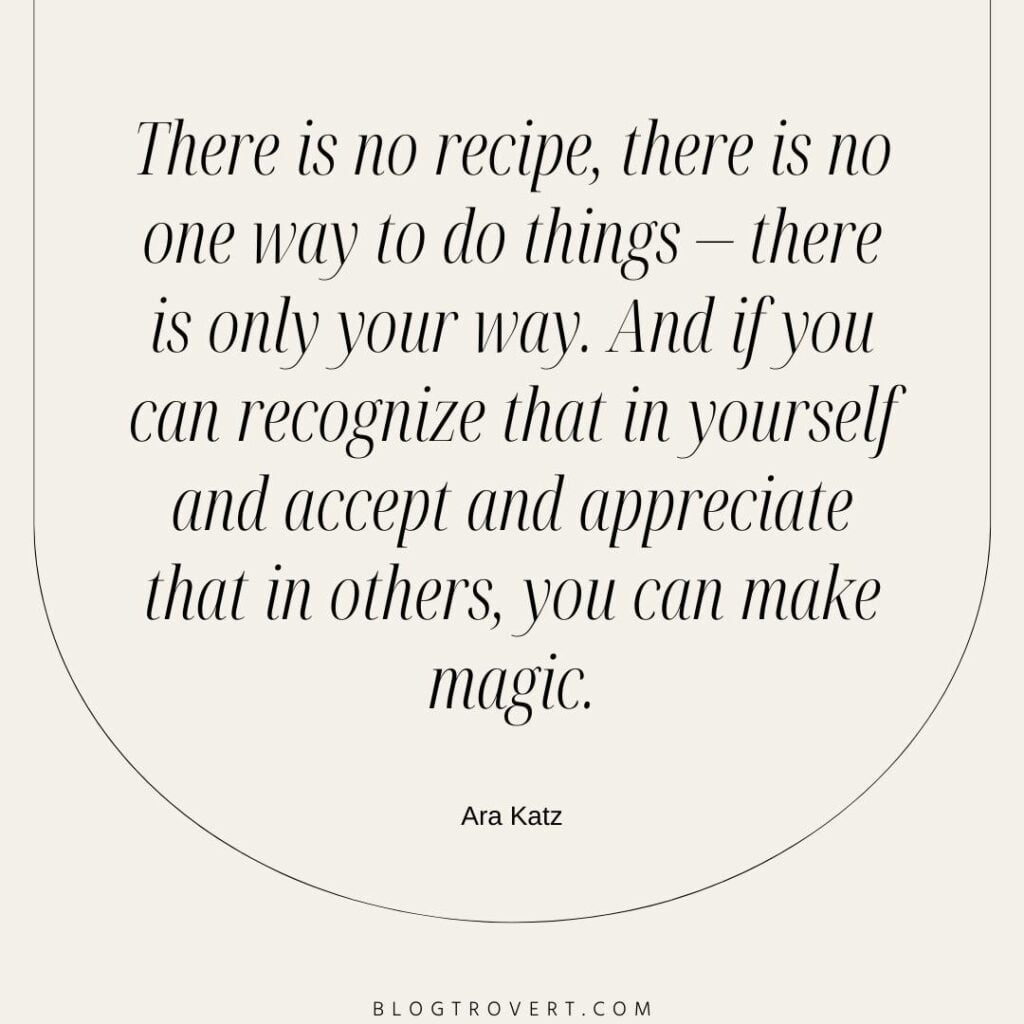 There is no recipe, there is no one way to do things – there is only your way. And if you can recognize that in yourself and accept and appreciate that in others, you can make magic. — Ara Katz.
Think like a queen. A queen is not afraid to fail. Failure is another stepping stone to greatness. — Oprah Winfrey.
I don't have a feeling of inferiority. Never had. I'm as good as anybody, but no better. — Katherine Johnson.
If you're always trying to be normal, you will never know how amazing you can be. — Maya Angelou.
There's power in allowing yourself to be known and heard, in owning your unique story, in using your authentic voice. — Michelle Obama.
Life is not easy for any of us. But what of that? We must have perseverance and above all confidence in ourselves. We must believe that we are gifted for something and that this thing must be attained. — Marie Curie.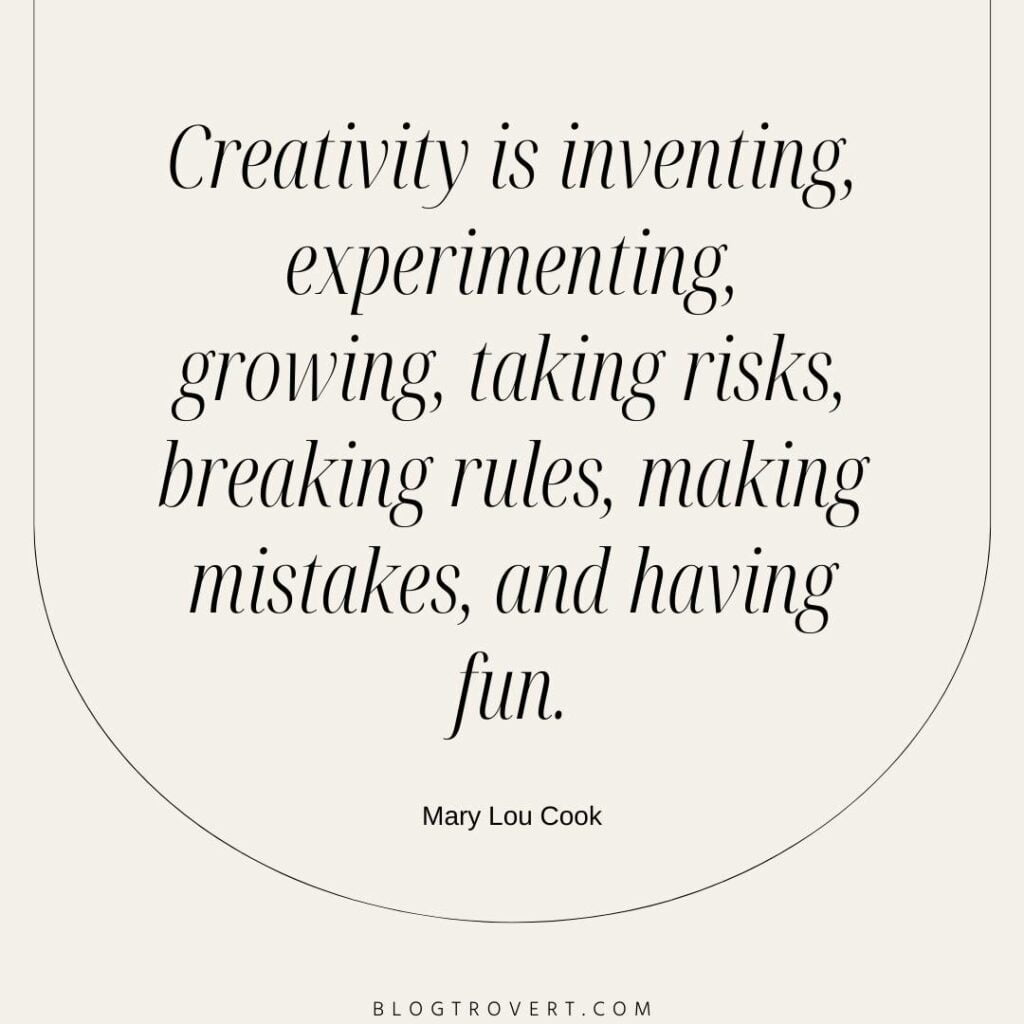 Creativity is inventing, experimenting, growing, taking risks, breaking rules, making mistakes, and having fun. — Mary Lou Cook.
I believe in being strong when everything seems to be going wrong. I believe that happy girls are the prettiest girls. I believe that tomorrow is another day, and I believe in miracles. — Audrey Hepburn.
Ignore the glass ceiling and do your work. If you're focusing on the glass ceiling, focusing on what you don't have, focusing on the limitations, then you will be limited. — Ava Duvernay.
The most alluring thing a woman can have is confidence. — Beyonce.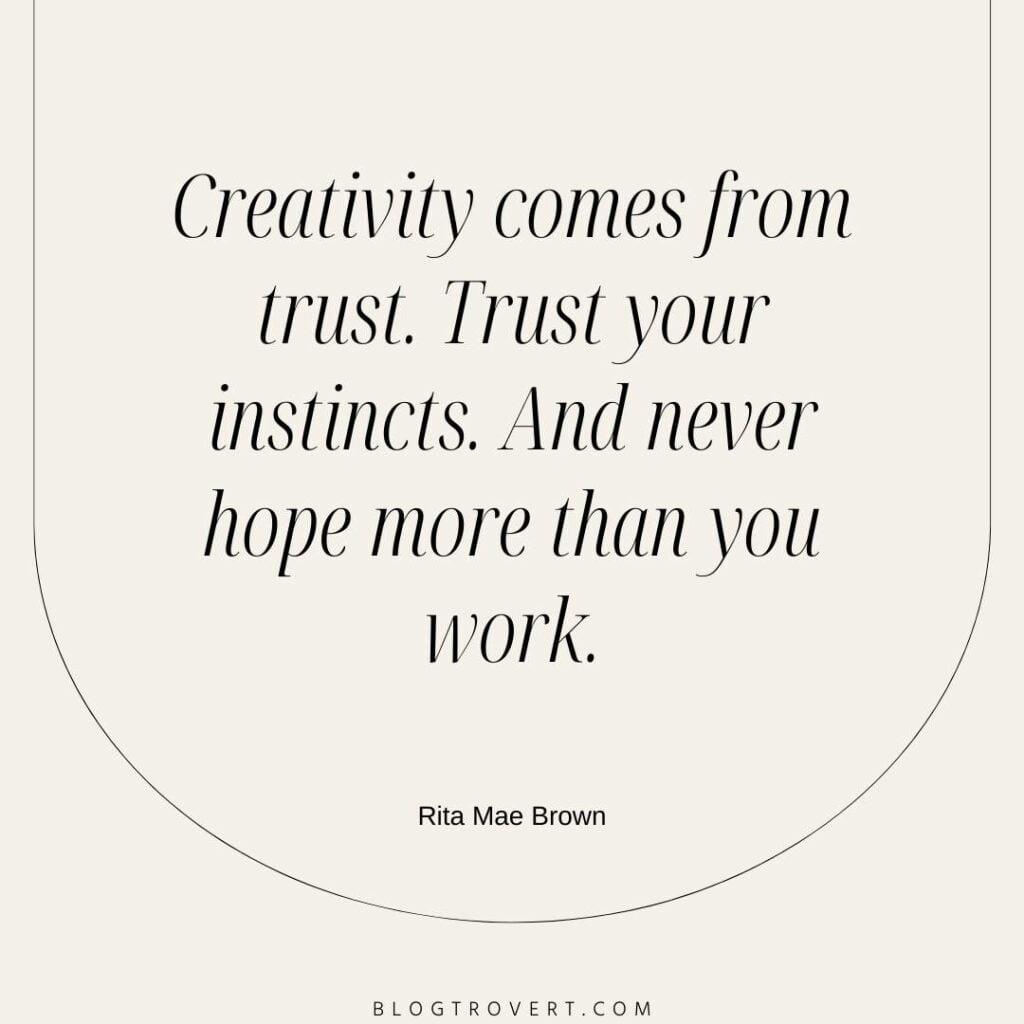 Creativity comes from trust. Trust your instincts. And never hope more than you work. — Rita Mae Brown.
Always aim high, work hard, and care deeply about what you believe in. And, when you stumble, keep faith. And, when you're knocked down, get right back up and never listen to anyone who says you can't or shouldn't go on. — Hillary Clinton.
The world needs strong women. Women who will lift and build others, who will love and be loved, women who live bravely, both tender and fierce, women of indomitable will. — Amy Tenney
Be a first-rate version of yourself, not a second-rate version of someone else. — Judy Garland.
Once you figure out what respect tastes like, it tastes better than attention. – Pink.
I've come to believe that each of us has a personal calling that's as unique as a fingerprint – and that the best way to succeed is to discover what you love and then find a way to offer it to others in the form of service, working hard, and also allowing the energy of the universe to lead you. — Oprah Winfrey.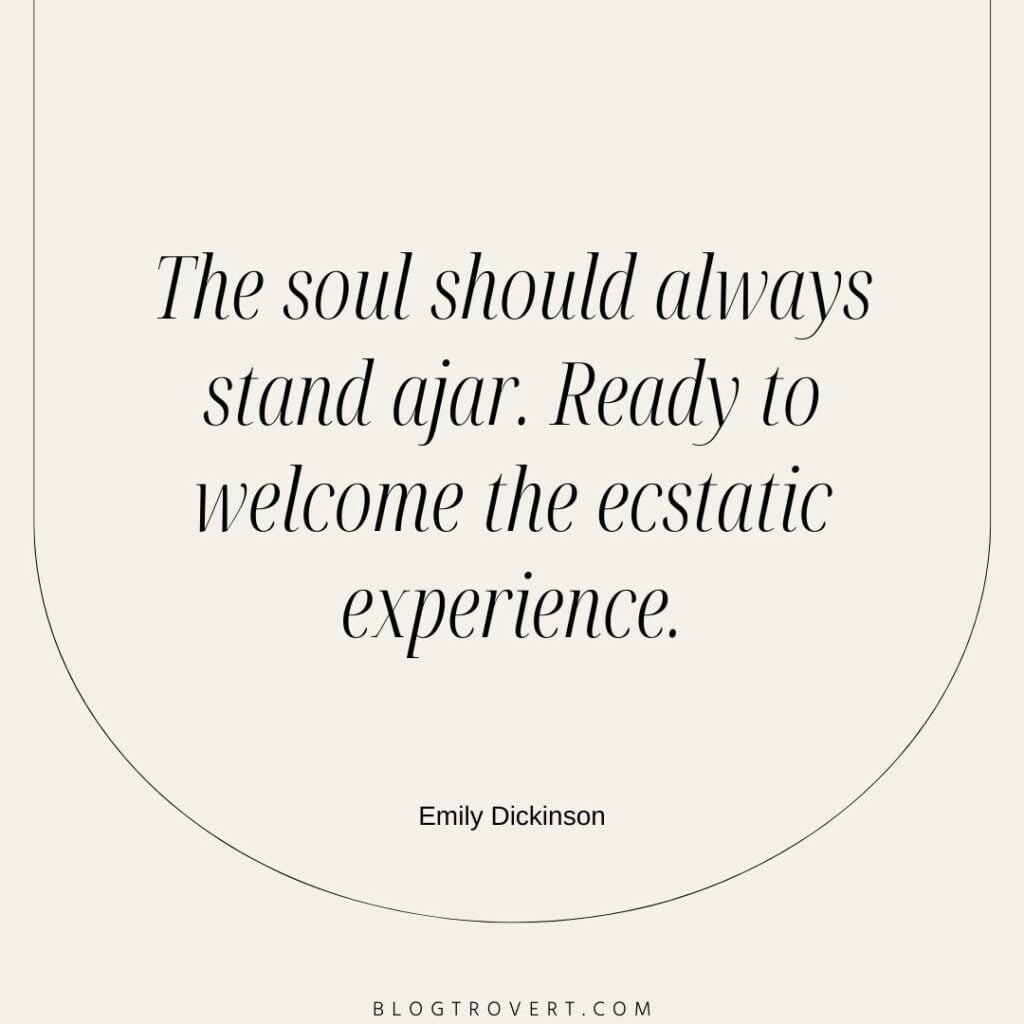 The soul should always stand ajar. Ready to welcome the ecstatic experience. — Emily Dickinson.
Everyone has inside of her a piece of good news. The good news is that you don't know how great you can be, how much you can love, what you can accomplish, and what your potential is. — Anne Frank.
Always aim high, work hard, and care deeply about what you believe in. And, when you stumble, keep faith. And, when you're knocked down, get right back up and never listen to anyone who says you can't or shouldn't go on. — Hillary Clinton.
Doubt is a killer. You just have to know who you are and what you stand for. — Jennifer Lopez.
Take criticism seriously, but not personally. If there is truth or merit in the criticism, try to learn from it. Otherwise, let it roll right off you. — Hillary Clinton.
Once I learned to like myself more than others did, then I didn't have to worry about being the funniest or the most popular or the prettiest. I was the best me and I only ever tried to be that. — Issa Rae.
If your actions create a legacy that inspires others to dream more, learn more, do more and become more, then, you are an excellent leader. — Dolly Parton.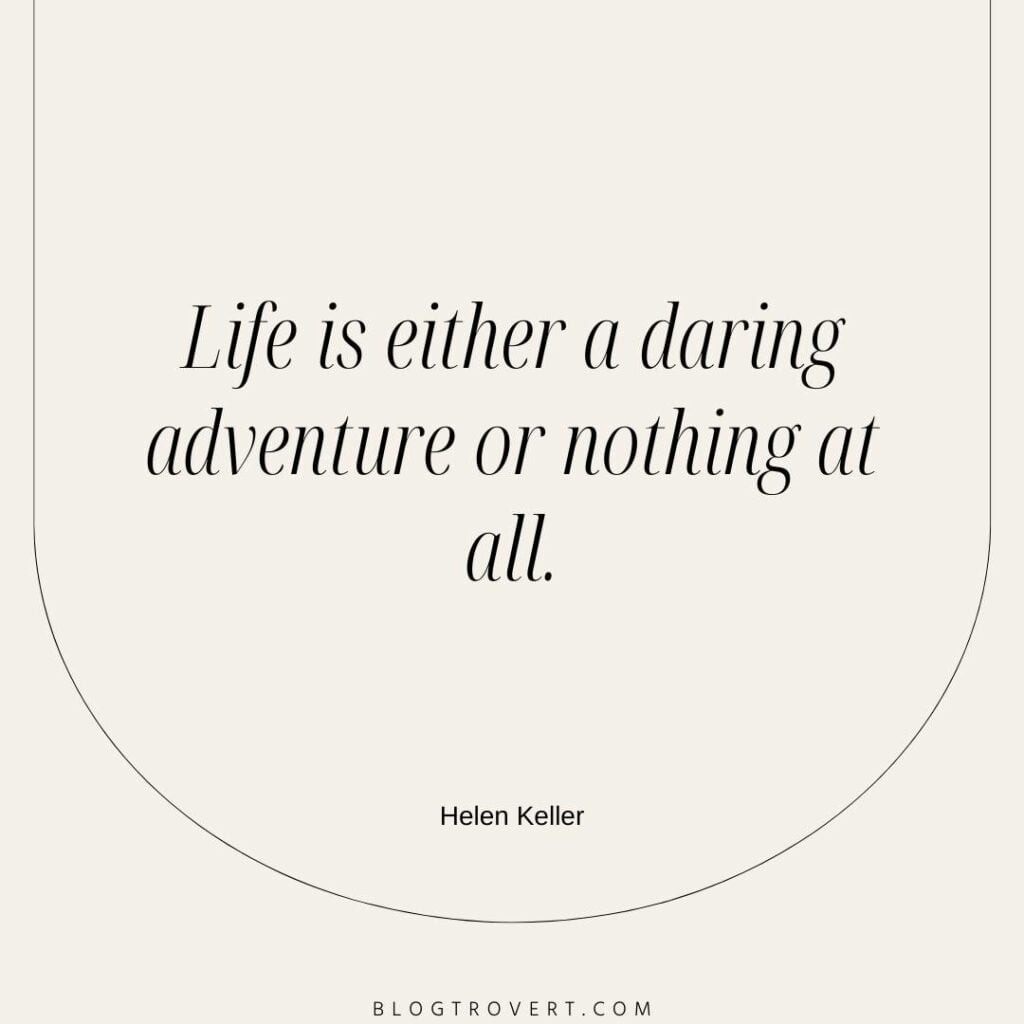 Life is either a daring adventure or nothing at all. — Helen Keller.
Learn to embrace your own unique beauty, celebrate your unique gifts with confidence. Your imperfections are actually a gift. — Kerry Washington.
My mother told me to be a lady. And for her, that meant be your own person, be independent. — Ruth Bader Ginsberg.
I really think a champion is defined not by their wins but by how they can recover when they fall. — Serena Williams.
I have learned over the years that when one's mind is made up, this diminishes fear; knowing what must be done does away with fear. — Rosa Parks.
Why do women need motivational quotes?
Motivational quotes inspire women to be their best selves. They remind women that they are capable of overcoming any obstacle and achieving any goal.
Motivational quotes also provide women with a much-needed confidence boost when they are facing difficult times.
Lastly, motivational quotes can serve as a source of inspiration and motivation when women need a little extra push to reach their full potential.
Conclusion
These quotes show that women are powerful and capable of accomplishing anything they set their mind to.
No matter how difficult the journey may be, if you stay determined and focused, you will reach your goals.
Let these words be your motivation to keep pushing forward and never give up on your dreams.
I may earn a commission from qualifying purchases made through the links on this blog, at no additional cost to you. For more information, see my Disclosure