Dear young boss lady,
Do you feel you're stuck in a rut?
Do you need some hustle boss lady quotes to keep you motivated and on track?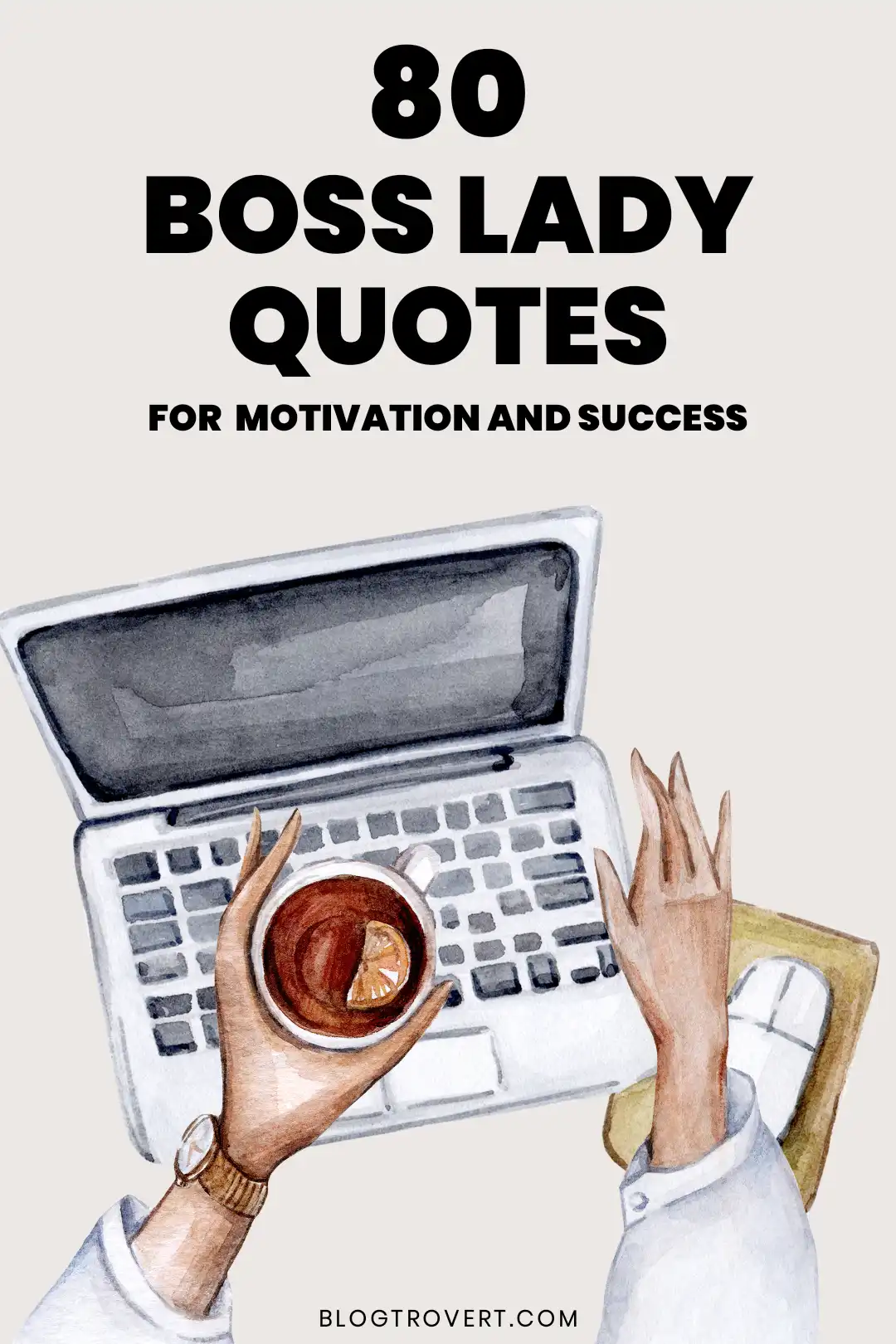 This post contains 80 hustle quotes for women that will help you maintain a positive mindset while you stay committed to being the boss lady of your dreams.
What is a Mindset?
A mindset is the way you see the world. It is the beliefs and ideas that you have about yourself and your abilities. It is how you see yourself and all you can offer to the world.
As a lady, your mindset is powerful because it determines your actions and what you think is possible.
Why Should You Change Your Mindset?
Changing your mindset will help you achieve more success in life. You will think more positively. This gives you clearer thoughts and the zeal to focus on what you must do to grow in your career.
Here are some reasons you should change your mindset:
Positive thinking leads to better results.
Changing your mindset will help you manage stress better.
It will help you focus on the task at hand, even in difficult situations.
It will boost your confidence and encourage you to take risks.
It will make it easier for you to networking and build relationships with people in business or professional circles.
You will be more focused and grow to become the lady you have always wanted to be.
It is easy to get overwhelmed and feel you can't do it. But with these boss lady quotes, you are sure to build a mindset that's ready to overcome any obstacle.
How to Change Your Mindset?
You can change your mindset by changing your thoughts and beliefs. There are many ways to do this, but one of the best ways is through positive thinking with hustle boss ladies mindset quotes.
Positive thinking is focusing on the good things in life and barring the bad. It is a way of thinking that can help you see the brighter side of life and do better in difficult situations.
40 Inspiring Self-Improvement Quotes For Personal Growth
To become the woman of your dreams, you need to switch up your thoughts and the stories you tell yourself. This is what it looks like to think positively of yourself.
"I'm not good enough." – "I'm good enough."
"I'm a burden to others." – "I am a blessing to others."
"I am not valuable." – "I am valuable."
"I can't do this." – "I can do this."
"It's impossible." – "It's possible."
"It's too hard." – "It's achievable, it's fixable."
You can grow this mindset with boss lady quotes!
Some helpful tips for ladies who want to change their mindset:
Start with one positive thought every morning.
Visualize your success.
Remember your why.
Get rid of self-defeating thoughts and replace them with empowering thoughts.
Replace negative images with positive ones in your mind and take action based on these images.
Live each day to the fullest, and let nothing get you down!
How Do Quotes Help You Change Your Mindset?
One of the most powerful tools we have for changing our thoughts as women is the use of hustle boss ladies mindset quotes.
Boss lady quotes can provide us with inspiration, comfort, motivation, and hope. In just a few words, they can capture an idea or feeling that we might be struggling to express.
When we read quotes that resonate with us, it can help shift our perspective and remind us of what is possible.
While it might seem like a small thing; finding and reading the boss lady quotes that inspire you can be a helpful step in changing your mindset for the better.
When you have a positive mindset, you are more likely to succeed because you will have a rational mind that can help you deal with difficult situations, stay focused on your goals, and feel confident in yourself.
80 Hustle Boss Lady Quotes For Motivation And Success
These hustle quotes for women will help you get back on track and reach your goals. They will give you the motivation and inspiration you need to achieve your goals with a positive mindset.
Let us dive right into the boss ladies quotes! We have chosen the best from notable people.
20 Boss Lady Quotes About Motivation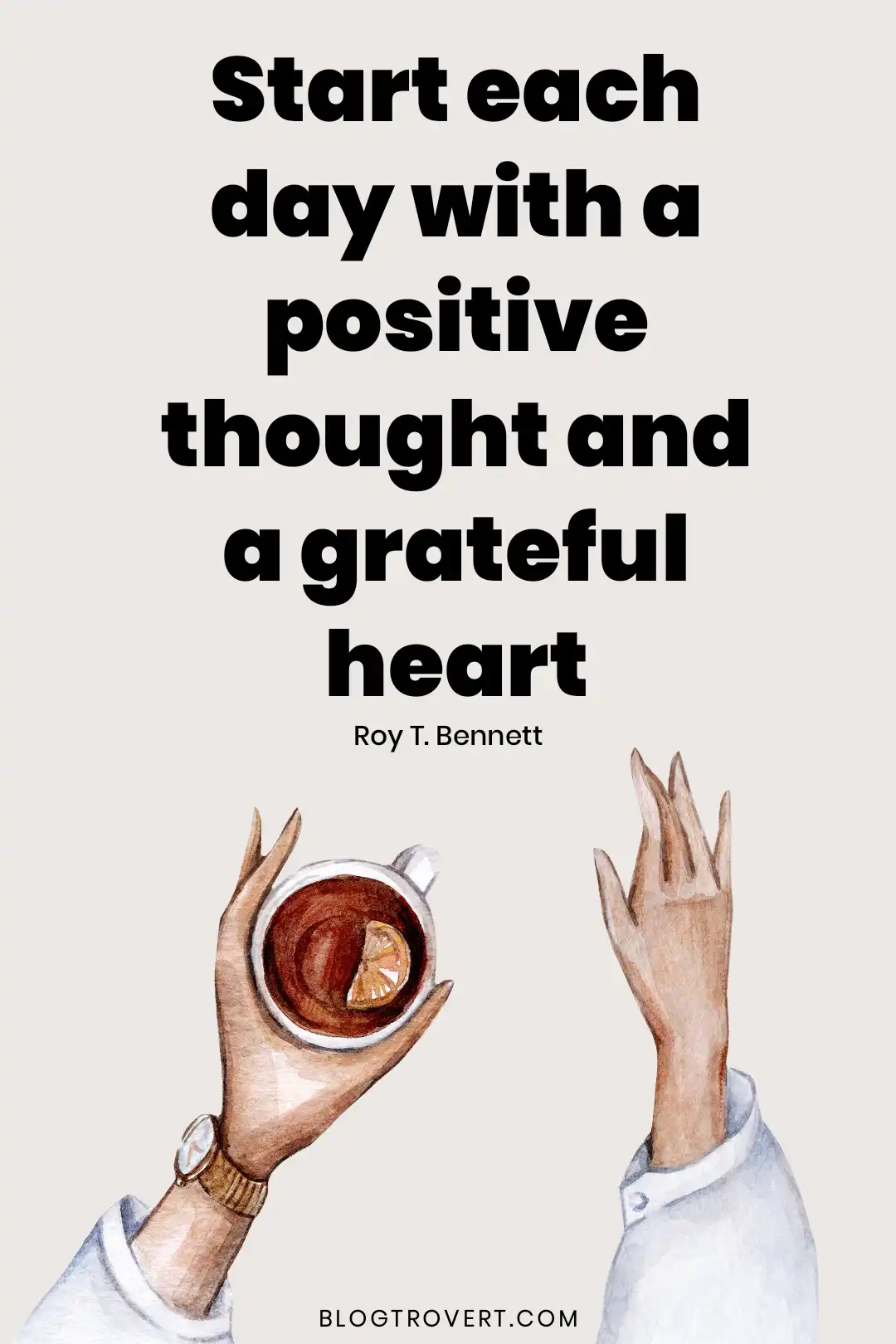 "Start each day with a positive thought and a grateful heart." – Roy T. Bennett
"Motivation is what gets you started. It's what makes you keep going when the going gets tough." – Unknown.
"I can't change the direction of the wind, but I can adjust my sails to always reach my destination." – Will Rogers
"You have to be a little bit crazy to do great things." – Unknown
"If you want something you've never had, you must be willing to do something you've never done." – Unknown
"Live the Life of Your Dreams: Be brave enough to live the life of your dreams according to your vision and purpose instead of the expectations and opinions of others." – Roy T. Bennett
"When you want to make your dreams come true, the first task is to wake up." – Walt Disney
"The only way to do great work is to love what you do. If you haven't found it yet, keep looking. Don't settle." – Steve Jobs
"The most important thing is to enjoy your life – to be happy – it's all that matters." – Dalai Lama
"If you want to live a happy life, tie it to a goal, not to people or things." – Albert Einstein
"Never lose hope. Storms make people stronger and never last forever." – Roy T. Bennett
"Make more moves and fewer announcements."
"Do you want to know who you are? Don't ask. Act! Action will delineate and define you." – Thomas Jefferson
"Of course, motivation is not permanent. But then, neither is bathing; but it is something you should do on a regular basis." – Zig Ziglar
"A woman who walks in purpose doesn't have to chase people or opportunities. Her light causes people and opportunities to pursue her."
"You never change your life until you step out of your comfort zone; change begins at the end of your comfort zone." – Roy T. Bennett
"Great things happen to those who don't stop believing, trying, learning, and being grateful." – Roy T. Bennett
"When someone tells me "no," it doesn't mean I can't do it, it simply means I can't do it with them." – Karen E. Quinones Miller
"Live your truth. Express your love. Share your enthusiasm. Take action towards your dreams. Walk your talk. Dance and sing to your music. Embrace your blessings. Make today worth remembering." – Steve Maraboli
"You're never as good as everyone tells you when you win, and you're never as bad as they say when you lose." – Lou Holtz
20 Boss Ladies Quotes About Self-Confidence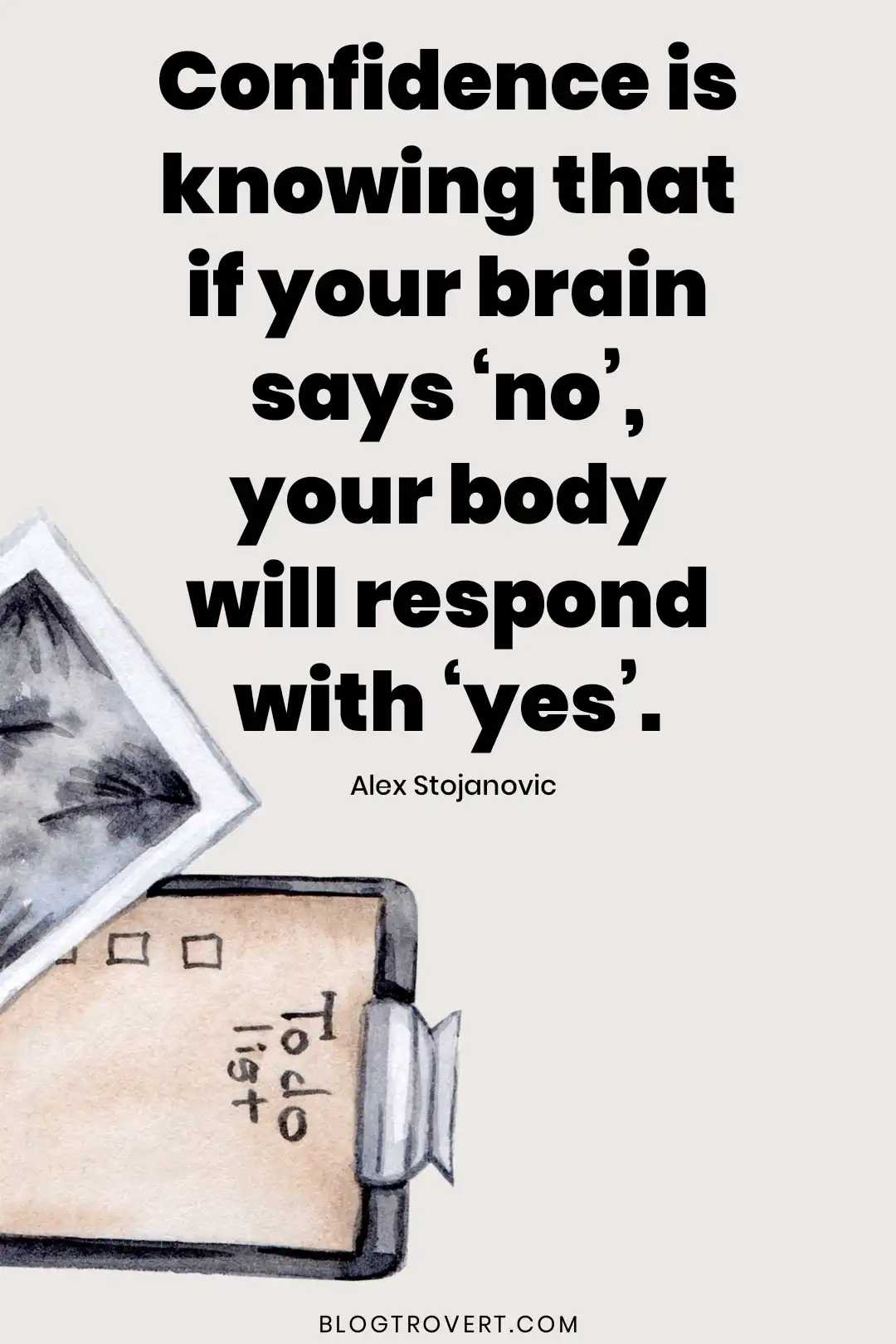 "Confidence is knowing that if your brain says 'no', your body will respond with 'yes'." – Alex Stojanovic
"Self-belief is the key to success. It's confidence in your ability that will take you wherever you want to go." – Unknown
"You must believe in yourself to achieve anything." – Muhammad Ali
"If you haven't found it yet, keep looking. Don't settle." – Steve Jobs
"I am who I am. Not who you think I am. Not who you want me to be. I am me." – Unknown
"The most important thing is to enjoy your life – to be happy – it's all that matters." – Dalai Lama
'Confidence is like "Show up in every single moment like you're meant to be there." – Unknown
Confidence is not "they will like me". Confidence is "I'll be fine if they don't." – Unknown
"If you feel like giving up, give up on that feeling and give into the realization there are endless possibilities waiting to be discovered before you." – Tom Althouse
"If you have no confidence in self, you are twice defeated in the race of life. With confidence, you have won even before you have started." – Cicero
"One important key to success is self-confidence. An important key to self-confidence is preparation." – Arthur Ashe
"Just wait. If they say you can't do something, show them how you can do it even better than they ever imagined."
"You wouldn't worry so much about what others think of you if you realized how seldom they do." – Eleanor Roosevelt
"The question isn't who is going to let me; it's who is going to stop me." – Ayn Rand
"Never apologize for being ambitious, passionate and strong-minded. If it offends them, show them the door."
"Learn to love the sound of your feet walking away from things not meant for you."
"Free yourself and take your power back by being secure in who you are – flaws and all." – Yvonne Pierre
"As is our confidence, so is our capacity." – William Hazlitt
"Having a confident expectation of success can make obstacles melt before your eyes." – Daniel Lieberman
20 hustle woman quotes about Success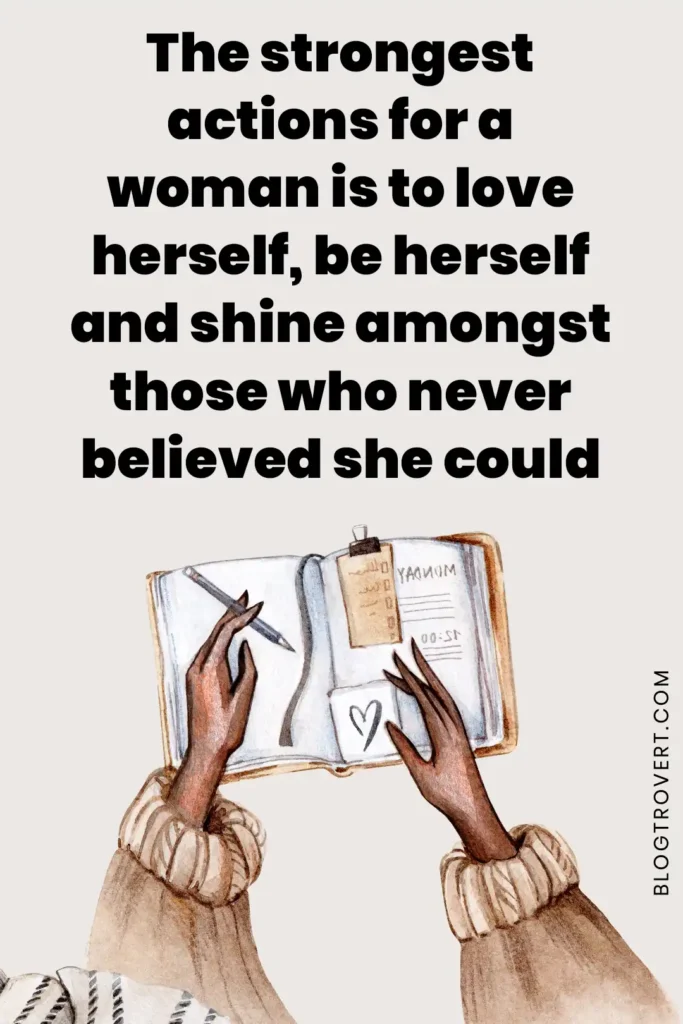 "The strongest actions for a woman is to love herself, be herself and shine amongst those who never believed she could." — Unknown
"If you want something you've never had, you must be willing to do something you've never done." – Unknown
"There are three ways to ultimate success: The first way is to be kind. The second way is to be kind. The third way is to be kind." —Mister Rogers
Women challenge the status quo because we are never it." — Cindy Gallop
"Success is not final, failure is not fatal: It is the courage to continue that counts." -Winston Churchill
"The thing women have yet to learn is nobody gives you power. You just take it. " ― Roseanne Barr
"Success is peace of mind, which is a direct result of self-satisfaction in knowing you made the effort to become the best of which you are capable." —John Wooden
"Think like a queen. A queen is not afraid to fail. Failure is another stepping stone to greatness." — Oprah Winfrey
"If you are working on something that you really care about, you don't have to be pushed. The vision pulls you." – Steve Jobs.
"You can't be successful if you're not passionate about it." – Unknown
"It took me quite a long time to develop a voice, and now that I have it, I am not going to be silent." – Madeleine Albright
"Develop success from failures. Discouragement and failure are two of the surest stepping stones to success." —Dale Carnegie
"Look like a girl, act like a lady, think like a man and work like a boss". – Unknown
"You, woman, are powerful. Go prove it to yourself today."
"You've always had the power, my dear, you just had to learn it for yourself". -The Wizard of Oz
"We are what we repeatedly do. Therefore, excellence is not an act, but a habit." – Aristotle
"You can't be content with mediocrity. If you are, then you're in trouble." – Unknown
"If you don't stick to your own plans, you'll fall into someone else's."
"It's not about better time management. It's about better life management" — Alexandra of The Productivity Zone
"Opportunity is missed by most people because it is dressed in overalls and looks like work." — Thomas Edison
20 hustling woman quotes about failure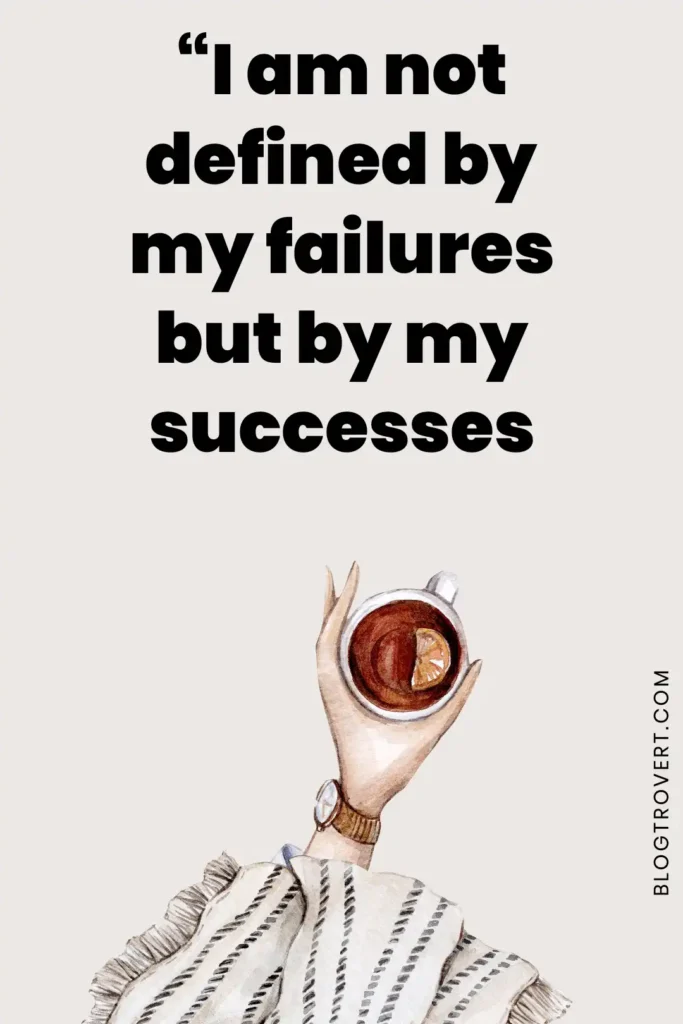 "I am not defined by my failures but by my successes." – Unknown
"It is not the fall that kills you, it is the sudden stop at the bottom." – Unknown
"It's not about how hard you hit. It's about how hard you get hit and keep moving." – Babe Ruth.
"Failure is the mother of success." – Unknown
"It is hard to fail, but it is worse never to have tried to succeed." – Theodore Roosevelt
"I didn't fail the test, I just found 100 ways to do it wrong." – Benjamin Franklin
"When you approach everything as if it's a big, fun experiment, then it's not that big of a deal if things don't work out."
"We are all failures- at least the best of us are." – J.M. Barrie
"There is only one thing that makes a dream impossible to achieve: the fear of failure." – Paulo Coelho
"Failure is the condiment that gives success its flavor." – Truman Capote
"You may encounter many defeats, but you must not be defeated. In fact, it may be necessary to encounter the defeats, so you can know who you are, what you can rise from, how you can still come out of it." – Maya Angelou
"All of old. Nothing else ever. Ever tried. Ever failed. No matter. Try again. Fail again. Fail better." – Samuel Beckett
"Life is full of screwups. You're supposed to fail sometimes. It's a required part of the human existence." – Sarah Dessen,
"Just because you fail once doesn't mean you're gonna fail at everything." – Marilyn Monroe
"Negative results are just what I want. They're just as valuable to me as positive results. I can never find the thing that does the job best until I find the ones that don't." – Thomas A. Edison
"I think perfection is ugly. Somewhere in the things humans make, I want to see scars, failure, disorder, distortion." – Yohji Yamamoto
"I was never afraid of failure; for I would sooner fail than not be among the greatest." – John Keats
"Failure doesn't define you. It's what you do after you fail that determines whether you are a leader or a waste of perfectly good air." – Sabaa Tahir
"Failure is only the opportunity more intelligently to begin again." – Henry Ford
"How much you can learn when you fail determines how far you will go into achieving your goals." – Roy T. Bennett
26 hustle quotes for women entreprenuers
Here you will find 26 hustle quotes for woman entrepreneurs like you, so grab your and pick your bet quotes!
"Believe in yourself and all that you are. Know that there is something inside you that is greater than any obstacle." – Christian D. Larson
"The road to success is not easy to navigate, but with hard work, drive and passion, it's possible to achieve the American dream." – Tommy Hilfiger
"If you want to achieve greatness, stop asking for permission." – Unknown
"Chase your dreams until they become reality, then keep on chasing." – Unknown
"The most successful entrepreneurs are those who are willing to put in the most hours and work the hardest." – Mark Cuban
"Don't let yesterday take up too much of today." – Will Rogers
"Be the kind of woman that makes other women want to up their game." – Unknown
"Entrepreneurship is living a few years of your life like most people won't, so that you can spend the rest of your life like most people can't." – Anonymous
"The future belongs to those who believe in the beauty of their dreams." – Eleanor Roosevelt
"You don't have to be great to start, but you have to start to be great." – Zig Ziglar
"Success is not how high you have climbed, but how you make a positive difference to the world." – Roy T. Bennett
"I never dreamed about success, I worked for it." – Estée Lauder
"The only limit to our realization of tomorrow will be our doubts of today." – Franklin D. Roosevelt
"You can't build a reputation on what you are going to do." – Henry Ford
"Believe you can and you're halfway there." – Theodore Roosevelt
"Don't let fear or insecurity stop you from trying new things. Believe in yourself. Do what you love. And most importantly, be kind to others, even if you don't like them." – Stacy London
"Success is not the key to happiness. Happiness is the key to success. If you love what you are doing, you will be successful." – Albert Schweitzer
"The most valuable thing you can make is a mistake – you can't learn anything from being perfect." – Adam Osborne
"I'm convinced that about half of what separates successful entrepreneurs from the non-successful ones is pure perseverance." – Steve Jobs
"The biggest risk is not taking any risk… In a world that's changing really quickly, the only strategy that is guaranteed to fail is not taking risks." – Mark Zuckerberg
"The secret of change is to focus all of your energy, not on fighting the old, but on building the new." – Socrates
"Don't be afraid to give up the good to go for the great." – John D. Rockefeller
"The only place where success comes before work is in the dictionary." – Vidal Sassoon
"The most successful people are those who are good at plan B." – James Yorke
"Success is not about being better than someone else, it's about being better than you used to be." – Wayne Dyer
"It's not about having a perfect plan. It's about being able to adapt and pivot when things don't go as planned." – Unknown
Conclusion
I hope that these hustle quotes for women inspire you to take on your goals and strive for success.
These hustle woman quotes are here to motivate you. They can not replace the actions you must take to see results. Use them to inspire and remind yourself of while you started and keep working!
Stay focused and keep pushing forward. You are closer to your breakthrough than you think.
I may earn a commission from qualifying purchases made through the links on this blog, at no additional cost to you. For more information, see my Disclosure