It's 2024! Looking for creative ways to make money online?
Yes?
You're in the right place!
In this blog post, I will share with you some creative ways to make money online from the comfort of your home.
If you are looking to make legitimate money online, I have carefully handpicked 10 profitable side hustle ideas you can choose from to make money with your smartphone.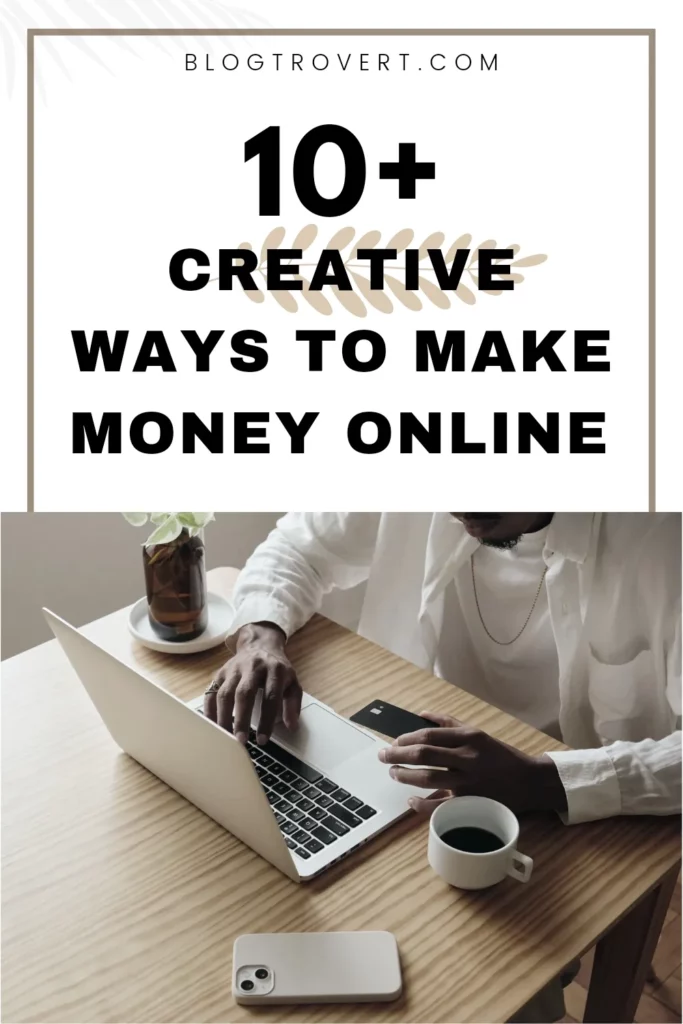 Whether you are a 9-5er, freelancer or student looking for creative ways to make money online on the side, these ideas are sure to help you start your financial journey.
There are quite a lot of contents centered around making money online, and this makes it easy to get lost in your desire to work from the comfort of your home.
If you do a Google search, you will discover thousands of websites offering to show you creative ways to make money online.
Sometimes, these websites churn out so-called opportunities that aren't worth your sweat, because they do not work for people living in most countries.
I believe you have decided to give it another go and find a genuine hustle that'll make you money from the comfort of your home with your smartphone or laptop.
Creative ways to make money online from anywhere – top 10 ideas
Before we jump on the creative ways to make money online anywhere, note that: These ideas are not some get-rich-quick scheme. So, if you are looking to make money fast, I can not help you.
10 Ways to Make Money Online for Free
To start leveraging on any of the opportunities below, you must be willing to grow your interest, stay patient and consistently build the ideas you choose.
Tools you require;
A smartphone or laptop
Access to the internet
Your time and consistency
Affiliate Marketing
Affiliate marketing has grown popular and has become one of the most common ways to make online without paying anything.
As an affiliate marketer, you make money without having to create or own a product. You make money by promoting other people's products, apps, software or services to people and earn a commission whenever they buy the product.
Most companies and business owners require the services of affiliate marketers to boost sales, so, they will pay you a percentage of a product's price whenever a customer buys their product using your unique link.
Sales commission differ by products and companies, and range from 1% to over 30% — sometimes as high as and even over 50%.
Some subscription based products offer recurrent commissions – you earn more money anytime the customer you referred renews their subscription.
The beauty of affiliate marketing is the fact that it's is super easy to start. All you need is a platform to work with, a product to promote and some marketing skills.
Some of the best ways to make affiliate sales is by creating contents related to the products you promote and pitch them to your audience.
Best affiliate marketing opportunities
With affiliate marketing, your location doesn't matter, your ability to influence sales is all that's needed of you.
Thanks to the internet, you can target nearly anyone in the world. Some really great affiliate marketing platforms you can try;
Where to promote affiliate products
Your blog readers
YouTube channel subscribers
eMail subscribers
Social media followers
Family and friends.
The most important thing is promoting the right products to the right audience and staying consistent.
Before you get started with affiliate marketing, ensure you pick a profitable niche and learn more about promoting products online.
Content Writing – Write For People
Established content writers make a fortune writing from home or anywhere with access to the internet.
Content writing varies, and you can choose an area of specialization that works best for you. There are a lot of writers who make money as freelance writers on Upwork and Fiverr.
If you are great with writing SEO contents and want to make money online, you can offer your services to companies or work as a freelancer.
Content writing opportunities
Copywriter – creates content with an intent to drive sales for their clients.
Technical writer – specializes in writing user manuals, white papers, instructional articles and more for mostly technical fields.
Content writer – writes articles for bloggers or businesses, create eBook contents and more.
The easiest ways to showcase your writing skills is by blogging or microblogging on social media.
If you hate the idea of managing a blog, you can write tons of sample articles in DOC or PDF format to showcase to potential clients.
Breaking into the writing world might seem difficult, but pitching yourself to the right people will go a long way in landing you great jobs. You must market yourself and showcase standard samples to potential customers.
The best places to start a writing career is, Fiverr, Upwork, Twitter and Facebook (with the right community).
Start a Blog
Blogging is a great way to share your thoughts and ideas with the world, while also generating income through ads, affiliate marketing or your products.
Blogging is a very creative ways to make money and it is lucrative too; you'll see results if you are willing to put in the work required of you.
How to start a blog
The first step you need to take when starting a blog is to find a niche that you are passionate about as it will help keep you motivated as you grow your blog.
Once you have found a niche, setup your blog and start creating contents that will appeal to your audience and ensure your website and contents are optimized for search engines.
Check out this detailed guide on how start a lifestyle blog. Also read how to make money with a mom blog.
You.'ll find everything from helpful blog title generators to free content ideas you can expand on.
6 ways to monetize your blog
Display ads
Affiliate marketing
Sell your products
Sell services
Sell a course
Become a coach in your niche
Sell Digital Products.
Selling digital products is one very creative ways to make money from anywhere in the world.
From digital products like e-books or courses to printables files like planners and artworks; there are endless opportunities for what you can create and sell to make money online with your smartphone or PC.
While most digital files are intangible, some can become tangible; products like planners and artworks are printable.
One awesome reason to sell digital products is the fact that they are lucrative and easy to create.
Unlike physical products that involve packaging and shipping, you create digital products just once and distribute them as many times as you want. They so easy to deliver and your buyers will likely have issues accessing them.
With digital products, you don't run out of inventory and can continue to sell a product until you decide to retire it. Learn more about selling digital products.
Digital products to sell
Digital and Printable products

Planners
wall arts
stickers and more

Ebooks
Social media templates
There are a lot of user-friendly websites where you can list your downloadable products for sale.
Some platforms are free and only charge you when you make a sale, some operate with minimal fees and others come with monthly or yearly subscriptions.
eCommerce Platform to Sell Digital Products
E-commerce marketplace
Hosted Stores
WordPress – requires a web host like interserver and domain name.
The best eCommerce Platforms for small businesses
Start a Dropshipping Store
If you have always wanted to own a store without paying anything to start due to lack of funds, you can delve into dropshipping, an incredible way to make money selling physical products without owning them.
With dropshipping, you are able to sell products without seeing them or having an inventory.
Dropshipping enables you to work with suppliers who are willing to ship products to your customers whenever you make a sale. You do not have to pay for anything until someone buys their products through you.
The dropshipping process;
Find a profitable niche.
Create a store.
Find a supplier that sells the products you need.
Market and promote the products at retail price.
Make a sale.
Forward the order to your supplier and pay the wholesale price.
The supplier will ship the product to your customer under your business name.
The process above is basically an overview of running a dropshipping business.
Start a Print on Demand Store
Print on demand is similar to dropshipping, but they have their differences.
While dropshipping involves selling other people's products, print on demand is more about selling your designs on blank products, making them standout and unique; enabling you to create a brand.
Like dropshipping, you may not require an initial capital.
With print on demand, you work directly with companies who provide blank products at wholesale prices. These companies are willing to print your designs on the products and ship to your customers whenever you make a sale.
You can either host your store and work with print on demand partners or join any marketplace like Amazon and redbubble that enable you to sell your designs on their products.
Best print on demand fulfillment partners
Best print on demand Marketplaces
How to Start a Print on Demand Shop
Find a profitable niche.
Create your store or join a print on demand marketplace.
Find a print on demand fulfillment company if you are creating your own store.
Create or outsource your unique design.
Market and promote your designs on products at retail price.
Make a sale.
The marketplace ships the order and pays your percentage.
Or your fulfillment partner takes their wholesale price and ships your product under your business name.
If you want to start a store but worry about inventory can look into dropshipping or print on demand.
Read our helpful guide on how to start a profit print on demand business from anywhere in the world.
Get Involved in the Crypto Space
You may have heard a lot about cryptocurrency and how much people are making from just buying and holding certain coins. The success stories are enough to get anyone interested in the crypto space despite the ban in some countries.
Apart from the ability to turn small investments into gigantic results, a lot of people also make money by just taking part in simple activities like spreading the word about new crypto projects.
Popular ways to make money in the crypto space;
Invest in coins – high risk
Trade coins – high risk (Binance is a popular and secure crypto trading platform.)
Take part in airdrops – free coins
Become an ambassador for crypto projects.
Stake (save) and lend coins and earn interests
Mine coins
Play crypto games
If you are interested in simply saving your coins for interests, Check out this post on how to make money saving dollar pegged coins.
While investing or trading coins to make money in the crypto space can be fun and a breakthrough for you, You need to understand how it works because losing money here is as easy as making it.
Start a YouTube Channel
More and more people are becoming interested in video content. You can publish helpful videos on YouTube and monetize your channel with your products, affiliate products or Google ads (you must reach the YouTube partners requirements).
A lot of people go to YouTube for help on different aspects of life and you can have your videos in their search results.
Like any other business in the post, there is intense competition as there are millions of YouTube creators that you may have to compete with. But the right strategies will always help you to stand out and potentially earn a living on YouTube.
How to monetize a YouTube channel
Display ads
Affiliate marketing
Sponsored content
Your products
If you want to make money online with YouTube, you need to build your followers to at least 1000 people and get up-to 4000 hours view count.
Plan your videos and start creating on youtube.com.
Become a Social Media Manager
Social media has become an easy and popular way for brands and businesses to connect with their customers. This alone gave a rise to an all new opportunity for content creators.
Businesses who want to stay in touch with their customers on social media platforms often employ the services of social media managers.
If you want to make money online, you can work as an employee for a company or work with clients as a freelancer; whichever makes it easier for you.
Major roles of a social media manager
Plan and schedule content across various social media platforms
Analyze and track campaign performance.
Communicate with social media followers
Look for possible promotion opportunities and more.
Learn how to make money online by becoming a Social media manager
Become a Social Media Influencer
Social media influencer marketing has grown in the world at large. It's currently one of the most creative ways to make money online and clearly competitive; but if you can grow your account until you stand out, getting into this business will make you a lot of money.
With influencer marketing comes fame, so, if it isn't something you want, you might want to choose from the other 9 awesome ideas I have listed above.
Brands are always looking for promising social media content creators who can boost their reach and promote sales.
To become an Influencer, you need to build your following with real people who engage with you. Your engagement is the driving force to your success. Learn more about influencer marketing.
Anyone Can Make Money Online
The ability to make money online is a big dream for many. It is not as farfetched as people make it to be. With a little hard work, you can start generating an income from the comfort of your home.
You too can learn how to make money online and join others in monetizing your time on the internet.
Whether you plan on going full-time or part-time with these ideas, I hope this post helped you find an opportunity that would work for you in the long run.
First, set your priorities straight, be patient and stay consistent. You don't have to beat yourself up if one idea doesn't work for you; there are even more to try. Hopefully, you find your gem in one go. Thank you for reading!
I may earn a commission from qualifying purchases made through the links on this blog, at no additional cost to you. For more information, see my Disclosure