Do you enjoy traveling and want to learn how to start a travel blog to share your experiences with others?
There are many people who would love to explore new places like you. Don't hoard your journeys, document them!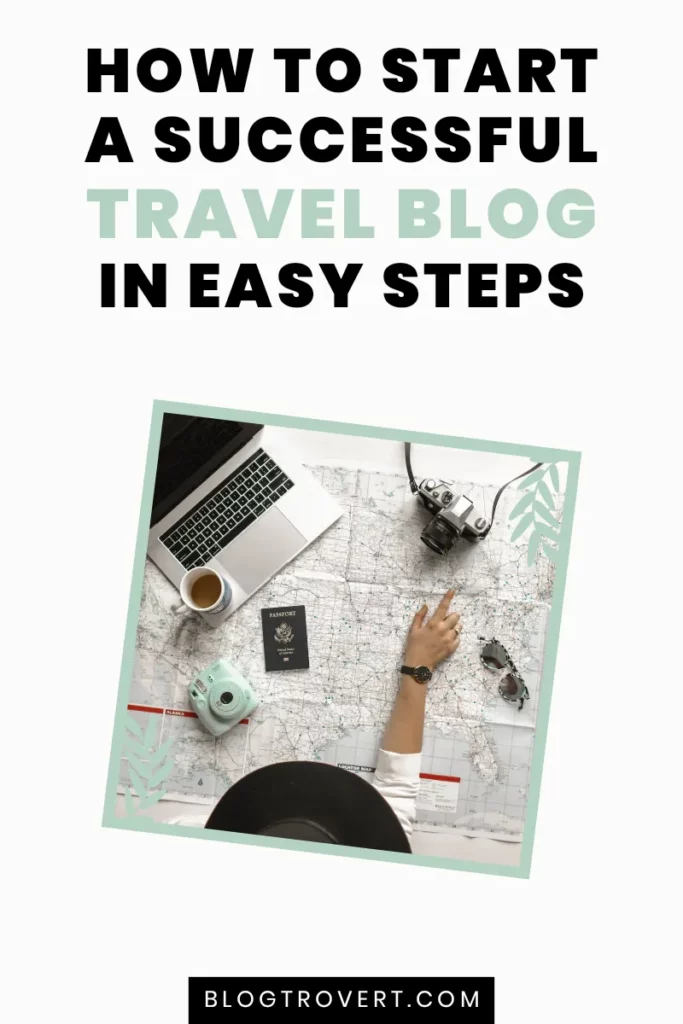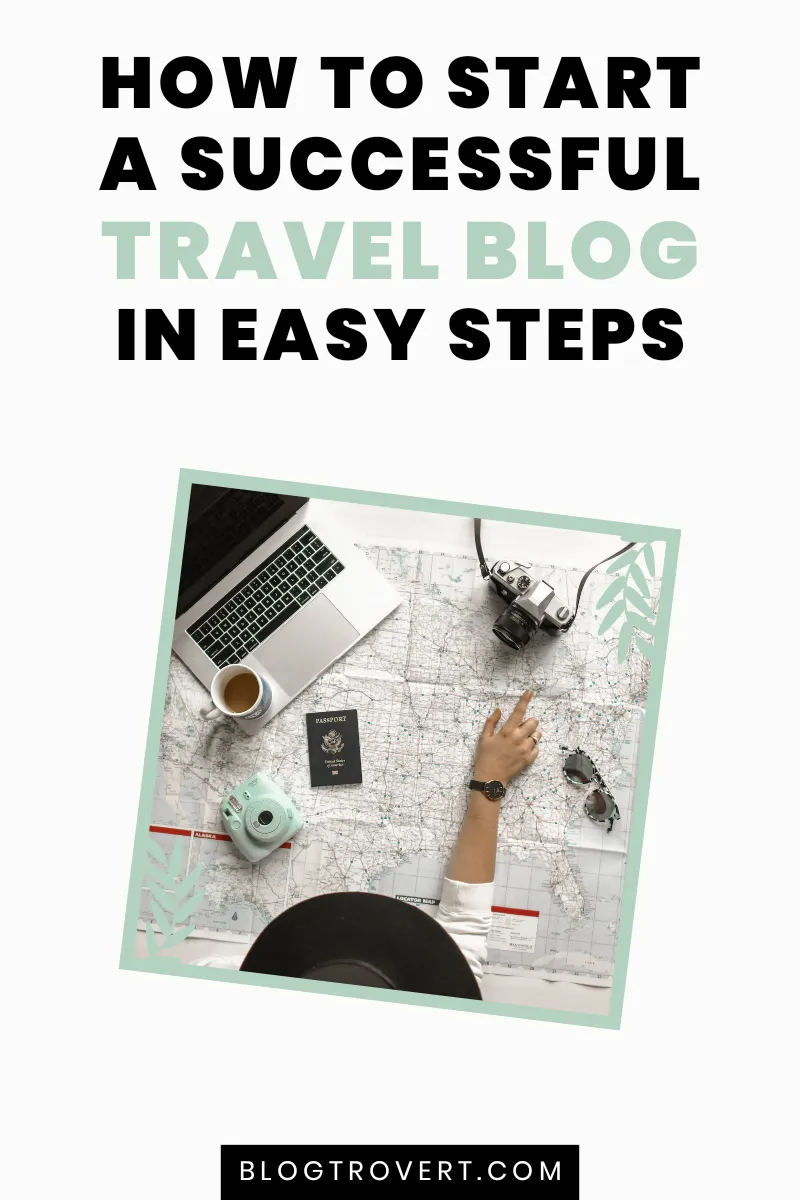 There's a lot of talk about starting a travel blog these days. But, what is the best way to go about it? And, is it even possible to make money from blogging?
Starting a blog is an excellent way to grow an online audience, document all your favorite memories, and monetize your expertise on niche topics. But, it's not as simple as just picking up a WordPress template and writing blog posts. It does take time to develop a loyal following.
That's what we're going to be discussing in this guide. We're going to walk you through the entire process, from start to finish. So, whether you're a complete beginner or you've been at it for a while, you're sure to find everything you need on how to start a travel blog and make money.
Once you understand the basics, you'll be well on your way to success. Now, let's look at everything you need to know before launching your very own travel blog.
What is a travel blog? 
The clue is in the name – a travel blogger is just someone who documents their travels and publishes their stories, images, or recommendations online. Often, travel bloggers upload their experiences to a webpage like our regular blogs. However, in recent years, more and more travel bloggers are using social media platforms, such as YouTube, Instagram, and TikTok, to post content.
If you want to become a successful travel blogger, maintaining an active social media presence is as important as updating your blog. A viral TikTok video of your day exploring a new city or a photo in front of a famous monument could gain you thousands of followers.
Why Start a Travel Blog?
There are several reasons to start a travel blog.
You're interested in the travel industry itself, and you want to share your experiences with others.
Maybe you're passionate about travel photography or videography, and you want to share your work with the world.
Or you just want to show off your amazing adventures to friends and family back home.
Whatever the reason, starting a travel blog can be a great way to connect with other travel enthusiasts, build your own brand, and make some extra money along the way.
Travel Bloggers To Inspire You
Now that you know what a travel blog is and what to expect, it's time to meet some inspiring travel bloggers.
Kiki provides amazing travel tips, how-to guides, and photo/video content from her trips around the world on her travel website.
Ciara is a well-known solo traveler who writes a popular blog, Hey Ciara, and has hundreds of thousands of followers on her social media channels. She is an inspiration to many travelers and provides them with valuable tips and information.
Matt is a popular travel blogger with over 1 million pageviews per month on his site. His book, "How to Travel the World on $50 a Day," is a New York Times best-seller. He also sells travel blogging courses and runs an annual travel conference called, "Travel Con."
How to start a successful lifestyle blog
How to Start a Travel Blog
Choose a niche or topic that interests you
There's a wide choice of travel blog niches to pick from – specific country or area, backpacking, targeted audiences, luxury travel, traveling with kids or pets, and more. Your chances of building a high traffic blog improve if you keep your focus on a few specific areas.
When choosing a travel blog niche, think about what you're passionate about.
Do you love planning trips yourself or are you more of a "take it as it comes" traveler?
Do you have experience photographing or videoing your travels? Would sharing tips on budget-friendly travel options be something you'd be interested in?
Once you know your interests, take some time to research popular blogs in the same niche.
Choose a catchy name
It's important to have a catchy blog name that accurately reflects the content of your blog. Make sure you choose a name that is both relevant to your blog's topic and catchy enough to attract readers.
Remember that your blog name will also serve as your domain name (website.com). So, keep it short and memorable as that is how your readers and followers will access your blog.
Choosing a good domain name is one of the most important steps in setting up a website. It's the first thing people will see and it's what they'll associate with your site, so it's important to choose something that is both easy to remember and relevant to your content.
When brainstorming for a blog name, you should have four things in mind;
Your name should be simple and easy to spell
Ensure it is easy to remember.
Your name should have a connection with the idea behind your blog. It could be travewith…, mytravelblog and more!
Learn more about choosing a good name for your travel blog.
Once you decide on your domain name, register it through a domain name registrar then proceed to the next step.
My recommendations;
Namesilo – $10.95/year
Cosmotown – $8.99/year
Pick a reliable blogging platform and host
Choosing a blogging platform
In your quest to learn how to start a travel blog, you will have come across several blogging platforms with different sets of features that makes it tough to decide the platform that is right for you. But, consider it an easier decision to make with this blog post.
Here are a few things to look out for when choosing a blogging platform:
Ease of use: How easy is it to get started with the platform?
Flexibility: Can you customize the look and feel of your blog to match your personality? Can you add features like social media buttons or a contact form?
Cost: Some platforms are free, while others charge a monthly or annual fee. Consider your budget when making your choice.
Audience: Who do you want to reach with your blog? Some platforms are better suited for certain audiences than others.
Technical support: If you run into any problems with your blog, will there be someone there to help you?
User friendliness – Are there tutorials and guides available for using the platform?
So, What is the best blogging platform for a travel blog?
WordPress
I recommend using WordPress as your blogging platform as it is one of the most popular options and is extremely user-friendly. There are plenty of tutorials and guides available online if needed.
Here are a few reasons to use WordPress for your travel blog;
WordPress has tons of free and premium themes and plugins to make everything a lot easier for you even if you are a total newbie.
You can set up an eCommerce store in your blog with the help of WooCommerce. You will not have to pay an extra fee to get a functional store up and running.
WordPress is a popular platform and there is a large community of users and developers who can help you if you run into any problems. There are also a ton of resources available, so you can learn everything you need to know about with a simple Google search.
Other common blogging platforms you can use.
Wix
Showit
Squarespace
Weebly
Write.as
Blogger.com
Note, the next few steps are important, but not a prerequisite for understanding how to start a travel blog. If you would rather not stress with setting up your blog; hire a professional and skip to "Write Your first interesting, keyword-rich content," that's where the blogging begins, but, it's a plus to know how to set up your website.
How to start a successful mom blog
Choosing a hosting provider for your WordPress travel blog
I can not overemphasize the importance of quality hosting. It is crucial to ensure your website loads quickly and is always available to visitors.
There are many excellent hosting services for WordPress, but my personal recommendations are Interserver and Vultr.
If you have registered your domain as recommended in step 2, you'll need it to set up hosting for your travel blog. If not, head over to Namesilo and secure your domain name now. Namesilo offers one of the cheapest domain registrations on the internet.
Note: your domain differs from your blog host.
I am an affiliate for Interserver, and I can confidently recommend their services to anyone looking for budget-friendly hosting with outstanding customer support. Get 99% off your first month on Interserver with this coupon code: BT1OFF.
Step-by-step guide to buy a hosting plan on Interserver
Navigate to interserver.com and click on the "Buy Now" button.
In the next page, choose to register a new domain name or use a domain you already own. If you purchased your domain name already, select "I already have a domain," else select "register a new domain." Interserver will register your domain name for the first year at $7.99 – renews at $12 yearly.
Once you have selected your domain, click "Continue" and choose not to transfer your domain unless you wish to do so.
On the next page, create an account with your correct details, or login if you are an existing customer.
After logging in, review your cart, carefully noting how much you will pay now and in the future (for renewal). Use BT1OFF to get your first month at $0.1!
Select a billing interval: 1 month, 6 months, 12 months, or 24 months. (You will get an additional 5-20% discount if you choose a higher billing interval).
Once you have made your order selections, you can choose to pay by credit card or PayPal.
Read and agree to the Interserver offer terms then click on "Place Order."
Interserver will provide you with all the important details about your new web hosting account and a link to log into your cPanel via email.
If you purchased your domain name through Namesilo or any other domain registrar, you will need to change your domain nameservers to dns1.trouble-free.net and dns2.trouble-free.net.
How To Change Nameservers on Namesilo
First, log into your Namesilo account and follow the video guide below;
Enter your hosting control panel
You will receive a message containing a link to your cPanel account, its Username and Password and more. Save the information you receive securely as it entails all you need to access your control panel.
To begin, visit your cPanel account using the link provided in the hosting details sent to you and login with the username and password provided.
Now that you have logged in, you should be in your control panel. This is where all the technical matters will take place for your website. Please handle your login details with utmost care. Your cPanel will look like this:
Set up SSL
An SSL certificate is a security measure that encrypts the data between your website and the browser (if you are using HTTPS). If you do not have an SSL certificate, Interserver provides a free AUTOSSL certificate for all their users.
To set up an SSL certificate, please follow these steps:
In your Interserver cPanel, navigate to "Security" and click on "SSL/TLS STATUS."
On the next page, you will see a list of domains without an SSL certificate. Simply select all unsecured domains and click on "Run AutoSSL."
Interserver will process the request and assign an AutoSSL certificate to your domain. Ensure you point your domain to Interserver before you run this process, else it will fail.
If you follow the instructions above, you will activate HTTPs in your domain.
Install WordPress
Now that you have bought and activated your hosting plan from Interserver and installed SSL in your domain, it is time to install and set up WordPress. Installing WordPress is an effortless task with Interserver's Softaculous apps installer.
In your Cpanel, simply navigate to; "Softaculous App Installer" and select WordPress (you should see the WordPress icon).
On the next page, click "Install now." Softaculous will pull up the setup options to install WordPress. The guide below will help you set up your WordPress site properly.
Guide to Install WordPress
Choose Installation URL

Ensure you select HTTPs protocol (domain must have a SSL certificate). Don't have a certificate yet? Go back to the guide to set up SSL in your domain and follow the steps.
Choose Domain: Select the domain you want to install WordPress in.
In Directory; kindly ignore the "In Directory Field" you obviously want WordPress installed on yoursite.com.

Site Settings: Simply enter your desired site name and description. You can always change this in your WordPress dashboard. Leave the multi-site and WordPress Cron boxes unchecked.
Admin account: By default, the admin username and password is "admin." You should change this to a preferred username and a secure password. Keep these details safe. After installation, you will need to log into WordPress.
Set the preferred language for your blog in and leave other settings in their default setups.
Input an email to receive your WordPress installation details, then click on "INSTALL."
Softaculous will install WordPress in a few seconds and send you the details you need to access your WordPress admin dashboard.
If you follow the steps above, you will have successfully installed WordPress on Interserver.
Need help?
Leave a comment below or email at contact@blogtrovert.com.
Choose a beautiful blog design
Congratulations! you have completed the most important part of starting your travel blog, but it's time to make it visually appealing for your potential readers.
Every new WordPress installation comes with a default theme, but I highly recommend you switch to a better theme that complements your brand. There are a lot of free and premium themes available for WordPress, with many that are specifically designed for travel blogs. Changing themes is optional but highly recommended.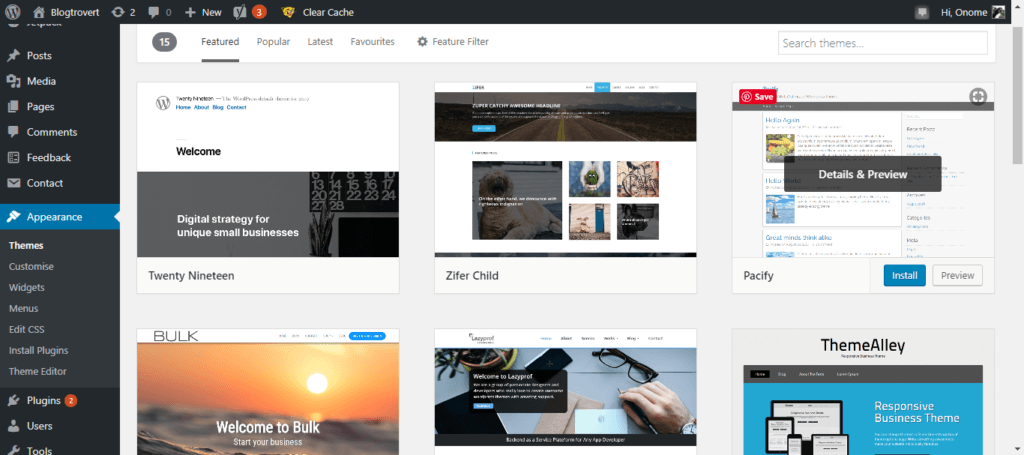 To use a free WordPress theme, login to your WordPress admin dashboard and navigate to Appearance >> Themes >> Add New. You will find hundreds of free WordPress themes on this page. Choose the one you like and click "Install." and "activate" after the process completes.
Although WordPress provides a selection of free themes to choose from, I recommend selecting a premium design for your travel blog. Premium themes often provide a sense of uniqueness, helping you stand out from the crowd.
Some advantages of using premium WordPress themes include;
Access to more features that are not available in free themes.
Regular updates
Better support
Increased security.
More user-friendly
They have a more professional look and feel.
Where to find beautiful premium themes:
Creative Market – find different feminine blog themes you can choose from.
Themeforest – one of the largest, high-quality marketplaces of WordPress Themes for all kinds of blogs.
ChicPixies – a collection of my affordable, modern and stylish feminine WordPress themes for bloggers who just want to blog.
If you're looking for a stylish and modern WordPress theme, then I would highly recommend checking out ChicPixies! You can also browse through some of my favorite feminine WordPress themes.
Once you've selected a WordPress theme, be sure to take a look at my step-by-step guide on how to install and configure it.
When choosing a theme for your website, be sure to select one that is responsive and loads quickly.
Design a logo for your blog
A logo is an important part of any blog. It's a symbol that represents your brand and can help readers identify your blog quickly and easily. A good logo can be the difference between a successful travel blog and one that gets lost in the shuffle. If you're starting a travel blog, be sure to put some thought into your logo design.
When designing a logo for your blog, there are a few things to keep in mind.
Your logo should be simple and easy to remember.
It should apply to your blog.
It should be eye-catching and visually appealing.
With these things in mind, let's look at a few tips for designing a great logo for your blog.
Keep it simple: It is important to keep your logo design simple so that readers can easily recognize and remember it.
Make it relevant: Your logo should apply to the idea behind your blog. An airplane, a car, boat, ship and more can signify travel and adventure.
Make it eye-catching: Make sure your blog's logo is eye-catching and professional-looking. Use bright colors, interesting fonts, and other design elements to make it stand out from the rest.
Make it unique: There are millions of blogs out there. Having a unique logo is important so that readers can easily identify your blog.
Use it consistently: Be sure to use your logo consistently across all of your blog's platforms to help readers easily recognize your brand no matter where they see it.
Where to find a good logo designer
If you're working on a tight budget, you can create a simple logo on Canva. Just make sure it's unique and attractive.
There are a few places to find good logo designers online. You can visit sites like 99designs or hire independent freelancers on Fiverr. Using the tips above, tell your designer your needs and let them do the job for you.
To find designers, search for them on social media platforms like Twitter or LinkedIn. Or, ask for recommendations from friends or bloggers. You can also find beautiful pre-made logos on CreativeMarket.
To set up your Logo on WordPress, go to "Appearance » Customize » Site Identity."
If you're not happy with your theme or logo, you can change them. However, be careful about changing your blog and domain name, as it could negatively impact your blog's growth.
Install important plugins
While plugins are not strictly required, they can solve specific problems and provide essential functions for your WordPress blog. With thousands of plugins to choose from.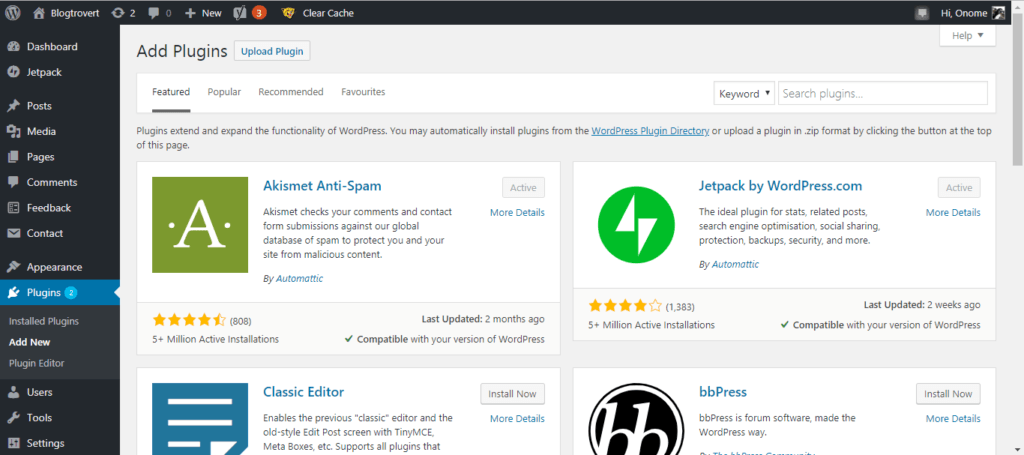 Here are a few that can be particularly helpful:
To add a new plugin to your blog, simply navigate to "Plugins >> Add New".
Create important pages
There are certain pages that are essential for any blog. Here are some of the pages that you should create for your blog.
About Page: Here, your audience expects you to talk about yourself and your blog.
Contact Page: This page makes it easy for your readers to contact you. There are plugins to help you add a contact form to this page. I recommend contact Form 7 or Ninja Forms.
Privacy Policy Page: On this page, your readers expect you to inform them about the data you collect on your website and how you and other third-parties may use them.
Disclosure Page: Create this page if you want to monetize your blog with affiliate links.
To create a new page, go to "Pages" >> "Add New". Check out the 'Important Pages that Every WordPress Blog Should Have' by Wpbeginner.
Write Your first interesting, keyword-rich content
This is the most important part of your blog – if your content is interesting, informative and well-written, people will keep coming back for more.
The purpose of your blog should be clear from the title and the content you include. Make sure your blog is well-organized and easy to read. Include lots of photos, videos, and other multimedia, and make sure you clearly write all of your content with the right keywords.
It is important to do proper keyword research before writing blog posts, as they help people find your content on search engines like Google and Bing. Without keywords, your posts may be invisible to search engines, and chances are no one will ever read them.
Some keyword research tools you can use:
To publish your first blog post, log into your WordPress admin panel, then navigate to "Posts" >> "All Posts" and delete the default post. After that, click on "Add New", then you will see a blank PAGE to create your first post.
Create your social profiles
If you're looking to develop your blog and build an audience, then you'll need to set up social profiles for your blog. This will help you connect with potential readers and followers, and it can also boost your blog's visibility and reach. So if you're serious about taking your blog to the next level, then creating social profiles should be one of your top priorities.
Create a social profile for your blog on:
Facebook
Twitter
Linkedin
Instagram
Pinterest
TikTok and other popular social media platforms.
Always share your blog posts with your followers and interact with them so that they will know you are human!
Monetizing your travel blog
If you want to monetize your travel blog, you're going to have to be seriously dedicated. It's one thing to build an audience, but it's another to keep it. It's important to ensure you're consistent when trying to monetize your blog; readers will not return to your blog if you're not posting content.
Try to set out specific times that you aim to post. If you're really serious about accountability, let your readers know your blogging schedule. If you keep the work up and start earning some money, invest some of it back into your website. Although this might seem unnecessary when you're on a tight budget, I can assure you it will pay off in the long run.
Here are a few ways to monetize your travel blog;
Sell products
Many bloggers often sell their products or services on their blogs. You can either sell digital products like e-books, printables, or physical products like clothes, pieces of jewelry, etc.
65 printables idea to create and sell
If you plan on selling digital downloads and need resources that will help you create better products, you can check out websites that offer craft templates and commercial use files. Free svg websites like Designbundles have tons of free to use commercial files you can use in your digital products.
Affiliate marketing
One of the most common money making methods for travel bloggers is affiliate marketing. This is when you reach out to a company (or vice versa) to promote and sell their products. For any sales you make, you get paid a commission.
Sponsored content
You get paid to write or publish already written blog posts for another company on your blog. This is my major source of income at the moment.
Ad networks
Google AdSense is one of the most popular advertising networks for small blogs. It allows you to monetize spaces on your blog. It's easy to set up. All you need is approval to take part as a publisher. If you grow your traffic, apply to monetize with any of the ad network below;
Shemedia
Ezoic
Monomeric
Mediavine
Adthrive
Each of these platforms has certain requirements your blog must meet to monetize with them: so do your research.
You could also use the material from your blog to speak at conferences, networking events and even schools. Not only does this pay well, but it also provides you with great contacts who might want to use your expertise in the future.
How to Become a Successful Travel Blogger
There is no one one-size-fits-all answer to make blogging about travel rewarding. However, there are some key factors that all successful travel bloggers have in common.
They have a passion for travel and writing.
Successful travel bloggers post regularly and consistently. This provides readers with reliable content and helps to build a following for the blog.
They engage with their readers, responding to comments and questions.
Successful travel bloggers are always looking for new ways to improve their blog, whether it's adding new features or expanding their content.
They use the right blogging tools.
If you're serious about starting a travel blog, then you need to make sure you have a firm foundation. That means having a clear niche, and writing about something you're passionate about. It also means being disciplined in your posting schedule and engaging with your audience.
Tips to make blogging about travel a successful career
Write quality contents
Make sure you have a strong focus on writing quality content that is interesting and engaging for your readers. Remember to choose a good niche, stay authentic and avoid plagiarism.
Promote your blog
Get the word out there about your blog by sharing it on social media and other platforms. You can also submit your blog to travel-related directories and forums.
In promoting your blog, social media can be used to your advantage. Encourage friends and current audience to repost any blog post you share, photos and videos you take. When they do this, more and more people will see your content and invariably become your audience, too.
Engage with your readers regularly
Respond to comments and questions, and encourage your readers to interact with each other. This will make your blog more engaging and enjoyable for everyone. With these tips, you're well on your way to starting a successful travel blog that people will love!
Interact with any new followers you gain: regularly reply to comments, host Q&As about your travels, and add related hashtags to the captions of your posts so more users can see them.
Be active on social media
Develop an active social media presence and connect with your readers regularly to keep them updated on new blog posts and offers. By staying engaged with your audience, you can build a strong relationship with them and keep them coming back for more.
Use the right blogging tools
Travel bloggers are always on the go, so they require good blogging tools that can help them better document their journey and experiences.
Simple blogging checklist for a new travel blog;
A good laptop – Ensure your laptop is up to date with the latest security features to protect your data. If you use a MacBook, the new macOS Ventura update is a must have. Features such as faster browser speed, sharing of tabs or bookmarks, and the ability to sync iCloud libraries are all essential for the modern travel blogger. If you are not able to upgrade your Mac, confirm it is compatible with the update and check your internet connection before seeking professional help.
A smart phone with a splendid camera to capture the moment
A good internet connection
A reliable blog and hosting platform
Keyword research tools to help you find relevant keywords for your blog posts
Grammar tools to write better blog posts.
A travel journal with plenty of space for writing and drawing,
A planner or scheduler to help you organize your trips and blog posts,
And of course, a good healthy attitude and plenty of patience!.
Conclusion
There's no one right way to start a travel blog. But, if you follow the guide and tips in this blog post, you will get started on the right foot and build a successful travel blog in no time.
Always remember that the most important part of travel blogging is staying true to yourself; your memories are entirely unique, so they'll always be someone who can learn from what you've experienced.
So, what are you waiting for? Start your travel blog today!
I may earn a commission from qualifying purchases made through the links on this blog, at no additional cost to you. For more information, see my Disclosure