Are you looking for a way to make some extra money without having to talk to anyone?
If so, you're in luck!
There are a lot of profitable side hustles for introverts out there that you can start and run from the comfort of your home without saying a word to anyone.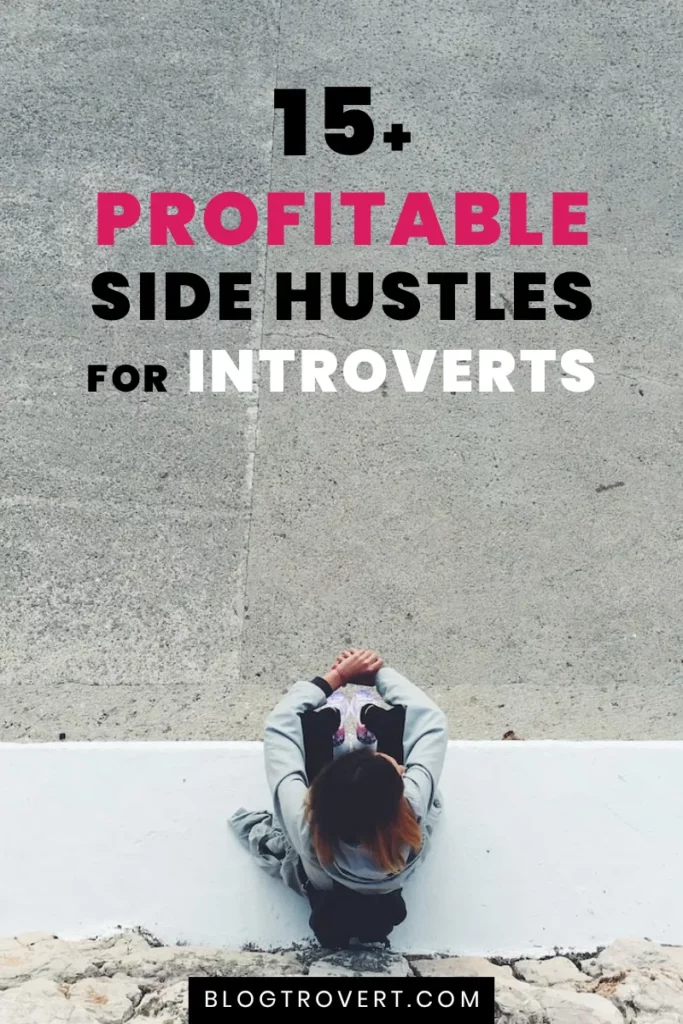 As an introvert, I know how pleasing it feels to make money without leaving home or talking to anyone.
An average Introvert wants to do their thing without having to interact with anyone. That's why working remotely and earning extra through online side hustles is ideal for us.
Unlike extroverts, introverts don't need constant stimulation to stay energized. We can get work done in our own space, and we're often more creative when we have time to ourselves.
This blog post hopes to help you find an ideal online business for introverts to make money from home. It contains over 11 profitable side hustles for introverts, all of which you can do without ever leaving your home or saying a word.
The best side hustles for introverts
Some ideas you will find in this post include; freelance writing, blogging, marketing, and selling products online. Others involve tasks like data entry and customer service.
Now, let's discover some of the best side hustles for introverts that you can start doing for extra income.
Create and sell Digital Products
Creating and selling digital products online is one of the best side hustles for introverts who want to make an extra income with their own products.
With digital products, you can make and sell products with no startup costs. And since there is no physical product to ship, delivering products to customers is one of the easiest and fastest tasks. These are some of the best digital products to sell:
Ebooks
Selling ebooks is a popular way for introverts to make money online. You can sell ebooks multiple times, making them an excellent source of passive income for introverts.
You can also update your old ebooks across all platforms you sell them on, by simply working with the source file – there's no need to reprint or have older versions competing with the newer version.
Aside from the monetary benefits of selling ebooks, you also have the bonus of building an audience of potential customers who may be interested in your other products.
Here Are A Few Things To Put In Mind When Creating Your Ebook;
Choose a topic you have extensive knowledge of or are passionate about.
Before you write your ebook, it's important to have a clear idea of what the book will be about and who your target audience is. This way, you can plan and write your book to appeal to your readers.
To ensure your eBook is successful, be sure the writing is clear and concise. Also, use an easily readable font and format.
When organizing your ebook, be sure to use a clear and concise structure that will be easy for your readers to follow.
When creating an ebook, it's important to make it unique and valuable in order to help it stand out amongst the thousands of other ebooks available.
Once your ebook is complete, you'll want to choose a reliable platform to sell it on. There are several ebook marketplaces, such as;

Amazon Kindle
Apple Books
Kobo

When your ebook is live and available for sale, it is important to promote it to ensure that it reaches your target audience.
Graphic Templates
There is a market for you if you have design or photographic experience or know someone who does.
Graphic templates provide users with a pre-designed layout to create their own graphics. This can be anything from a simple background image to a complex design with multiple layers.
Templates save creators and businesses time by providing them with a starting point for their design.
Selling graphic templates can be a great side hustle for introverts who want to make some extra money, as there is currently a large market for these types of products and an enormous potential for success.
There are a lot of templates you can create and sell. Some examples include:
Social media templates – Instagram and Pinterest templates are the most popular social media templates to sell right now.
Ebook templates
Amazon KDP templates
Media kit templates
Workbook templates
Planner templates
Resume templates
Business cards
Flyers
Brochures
Press releases
Web banners and ads
Greeting cards… And more
Where to create graphic templates
Photoshop
Canva – recommended
Creating graphic templates on Canva
On Canva, you can create editable graphic templates that anyone can customize to create their own unique designs regardless of their experience.
Canva's user-friendly platform makes it easy to customize templates to meet specific needs, whether for personal or commercial purposes.
Here are some of the most popular Canva templates that you can start creating for sale;
Social Media Templates – Pinterest pins, Instagram highlight, Instagram posts, Instagram story, Facebook cover, Facebook/Instagram ad templates
Ebook Templates – eBook cover pages, different ebook interiors.
Amazon KDP Templates – Book cover pages, different book interiors.
Printable Products Templates – Planners, journals, wall arts, etc
Read More About Selling Canva Templates or discover more ways to make money with Canva
Printable Downloads
Printable products are digital files that anyone can print and use for a variety of purposes. Common file formats for printables include PDF, JPG, and PNG.
There are different printables that sell well online. Some of the most popular ones that you can create to make money include:
Planners and organization printables. Educational resources, such as flashcards and worksheets.
Decorations and party printables.
Business and marketing materials like business cards and flyers.
Personalized gifts like nameplates and monogrammed stationery.
Fun items like coloring pages.
Seasonal items like holiday cards and decorations.
Helpful resources like checklists and reference sheets.
Creative projects like printable art and crafts.
There is a great demand for printables that can add a personal touch to any project. If you're looking to sell printables, it's important to choose items that are both popular and in demand.
Looking to sell printables online? Discover 65 of the best printables to sell online.
Where To Sell Your Digital Products
You can sell your digital products through an online store or marketplace, your website or social media platforms, like Facebook and Instagram.
Etsy and Creativemarket are large marketplaces popular among digital creators. here are some of the best eCommerce websites for digital creators;
Marketplaces
Online store providers
Start A Blog
Blogging is a perfect side hustle for introverts. It's a low-pressure way to share your thoughts and ideas with the world, and you can do it from anywhere. I mean, you do not have to talk or answer to anyone. It's just you and your laptop/phone.
Blogging gives you the opportunity to explore the different topics you are passionate about and gives you an opportunity to monetize your knowledge while you are at it.
My favorite feminine WordPress themes for Bloggers
There are a lot of earning possibilities in blogging. You can sell advertising space, use it to promote affiliate products or your own products and services. You can also sell your blog for a huge chunk if you can grow it.
Blogging can offer many benefits beyond the potential to earn an income. It can be a great way to connect with other introverts who share your interests, build your confidence and writing skills, and promote your personal brand.
If you're thinking of starting a blog, consider these potential benefits and how they could help you reach your goals.
So, if you have been looking for the best side hustles for introverts that's a perfect fit for you, blogging might just be it!
Here are a few tips to help you start a profitable blog:
Choose a Niche you're Passionate About
If you're blogging about something you enjoy, you're more likely to stick with it. There are plenty of niches out there, so there's bound to be one that's perfect for you.
Here are some blogging niche ideas to inspire you:
There are many niches you could choose for your blog, each with its own potential for success. But it's important to pick a niche that you're passionate about if you want your blog to be successful.
Find A Blogging Platform That Works For You
When starting a blog, it is important to do research on different platforms to find the one that best suits your needs.
There are different of blogging platforms available, each with its own set of features and benefits.
By taking the time to find the right platform for your blog, you will maximize your potential reach and connect with your audience more effectively.
Some of the best blogging platforms include;
Write About What You Know
If you're writing a blog, it's important to focus on topics that you're an expert on.
This will not only produce more accurate and helpful content for your readers, but it will also make the writing process easier for you.
Be Consistent With Your Contents
One of the most important aspects of successful blogging is consistency. Try to blog on a regular schedule and publish high-quality content that your readers will enjoy.
Engage With Your Readers
Building a strong relationship with your readers is essential for success. Respond to comments and questions, and interact with your readers on social media.
Engaging with your readers will help create a loyal following that will be interested in what you have to say.
Promote Your Blog
Once you have written great content for your blog, be sure to promote your posts on your social media channels. This will help you attract more readers and followers.
Provide Proofreading Services
An effective way for introverts to earn money from a side hustle is by offering proofreading services online.
Many multinational companies are looking for proofreaders to go through their documentation translated from one language to another.
These companies want perfect documents. Hence, they want native speakers or people with high proficiency in a particular language to proofread their business proposals and advertisement content before publishing or sending them out to their audience.
Proofreading content requires you to be scrutinize various elements, including spelling, grammar, formatting, and accuracy. You have to identify mistakes related to the elements mentioned above and rectify them to bring perfection to the document.
Identifying and correcting mistakes in content through manual proofreading can be a time-consuming and laborious task.
Alternatively, you can use an efficient grammar checker to identify and correct grammar or style errors. The tool will provide possible corrections that could enhance the clarity and accuracy of your writing.
In addition to businesses, you will likely get tasks from researchers, students, and eBook writers to proofread their content and make it presentable.
What Kind Of Proofreading Services Should You Sell?
Translation Proofreading
Business Proofreading
Academic Proofreading
Print Media Proofreading
Start A Print On Demand Business
A print on demand business is a great side hustle for introverts who want to sell their own merchandise without having to manage a physical inventory.
A print on demand business allows you to create and sell custom-printed products without having to invest in inventory or shipping.
All you need is a reliable production partner and a shop to showcase your products. With unique, marketable designs, you can be successful in this business venture.
Things To Keep In Mind When Starting A Print On Demand Business;
Choose A Niche Market
When starting a business that offers printed products, it is important to choose a focus in order to attract customers and create a unique selling point.
By specializing in a certain type of product, you will better serve your target market and stand out from the competition.
Pick A Good Production Partner Or Marketplace
Next, you need to find a good print on demand partner or marketplace.
A partner will print your products on request and send them to your customers
A marketplace will allow you to showcase your designs on their products, and you in turn will earn a percentage of every sale they make.
popular print on demand platform;
Create Good Designs
Once you have chosen your partner or marketplace, you will need to create your designs. If you are not a designer, you can hire one, or use a design service like Canva or Placeit.
When your designs are complete, you can upload them to your print on demand provider and begin selling.
Market Your Products
Finally, you'll need to market your business. You can do this through social media platforms or online ads.
By promoting your business and getting the word out there, you can start generating sales and earning a profit.
In-depth guide on how to start a print on demand business
Start a Dropshipping business
A dropshipping business is a great option for introverts who want to run their own business without having to interact with customers or manage inventory.
Dropshipping allows you to sell products without having to invest in inventory or shipping.
All you need is a reliable supplier and a shop to showcase your products. With a bit of marketing, you can be successful in this business venture.
This business is similar to Print on demand, only that you don't need to create any design. You just need to find a good supplier who will provide quality and in demand products for you to sell.
Learn more about dropshipping.
Freelance Writing
Freelance writing is one of the best side hustles for introverts who enjoy writing.
As a freelancer, you can offer your services to those who need help writing anything from novels to blog posts, cookbooks, and research papers.
When you pitch your gig to the right people, you can get started on some significant projects that will help you build your portfolio and earn some extra cash.
You can become a freelance ghostwriter, copywriter, technical writer and more. One of the best ways for introverts to market themselves as freelance writers is through social media platforms like Twitter and LinkedIn.
You can find freelance writing gigs on the following platforms:
Become a virtual assistant
Virtual assistants provide support to businesses and entrepreneurs from all over the world, and they can do it all from the comfort of their own homes.
A virtual assistant job is a good side hustle for introverts because it has more to do with working behind the scenes.
You will not be required to talk to clients or even speak on the phone. Instead, you will do tasks like scheduling appointments, writing emails, and administrating databases.
If you have experience working with computers and internet-based applications, this could be the perfect opportunity for you!
Places to find virtual assistant;
Become An Affiliate Marketer
Affiliate marketing is one of the side hustles for introverts that you can start with no upfront investment.
All you need to do is join an affiliate marketing program and start promoting the products to promising buyers. By doing this, you can earn a commission on every sale that you refer to, without having to put any money down yourself.
As an affiliate marketer, you need to ensure that you choose and familiarize yourself with the right products before you recommend them to other people.
It is easier to promote a product you have used or know about, so you can advertise it properly.
How to become a Jumia affiliate
Here Are Some Of The Best General Affiliate Marketing Networks
When choosing an affiliate network, be sure to consider what type of products or services you want to promote, and the features and benefits that are important to you. Doing so will ensure you select the affiliate network that best meets your needs.
Affiliate marketing can be a great way to earn additional income if you have a blog, YouTube channel or large following on social media.
If you understand your audience and promote products they are interested in, you will generate significant revenue or a full-time income.
Offer paid online courses
Online courses have become a popular way to learn new skills and knowledge. And it is also a great side hustle for introverts.
If you have a skill or knowledge that you think could help others, you can create an online course and sell it. Courses serve as a good passive income for introverts while also helping others.
You can create a course on almost any topic. For example, you can teach people how to cook, speak a foreign language, or use a certain software.
Creating a course is a great way to share your expertise with others and help them improve their skills.
Online courses can come in different forms, it can be as text, audio, or video. If you don't want to talk, you can write. It is also possible to create a course that combines all three formats.
Things To Keep In Mind When Creating An Online Course
Before you can start teaching, you need to decide on a topic. Choose something that you're passionate about and have extensive knowledge of.
Once you choose your topic, you need to create lesson plans and materials. This can be time-consuming, but it is important to make sure your course is high quality in order to engage and keep students.
Before you create your online course, choose an excellent platform to host it and follow their creator guidelines.
If your course is mostly video-based, then you'll want to choose a platform that makes it easy to host and stream your videos.
Best places to sell or host your online course;
After creating your course, upload it to the platform of your choice and start promoting it to your audience through social media, your website, or online directories.
It is important to make people aware of your course so they can find and purchase it.
Creating and selling online courses can be a great way for introverts to earn some extra income.
Just make sure you choose a topic you are passionate about, create high-quality materials, and promote your course to the right people.
Self Publish a book with Amazon KDP
If you have ever thought of having a book in your name, now is the time to take action.
Self publishing your book with Amazon Kindle Direct Publishing help you easily sell your book online without having to deal with any publishers, agents or shipping company.
Amazon handles everything after you successfully create and publish your book with them.
As long as you have a good idea for a book and can write well or create fantastic low content books, self publishing is an easy way to get your work out into the world.
All you need to do is create an outstanding book and upload it onto Amazon's website, and they do the rest.
You can boost sales by promoting your books on popular social media platforms or by word of the mouth if you don't mind talking to people.
Sell Handmade Crafts Online
Handmade crafts are great side hustles for introverts because they are typically fun to make and sell for a decent profit.
Also, creating a new craft can give you the peace and time you need with yourself at home. It can also be a fun hobby for you if you enjoy what you are doing.
People are increasingly interested in buying handmade crafts because of their unique nature. This is a great time to be selling your wares if you're a crafter!
Some craft ideas for you;
baking
sewing
jewelry making
Scented candles
Bath bombs
There are different online marketplaces to sell your crafts like; Etsy, Poshmark and eBay.
Each of these platforms has its own advantages, so it's worth taking some time to research which one would be the best fit for you and your products.
Start a Web development/Design Business
If you have a talent for coding or design, you can start selling website themes and designs.
You can create website designs for popular platforms like WooCommerce, Shopify, Squarespace, Showit, Webflow, and Wix.
Note: Each of the aforementioned web platforms has its own core programming language and guidelines that you must adhere to.
If you have no coding skills, you can become a no code website designer by using page builders that come with most of these platforms.
WordPress has lots of page builders like Elementor, Divi and Gutenberg plugins like Coblocks and Kadence that can help you create outstanding websites.
There are many great platforms where you can learn about design, such as Udemy and YouTube.
Choose one that interests you and start learning! With a little effort, you can develop your skills and start creating beautiful website designs.
Become a Social Media Manager
Social media management is a great side hustle for introverts who love to network on social media without being the center of attraction.
As a social media manager, you would create and manage social media accounts for businesses or organizations.
This would involve creating content, engaging with followers, and monitoring analytics.
You can use social media management platforms like Hootsuite and Buffer, which makes it easy to manage all social media accounts in one place.
You can also use these platforms to schedule posts, track the performance of your campaigns, and analyze your data.
To be successful in this role, you would need to have excellent written and communication skills, as well as be well-versed in various social media platforms.
You would also need to be highly organized and detail-oriented, as you may manage multiple accounts simultaneously.
If you are interested in becoming a social media manager, there are many great resources available to help you get started.
Udemy offers a variety of courses on social media marketing, and Hootsuite provides a certification program in social media management.
With a little effort, you can develop the skills necessary to succeed in this field.
Live Chat Support
Introverts are intuitive problem solvers. Working on the side as a customer service support is a good idea if you are always looking to solve problems.
You just have to chat with customers and provide a solution for them to fix their problems.
You can find live chat jobs on websites like Indeed and UpWork. If you are interested in this career path, make sure you are well-versed in customer service principles and practices. This will help you provide superior customer service experience to your clients.
Take part In Online Surveys Or Paid Focus Groups
Online surveys and paid focus groups have become increasingly popular in recent years, as they offer a convenient way for companies to gather feedback from consumers about their products and services.
Taking part in online surveys and focus groups is an ideal side hustle for introverts who want to earn money by providing valuable feedback. This opportunity does not require traveling or taking time out of your busy schedule.
If you have the time and opportunity, I highly recommend taking part in one or both activities. Learn more about respondent.io, a high paying survey platform that pays as high as $100 per survey.
If you do not live in the US or UK, learn more about participating in online surveys outside these countries.
Tips To Help You Get Started With Your New Side Hustle
Now that we have gone through some of the best side hustles for introverts, here are a few tips to help you get started with your new side hustle;
Come up with a business idea that you're passionate about
If you want to be successful in business, it's important to come up with an idea that you're passionate about.
By pursuing something you're interested in, you'll be more likely to stick with it and see it through to fruition.
Brainstorm a few different ideas and then do some research to see if there's a market for what you have in mind.
Once you've found a promising concept, it's time to put together a plan and make your dream a reality.
Figure out what skills you have that can help you run your side hustle
Do you have experience with accounting or marketing?
Are you good at networking?
Are you code with codes or any other skill?
Once you know what skills you offer, you can start planning your side hustle.
Have a solid marketing plan
To have a successful side hustle, it is important to have a solid marketing plan. This means researching the industry, finding potential clients, and understanding the competition.
By having this knowledge, you will make informed decisions about starting your business venture. Without proper planning, it's difficult to achieve the desired results.
Be persistent and keep at it even when things are tough.
No matter what side hustle you pursue, it's important to be persistent and keep at it even when things are tough. This is the only way to achieve your desired results.
So, if you're facing some difficult times with your business, don't give up – keep going! You'll see the success you desire.
There are no specific rules to achieve success in any business. You must be smart, ready to experiment and take risks!
Also, set goals that will help keep you motivated and on track as you work towards achieving larger goals.
Celebrate your successes and learn from your failures.
It's important to celebrate your successes and learn from your failures when you're running a business. This will help you stay motivated and ensure that you're always moving forward.
When you make a sale, take a moment to celebrate and then look at what went well so you can replicate that in the future.
If you have a setback, don't be discouraged- simply analyze what went wrong and figure out how you can avoid that in the future.
By constantly learning and growing, you'll be able to keep your business moving forward even when there are bumps in the road.
Be ready to experiment
If you're ever unsure about how to approach a project, don't be afraid to try new things. As long as you're honest with yourself, experimentation is always safe.
You also need to be flexible and be able to adapt to changing trends as they come. So it's important to keep up with industry news and continue to research new methods of marketing your services or products.
Be open to feedback and criticism
When you create or do something, there's always a chance that some people will not appreciate it.
Not everyone is going to love your work, and that's okay. Use the constructive feedback you receive to make your work even better.
There are many ways to improve your work and gain more recognition. Don't be afraid to try new things and take risks. With enough effort and dedication, anything is possible.
Don't over commit yourself
Don't put too much pressure on yourself to succeed. Take your time and build a sound foundation before taking on more projects.
Get support
Don't do it all alone. Get support from family, friends, and colleagues if you need it.
Be patient
Remember, it takes time for your content to take hold, and for people to recognize your work. Don't give up too soon — success is worth the effort!
It's important to keep creating quality content and promoting it to your target audience.
Positive affirmations for businesses
Have fun
Where is the fun if you don't enjoy yourself during work?
You'll likely not make much money from anything you don't enjoy doing. Just remember to have fun and enjoy the process, as that's what it's all about.
Conclusion
These are some of the best side hustles for introverts that are available to you. There are many more out there, so be sure to explore the options available to you.
Regardless of the side hustle you choose to work on, you need to invest the time in learning the craft and scaling the business.
There are countless resources available online to help you get started, including free courses and online tutorials.
I may earn a commission from qualifying purchases made through the links on this blog, at no additional cost to you. For more information, see my Disclosure