As a student, the journey towards achieving academic and personal success may seem overwhelming — especially when you're working hard, juggling multiple responsibilities, and chasing after your dreams all at once. But hey, it's important to remember one thing: you're not alone in this journey.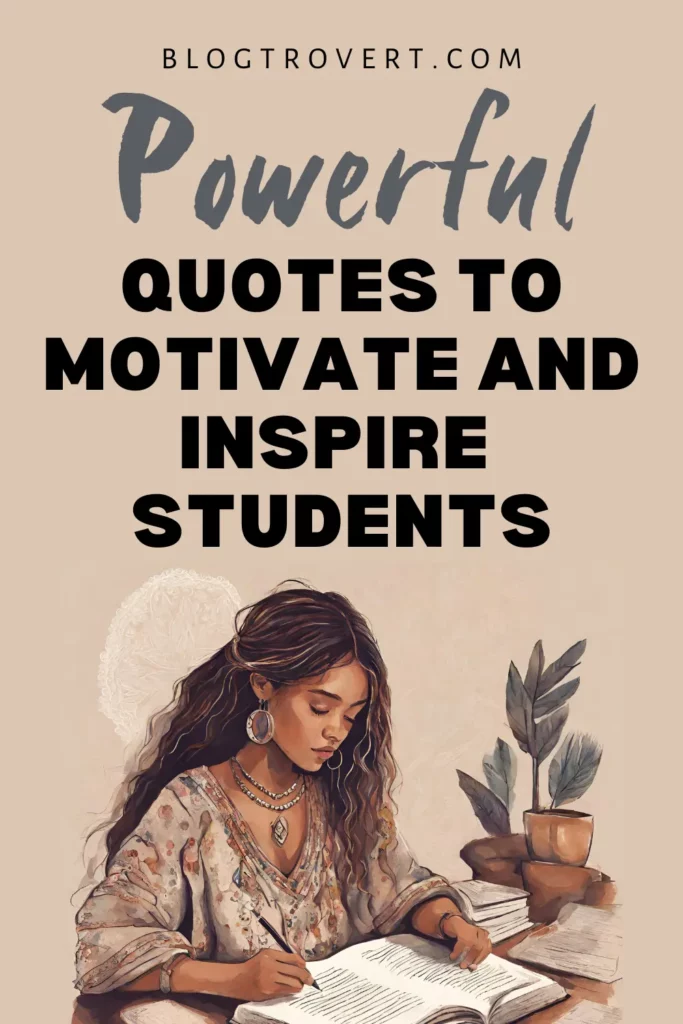 You, me, and thousands of others have embarked on this academic adventure, each turning to our muses for inspiration at various points. What better place to start‌ than with compelling, motivational quotes to help you reach your potential?
In this post, you will find over 60 quotes that will inspire and motivate you as a student to reach your full potential and achieve your goals.
Why students need motivation
Motivation is an essential factor that drives students to achieve their academic goals. Students need motivation to stay focused, set targets, and strive towards achieving them.
Without a driving force, it is easy to lose interest in your studies and perform poorly in your exams. Motivation helps you to overcome challenges, setbacks, and failures that may make your academic journey stressful.
As a student, motivation helps you to develop a positive attitude towards learning and other academic activities. It becomes easier to engage in your studies, take part more actively in class, ask questions and seek help when you need it.
Always be on the lookout for things that will inspire you to study whether it's through inspirational quotes, supportive colleagues, study groups or valuable writing help services that can offer advice or guide you through your assignments or projects.
Motivational quotes for students to study harder
"Embark on the study journey with determination, knowing that every effort you put in now will reward you tremendously in the future."
"Unlock your full potential by devoting yourself fully to the task at hand. The key to success lies in studying hard."
"Remember, knowledge doesn't just come knocking on your door; you have to chase it, fight for it, and study hard."
"The path to success is paved with countless hours of focus, sacrifice, and studying hard. It all starts with a single step."
"Be bold enough to keep pushing when the going gets tough. Your hard study will translate into a triumph that only you can create."
"Believe in your mind's capacity to absorb knowledge and growth. In the study of discipline, success will be your crowning glory."
"Conquer your educational challenges not with fear, but with an unwavering commitment to studying harder and harder."
"Plant the seeds of discipline and effort in your studies today, and you shall reap the fruits of success and satisfaction tomorrow."
"Hard study not only equips you with knowledge but also builds your confidence, molding you into an achiever."
"Dare to push your limits, press on in your studies, for excellence is built on the bedrock of hard work and determination."
"Success is earned by those who are not afraid to study harder, to delve deeper, and to persist in the face of adversity."
"Your victory is not determined by the duration but the intensity of your effort. Remember to study hard and you shall accomplish great things."
"Shatter the shackles of mediocrity; let your relentless pursuit of studies lead you towards a future of limitless possibilities."
"The road less traveled requires a steadfast commitment to studying harder. With every step, you're forging your path to success."
"Never underestimate the power of persistent study. It is the fuel that propels ordinary individuals into the realm of extraordinary achievers."
Motivational quotes for students to persist
"Don't watch the clock; do what it does. Keep going." – Sam Levenson.
"Success is not final, failure is not fatal: It is the courage to continue that counts." – Winston Churchill
"The secret of getting ahead is getting started." – Mark Twain
"The harder you work for something, the greater you'll feel when you achieve it." – Unknown
"Failure is the opportunity to begin again, this time more intelligently." – Henry Ford
"Our greatest weakness lies in giving up. The most certain way to succeed is always to try just one more time." – Thomas Edison.
"Education is one of the most powerful weapons you can use to change the world." – Nelson Mandela
"Your time is limited, don't waste it living someone else's life." – Steve Jobs
"Don't let what you can't do get in the way of what you can do." – John Wooden
"You are never too old to change your goal or dream a new dream." – C. S. Lewis
"Success is going from failure to failure without losing enthusiasm." – Winston Churchill
"The future depends on what you do today." – Mahatma Gandhi
"Hardships often prepare ordinary people for an extraordinary destiny." – C. S. Lewis
"In the middle of every difficulty lies opportunity." – Albert Einstein
"The only person you should try to be better than is the person you were yesterday." – Unknown
"It does not matter how slowly you go as long as you do not stop." – Confucius
"The road to success and the road to failure are almost exactly the same." – Colin R. Davis
"Be patient with yourself. Self-growth is tender; it's holy ground. There's no greater investment."–Stephen Covey
"Many of life's failures are people who did not realize how close they were to success when they gave up." – Thomas Edison
"Failure will never overtake me if my determination to succeed is strong enough." – Og Mandino
Self-confidence quotes for students to
"Believe you can, and you're halfway there." – Theodore Roosevelt
"Don't let what you cannot do interfere with what you can do." – John Wooden
"Confidence comes not from always being right but from not fearing to be wrong." – Peter T. McIntyre
"Never bend your head. Hold it high. Look the world straight in the eye." – Helen Keller
"Know that there is something inside you that is greater than any obstacle." – Christian D. Larson
"The only limits that exist are the ones you place on yourself." – Unknown
"You miss 100% of the shots you don't take." – Wayne Gretzky
"It is not the mountain we conquer, but ourselves." – Edmund Hillary
"The only person you are destined to become is the person you decide to be." – Ralph Waldo Emerson
"We owe it to ourselves and to the next generation to conserve the environment so that we can bequeath our children a sustainable world that benefits all." – Dr. Wangari Maathai
Motivational quotes for students' success
"Success is not the key to happiness. Happiness is the key to success. If you love what you're doing, you will be successful." – Albert Schweitzer
"Don't limit your challenges. Challenge your limits." – Unknown
"The secret to getting ahead is getting started." – Mark Twain.
"The only place where success comes before work is in the dictionary." – Vidal Sassoon
"Believe that you can, and you're already halfway there." – Theodore Roosevelt
"Education is not about filling a bucket. It is about lighting a fire." – William Butler Yeats
"The only limit to our realization of tomorrow will be our doubts today." – Franklin D. Roosevelt
"The only way to do good work is to love what you do." – Steve Jobs
"Successful and unsuccessful people do not vary greatly in their abilities. They vary in their desires to reach their potential." – John Maxwell
"The secret to success is to start." – Mark Twain
"You have brains in your head. You have your feet in boots. You can point yourself in any direction you want." – Dr. Seuss
"Chase your dreams, but always know the road that will lead you home again." – Tim McGraw
"The journey of a thousand miles begins with a single step." – Lao Tzu
"The more that you read, the more things you will know. The more that you learn, the more places you'll go." – Dr. Seuss
"Don't let yesterday take up too much of today." – Will Rogers
Motivational quotes for students to dream big
"Dream big and dare to fail." – Norman Vaughan
"The future belongs to those who believe in the beauty of their dreams." – Eleanor Roosevelt
"The best way to predict the future is to create it." – Peter Drucker
"Your time is now. Start where you are. Use what you have. Do what you can." – Arthur Ashe
"Your education is a dress rehearsal for a life that is yours to lead." – Nora Ephron
"You can never be overdressed or over-educated." – Oscar Wilde
"Success is not just about making money. It's about making a difference." – Unknown.
"The only thing standing between you and your goal is the story you keep telling yourself as to why you can't achieve it." – Jordan Belfort
"The more you praise and celebrate your life, the more there is in life to celebrate." – Oprah Winfrey
"Don't say you don't have enough time. You have exactly the same number of hours per day that were given to Helen Keller, Pasteur, Michaelangelo, Mother Teresa, Leonardo da Vinci, Thomas Jefferson, and Albert Einstein." – Jackson Brown Jr
Here we have it 70 motivational quotes for students that are sure to inspire and keep you studying!
These quotes have touched on everything from resilience to self-belief, from confidence to success — all encapsulating the very essence of what it means to be a student. As you embrace your journey, let these words inspire you, spur you on, and remind you of your limitless potential.
The journey might be long and challenging, but remember what our revered mentors have taught us: believe in your dreams, don't fear failure, tap into your potential, and start right now. With these maxims, you won't just survive this journey; you'll thrive, creating a path of excellence that is all your own.
I may earn a commission from qualifying purchases made through the links on this blog, at no additional cost to you. For more information, see my Disclosure