Looking for career woman quotes to inspire working women?
As a career woman, you understand the daily struggles and challenges of navigating the workplace. Sometimes you feel overwhelmed, underestimated, and undervalued.
You may have experienced setbacks, failures, and obstacles that have tested your resilience and determination. Yet, despite these hurdles, you continue to persevere and push forward towards your goals.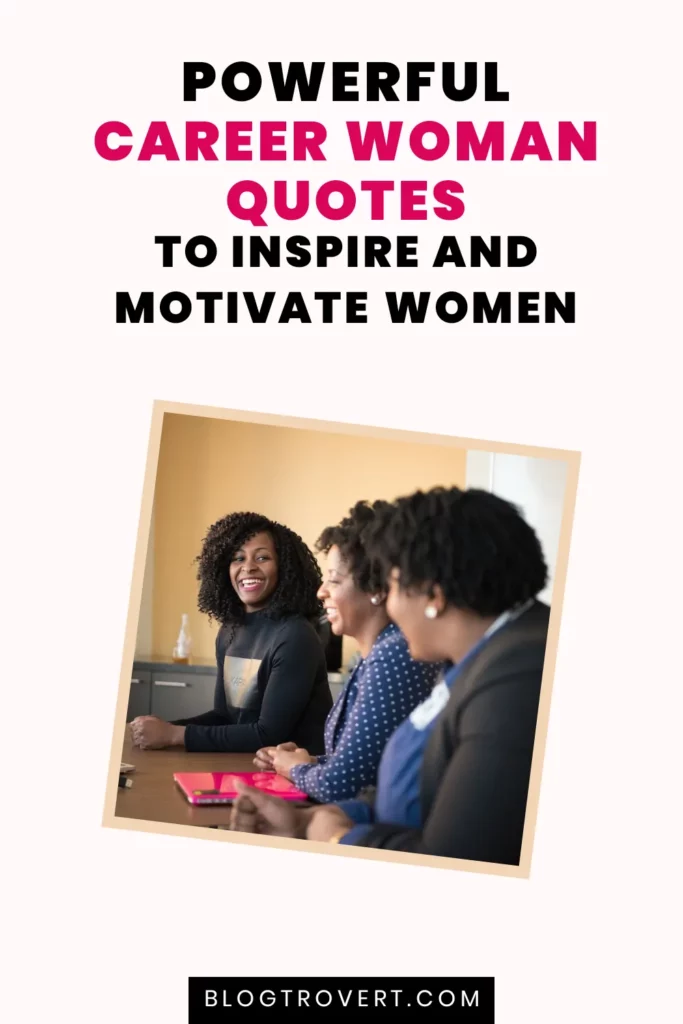 What does it take to be a career woman?
The term "career woman" refers to a woman who has established herself in her profession and focuses on developing her career over the long term.
Being a successful career woman requires more than just ambition and drive. It takes a combination of self-discipline, determination, and resilience to stay the course and stay focused on your goals.
It also means having enough self-awareness and self-confidence to back yourself and make decisions that you believe are in your best interest.
It's important to find the balance between work and personal life to ensure that your professional and family life don't suffer, as well as to maintain a sense of fulfillment in both.
Career woman quotes can serve as a source of motivation and inspiration to stay on track and continue striving towards your goals.
To inspire you on your journey, we have compiled a list of career woman quotes that will motivate and empower you.
Whether you are a seasoned professional or just starting out in your career, these quotes will resonate with you and keep you motivated to reach your full potential.
So, let's dive into this list of career woman quotes and ignite your passion for success!
My favorite career woman quotes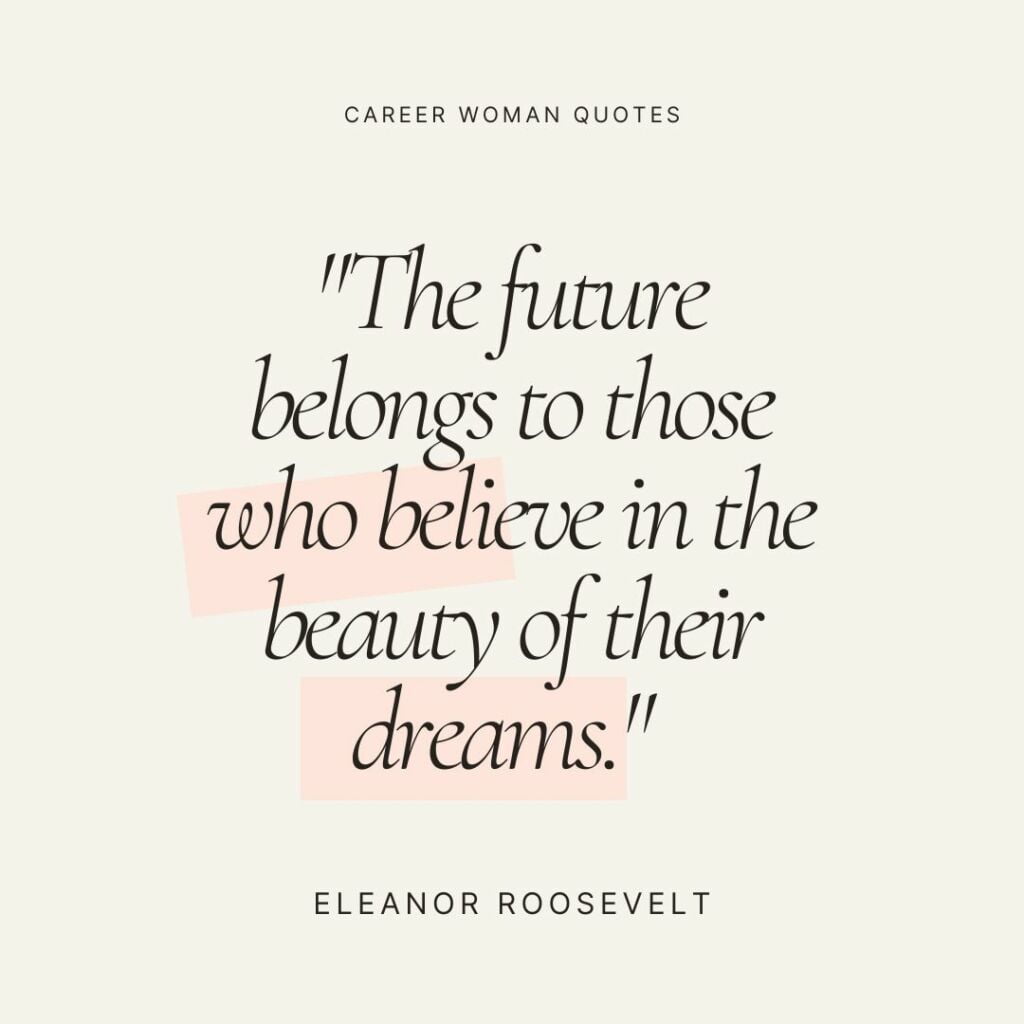 The future belongs to those who believe in the beauty of their dreams.

Eleanor Roosevelt
"If you believe in the beauty of your dreams, then the future belongs to you." These powerful words by Eleanor Roosevelt hold immense value for every career woman out there who is striving to make a mark in her field.
As women, we often face obstacles in our professional lives, ranging from the wage gap to lack of representation and gender bias. Despite the challenges, it's vital to remind ourselves that we can achieve greatness if we believe in ourselves and our dreams.
Our aspirations may seem like distant stars, but with perseverance and determination, we can reach for them and make them a reality.
So, let's hold on to the beauty of our dreams and work towards them with unwavering dedication, for the future belongs to us – the bold, resilient, and inspiring career women who dare to dream big.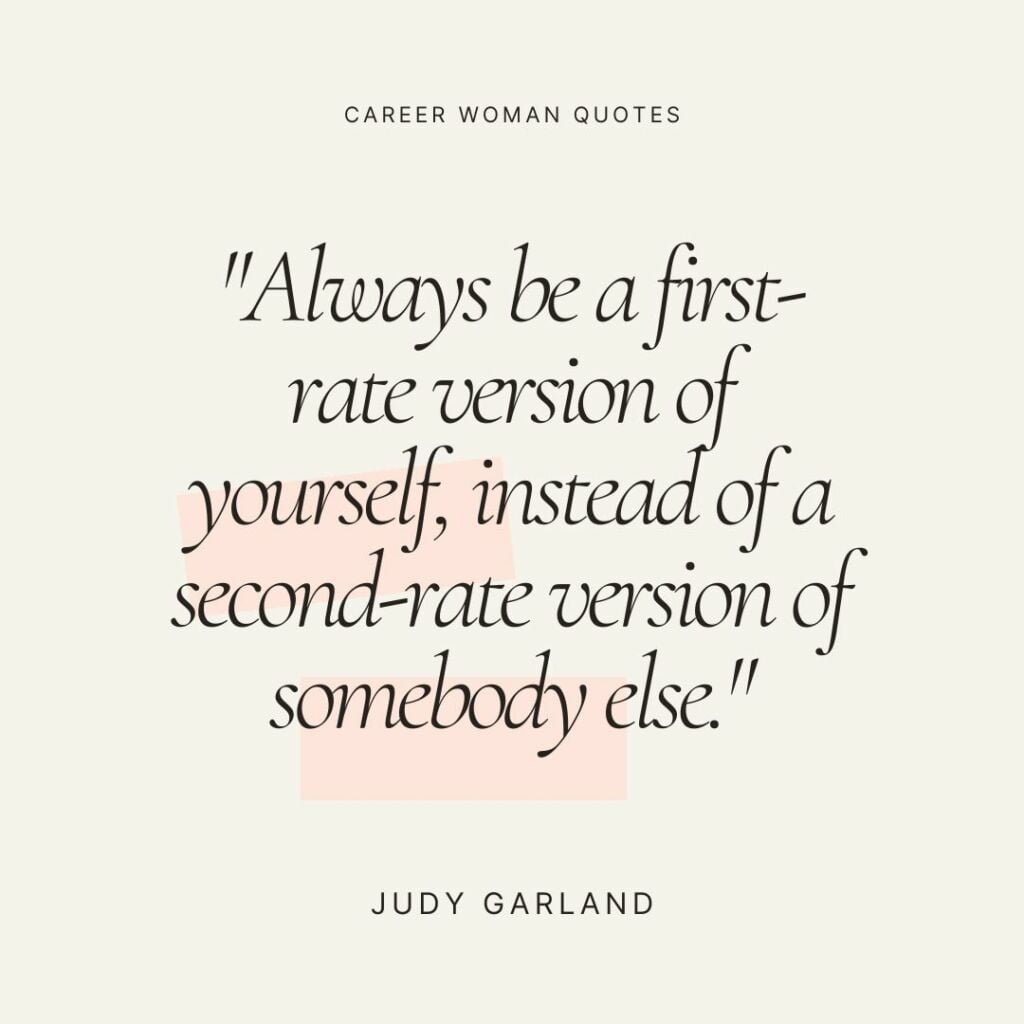 Always be a first-rate version of yourself, instead of a second-rate version of somebody else.

Judy Garland
Judy Garland's famous quote, "Always be a first-rate version of yourself, instead of a second-rate version of somebody else," is an excellent reminder for career women everywhere.
It is easy to fall into the trap of trying to emulate successful people at work and copy their strategies, but what works for one person may not work for you.
As a career woman, it is important to focus on your own strengths and skills and develop them to be the best version of yourself.
You should strive to be authentic to yourself, rather than trying to fit into someone else's mold. Take a moment to reflect on your unique qualities and how you can use them to achieve your goals.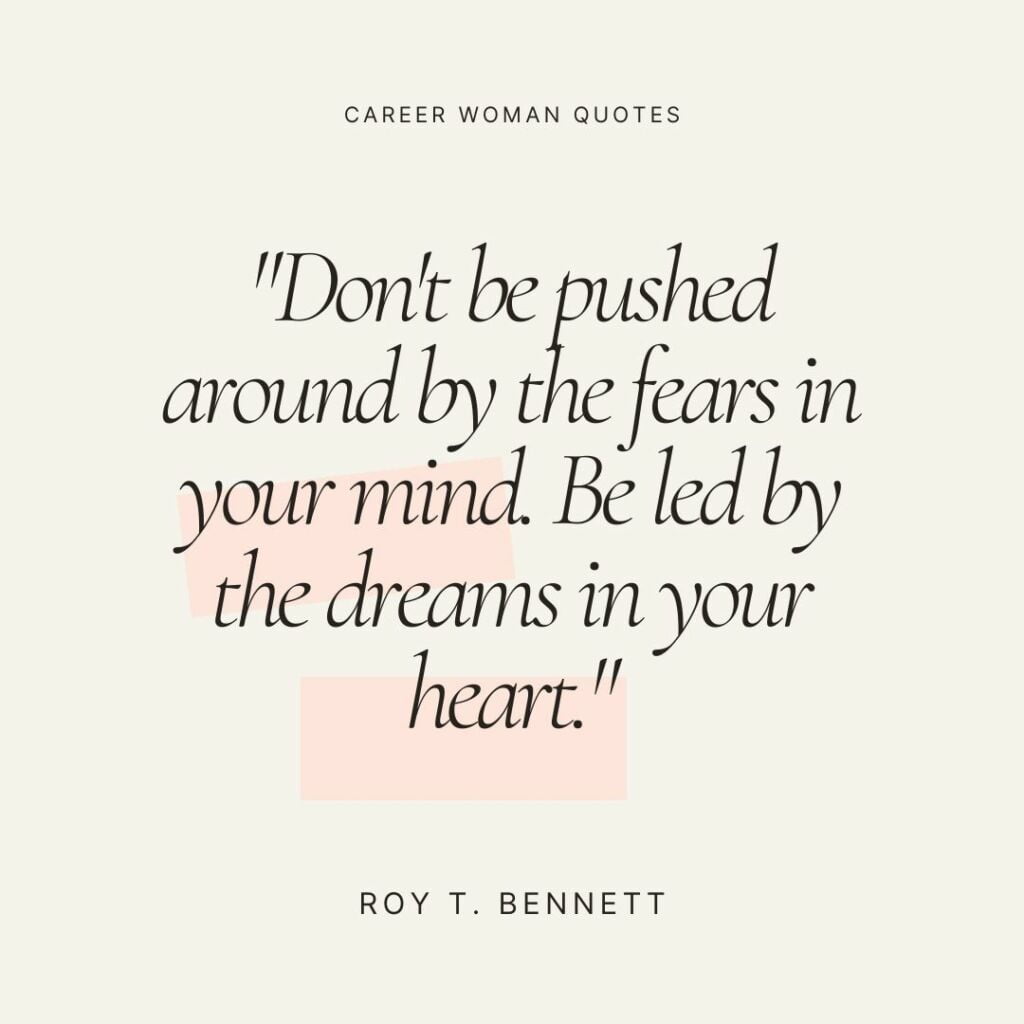 "Don't be pushed around by the fears in your mind. Be led by the dreams in your heart."

Roy T. Bennett
It is far too easy to fall into the trap of self-doubt and fear of failure when faced with challenges or difficulties in the professional world.
If we allow self-doubt and fear of failure to take control, we will never be able to reach our full potential. Instead, we should listen to the dreams in our heart and follow our intuition, even when it feels scary or uncertain.
After all, it is only by taking calculated risks and pursuing our passions that we can accomplish great things in our careers.
This quote serves as a powerful reminder to stay true to yourself and focus on success, no matter the obstacles that may arise in our path.
As career women, we must embody this mindset every day and remind ourselves of the limitless potential that lies within.
More inspiring working women quotes to motivate you
Speaking as a woman – I understand what it means to be a daughter, and to be a wife, and to be a mother, and also to be a career woman. The multiple roles that women can play in a society if given the opportunity is really a tremendous asset. – Margaret Chan
You can't use up creativity. The more you use, the more you have. – Maya Angelou
"Believe in yourself, take on your challenges, dig deep within yourself to conquer fears. Let no one bring you down. You got this." – Chantal Sutherland
You really have to look inside yourself and find your own inner strength, and say, 'I'm proud of what I am and who I am.' – Mariah Carey.
"Dreams are lovely, but they are just dreams. Fleeting, ephemeral, pretty. But dreams do not come true just because you dream them. It's hard work that makes things happen. It's hard work that creates change." – Shonda Rhime
"The most common way people give up their power is by thinking they don't have any." – Alice Walker
"I have learned over the years that when one's mind is made up, this diminishes fear." – Rosa Parks
"The most effective way to do it, is to do it." – Amelia Earhart
"Every great dream begins with a dreamer. Always remember, you have within you the strength, the patience, and the passion to reach for the stars to change the world." – Harriet Tubman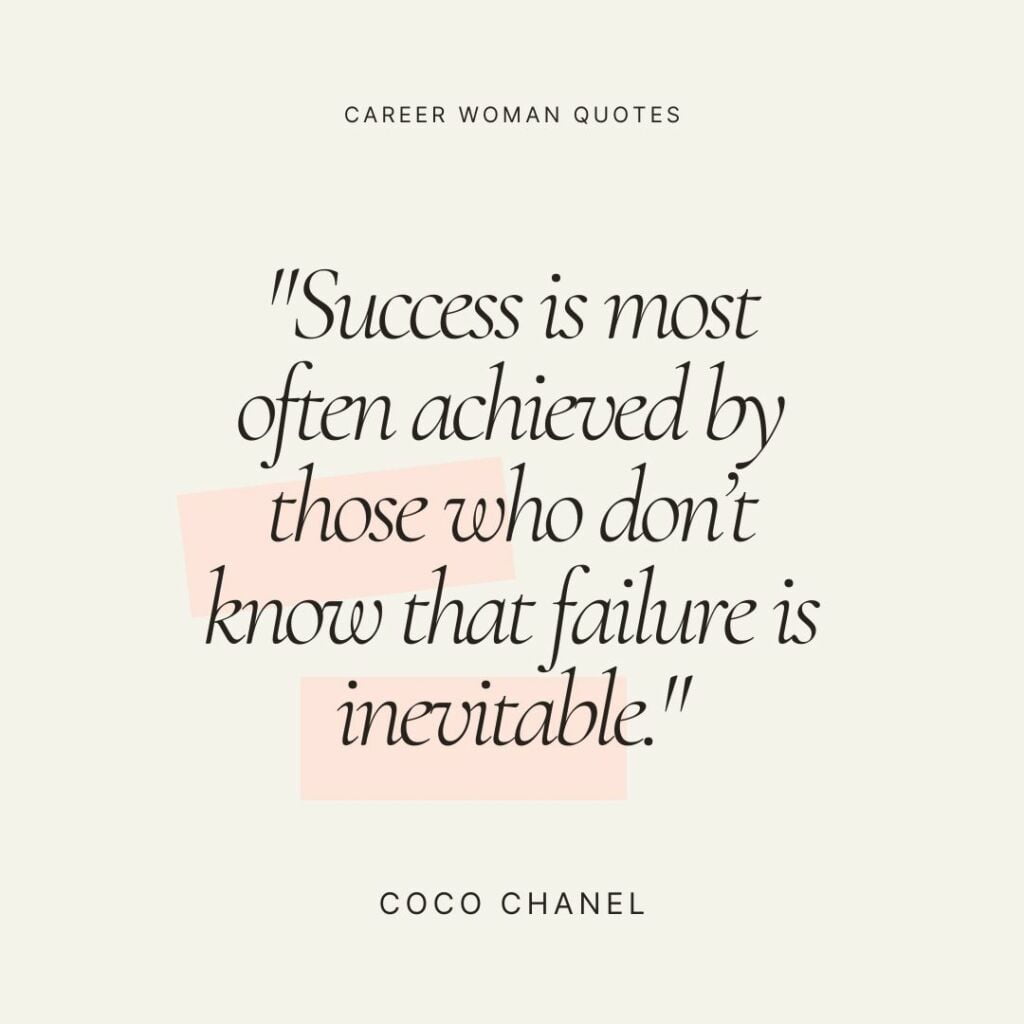 "Success is most often achieved by those who don't know that failure is inevitable." – Coco Chanel
"If you don't like the road you're walking, start paving another one." – Dolly Parton
"Success isn't about how much money you make. It's about the difference you make in people's lives." – Michelle Obama
Don't be afraid. Be focused. Be determined. Be hopeful. Be empowered. – Michelle Obama.
We must have perseverance and above all, confidence in ourselves. We must believe that we are gifted for something and that this thing must be attained. – Marie Curie.
"You have to have confidence in your ability, and then be tough enough to follow through." – Rosalynn Carter
I've come to believe that each of us has a personal calling that's as unique as a fingerprint – and that the best way to succeed is to discover what you love and then find a way to offer it to others in the form of service, working hard, and also allowing the energy of the universe to lead you. – Oprah Winfrey
Life is either a daring adventure or nothing at all. – Helen Keller
"I can't think of any better representation of beauty than someone who is unafraid to be herself." – Emma Stone
"A woman is the full circle. Within her is the power to create, nurture and transform." – Diane Mariechild
"I'm tough, ambitious, and I know exactly what I want. If that makes me a b*tch, okay." – Madonna
My mother told me to be a lady. And for her, that meant be your own person, be independent. – Ruth Bader Ginsberg.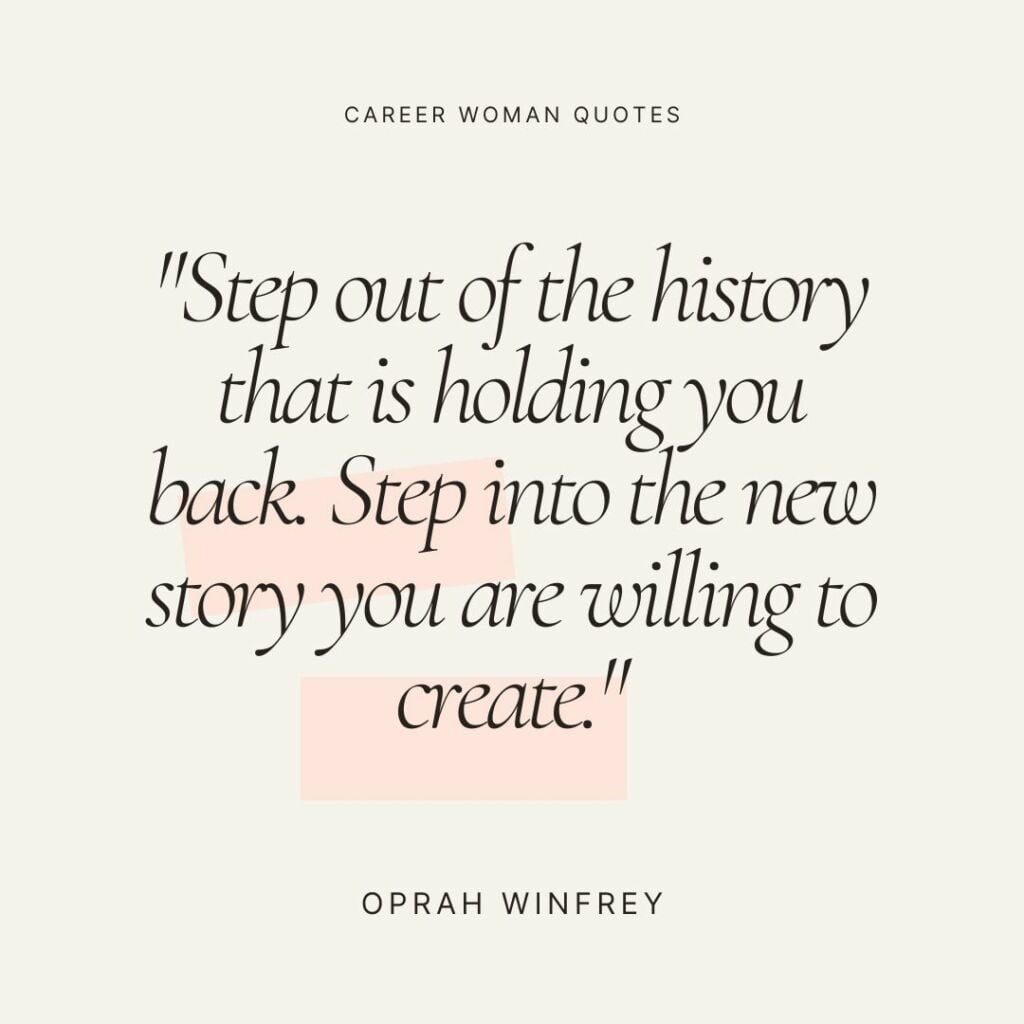 "Step out of the history that is holding you back. Step into the new story you are willing to create." – Oprah Winfrey.
"Don't limit yourself. Many people limit themselves to what they think they can do. You can go as far as your mind lets you. What you believe, remember, you can achieve." – Mary Kay Ash
"Success is not final, failure is not fatal: It is the courage to continue that counts." – Winston Churchill
Creativity is inventing, experimenting, growing, taking risks, breaking rules, making mistakes, and having fun. – Mary Lou Cook
I really think a champion is defined not by their wins but by how they can recover when they fall. – Serena Williams.
Ignore the glass ceiling and do your work. If you're focusing on the glass ceiling, focusing on what you don't have, focusing on the limitations, then you will be limited. – Ava Duvernay.
Doubt is a killer. You just have to know who you are and what you stand for. – Jennifer Lopez
Creativity comes from trust. Trust your instincts. And never hope more than you work. – Rita Mae Brown
Strive every day to work with brands and people you believe in, in industries you're passionate about. When you do that, you'll be more creative, more driven, more innovative. – Alannah Sandehl
The world needs strong women. Women who will lift and build others, who will love and be loved, women who live bravely, both tender and fierce, women of indomitable will. – Amy Tenney
Always aim high, work hard, and care deeply about what you believe in. And, when you stumble, keep faith. And, when you're knocked down, get right back up and never listen to anyone who says you can't or shouldn't go on. – Hillary Clinton
Whatever the problem, be part of the solution. Don't just sit around raising questions and pointing out obstacles. ― Tina Fey
Life is not about waiting for the storms to pass. It's about learning how to dance in the rain. – Vivian Greene.
The question isn't who's going to let me; it's who's going to stop me. – Ayn Rand.
"Behind every successful woman is a tribe of other successful women who have her back."
"A hardworking woman is like a diamond: tough, resilient, and shines brightest under pressure."
"A woman who works hard for what she wants will never be limited by what others think she can achieve."
"Success is not determined by gender, but by the determination and dedication of the individual."
"A hardworking woman knows that success is not given, it is earned through sacrifice and perseverance."
"The road to success is often long and difficult, but a hardworking woman knows that every step is worth the effort."
"A woman who works hard for her dreams is unstoppable, unbreakable, and undeniably powerful."
"The world needs more hardworking women who refuse to settle for less than they deserve."
"A hardworking woman doesn't wait for opportunities to come her way; she creates them with every step she takes."
"A woman who works hard knows that failure is not the end, but a stepping stone on the path to greatness."
You can have unbelievable intelligence, you can have connections, you can have opportunities fall out of the sky. But in the end, hard work is the true, enduring characteristic of successful people. – Marsha Johnson Evans
Where to get more career woman quotes
There are many online resources where you can find quotes for career women. Here are a few suggestions:
Goodreads: This website has a comprehensive collection of quotes about career success, leadership, and empowerment. You can search for quotes by keyword or browse through popular topics.
Brainy Quote: Another website with a wide variety of quotes, including many about women and careers. You can search for quotes by the author or keyword.
Forbes: This business magazine dedicates a section on their website to quotes from successful women in various industries. You can find inspiration and advice from some of the most influential women in business.
Instagram: This social media platform has many accounts that share motivational quotes for women in the workplace. You can search for relevant hashtags like #womeninbusiness or #careerwoman to find accounts that share this type of content.
Pinterest: This visual social media platform is a great source for inspiring quotes about careers and women in the workforce. You can browse through boards dedicated to various topics, or search for specific keywords.
The Benefits of quotes for working women?
Working women quotes provide a source of inspiration and motivation.
They also help to highlight the importance of self-care and the value of hard work.
They help to remind career women of their goals, and to inspire them to take action.
They provide a sense of community and solidarity among career women, allowing them to feel connected to others who share similar goals and experiences.
A career woman quote helps to provide a positive and uplifting message that remind women of the importance of staying focused and motivated to achieve their dreams.
What should you look for in a career woman quote?
When looking for quotes for career women, it is important to consider those that emphasize the importance of hard work, dedication and resilience.
Inspirational quotes can help to motivate and empower career women to reach their goals and achieve success in their chosen fields.
It is also beneficial to look for quotes that emphasize the need to find and maintain balance in life, motivate you to keep pushing, and remind you to stay true to your values and beliefs.
Ultimately, the goal is to find quotes that inspire and motivate you as a career woman to reach your highest potential.
Important skills for aspiring career women
While quotes will motivate your journey, you need more just quotes to become a successful career woman.
There are several key traits and skills that can help you on your way. Lets us wrap this post up with a few of them.
Education and training
Education and training are critical components of career success. A strong educational foundation and ongoing training and development can help a woman build the skills and knowledge needed to excel in her field.
Strong work ethic
A career woman must have a strong work ethic and be willing to put in the time and effort required to achieve success. This often involves working long hours, taking on challenging assignments, and consistently delivering high-quality work.
Ambition and drive
Ambition and drive are essential traits for anyone looking to succeed in their career. A career woman must be motivated and driven to achieve her goals, and willing to take risks and make sacrifices to reach them.
Resilience
A career woman must be resilient and able to bounce back from setbacks and failures. This often involves being able to adapt to change, learn from mistakes, and persevere through difficult times.
Networking and relationship building
Building strong professional relationships and networks is important for career success. A career woman must be able to connect with colleagues, mentors, and industry experts to learn from them, gain new perspectives, and identify opportunities for growth and advancement.
Leadership skills
As a career woman advances in her career, leadership skills become increasingly important. These skills include the ability to motivate and inspire others, delegate effectively, and make sound decisions under pressure.
Patience
Successful career women know that patience is key. It takes time to build a successful career, and it takes even more time to maintain it. Don't rush the process or expect things to happen overnight.
Dedication
Like all good things in life, success in the workplace requires hard work and dedication. Set goals for yourself, and work diligently towards achieving them. Don't let distractions or discouragement get in the way of your goals.
Conclusion
The career woman quotes in this blog post offers a powerful reminder of the strength, resilience, and determination required to succeed in the professional arena.
From acknowledging the challenges of the gender gap in leadership positions to celebrating the power of self-belief, these quotes offer inspiration and motivation for women striving to make their mark in their chosen career paths.
May these quotes serve as a reminder and encouragement to you to continue to strive for success, pursue your passions, and shatter those glass ceilings.
I may earn a commission from qualifying purchases made through the links on this blog, at no additional cost to you. For more information, see my Disclosure