Sometimes, having the same look on your walls can create a redundant feeling that can demotivate you. And if you work from home full time, it can mean less productivity.
If you are tired of looking at the same dull and uninspiring walls in your home, consider transforming it with peel and stick wallpapers and watch how a new look helps boost your mood and productivity.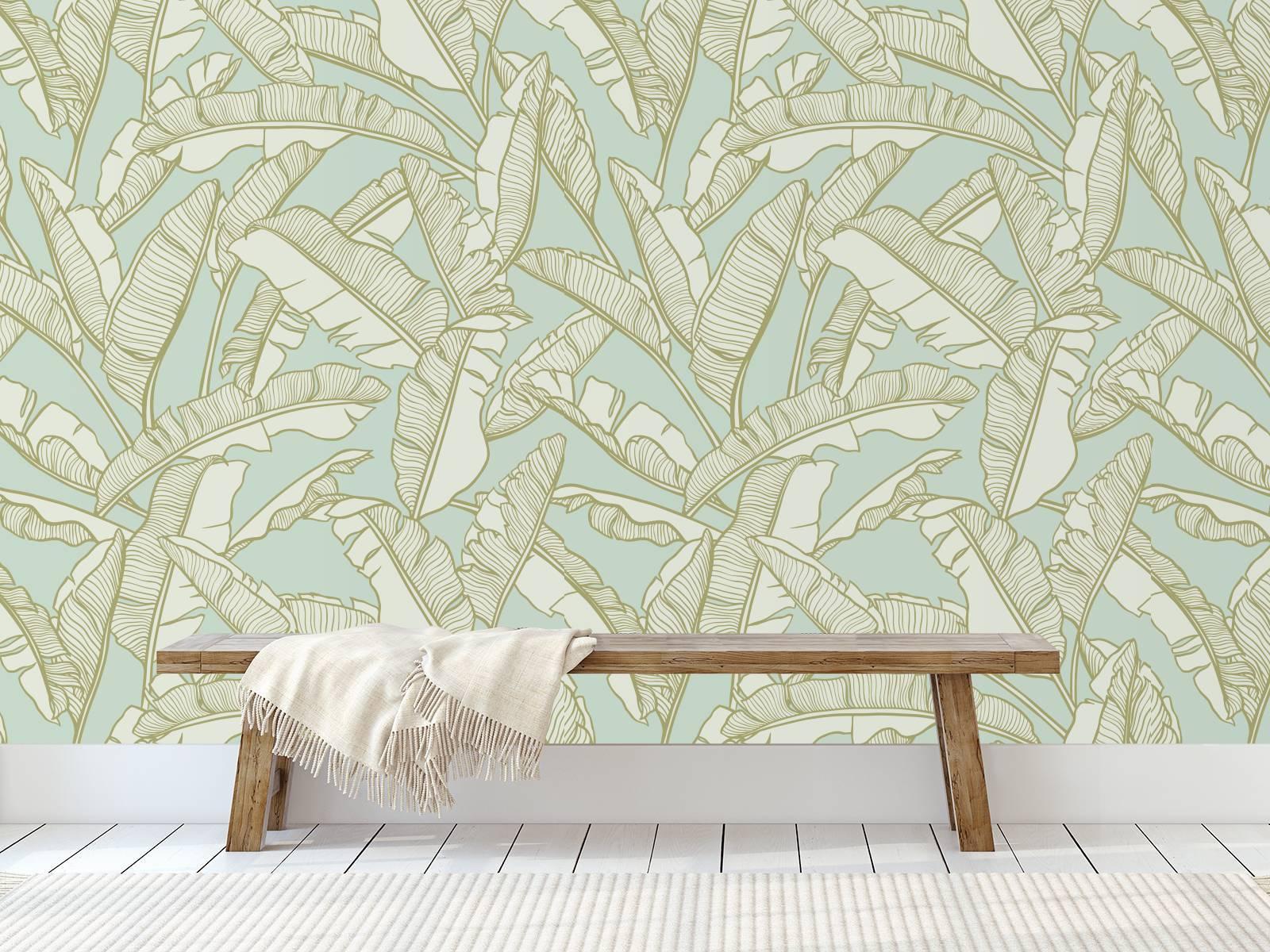 Both interior design enthusiasts and homeowners are constantly on the lookout for ways to refresh and transform their living spaces. In the years, peel-and-stick wallpaper has emerged as a trend, providing a hassle-free and versatile alternative to traditional wallpaper and paint. Anytime you get bored of a look, you can easily peel it off and replace it!
This stylish and easy upgrade is the perfect solution for creating an environment that is both aesthetically pleasing and conducive to work.
In this post, we are going to explore peel and stick wallpapers and why it's the perfect solution for your home decor project.
Why use peel and stick wallpaper for your home?
Ease of Installation
One advantage of DIY peel-and-stick wallpaper is its user-friendly installation process. Unlike wallpaper that requires meticulous alignment, peel-and-stick wallpapers come with a self-adhesive backing. This means there's no need for glues or complex procedures—peel off the backing and stick the wallpaper directly onto the wall. It's like a DIY dream come true, allowing people with expertise to achieve beautiful results.
No Damage When Removing
Peel-and-stick wallpaper is designed to be removed without causing any damage to your walls. The adhesive leaves no residue, making it an ideal option for renters or people who frequently change their decor. The convenience of wallpaper allows for experimentation and creativity without the long-term commitment required by traditional wallpaper.
Efficiency in Time and Cost
Installing a peel-and-stick wallpaper is faster compared to wallpaper or painting. This will save you both time and money. Peel-and-stick options are also available at price points, making it a budget-friendly choice for you. It's more inviting to refresh your space if you are not going to spend much.
A Wide Range of Designs and Patterns
Peel and stick wallpaper comes in different designs, patterns, and textures that cater to tastes and style preferences. Regardless of what you prefer, there's a peel-and-stick option that suits your aesthetic – prints, subtle textures, or whimsical illustrations.  This variety empowers you to express your personality and bring your visions to life.
Temporary or Permanent Application
Peel and stick wallpaper offers the flexibility of both permanent applications. If you're looking for an easy update, you can choose an option that can be easily removed and replaced. Else, you can opt for a design option that will stand the test of time; there are peel-and-stick wallpapers that offer a lasting solution.
Perfect for Adding Style to Accent Walls or Small Areas
Peel-and-stick wallpaper is a choice when you want to create walls that make a bold statement without overwhelming the entire room. It's also great for enhancing the charm and character of spaces without making them feel cramped. The versatility of peel-and-stick wallpaper allows you to create impactful design decisions.
Innovative Materials Ensuring Durability
Thanks to technological advancements, quality peel-and-stick wallpapers made from washable materials are now available. Some options have moisture resistance, making them perfect for bathrooms and kitchens. This innovation guarantees that peel-and-stick wallpaper is a convenient, reliable, and durable option for various areas in your home.
Where To Start In Your Home
Peel-and-stick wallpaper is a user-friendly choice for adding a touch of style to areas in your home. If you're new to using peel-and-stick wallpaper, here are some places where you can apply it;
Accent Walls
Creating a wall is one of the famous and influential ways to use peel-and-stick wallpaper. choose a patterned design that can make a statement in your living room, bedroom, or dining area. This approach lets you experiment with patterns and textures without committing to covering a room in wallpaper.
Bedroom
Transform your bedroom into a sanctuary by applying peel-and-stick wallpaper to the wall behind your bed. This small, impactful modification has the potential to bring character and visual allure to the room, transforming it into a point without overpowering the overall ambiance.
Entryway or Foyer
Leave a lasting impression by incorporating peel-and-stick wallpaper in your entryway or foyer. This approach allows you to establish the desired ambiance for your home's design, creating an inviting and stylish entrance.
Closet Interiors
Revamp the insides of your closets with peel-and-stick wallpaper, adding a touch of elegance and personalization. Choose a design that aligns with your taste and brings surprises each time you open the closet doors.
Bathroom
While not all peel-and-stick wallpapers are suitable for areas with high moisture levels, many are specifically designed to resist moisture. It can be applied in bathrooms. Consider using peel-and-stick wallpaper to create a wall behind the vanity or bathtub, elevating the visual appeal of this space.
Kitchen Backsplash
Particular peel-and-stick wallpapers are specially crafted for kitchen applications and can serve as a solution for backsplashes. This allows experimenting with patterns and colors without committing to tiles.
Stair Risers
Looking to add a touch of creativity to your staircase? Consider using peel-and-stick wallpaper on the risers. It's a way to transform this element into an eye-catching feature within your home.
Baby's Nursery
If you're designing a children's room or nursery, peel-and-stick wallpaper is a choice. You can create a whimsical atmosphere with fun patterns or themed designs. It's easy to apply and remove, making it convenient for updates as your child grows.
Rental
Living in a space? No problem! Peel-and-stick wallpaper allows you to personalize your home without causing any changes. It's a solution for adding style and character while being easily removable when you need to move.
Home Office
Want to boost productivity and creativity in your office or workspace? Try applying peel-and-stick wallpaper! Choose a design that inspires you and watch as it transforms your work area into an environment.
Picking the Perfect Design for your home
Deciding on a design could be the trickiest part, but it's also the most rewarding. Peel and Stick Wallpaper can:

1. Evoke Creativity: Pick vibrant patterns or artistic prints that inspire you.
2. Set a Tone: For a calm feel, opt for soft colors or soothing patterns.
3. Create Impact: Dare to go bold with large prints or dramatic colors that make a statement.

Now that you have a fair idea about your options, it's time to start hunting. Here are some wallpapers that peaked my interest. I love neural and floral designs, but our tastes differ. So, explore more designs and discover your personal style!
In the end, it's about making our homes a place where we can live and work happily and comfortably. And trust me, investing time and effort to upgrade your home is definitely worth it.
Final thoughts
Peel-and-stick wallpaper is definitely that game changer, offering seamless convenience, style, and versatility. With its installation process, range of design options, and flexibility, peel-and-stick wallpaper allows you to bring elegance into your home effortlessly. It's a stylish alternative to wallpaper and paint.
You can DIY your installation or opt for services of a professional which I recommend if you are not familiar with installing peel and stick wallpapers.
If you want to DIY your peel-and-stick wallpaper, ensure you read and follow the manufacturer's instructions and properly prepare the surface for results. Also, verify if the wallpaper is appropriate for the environment you want to place it in, particularly in spaces that are prone to moisture, like your bathroom and kitchen.
If you were looking to enhance your home and weren't sure how, I hope this blog has sparked some fresh ideas inside that creative mind of yours.
I may earn a commission from qualifying purchases made through the links on this blog, at no additional cost to you. For more information, see my Disclosure