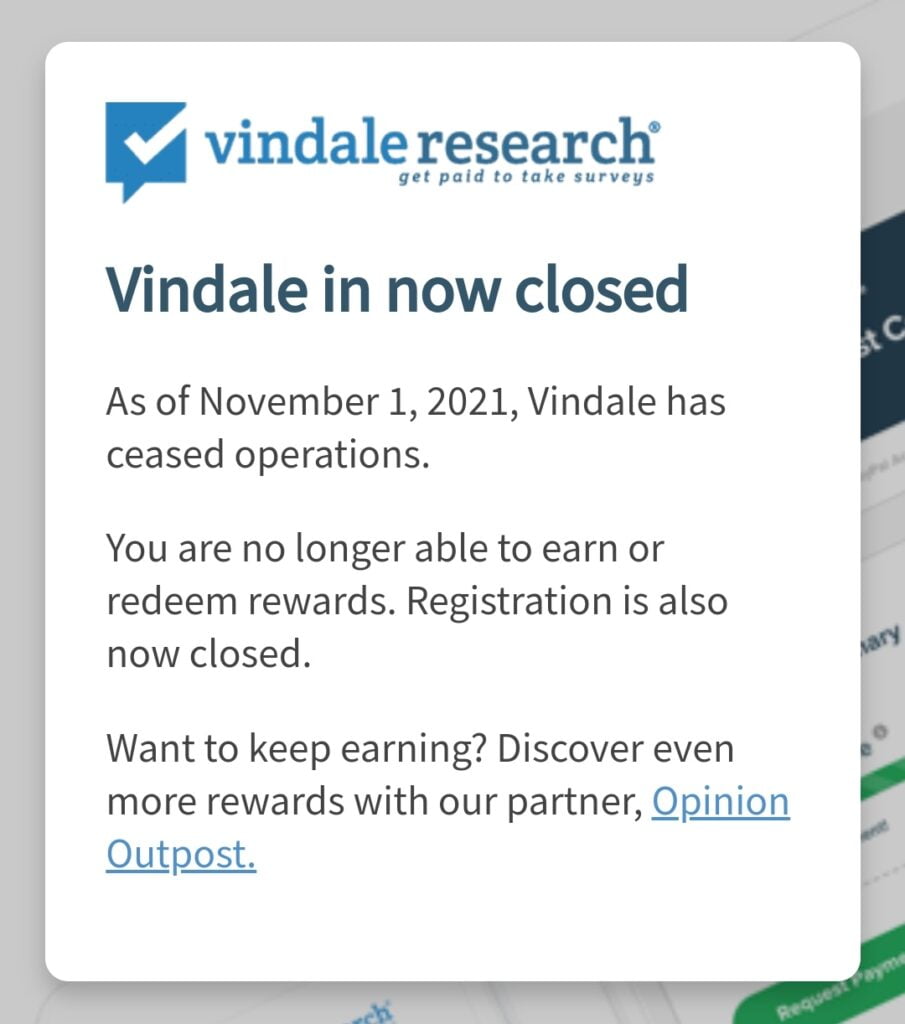 Update! – Vindale shut down operations on November 1, 2021.
Below are some better opportunities
Make money writing reviews on Capterra reviews
Make upto $150 taking studies on Respondent.io
An extensive guide on how to start a lifestyle blog
Learn how to make money selling digital products
Make money selling print on demand products
Do you intend joining Vindale research but skeptical because you don't know if it is scam or legit? – Let this Vindale Research Review help you out.
Introduction
Earning a living online has become so popular that even a 10 year old can tell that there are many ways to make money online. One popular and easy way that people use to make money on the internet today is by taking part in paid online surveys. You can make quite a lot of cash if you are in the US or other target countries.
There are many legitimate sites on the internet that help you get paid to carry out simple surveys. Also note that aside the legitimate sites, there are a number of scam sites that wouldn't pay you as promised after taking part in their surveys.
Therefore, I strongly advise that you carefully select survey sites that you participate in. Always check a site's credibility so you do not waste your time working for naught.
Is Vindale research scam or legit?
I bet you are here because you are wondering if Vindale Research is scam or legit. Truth is, if you do a simple Google search for vindale research reviews, you will find different reactions from different people.
On trustplilot, Vindale research has a trust score of 8.1 with over 2,000 reviews. While it has a 1.8 trust score with just 168 reviews on consumeraffairs. The truth is not everyone will be satisfied with a service. Also, not everyone joined the platform with prior knowledge of how it works. So in this review, I will help you answer the question in detail so you'll know whether Vindale is a scam or legit program and available in your country.
What is Vindale research?
If I'm not mistaken, You've probably heard of the company, vindale research. In case you haven't, Vindale reasearch is a great product review company based in New York. It pays as much as $5 to $75 per review. Fair enough, huh? The amount of money that you will earn per task depends on the nature of the job you participate in. Simply put, some tasks pay better than others.
Vindale Research partners with quite a number of top businesses around the world like Disney, Netflix, Amazon, Verizon, and many more. These companies through Vindale conduct surveys, product testing, case studies, and so much more. vindale simply provide people who are willing to offer their opinions for cash. Join Vindale Research now.
How to make money on Vindale research
As earlier mentioned, you get paid to review or evaluate products and participate in surveys. The other ways to make money money on Vindale includes;
Sign-up bonus
Vindale welcomes each new user with a sign up bonus of $2.
Reward mail
If you are interested in getting paid for reading emails, then you can subscribe to the rewards mail program. You will get paid up to $0.10 for every email you read.
Sharing a selfie with payment proof
An amazingly easy way to earn an extra $5 on vindale is by uploading a selfie of you smiling and holding your check or paypal payment after cash out.
Vindale videos
Here, you get paid up to $0.25 for watching videos.
Deals
Members in the US are entitled to exclusive discounts and coupons.
Cash Contests
Every week, Vindale research holds cash contests and these contests offers upto $15 to winners.
Referral program
If you are good with refering people to join programs, you can make quite a lot with vindale's referral program. All you need is to share a link and you will earn $5 for each sign up done through your referral link.
Note: To begin making substantial money on Vindale research, you will need to be in the United States, Brazil, Australia and Great Britain. Join Vindale now
How Vindale research works
• Regularly Vindale Research will suggest you to try a new product or visit couple of known websites, you are to evaluate these websites if you so wish. So, reviewing a website depends solely on you. If you are interested, great! If you aren't, you can always stick around for other offers.
• So, as earlier mentioned, If you are interested in getting paid to review websites or other get paid to offers, you can request a product or visit the website and follow the steps given to you for proper evaluation. You will always be guided with steps on what to do and what to evaluate, thus, you won't get confused along the way.
• Once you are done evaluating a product or website, you will be prompted to fill out a simple online questionnaire; you have to share the experience you had in the website or with the usage of the product. Don't get worried about your identity, answers are given anonymously.
• Once you've completed your task, your money will be added to your Vindale account.
Important note on taking part in paid Surveys
Some survey qualifications are based on your demographics. However, you'll be required to fill out screener questions to see if you qualify to proceed. These should not take long and should be answered honestly. – Vindale Research.
So, while you take surveys on Vindale, note that you will first have to fill out a qualification survey to know if you are qualified to take part in the actual survey. Do not mistake a qualification survey for the actual paid survey. – Join Vindale Research Now
Withdrawal
You receive your payment via paypal or check once it reaches the $50 threshold.
Note: to avoid Getting your account deleted, you will need to avoid staying inactive for up to 120 days.
Pros and Cons of Vindale research
Pros
They have a great customer support that reply to queries quickly. They also reply to customers' reviews on review sites.
Earn $5 for referring friends.
Earn $2 just for signing up.
lots of offers to participate in.
Cons
It's currently only open to residents in the UK, the US, Canada, and Australia.
As, a vindale member, you are expected to stay active, else your account gets deleted after 120 days.
You may not qualify to take part in a survey after spending time on a pre-qualifying survey.
$50 dollar payment threshold might take a while to realize if you don't get high paying offers
Some users complain about frequent disqualifications.
So, is Vindale research scam?
No, Vindale research is not scam and it is in fact one of the many legit websites that pay you in your leisure time.
Conclusion
So, after reading this vindale review, don't you think it will be fun to get paid for every review or completed survey you do? — If you'd love to share your unique opinion that greatly matters, Vindale Research is absolutely free to join!
I may earn a commission from qualifying purchases made through the links on this blog, at no additional cost to you. For more information, see my Disclosure