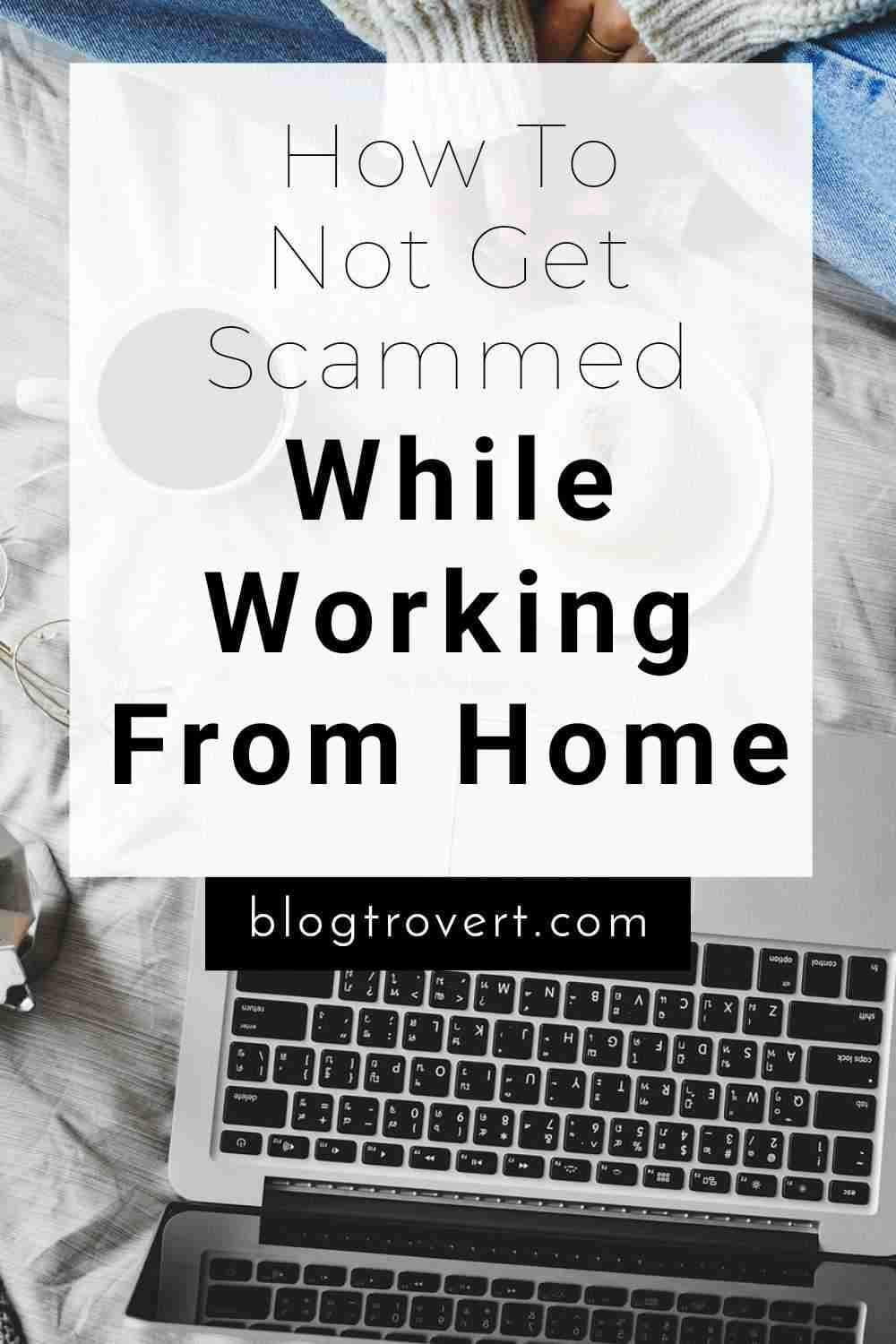 It's nothing new that the ability to make money online is one of the most sort after knowledge in the online world. While you seek this knowledge, you have to know how to avoid side hustle scams and stay safe when looking for real opportunities.
For every 10 friends you have, at least 1 makes money online, has an idea about it or has thought of doing so.
The ability to work and earn money online, though not as easy as many preach, is an amazing way to become self-employed. No bossy boss, no belittling, no unwanted daily routine and no boring time in one spot all day!
Why Strive To Be Independent?
Nobody wants to depend on the other and it isn't OK to keep asking for daily allowances. Why can't we just make money and stay independent?
Striving to make money online gives just anyone the leverage to be his/her own boss, whether you recently lost your job, you are a student, a stay at home mum, or you have the "UNEMPLOYED" work status on Facebook.
Monetizing your moments on the internet is just as open to everyone as the air we breathe!
Can you make money online?
Yes! But one of the biggest challenge people face while trying to earn money online is finding real and genuine side hustle or remote jobs.
There are thousands, if not millions, of fake work online opportunities and side hustle scams you wouldn't want to fall victim to. If you are interested in working online, you might have bumped into or fallen victims of such ill-fated luck. Good news! There is always a chance to learn from mistakes.
Scam Vs Genuine side hustles and Jobs
The most common ways to make money online are;
Freelancing
Affiliate Marketing
Taking part in surveys
Blogging
Writing
Selling your products and services.
The most common side hustle scams are;
Survey opportunities
GET PAID TO opportunities
MLM and HYIP
People who often fall victims of side hustle scams are those who search for the ability to make money fast and easy. Such people dream of discovering passive income sources without working!
Hey Johnny,
Nothing comes easy!
Several websites promote the fact that you can earn money online by doing nothing!
Really?
If it was that easy, we'd all be millionaires now. Such advertisements end up being nothing but side hustle scams and most times, instead of making money, you lose your hard-earned money to unrepentant scammers.
How to Detect side hustle scams
If you work online daily, you'd be able to differentiate between side hustle scams and genuine opportunities. Else, then one of the easiest ways to know an offer is a scam is the promises it makes. If it makes promises of an outrageous pay in a short period, there is a 99% chance that it's a scam!
Bottom line?
You can't make $1,000 in 2 days as a newbie!
Who do you intend robbing of their wealth?
Offers that ask you to recruit people in order to get paid.
MLM or pyramid schemes is one of the oldest side hustle scams that keep resurfacing online. The people who actually make the money are the creators! You do all the work; they relax and watch you fool yourself and others.
Many pyramid schemes go as far as promising you cars, laptops, an extremely huge amount of money for bringing more people, your downlines! Beware!
People charging you for side hustle opportunities
Some websites charge people with a promise to show them websites willing to pay them for their services. I'd strongly advise against paying money to sites that offer to give you large directories of bizopp sites and opportunities for a fee. Some may be real but the fake outweigh the legitimate sites.
Get paid to sites with outrageous reward per action
Get paid to sites constitute (Paid To Click) PTC, (Paid to Promote) PTP, Paid to read emails, Paid to search, Paid to Signup (PTS) and (Paid to View) PTV. These are micro-jobs. You get as little as 1cent per completed action.
They are very simple to perform but they pay very little thus, I'd strongly advise anyone not ready to cry over wasted efforts to avoid GPT sites that offer too good to be real payments per click or whatever. A real GPT site will not pay so much and they rarely pay up to 1usd per actions carried out.
A very popular instance is the getjobnow related websites that offer a worthless 25usd signup bonus and 10usd per visit on their website through your referral link!
As a teenager, I fell for their scam and it's sad that people still fall for such lies.
The worst part of sites like this is that they sell your information!
These scammers are online, but they keep changing domains. Some previous names are; "Youth weekly, Payojobs, paidduty, etc.
Also worth avoiding; most e-books about making money online
If I'm not being too rigid, I'd call 99% of e-books that are sold online in relations to making money, scam!
In your many searches online, you bumped into a link and visited a site filled with obviously fabricated claims, fake testimonials, Photoshopped pictures and idiotic lies of how an e-book will open your eyes on how to make money online.
A better insight on genuine side hustle opportunities
If you are itching to make legitimate money online from home, then I'd be glad to share with you a few of the best ways to work from home.
I know it's a bit difficult to make money online, especially if you are from developing countries, but truth is, as time goes on, if you have the patience to keep striving, you will hit the jackpot!
Some of the side hustle opportunities below will make you a few bucks per month, while others might end up being a powerful means of earning for a living. It all depends on the time you give or have to invest in them. Note that they do not offer outrageous results like the side hustle scams do.
Blogging
If you asked me, "What's the best way to make money online?"
I will reply with 'blogging.' Not because I am a blogger or because I make huge amounts of money doing it (that's ridiculous) but because it is a legitimate way to earn money online.
You can monetize your blog with advertising networks or affiliate marketing (reviewing products and services). Some great blogging niches are;
Cooking
Fashion
Health
Education
Entertainment
lifestyle and many more are good blogging topics you can consider.
Revert to any of the articles below to learn more about blogging
Taking surveys
A survey is a questionnaire, or similar instrument used for examining the opinions of a group of people. There are legitimate companies willing to pay you for your anonymous opinion. To work for these companies, you need to join genuine survey taking websites that serve as middlemen between the company needing an opinion and you!
Surveys are very easy to take so long you have an idea about what you are being asked.
Taking a survey doesn't take much of your time, though this depends solely on the kind of survey you are taking. You can earn up to $50 or more per survey.
The only quality you need to take surveys is your honesty and time.
The good thing about working as a surveyor is that you can work at the comfort of your home with your smartphone, PC, or laptop!
Genuine survey websites
Affiliate marketing
Affiliate marketing is likely one of the highest paying means of making money online as an individual. With affiliate marketing done properly, you can make millions legitimately.
Working as an affiliate marketer might pose some difficulty, but there are lots of free and premium online courses that will help you develop affiliate marketing skills.
Genuine affiliate websites
Freelancing
Do you have any skill or service that you can put on sale to the public?
If yes, consider starting out as a freelancer.
Freelancing sites present your skills to employers or employers to skilled workers willing to request for a job offer. The key to succeeding tremendously with freelance sites is an excellent reputation.
Best freelancing websites
Promoting CPA offers
Almost similar to affiliate marketing, but here you get paid for getting people to sign up, fill forms, take surveys, download games, etc.
Some CPA websites include
Sell your creativity
You can actually make money by selling your creativity and crafts. If you are good with words and can write quotes, splendid wishes and creating designs and printables on your phone or laptop, you can sell your works online! It all depends on you.
Sites for selling creativity
Do micro jobs on get paid to sites
There is not much to write about GPT sites as I've said much about it above, and I do not recommend them, anyway. But, here are some legitimate GPT sites.
Final note
The easiest thing you can do to avoid side hustle scams is by staying away from the urge of making quick money. If it sounds too good to be true, then it's likely not true. Avoid people that make gigantic promises and outrageous claims. They only need your money.
Be guided, avoid side hustle scams and don't enrich someone not worthy of your hard-earned money!
I may earn a commission from qualifying purchases made through the links on this blog, at no additional cost to you. For more information, see my Disclosure