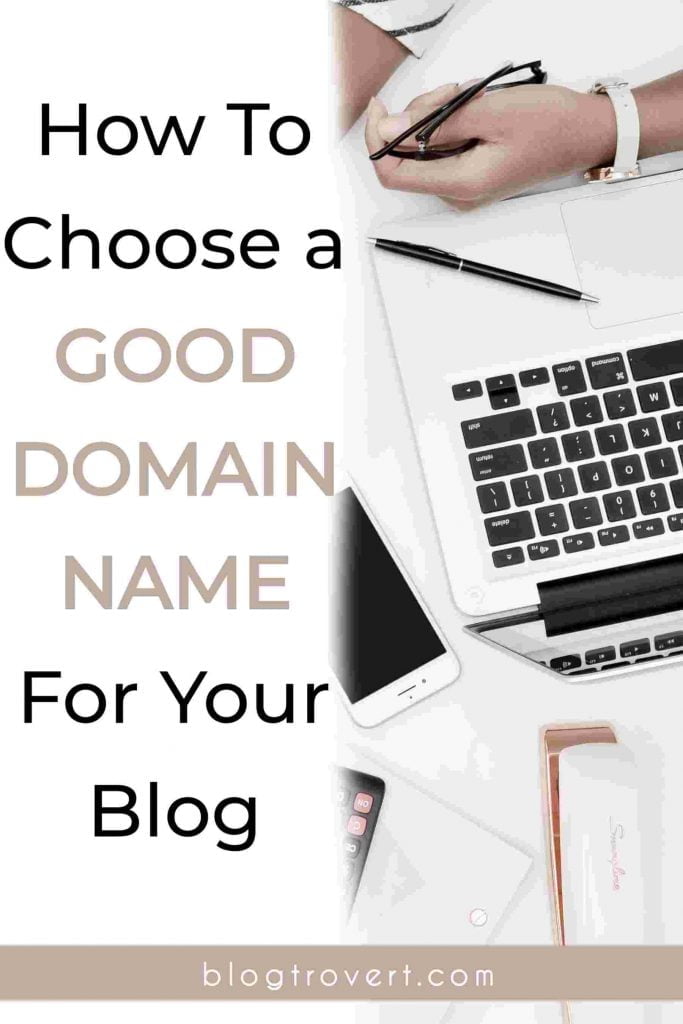 When you want to start a blog or an online business, one of the most important requirements for getting the word out is your blog name. Think of the blog name as the label by which people will know your blog online and offline.
What makes a good blog name?
A good blog name is one that is short, easy to remember, and relevant to the product or service you are offering. It is unique and stands out from the competition. A cool blog name is easy to brand and use as your domain.
A domain name is the URL (web address) for your blog. It is the first thing people see when they visit your blog.
Why should you choose a cool blog name?
A good blog name is important for any blogger who wants to grow an audience and make a profit. Cool blog names become good domain names that are memorable, relevant and increase brand awareness.
It's totally okay to struggle with settling for a blog name. That's a critical decision to make and you need to do so carefully. Before choosing a name for your blog, it is important that you do all valid research to help you settle for the best.
First, you do not want to regret your decision and begin a new hunt for a name, starting afresh.
In this article, I will share a few tips that will help you come up with a catchy name for your blog. You will also find some ideas to inspire your own name.
How to pick a blog name – things to consider
If you're starting a blog, one of the first things you need to do is pick a blog name. Here are some tips to help you choose a name that will make your blog stand out:
Consider the purpose of your blog.
There are a lot of things to consider when you pick a name for your blog. The first, and most important consideration, is the purpose of your blog. Are you blogging to share your stories, promote your business, or simply to connect with like-minded people? 
Once you've decided on the purpose of your blog, choosing a name will be much easier.
If you're blogging to share your stories, you'll want a name that reflects your personality. Something catchy, unique, and memorable is always a good choice.
If you're blogging to promote your business, you'll want a name that is closely related to your business. This will make it easier for people to find your blog when they're searching for information about your business. And if you're blogging simply to connect with like-minded people, you'll want a name that reflects the topics you'll be discussing on your blog.
No matter what the purpose of your blog is, choosing a name is an important task. Take your time, brainstorm some ideas, and consider the purpose of your blog when making your final decision.
Once you know your purpose, coming up with a clever name for your blog will be a breeze.
Consider the target audience of your blog
Who are you trying to reach with your blog?
What kinds of topics will you be covering?
When you're choosing a name for your blog, keep your target audience in mind. A good name will grab the attention of your target audience and make them want to read your blog. A terrible name will turn them off and make them less likely to visit your blog.
Think about what kind of message you want your blog name to send. Do you want it to be serious or funny? Professional or personal? The tone of your blog name will set the tone for your entire blog, so choose carefully.
A catchy name will help you attract new readers, and a relevant name will ensure that those readers stick around.
Is the name Memorable
In choosing a blog name, you want something that is memorable. After all, your blog reflects you and your brand. A great way to make sure your blog name is memorable is to keep it short, sweet, and to the point.
A good rule of thumb is to pick a blog name that is no longer than two words. For example, "The Glitter Guide" or "Oh Joy!" are both great examples of memorable blog names.
Another way to make sure your blog name is memorable is to choose a blog name that is unique and clever. For example, "The Blonde Salad" or "The book nerd" are both unique and clever names that are sure to stick in people's minds.
Finally, you want to make sure your blog name is easy to spell and pronounce. This will make it easier for people to find your blog and remember your name. For example, "book mama" is an easy name to spell and pronounce that is also memorable.
Ensure the name does not contain "strange characters". Avoid words that people can easily misspell. Examples; blogie and blogy, kran and cran.
A Memorable Name is Easy to Spell
Since your blog name automatically becomes your domain name, don't forget to choose a blog name that is easy to spell as your readers will probably access your blog by typing out your domain name.
Choosing a memorable blog name is important if you want people to remember your blog and come back to it time and time again. Keep it short, sweet, and to the point, and pick a blog name that is unique and clever. 
Avoid long names
Sometimes I feel blogtrovert is too long! Never use a very long name as your domain. It will be difficult to spell and memorize.
Be unique
It's important to choose a blog name that is unique because it helps you stand out from the millions of other blogs out there. If your blog has a unique name, it will be much easier for people to find and remember it.
A unique name can help you build a brand for your blog. If people associate your blog with a certain name, they'll be more likely to come back to it and recommend it to others.
Finally, If you want people to take your blog seriously, you need to have a name that sounds like it belongs to a professional blog. So if you're stuck on what to name your blog, take some time to brainstorm and come up with something that is unique and memorable. It will definitely be worth the effort in the long run!
Avoid copyright infringement!
Before you buy a new or premium domain, make sure you are not violating any existing brand copyright policies. For example, "Facebook" will not take it lightly if you have a domain name with their names in it. If you do, get ready for some lawsuits.
Choose name that are available on social Media Platforms
When you want to pick a blog name, try to choose a name with usernames that are available on social media. It's a lot easier to gain trust when you use the same name on your blog and social media platforms, and it helps create a brand for you. You can use Namechek to check if your desired name is available on important social media platforms.
Is your dream name already taken on social media? Don't give up on your blog name, rather come up with prettier and similar names for your brand. You can add prefixes to your name if the original is not available. Some examples ; "realdomainname, shopdomainname, thedomainname, etc.
Consider domain availability
Now when you visit a popular blog, the name always correlates with its domain name. That is perfect and how it should be.
The name you choose will most likely be the address of your blog, or URL. While it's important to choose a blog name that is available as a domain, most or all the names you come up with may have had their domain version taken.
One way to check for the availability of your blog name in its domain version is to use a registrar like GoDaddy or Namecheap.
You may ask, "what if the domain I want is not available?"
Not to worry, I go over a few tips that will help you pick a domain name that compliments your blog name.
Turning Your blog name to your Domain Name – Tips and Tricks
When you just set out to find a cool blog name, you probably do not consider the fact that you also need to set up a domain using the same name as your blog.
You don't want to have a great blog name but then find out that the domain name is not available. So consider both when coming up with your perfect blog name.
Use the '.com' domain extension
The '.COM' domain extension is good for branding, SEO, and widely known even by new internet users. The first domain extension an internet user will type while trying to visit a website is the '.com'.
When someone says "visit blogtrovert for more information," you'd hardly type the '.net' extension before the '.com'.
Although you can use other extensions, I implore you first to check if ".com" is available, as people are more familiar with it. If not, you may settle for the '.net' or other variations.
Use country-specific domain extension to target local audience
Use a country-specific domain extension only when you plan to target people in a particular country. For example, a 'geek.us' domain targets people in the United States, while a 'geek.ng' domain will target people in Nigeria.
Every country has its specific domain extension, which can help you target locals. Ensure it is the right decision, so it doesn't hurt your brand in the future when you possibly want to go global.
Recap: If your target audience is virtually every internet user, go for .com, .net or .io domains.
Interserver Review: Reliable Web Hosting Plans, Prices, and Features
Use Affixes
Affixes are a great way to add some personality when you pick a blog name. You can also use them if the original name is unavailable or too generic. There are 2 types of affixes:
Prefixes – attached at the beginning of a word.
Suffixes – attached at the end of a word.
If you want to blog about travel, and your blog name is girl travels, but the domain name is unavailable, you can attach 'the' as a prefix. Your domain name becomes "thegirltravels.com." You may rather attach "blog" as a suffix, and your blog domain name becomes "girltravelsblog.com." You can also consider a mixture of both affixes to broaden your options.
Some popular affixes you can include or combine in your name include ;
Prefixes = 'real-, shop-, the-, for-, miss-, out- …
Suffix = -blog, -designs, -photography, -vibes …
For a more creative approach, try coming up with a word that has two or more syllables. This will make your blog name more visually appealing and memorable.
Avoid hyphens
If you are creating a niche blog and wish to have a keyword-rich domain, stay away from domain names with hyphens in them.
It is difficult to get noticed or rank with a hyphenated domain name. It is a better idea to look for alternative names or extensions rather than using hyphens in your name.
Most domain registrars have domain name generators that can help you find considerable names related to your initial choice. You can also use popular tools like Namemesh or wordoid. These tools give you a list of random domain names with the help of the keywords you input in the form.
Don't get yourself worked up
If you are yet to pick a blog name you so desire, don't get yourself worked up over it. Take a break and talk to people who might help you in your search. If a .com domain extension isn't available, pick another extension.
Register your domain name
Once you have researched and picked a blog name, register it immediately with a reliable domain registrar. There are many registrars available, so it is important to find one that meets your needs and fits your budget. I recommend Namesilo as it has one of the cheapest prices for domains in the market.
Once you have registered the domain name with the registrar, set up your social media accounts with your name. You can now create your website for your next million dollar blog.
New to blogging? These posts will help you get started;
Quick FAQ
Should you use your birth name as your blog name?
It depends on your preference and what you hope to achieve with your blog. If you are hoping to build a personal brand, then using your birth name as your blog name can be a good idea. It can make you more searchable online and help you connect with your audience on a personal level.
However, if you are hoping to keep your personal life and online life separate, then using a different name for your blog might be a better idea. Ultimately, the decision is up to you and what you are comfortable with.
The decision to use your birth name is neither bad nor good, it is only risky. Sometimes people turn out to detest the decision they made. Thus, if you want this now, ensure that you'll want it in years to come.
Should you buy a premium domain name?
A premium domain name is a domain name that someone else registers and lists for a higher price. Ensure you know what you are doing. It's one thing to hate a domain you bought at $15 and another when it's bought at over $2000. Choose wisely.
Make sure you are buying from a reputable seller. There are a lot of scams out there, so you need to be sure that you are dealing with a reputable person.
Also, before you purchase a premium domain, do a reputation check by searching for it on google with "site:.yourdomain.com." If you see no indexed page, it means google has banned the domain.
If you will pay the price, and you know what you want to do with the domain name, then buying a premium domain name can be a wonderful investment. Just be sure to do your research before paying.
Conclusion
Do you have any blog name in mind which unfortunately has an already registered domain? Brace up, get a thesaurus dictionary, and look for better names! If you so love your option, there are many domain name extensions such as: ".io, .net, .guru, .mobi, .co, .photo, .buzz" and so on that you can use.
I hope this blog post helped you understand how to pick a blog name and register it. Good luck with your new blog!
Let's Be Friends
Enjoy my weekly newsletter and be the first to hear about latest posts.