Guides To Being A Good Personal Blogger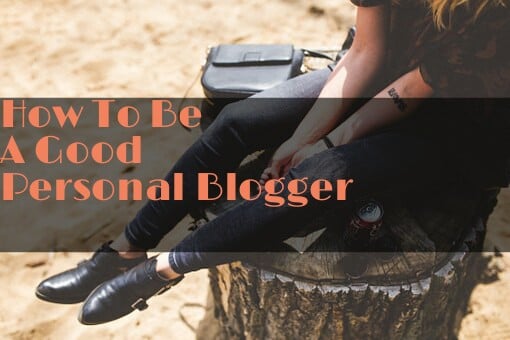 Who is a personal blogger?
You probably know who a personal blogger is, because if you don't, you may not be here. But, I may be wrong; you probably don't even know what a personal blog is all about.
For those who do not know who a personal blogger is;
A personal Blogger is one who blogs about events or occurrences in his or her life as they unfold.
Yes, I tell you my story, you get glued to my blog for reasons best known to you.
Personal Bloggers mostly blog about Their Personal Fashion style, Hobbies, Life hacks and things that matters to them, and this things, may also matter to you as a reader.
Sometimes, being a personal blogger can be a big deal when you run out of possible blog post ideas to get the blog going. Obviously, you wouldn't want to blog crappy, else you lose your lovely readers.
Your thoughts are private but once you blog them, you're inviting the public to read them. Thus, there is a need to keep them reader friendly and like professional or business blogs, you need to make your posts outstanding and intriguing.
What makes you a Good Personal Blogger?
Consistency
As a good blogger, who wants to keep getting visited by readers and hook prospective regular visitors, you need to blog consistently. At least 1 to 3 articles a week won't break your busy day if you are a busy person.
Uniqueness
Every personal blogger ought to be unique because, posts should come from the heart, and not from someone else's blog post. It's a personal blog, ever minute is a moment to sketch down a new blog post idea for the next day.
Your Communication Skills
You should be a good communicator. When your readers, throw a comment at you on your blog, let them know that they are well appreciated and give them a reply. It wont, break a bone.
Beautify Your Posts
Think beyond texts. Use pictures, graphics, video, audio and presentations. These will help your personal blog. Always use pictures you have rights and permission to use. sites like pixabay.com offer free pictures you can use for both personal and commercial purposes without linking back. You can check out other websites with absolutely free pictures for use.
You shouldn't paste your posts on every available social media platform. Know what interests the users of such platforms. Consider where your blog post would make some sense. you can join Facebook groups for bloggers that are closely related to your blogging line.
Watch your language
Don't go vulgar or use hardened words in your blog posts. It's important that you know the kind of words you attach to your posts because it reflects on your blog and brand, and might affect the way individuals relate with you.
Plan Your Blog's Future .
It's amazing when you picture the success of your blogging career in years to come. but aside thinking and imagining, Do you see the content on your blog bring meaningful and useful someday?