How To Set Up And Pay For Facebook Ads In Nigeria With Naira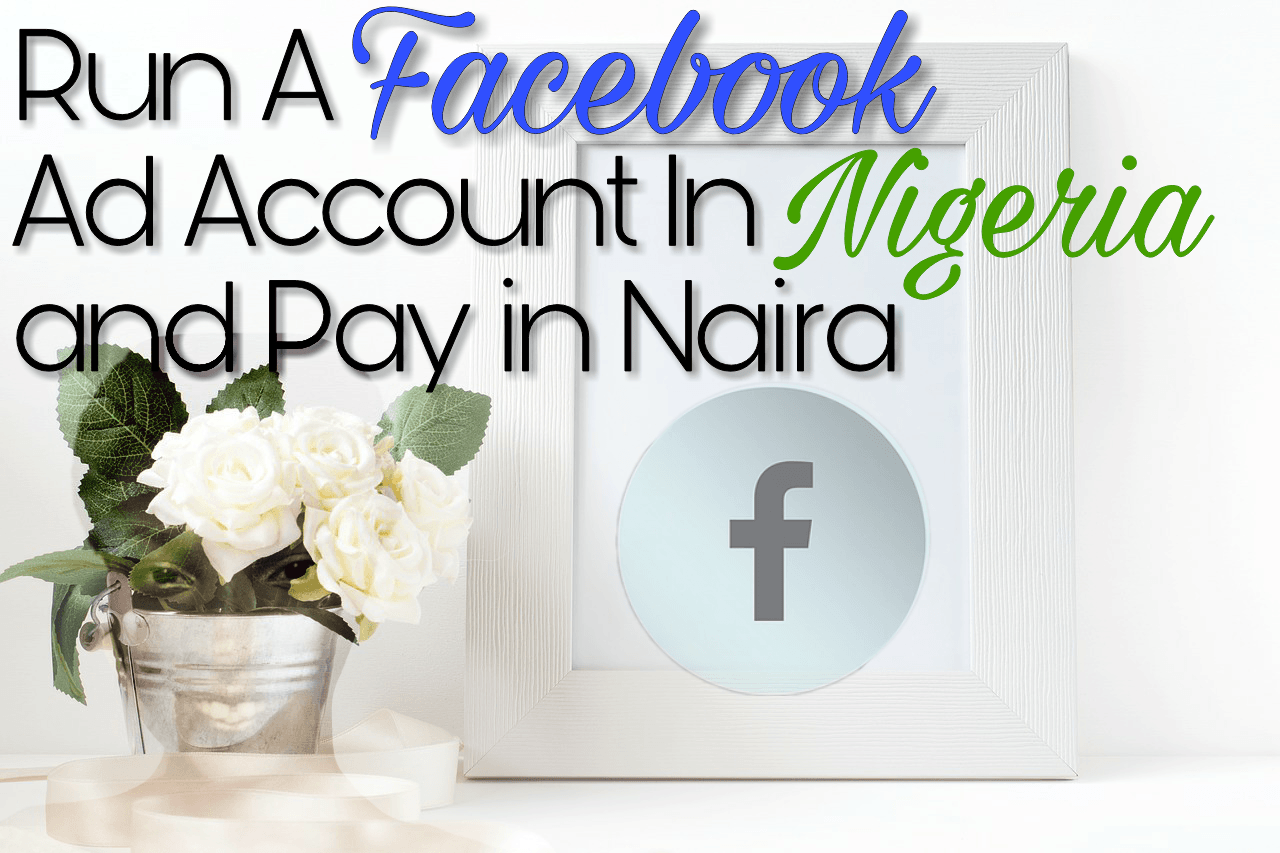 After reading this post, you are likely never to encounter any issue if you want to pay for Facebook ads in Nigeria with our local currency, Naira.
Facebook has always been a good advertising medium for business owners in Nigeria looking to reach and maintain customers. In the past, we only had the option of paying for ad campaigns with the United States dollar. We had to run and pay for our Facebook ads in Nigeria with dollars. This didn't go well for most individuals. Some incurred debts due to exchange rates, rejected debit cards or monthly international spend limit.
To avoid this situation, most businesses opted in for dollar debit cards or paid advertising agencies to run campaigns on their behalf. But then, everything changed for Nigerians in 2017.
The ability to pay for Facebook ads in Naira officially began in March 2017, with the help of the third party payment processor PayU.
As at the time of this post, only Visa and Master debit Cards can be used to make payment on PayU.
This integration came in as a life saver because, you do not have to worry about running ads that you will never be able to pay for due to declined debit card or a spike in our dwindling exchange rate. Although Payu is amazing, there is a set back; paying with verve card isn't available yet but hopefully, in the nearest future they will be accepted for payment.
Before We Could Pay For Facebook Ads In Nigeria With Naira
In the past, Nigerians who needed Facebook advertising solutions for their businesses only had one option. They had to use the conventional dollar Facebook ad account to run ads.
Despite its usefulness, running ads proved rather difficult for many as there were series of non-budgeted spending due to unmeasured ad spend rates. Some Nigerians often end up being indebted to the social media platform because their cards were rejected.
This post was created to help business owners who want to run ads but need a Facebook Ad account that accept naira payments.
I hope this tutorial does justice, so that you can easily create your own advertising account on facebook.
If you are still running your Facebook Ad account and paying in dollar, you might want to reconsider and switch over to a Nigerian account. It is better to be charged in Naira, at least you will be able to track your spend rate properly.
Disadvantages of Using A Dollar Dominated Facebook Ad Account
Most Naira debit cards are restricted by their issuers.
The Dollar to Naira rate is quite high and this can incur unnecessary expenses
Inability to properly calculate Ad spendings due to the fluctuating dollar to naira rate.
Running adverts and discovering you can not pay with your debit card, thus, you find yourself in some crazy debt.
Having highlighted the above drawbacks of using a Dollar Facebook advertising Account, I will go further to guide you on how to create and pay for campaigns in Nigeria.
Before you continue, note that; you must fund your Naira Facebook Ad account before creating and running ads. This is actually better because you will not have to be indebted to Facebook. This is unlike the usual advertising accounts where you could spend above your life savings unknowingly.
How To Create A Facebook Ad Account In Nigeria and Pay in Naira
You can watch the video tutorial above if you rather not stress yourself with the instructions below.
---
Note; If you have already created a
ad account previously: you will need to create a new fb account or use a friend's account in order to create a new ad account.
---
Creating And Paying For Facebook Ads With Naira In Easy Steps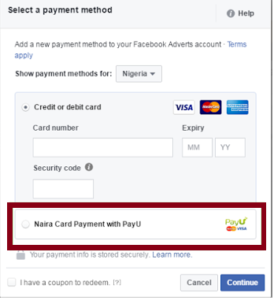 Log on to facebook.com and from your home page click on the drop down menu that displays your pages and other information in your account.
Locate and click on "Create Ads". An ad Account will be created automatically for you.
Navigate to the settings Icon on your top screen then click to be redirected to your settings page.
Once you are in your settings page, click on "payment option".
Now, in your payment option page, make sure you choose to show payment options for Nigeria else you will not find the Naira debit card option.
Once you've selected Nigeria, (this is often selected automatically for you) you will be displayed with 3 options, choose to pay with Naira debit card.
You will be shown a pop up where you are to input the amount you wish to fund your Facebook ad Account with (You can choose to pay as low as N100).
You will be redirected to PayU payment page where you are to input the following;

16 digit card number,
Your account name and
Your card's expiration year (month/year).

If your information is correct, you will be required to input a one time pin (OTP) that will be sent to your approved bank number.
Note that some banks require you to register to be able to do some online transactions.
I use GTBank debit card I and have never encountered any problem with funding my ad account using the PayU payment processor.
---
FAQ: What If my debit card has been blocked by Facebook; for some reasons?
ANSWER: PayU is a third party payment processor, thus you can use your blocked card to fund your account.
FAQ: Why can't I pay with my verve card/
ANSWER: Although Verve cards are not currently accepted, we do hope that PayU gives verve users the privilege to begin paying with their debit cards.
---
Conclusion
With the simple but helpful tutorial above, I hope you will be able to pay for facebook ads in Nigeria with your naira debit card without glitches. Although Verve cards are not Currently accepted, we do hope that PayU gives verve users the privilege to begin paying with their debit cards.