Looking for the best blog topic generators that will help you come up with post titles your readers can not resist?
This post contains a list of some of the coolest blog post title generators. The best part is – they are all free to use!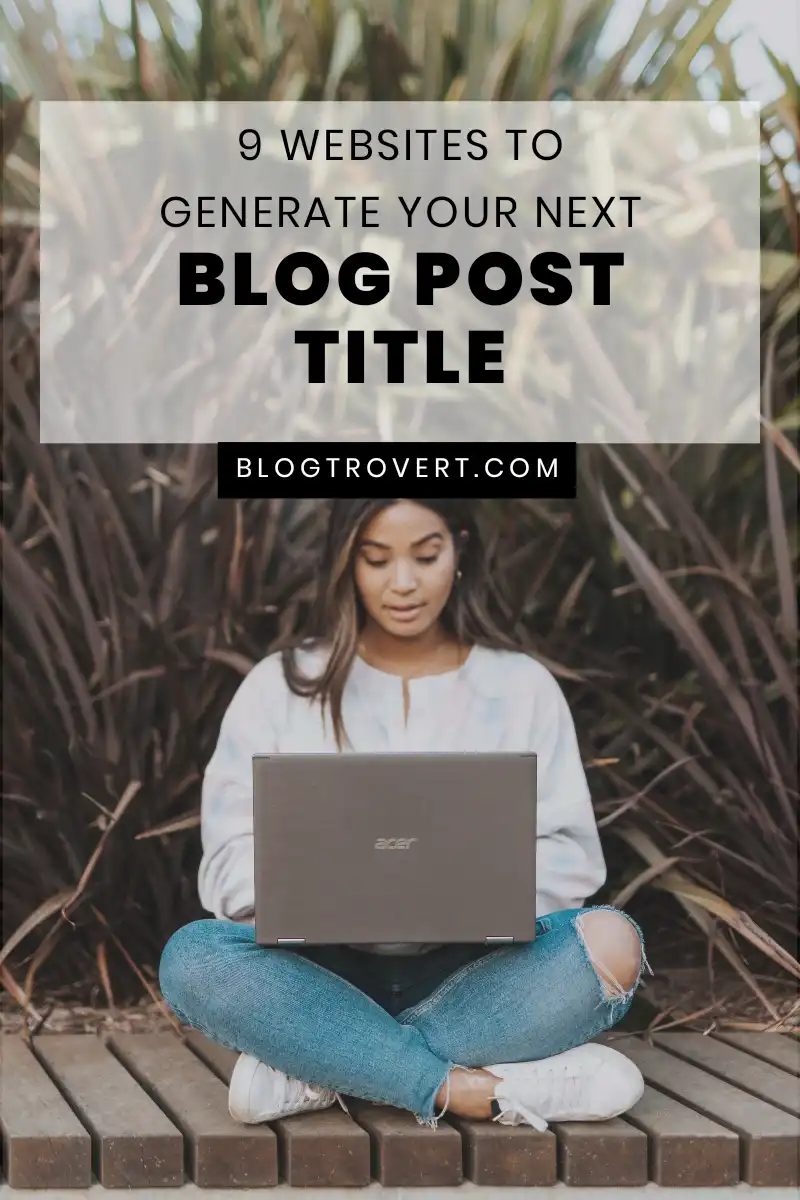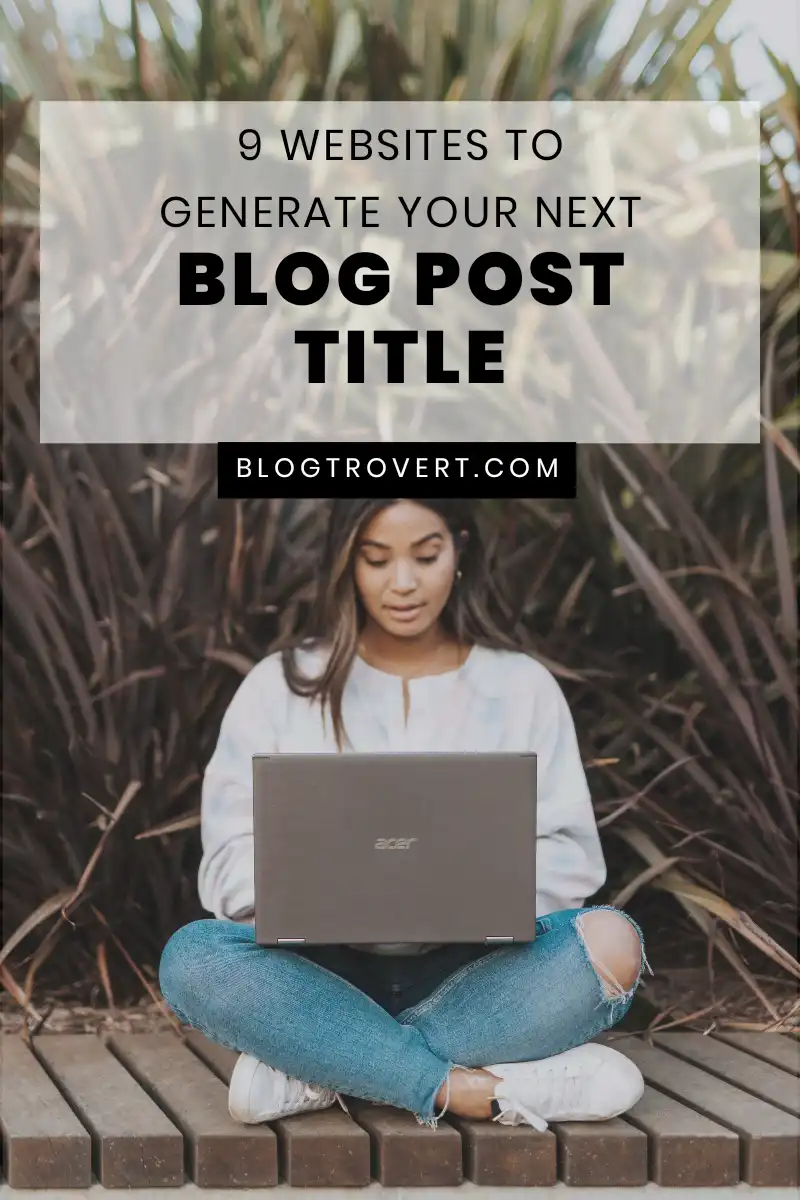 Why your blog post needs a catchy title
Your post title encourages users to click on what you have written. So, invest your time in putting together the best words because they are an important part of a successful blog post.
How To Become a Better Blogger – 13 helpful guides for Amateur bloggers
Your blog is like your own little corner of the internet. It's a place where you can share your thoughts, your experiences, and your interests with the world. But in order for people to actually visit your blog post and read it, it needs a catchy title.
Think about it. If you're scrolling through your Facebook feed and you see a blog post with a title that's boring or doesn't make sense, are you going to click on it?
Probably not.
But if you see a title that's interesting or funny or makes you curious, you're more likely to click.
Every blog post deserves an outstanding title. This seemingly less important part of your blog post plays a major role in the post's success.
No matter how perfectly written your post is, you will need a catchy title to bring in the traffic.
Why do you need blog post title generators?
There are a number of reasons you might need a blog post title generator. Perhaps you're struggling to come up with ideas for your blog or you find yourself getting stuck in a rut, coming up with the same old titles.
Interserver Review: Reliable Web Hosting Plans, Prices, and Features
A blog topic generator can help you break out of this rut by giving you a fresh perspective and a whole new set of ideas.
You may have the perfect blog post idea but your brain isn't processing enough meaningful and catchy words for the title. In times like this, you'll have no other choice but to get external help from blog topic generators.
Another reason you might need a blog post title generator is if you're looking to increase traffic to your blog.
A catchy, attention-grabbing title can be just the thing to get people to click through to your blog. And if you're hoping to attract search engine traffic, a well-optimized title can help you rank higher in the search results.
So, whether you're looking for inspiration or you're hoping to increase traffic, a blog post title generator can be a helpful tool. Give one a try today and see what amazing titles you come up with!
An Extensive Guide On How To Start A Lifestyle Blog That Makes Money
10 of the best blog topic generators
There are a lot of blog topic generators out there. And, honestly, most of them are pretty great. But there are a few that stands out to me as the best.
Let us now look at some of the best blog post title generators that can help us construct better titles for the best results.
If you enjoy publishing viral stories and need great blog post titles that complement your writing style, UpWorthy is the perfect tool for you.
This tool randomly suggests catchy blog post titles you can use for your article. Make any necessary or desired changes to suit your taste.
UpWorthy generates well researched blog topics to get maximum attention on social media.
Portent's Content Idea Generator is a simple blog topic generator to use. You just enter in a keyword, and then it generates a list of ideas for you.
You can click on the refresh button if you don't like the any of the title the tool suggests. If you want to be unique and stand out, use the words portent generates as a headway to create more interesting titles.
I've used this tool countless times when I'm feeling stuck for ideas. And, more often than not, it comes up with some really great ideas that I wouldn't have thought of on my own.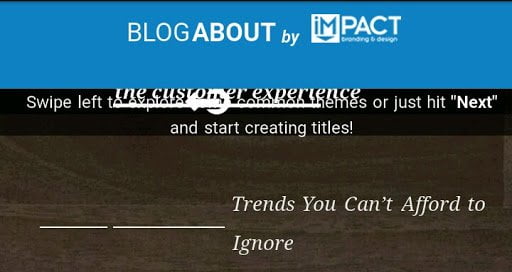 The tool has a simple and elegant design. Apart from its look and feel, Impacplus generates fantastic post titles.
One cool feature of this blog title generator is the fact that you can save all the blog topics you generate to enable you to compare and contrast before choosing the best.
Impactplus generates a lot of titles at a go for future articles on your blog. So if you want to make an impact with your blog content, the Blog Title Generator by impact is a great way to start.
Seopressor is a free blog title generator that helps you generate creative and catchy blog titles for your contents.
To generate, add your keyword, select the keyword type then click to generate your title. SEOpressor will create a lot of blog titles, giving you a chance to choose your best.
For example, I entered the keyword "social media" and got the following results:
Learning Social Media Is Not Difficult At All! You Just Need A Great Teacher!
You Will Never Believe These Bizarre Truths Behind Social Media.
The Ultimate Revelation Of Social Media.
Seven Features Of Social Media That Make Everyone Love It.
5 Stereotypes About Social Media That Aren't Always True.
Each of these topics could make for a great blog post, and I'm sure there are many more that could be generated using this tool. So if you're ever stuck for something to write about, give the Seopressor blog post title generator a try.
This cool tool generates 700 blog post titles with a single keyword entered.
Awesome title generator is not perfect and generates some meaningless words.
I typed the phrase "summer dress" and, the results were, expected. Just to show you an example, below are 5 outputs:
Why You Never See SUMMER DRESS That Actually Works
These 5 Simple SUMMER DRESS Tricks Will Pump Up Your Sales Almost Instantly
SUMMER DRESS And Love – How They Are The Same
Best 50 Tips For SUMMER DRESS
What Can Instagramm Teach You About SUMMER DRESS
Always do your due diligence – filter out the terrible sentences and choose the best for your post. You can always make a few changes to a post title to meet your taste.
Blog Title Generator by Tweakyourbiz
This simple blog topic generator releases a lot of ideas in one shot.
One outstanding feature of this generator is the fact that it generates titles in different categories, to help you identify the right title for your blog post.
it generates post titles under the following sections;
Lists – best option if you are writing a list post.
Best – great for recommendation and affiliate posts.
How to – perfect for tutorial posts.
Questions
Love
S*x
Celebrities -Perfect for entertainment posts and contents.
Secrets
Shark
Business
Motivation – great option for motivational and inspirational contents
problem
The kitchen sink
Some titles come out better than others, but there are often pretty decent outputs you can choose from and tweak.
After all, a large part of what makes a successful blog is having fresh, relevant content that will keep your readers coming back for more.
One tool that I've found to be immensely helpful in finding new blog topics is AnswerThePublic.com.
AnswerThePublic is a free online tool that allows you to input a keyword or phrase and then generates a list of related questions that people are searching for on the internet.
Not only does this give you a great starting point for coming up with your own blog topics, but it also provides you with a valuable insight into what people are actually interested in reading about.
Answer the Public divides the post title ideas into questions that start with "where, who, which, when, how, what, why, and are." It also gives a series of keyword phrases containing prepositions, like "for, with, without," and more.
For example, let's say you're a personal trainer who specializes in helping people lose weight. You might input the keyword "weight loss" into AnswerThePublic and get back results like:
What are the best foods to eat for weight loss?
What are the best exercises for weight loss?
How much weight can I lose in a month?
How many calories should I eat to lose weight?
These are all great questions that your potential readers might be searching for, and by writing blog posts that answer them, you can not only help people out, but also drive traffic to your site.
With Answer the Public, you may never need to use another blog post title generator. It is one of the best I have used.
With this generator, you don't need to enter a keyword. Simply hit the "Click to Generate Title Idea!" Then get beautiful blog title ideas.
If the titles do not impress you, continue clicking on the button to generate more options until you get the desired blog topic.
If you're stuck on what to write about for your next blog post, try using the HubSpot Blog Topic Generator. It a popular title generator for blogs that aims to make content creation a lot easier for bloggers.
This tool allows you to enter five nouns and will generate a list of potential blog topics based on those nouns. Simply enter each noun and hit enter. HubSpot will show you titles upto to the number of keywords you input in the text field.
If you input 5 keywords, the tool will generate 1 blog topic for each of them. If you do not like the titles, start over to get fresh ideas.
While HubSpot topic generator is popular, it does not generate the best results. But you can give it a good for some easy ideas.
Copy.ai is an extensive Ai writing tool that offers you a free blog post title generator to come up with catchy topics.
The copy.ai content idea generator requires you to input your blog niche and the topic you want ideas in.
below are a few topic ideas generated by copy.ai for "blogging:"
How to Build a Blog in 5 Steps
10 Tips to Improve Your Blog Content
How to Start a Successful Blog in 10 Easy Steps
27 Tips to Make Money Blogging
How to Start a Blog
The CoSchedule Headline Analyzer is a great tool for writing headlines that get results. Simply enter the headline of your article and the tool will analyze it for you, giving you a score out of 100.
A high score means that your headline is likely to get clicks, while a low score means that it needs work.
The CoSchedule Headline Analyzer is a great way to improve your headline writing skills and make sure that your articles are getting the attention they deserve.
Final Note
No matter which blog title generator you use, it's important to remember that the titles it generates are just suggestions. It's up to you to decide which title is best for your post.
I may earn a commission from qualifying purchases made through the links on this blog, at no additional cost to you. For more information, see my Disclosure